At the start of this year, I spent an amazing 10 days in Sri Lanka. I had never visited this magical country before and it was my first time stepping foot on Sri Lankan soil.
The country is full of adventure, history and culture, and during my 10 days in Sri Lanka, we visited cities, off the beaten path locations and of course some of the classic tourist spots.
The highlights my trip was definitely watching wild elephants at Minneriya National Park, watching the sunrise at Sigirya Rock and spending time with local families in the mountains of The Knuckles.
Sri Lanka is such an interesting and culturally-diverse island with adventure around every corner.
10 days is an ideal length for a Sri Lanka route, but if you have longer you could also spend 3 weeks in Sri Lanka to fully immerse yourself in Sri Lanka life.
I fell madly in love with Sri Lanka on my trip, and I am sure you will too! Sri Lanka has become one of the top places to visit in Asia….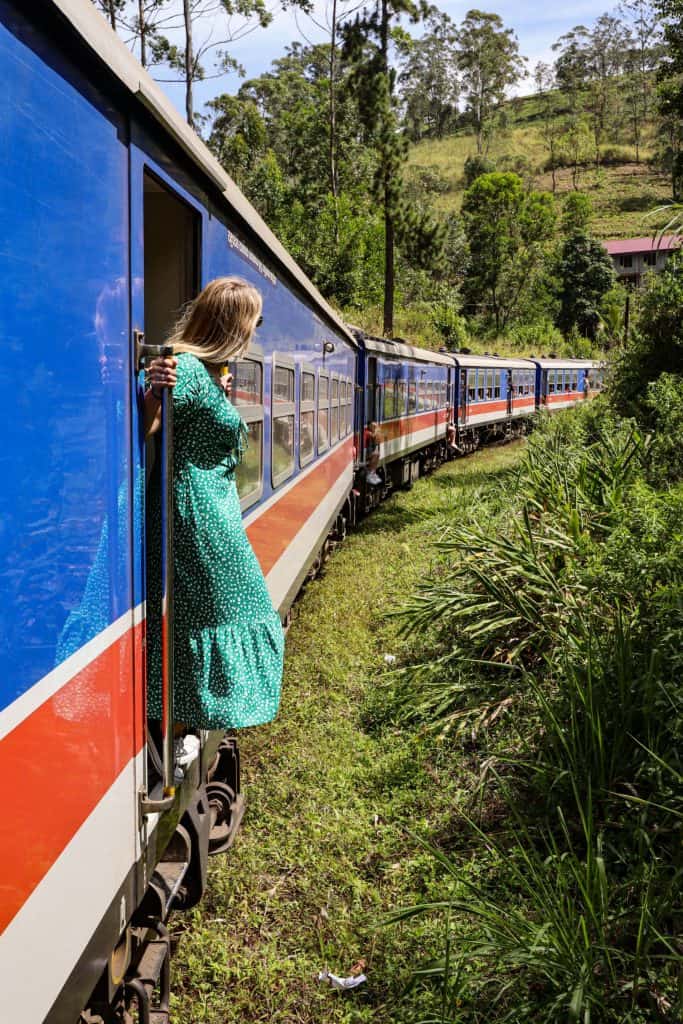 10 Things to do in Sri Lanka
Hiking Pidurangala Rock in Sigiriya Sri Lanka
Elephants in Sri Lanka at Minneriya National Park
Visit Nine Arch Bridge in Ella
Taking a train ride from Kandy to Ella
Hiking Riverston Matale and 'The Knuckles'
Sunrise at Mirissa Sri Lanka
Trek through a Tea Plantation in Nuwara Eliya
Explore Colombo
Climb Sigiriya Rock
Sunset at the Famous Rope swing in Dalawella
Looking for more Sri Lanka travel tips? CLICK HERE!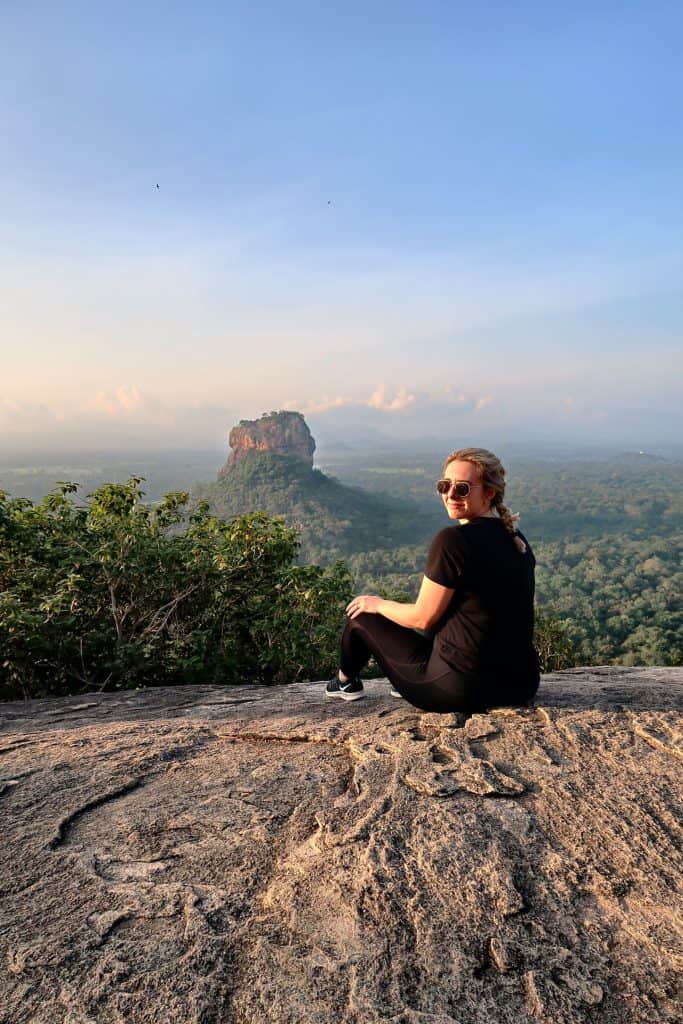 When is the best time to visit Sri Lanka?
We visited in February and it was a lovely time to visit Galle Fort. But anytime between January and April or October – November is best. You will hit the rainy season in the months between May and September. Keep this in mind when planning your Sri Lanka 10-Day Itinerary.
Where to stay in Sri Lanka
Sri Lanka has something for everyone and there are so many things to do in this incredible country, including some of the world's best hotels. I would check out some of the below hotels during your Sri Lanka 10 Day Itinerary.
Top 10 Hotels in Sri Lanka
Getting around in Sri Lanka
Sri Lanka is an easy country to travel around and there are lots of options, including train, car, tuk-tuk, taxi, bus and more. But you must bear in mind factoring in time to travel in Sri Lanka, as roads are not always the best and traffic can often delay you. I would recommend hiring a driver for certain legs of your journey if you can, for your time in Sri Lanka, and then taking the train through the tea region of Ceylon.
Day 1: Relax in Colombo
Colombo, the capital of Sri Lanka, has a long history as a port on ancient east-west trade routes, ruled successively by the Portuguese, Dutch and British. That heritage is reflected in its architecture, mixing colonial buildings with high-rises and shopping malls. And there are some really interesting buildings dotted around the city.
The imposing Colombo National Museum, dedicated to Sri Lankan history, borders sprawling Viharamahadevi Park and its giant Buddha, and it's a great way to spend an afternoon in Colombo.
No trip is complete without a day in Colombo so I would suggest spending a day here, either at the start or the end of your trip in Sri Lanka, before heading back to the airport. We spend a day here at the beginning of our trip, but it was enough time, and we were then ready to start our adventure in Sri Lanka. A great start to your 10 days in Sri Lanka!
Day 2: Head to Minneriya National Park
A bucket list experience is going on an elephant safari in Sri Lanka – I did this and it was the best decision we made, despite the long drive into the middle of the country.
It is an unmissable experience to go on safari whilst spending 10 days in Sri Lanka and although there are lots of national parks to choose from, including the famous Yala National Park, I would suggest heading to Minneriya National Park if you are after herds of elephants in the wild.
We jumped on a jeep at our stop off and our driver took us into the national park where we drove around for around four hours in total, stopping as and when we wanted and when the driver guide saw an elephant or got a tip-off from another guide.
We got into an open-top jeep and began cruising through the national park, and we also spotted some other animals during the trip including peacocks, antelope and several monkeys.
Then before you know it around every corner there would be an elephant or seven, and our most magical experience was when we were heading back to the entrance of the national park to head home and in our way crossing a river was a herd of elephants, both adult and baby elephants.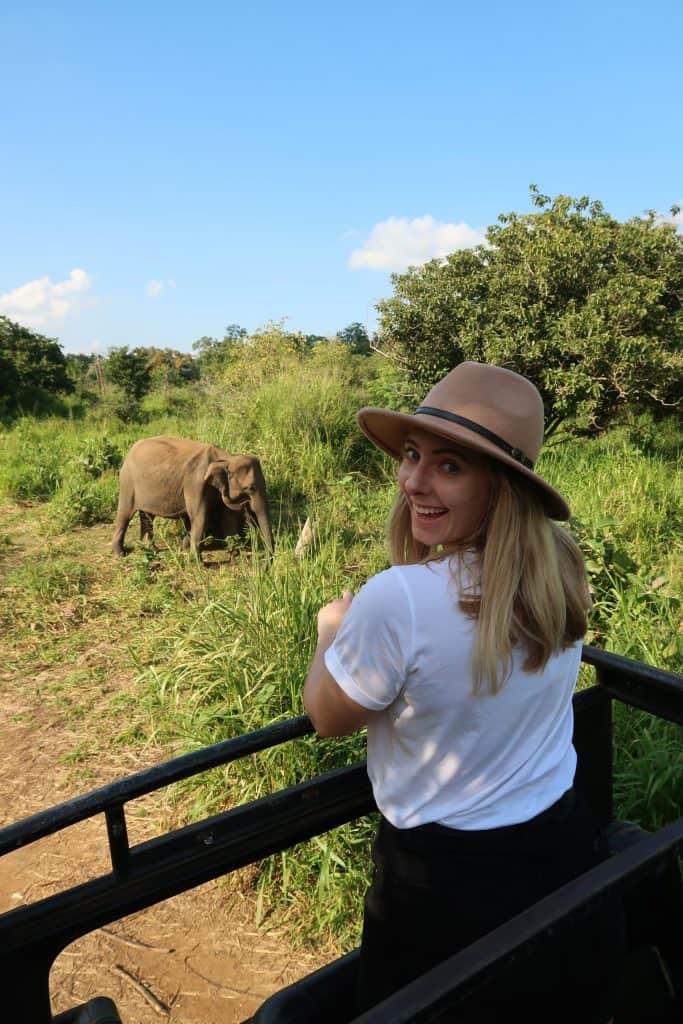 Day 3: Climb Sigirya or Pidurangala Rock
One of my favourite things we did in Sri Lanka was climbing Pidurangala Rock in Sigiriya. While Sigiriya Rock is the most famous, and also offers tourists an experience that is rich in history and access to the lion's paw and the mirror wall, Pidurangala Rock for us, offered far more.
Pidurangala Rock is not far from Sigiriya Rock and also offers the best viewing spot of Sigiriya Rock. We visited at sunrise and we experienced the most magical views I have ever seen as the sun rose in the background. Pidurangala Rock is slightly smaller, so offers a great viewing platform of the entire area. You can see 360-degree views and see for miles and miles.
The climb took around 25 minutes, depending on how physically fit you are and cost only a couple of $$USD. It's much cheaper than the fee for Sigiriya Rock which is around $30.
Also known as Lion Rock, Sigiriya Rock is one of the most popular tourist landmarks to visit on any tourists top things to do in Sri Lanka. The rock, which is a natural phenomenon is a massive 250 m square rock and is also now a recognised as one of the eight UNESCO World Heritage sights.
Another stunning place to add to your Sri Lanka 10 Day Itinerary!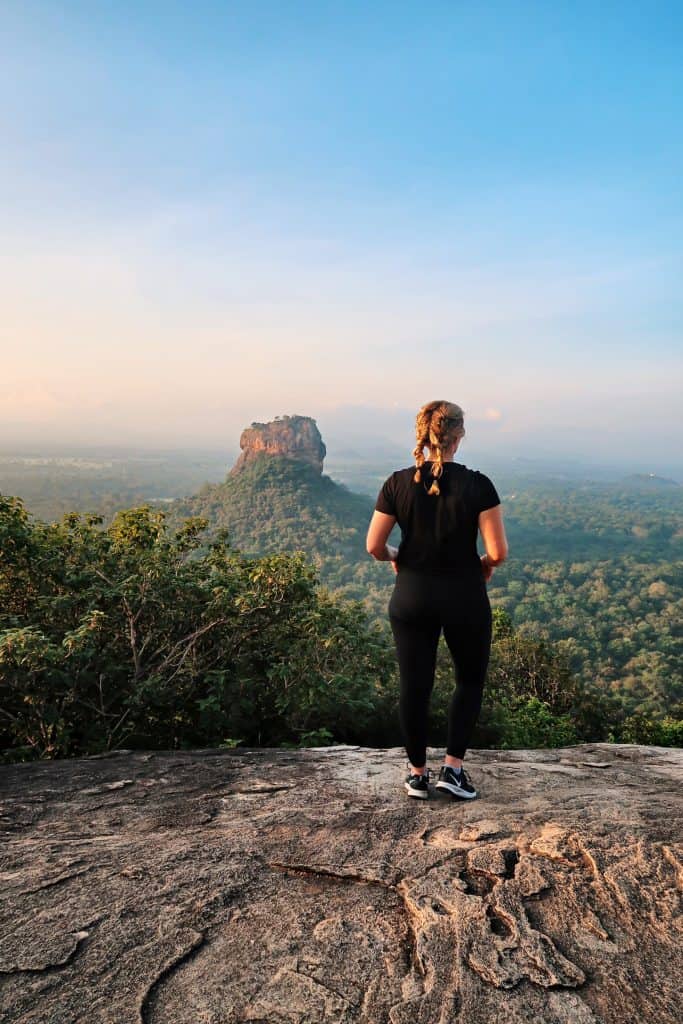 Day 4: Go Hiking in Riverston and 'The Knuckles'
Something we hadn't originally added to our list of things to do during our 10 days in Sri Lanka was hiking in Riverston but I am so glad we did. What an incredible region of the country and so far it's barely touched by tourists.
It ended up being an unexpected highlight of our journey in Sri Lanka and I would highly recommend getting a tour guide and heading out to explore this area.
Riverston is a region in the middle of the country, and quite a distance from most towns and cities. It is in the middle of nowhere so be prepared for a long drive early morning before arriving in the Matale, Knuckles and Riverston area.
We firstly arrived at World's End – a drop off point overlooking the Thelgamuwa Valley, with a 4,000 drop to the forest floor. From here you can also see the terraced rice fields and the Knuckles mountain range in the background.
The hike here is around 5 km and a really easy hike – although due to it being our first stop we really felt the attitude at this point. Honestly, one of my favourite things we did on our 10 days in Sri Lanka.

Day 5: Head to Kandy
Kandy is a large city in central Sri Lanka and it's set on a plateau surrounded by mountains, which are home to tea plantations and biodiverse rainforest. The city's heart is scenic Kandy Lake (Bogambara Lake), which is popular for strolling.
We spent the morning wandering around the city of Kandy and also visited the famous sacred Buddhist sites, including the Temple of the Tooth (Sri Dalada Maligawa) shrine, which is celebrated with the grand Esala Perahera annual procession.
We loved visiting Kandy during our 10 days in Sri Lanka, as it was such a bright and atmospheric city. We also loved seeing a cultural show in the evening before crashing at our gorgeous hotel
Mahaweli Reach Hotel.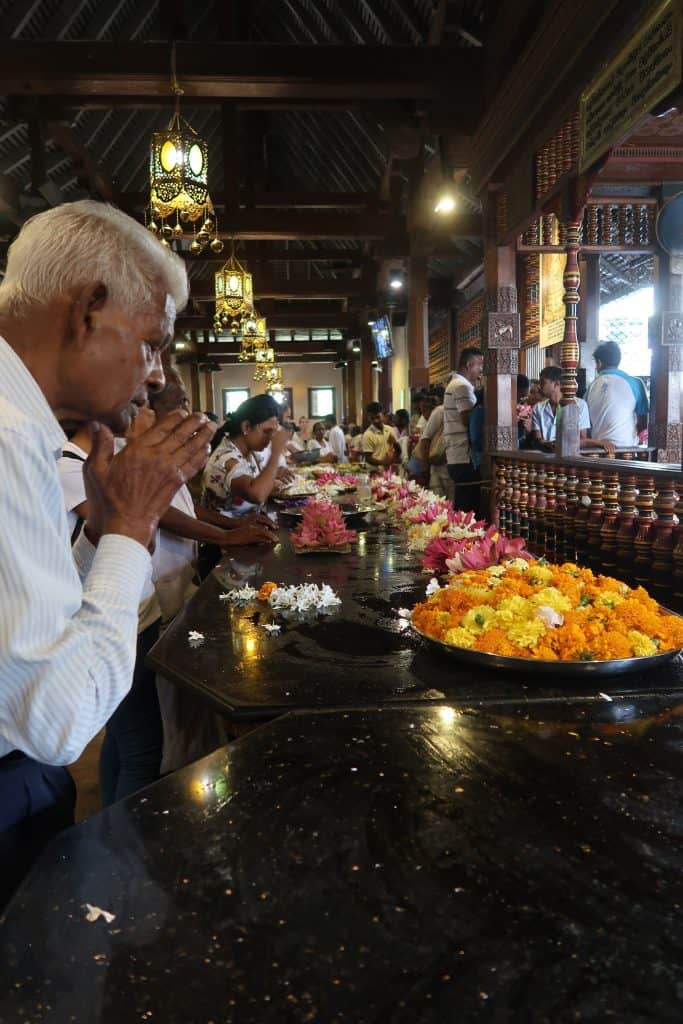 Day 6: Jump on a train from Kandy to Nuwara Eliya
Following on from the train topic, another amazing experience to do during your Sri Lanka 10 Day Itinerary, is to take the Kandy to Ella train journey. Said to be one of the most epic train journeys in the world, it's certainly an experience worth adding to your Sri Lanka itinerary.
The train journey from Kandy to Ella can take around six hours, depending on the season, but you can also break up the trip with a stop off in nearby Nuwara Eliya – Nanu-Oya is the station you get out at – a colonial hill station 2,000 metres above sea level. In Nuwara Eliya, you can find more history on British colonialism and a much colder climate. It is also where a lot of the islands tea plantations are located due to its height above sea level and temperature.
The train was originally introduced by the British Colonial government in 1864 to transport tea from the tea plantations in the hills so they could export around the world from Colombo, however, these days it's simply a great way to travel through the country and it's super affordable.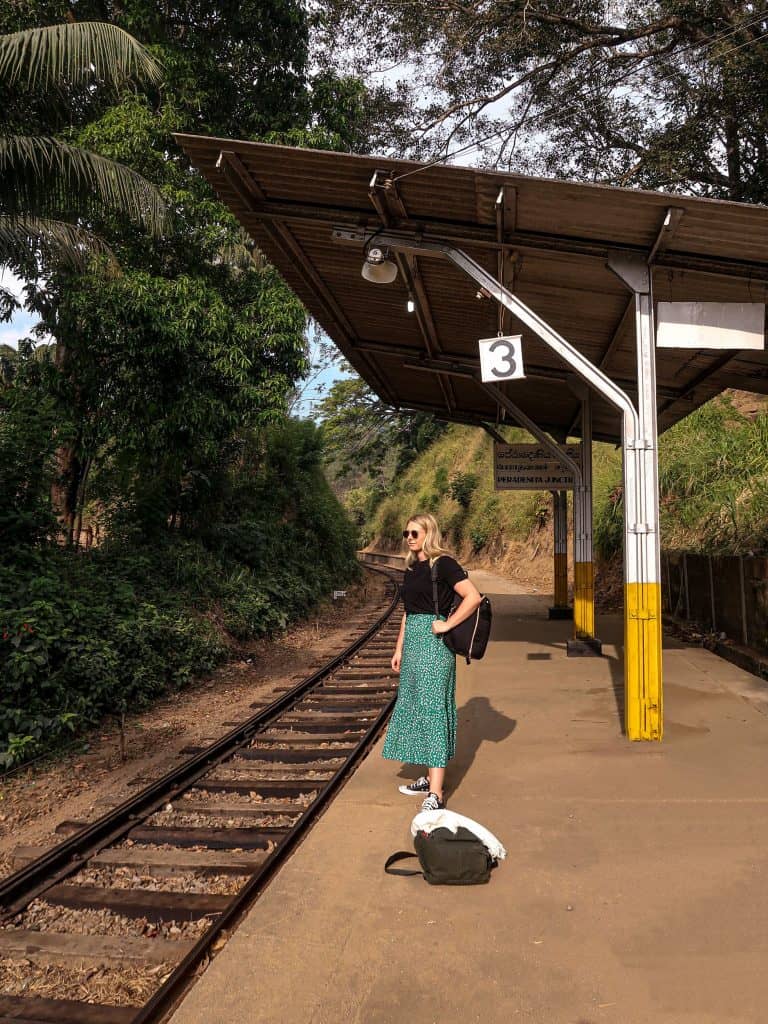 Day 6: Tea Plantation Tour in Nuwara Eliya
Whilst most people take the train from Kandy to Ella, we actually jumped off the train at the hilltop town of Nuwara Eliya for a night, before heading on towards Ella and then Galle.
It was definitely a great decision and I really loved exploring this different region of Sri Lanka.
If you love tea, you will know Ceylon tea, and Nuwara Eliya is where it's produced. Because of the climate and soil, it is the perfect place to grow tea, meaning that there are multiple tea plantations and boutiques in Nuwara Eliya. It reminded me of a mix between the Swiss Alps and Scotland, offering a colder climate but stunning fields as far as the eye could see.
For our adventure in Nuwara Eliya, we headed to the famous Pedro Tea Plantation, as we had been told by lots of people this is one of the best things to do on a Sri Lanka itinerary.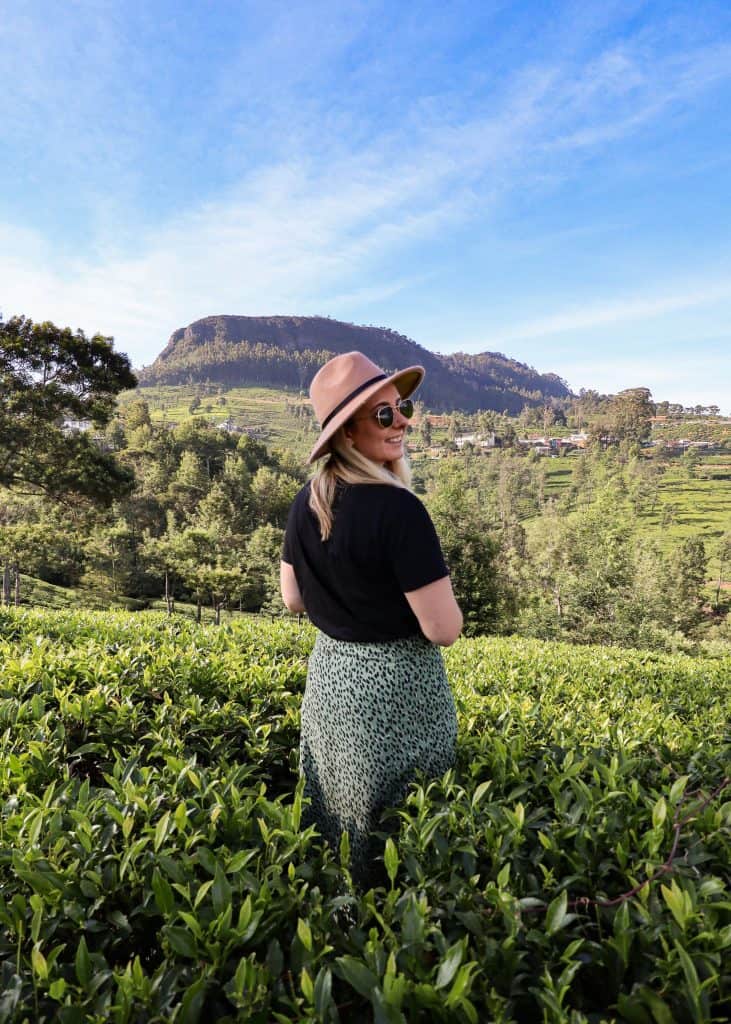 Day 7: Take the train from Nuwara Eliya to Ella and visit Nine Arch Bridge
The Nine Arch Bridge in Ella another bucket list experience anyone visiting Sri Lanka must visit. Spanning 91 meters at a height of 24m the bridge is one of the most iconic shots of Sri Lanka and only a short stroll on Instagram will show you millions of shots of this iconic bridge.
Its actual name is 'Ahas Namaye Palam' meaning nine skies bridge in Sinhalese and was built at Gotuwala between the Ella and Democrat stations during the British Colonial period and commissioned in 1941.
The bridge was then set to be built, but then World War 1 broke out and therefore only rock, bricks and cement were available for use and the builders could not use the original material of steel they wanted to build it with.
Of course with the popularity of the bridge, there is now a handful of cottages, cafes and street sellers around the bridge. My advice for visiting Nine Arch Bridge in Ella would be to go early e.g. 6 am early and find out what time the first train crossing the bridge is. You will then get an iconic shot of the bridge with the train in use!
Another amazing place to visit on your 10 days in Sri Lanka!
Day 8: Head to Galle and watch the sunset at the Famous Rope swing in Dalawella
Instagram has made many places famous around the world, but one which became an overnight sensation for one small hotel in Sri Lanka is the Famous Rope swing in Dalawella. And now it's at the top of many tourists things to do in Sri Lanka bucket list.
The palm tree rope swing at Dalawella Beach is stunning, and even more beautiful at sunset. We didn't get chance to visit here during our trip as we ran out of time when we were exploring Galle, but if we had another day here we would have headed here for sunset with some beers and the iconic Instagram shot.
The location of the swing is on Dalawella Beach, on the south of the island of Sri Lanka in the popular town of Unawatuna, just outside Galle. This place is a must-visit for your Sri Lanka 10 Day Itinerary!
Whilst in the south of Sri Lanka, you could also stop in the town of Tangalle on route, as there are lots of things to do in Tangalle.
Day 9: Explore Galle Fort and Lighthouse
One of the best places to visit on a Sri Lanka itinerary is the iconic Galle Fort and the Galle Fort Lighthouse. Galle Fort is located in the Bay of Galle on the southwest coast of Sri Lanka and was built in 1588 by the Portuguese.
It was one of my favourite mornings, visiting the Galle Fort Sri Lanka.
In the 18th century, the Dutch build their headquarters, Galle Fort, on the Sri Lankan coast but in modern times, the old buildings have become a popular area with trendy shops, independent cafes and much more.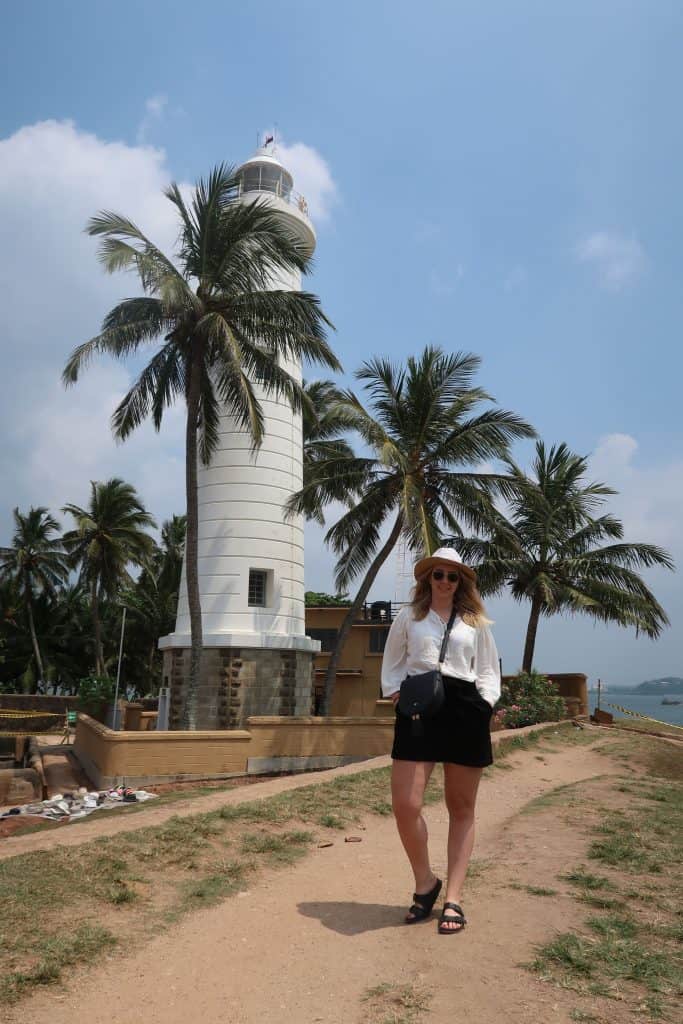 Day 10: Head to Negombo before your flight home
Negombo is a city on the west coast of Sri Lanka, north of the capital, Colombo. With a wide sandy beach, big hotels, and handy proximity to Colombo, Negombo is one of Sri Lanka's most popular resorts and is very popular for tourists either arriving or leaving the country as a place to relax and recoup.
Near the waterfront, the remains of the 17th-century Dutch Fort now house a prison. Negombo Lagoon, lined with fishermen's huts, feeds into the Dutch-era Hamilton Canal.
Have you got more time? I'd recommend spending a few days in the gorgeous Mirissa. And there are so many things to do in Mirissa!
Optional places
Do you more than 10 days in Sri Lanka? Why not extend your trip to include some of these places in northern Sri Lanka, and on the coast. Add some of these places to your Sri Lanka 10 Day Itinerary.
Mirissa
Trincomalee
Jaffna
Unawatuna
Yala National Park
Arugam Bay
Ella
Dambulla
Polonnaruwa
Important Information to know before you travel to Sri Lanka
Visa Application Process
You must apply for a visa for Sri Lanka in advance. It can be done online and usually takes 48 hours for the visa to be approved. It will be sent to you via email. The visa lasts for 30 days and costs around $35
Currency
The currency is the Sri Lankan Rupee and generally, there are plenty of places to exchange money in Sri Lanka. You will also find ATMs all over the country and you can also use international credit cards like Monzo in the country too.
3G and SIM cards
You can purchase local SIM cards and data packages at the airport once you arrive: data is cheap and you can find 3G throughout Sri Lanka.
Clothing
Wondering what to wear in Sri Lanka? The country is generally quite modest compared to some other Asian countries like Thailand and Vietnam. The religion is Buddhism so it's expected for everyone to cover up in religious places, and more or less anywhere else too unless you are at the beach or on a resort.
Climates
The weather in Sri Lanka is varied and quite unpredictable. Check out my recommendation above on when to visit Sri Lanka.
Religion
The primary religion in Sri Lanka is Buddhism.
I hope this Sri Lanka itinerary has been useful and you can use it to plan your own 10 days in Sri Lanka!
Images from Pixabay or my own.
---
My Travel Tips and Recommendations
Flights
To book flights, I always use the flight search engine Skyscanner, I regularly use the Everywhere tool to find the cheapest places to travel. It's how I get to travel so much all around the world. I find it the easiest way to compare flight prices across airlines and get the best deals.
Accommodation
For accommodation, I usually book most of my hotels or hostels through Booking.com. I love using this platform as it provides me with some amazing deals for accommodation all around the world. Or if you prefer, I also recommend using Airbnb. If you haven't signed up with Airbnb already, you can use this link to get £25 off your first visit!
Photography and Technology
Here is a list of technology I always travel with:
Canon G7X Mark II

GoPro Hero Black 7

DJI Mavic Pro

RØDE VideoMic GO On Microphone
Travel Insurance
Picking travel insurance that covers you in all eventualities is an essential part of planning a trip for every single person. If you can't afford travel insurance, you can't afford to travel. You never know what's around the corner.
Sign up to AirBnB with this link and receive a £23 off your first booking.
To receive my articles and reviews straight to your inbox SUBSCRIBE HERE.
Did you know I also vlog my trips? Make sure you subscribe to my YouTube channel so you get alerted when all my travel videos goes live… CHECK THEM OUT HERE
Thank you for reading and as always happy adventuring! If you have any questions about the destination please leave these in the comments below.
If you've enjoyed this post, please share it for me with all your friends and family!
Sophie X