With some of the best weather we've had on record in the UK this summer, it was no wonder everyone flocked to the coast, to make the most of our UK seaside towns. But what are the best things to do in Whitstable?
If 2020 has taught us one thing, it's that you don't have to travel overseas for a glorious beach day in the sun (or rain) and one of my favourite seaside towns in the UK is Whitstable.
If you looking for the best things to do in Whitstable then keep reading. I have covered all the best things to do including, surfing, eating oysters, fish and chips, salty sea air and beach huts. If you like any of those things, you will be in for a real treat.
Whitstable is a seaside town on the north coast of Kent in south-east England, 5 miles north of Canterbury and 2 miles west of Herne Bay.
I travelled to Whitstable from Milton Keynes, and the journey took around 2 hours door to door, but you can also do a day trip from London and the train takes 1 hour 15 minutes approx. It's well worth the journey as there are some amazing things to do in Whitstable and some incredible Whitstable restaurants too!
So what are you waiting for? Here is what to do in Whitstable…
1. Head to the Lobster Shack
For sea views and great food, the Lobster Shack is well worth a visit. Serving some of the best oysters, EVER, The Lobster Shack serves stunning Whitstable ones. In fact, back in the eighteenth century, it was an oyster-grading house! It's a short walk from the main high street, on the seafront and you can sit here and watch the ocean.
2. Eat oysters from the Forge
Beachfront shack The Forge has local beer and the freshest fish and chips – perfect for any trip to the seaside! You can sit down to enjoy your oysters or you can grab and go! One of the best Whitstable restaurants!
3. Go for a walk along the beachfront
Even on a winter's day, a wander down the beach is a great way to start or end your day in Whitstable. The beach is mostly shingle, but it's easy to walk on and gives you some amazing views of the sea, and beyond. The Whitstable weather can be unpredictable so wrap up warm if visiting October to March.
4. Take pics outside the colourful beach huts
Another one of the best things to do in Whitstable beach includes admiring the beautiful beach huts! The huts are situated just metres from the beach in the centre of Whitstable offering sea views of the Thames estuary and you can hire some of them out for the day. There are so many of them all brightly coloured, dotted along the seafront.
5. Have fish and chips on the beach
You can't to any UK seaside towns without having fish and chips on the beach… PERIOD.
6. Visit the famous Wheelers Oyster Bar
If you've been on Instagram, you'll have seen the iconic photos of Wheeler's Oyster Bar and there's a good reason for its popularity. Not only is it a great Instagram spot due to its pink exterior, but it's also the oldest restaurant in the town. You can dine in their famous, but small Oyster Parlour, or at the Seafood Bar. Another amazing Whitstable restaurant!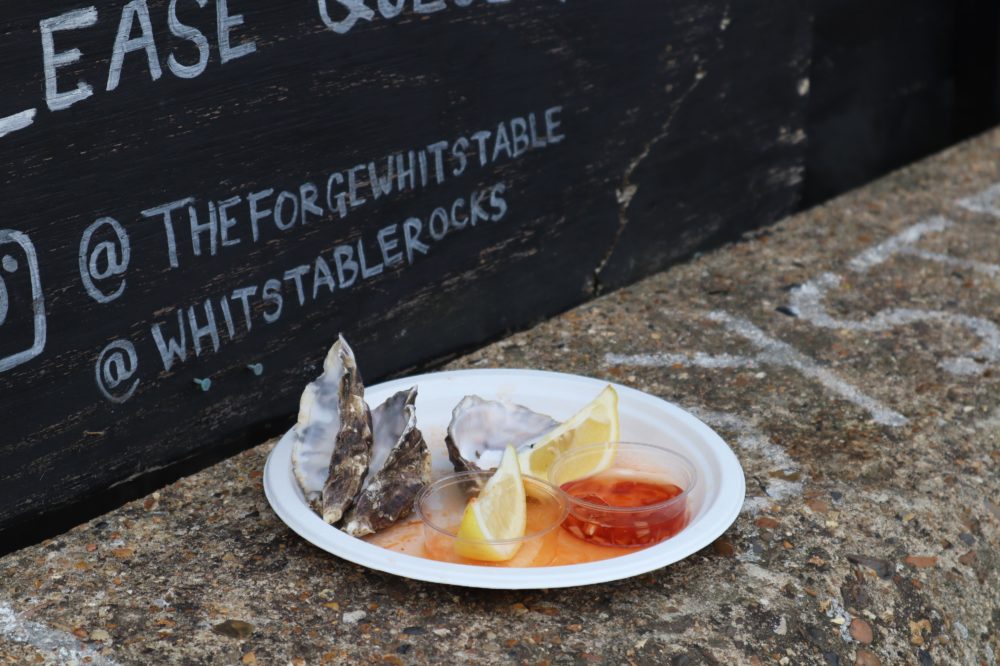 7. Learn how to surf (or paddleboard)
There are lots of place to surf in Whitstable, and beyond and there are lots of companies offering board or paddleboard hire for visitors. I'd recommend locally run, Boardworx which is owned and run by water sports experts that love to kitesurf, windsurf and surf.
8. Go on a boat tour
One of the best things to do in Whitstable is to head out to the Red Sand Sea Forts. There are many companies in Whitstable offering boat trips, but most last around an hour, and once at the Forts you have roughly 10 to 15 minutes on location for pictures up close from a full 360-degree sweep and then its full speed back to Whitstable. Prices are approx. £40 per adult and £20 per child under 16.
9. Explore Whitstable Harbour Market
Whitstable Harbour Market is an open-air showcase of locally-created, British made, premium and hand-crafted goods and fine art. Set in the working harbour of Whitstable, it's a great way to enjoy paintings, drawings, prints and photography of artists settled alongside skilled craftspeople from the local area.
10. Grab a coffee at Blueprint Coffee
You could start your day with a brew at Blueprint Artisan Coffee on Oxford Street. We parked up near the coffee shop so it made sense to stop here first for a coffee, before heading off to explore. The coffee here is strong and is ethically sourced – and you can also buy books here, so you could sit and read a book if you have more time.
11. Relax at Tankerton Beach
Tankerton Beach's distinctive grassy area makes a perfect spot for an afternoon by the sea, a family picnic or simply taking in the magnificent views. There are
pretty wooden huts and an established sailing club. Beware though, it's a shingle beach though, so you need shoes or sandals to make it to the ocean!
12. Have lunch at The Whitstable Oyster Company
A great spot for some food is the iconic Whitstable Oyster Company, offering some of the very best oysters, fish and crustacea. They've become world-famous for offering the freshest fish that's simply cooked and the food is incredible! The restaurant is on the beach and offers stunning views of the company's oyster grounds. A great spot – one of the best Whitstable restaurants!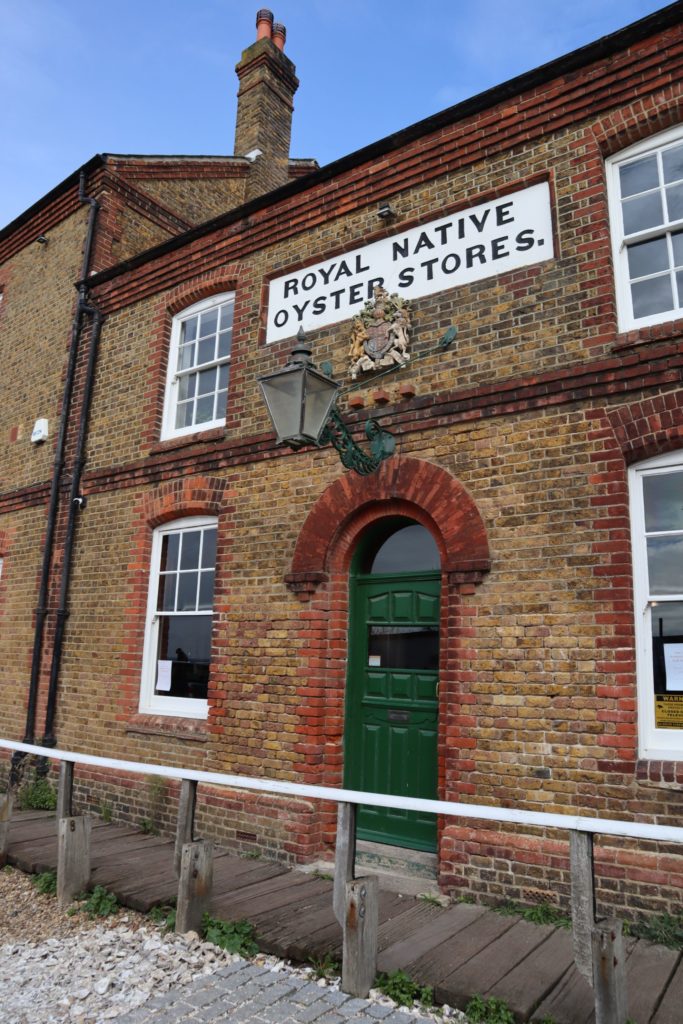 13. Take a walk at Seasalter
After we had finished exploring Whitstable we headed over to Seasalter for a walk along the beach before we drove home. Seasalter is a village a few miles down the road from Whitstable and from the beach you can see the Isle of Sheppey across the estuary of the River Swale.
14. Admire art at The Fishslab Gallery
The Fishslab Gallery welcomes exhibitions by established and emerging artists and is a great place to see art. It was founded by local artists who wanted to establish an affordable and attractive environment to showcase their own and other artists work. The Fishslab supports local charities to exhibit art projects.
15. Whitstable Castle & Gardens
Whitstable Castle & Garden, or Tankerton Towers as it was first known, started life as a residence for the Pearson Family in the late 1790s and to this day is one of the most iconic landmarks in Whitstable.
I hope this guide helps you find out more about what to do in Whitstable. There are so many amazing things to do in Whistable!!
If you on a bigger trip exploring more of Europe check out my guides to France, Germany, Greece, Iceland, Italy, Portugal, Spain and United Kingdom.
---
My Travel Tips and Recommendations
Flights
To book flights, I always use flight search engine Skyscanner, I regularly use the Everywhere tool to find the cheapest places to travel. It's how I get to travel so much all around the world. I find it the easiest way to compare flight prices across airlines and get the best deals.
Accommodation
For accommodation, I usually book most of my hotels or hostels through Booking.com. I love using this platform as it provides me with some amazing deals for accommodation all around the world. Or if you prefer, I also recommend using Airbnb. If you haven't signed up with Airbnb already, you can use this link to get £25 off your first visit!
Travel Insurance
Picking travel insurance that covers you in all eventualities is an essential part of planning a trip for every single person. If you can't afford travel insurance, you can't afford to travel. You never know what's around the corner.
Did you know I also vlog my trips? Make sure you subscribe to my YouTube channel so you get alerted when all my travel videos go live… CHECK THEM OUT HERE
Thank you for reading and as always happy adventuring! If you have any questions about the destination please leave these in the comments below.
If you've enjoyed this post, please share it for me with all your friends and family!
Sophie X