Greyhound Australia coaches offer a huge network of coaches that run all the way up and down and across Australia, from Cairns to Brisbane or Alice Springs to Perth. Every backpacking destination that is worth going to is covered by the company, and you can also hop on and off as you please depending on the pass.
We chose a fixed south bound Cairns to Brisbane pass which costs us $299 from a small tourist information shop on Cairns high street. It gave us the flexibility to travel all the way from Cairns to Brisbane hopping on and off wherever we liked.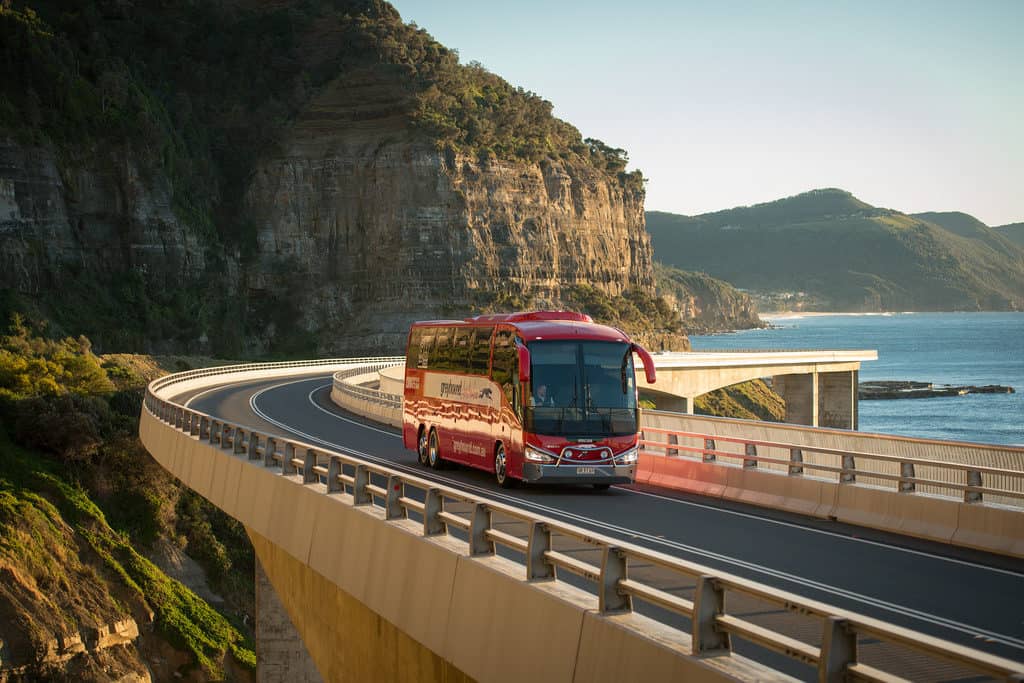 How do you purchase tickets?
You can book them online, or call them up, or go into one of their branches or even go to a tourist information place that has deals on. We liked that you could then book each individual journey ahead of time online or a few hours before – but then you risked not being able to get on because it was fully booked. The booking process was really easy and simple to use and made me even more organised than I already was being. The only bus that we couldn't get on that we wanted to do was from Australia Zoo to Brisbane on Steve Irwin day and G20 weekend.
I would also recommend printing a few copies of your ticket as if your like me it was either lost or at the bottom of a bag. Usually you don't need them but sometimes drivers would demand to check them. However they did sometimes just accept photo ID to get you on the bus.
How long do the journeys take?
Like with anywhere coaches aren't always the quickest but what I have found is that they are the easiest and most comfortable way to travel in a country like Australia. By travelling on coach you save yourself the hassle of airports and flying, and usually with checking in your baggage, driving to the airport and actually flying even a 1 hour flight can then take up to four hours…. So you kinky as well get the coach. All the coaches depart from central locations within each town and city and as so many people get the Greyhound Australia network in Australia hostels often come and pick up from the bus stops if they are out the way.
The longest coach ride we did was 10 hours – but with 6 hours sleeping, getting up to date with some blogging and then watching a TV episode on my iPad it actually went really quick. The bus stops every few hours in towns and cities and will also do toilet stops and breakfast, lunch and dinner stops throughout the day too so you are never doing a complete run of 10 hours. All the other journeys were around 3-5 hours long so were completely do-able.
Are they comfortable?
I was pleasantly surprised! I've been on buses and trains all across the world but these were really good. Asia they're terrible but Greyhound Australia were ok! I mean sleeping upright it never going to be comfortable but you make do with what you've got and get on with it. An added bonus was that they were never too busy either, so most of the time we managed to get a double-seat to ourselves. Leg room is also pretty good although this was never really an issue for me, only when the person in front put their chair right back on to my legs. I'd say they are either the same or more comfortable than an aeroplane as you can actually sleep on them. They also reclined so you could not be so vertically upright. They are also really clean, comfortable and it was a great system to navigate and go on your way to the next destination.
Overall rating:
I'd give Greyhound Australia 9/10.
We didn't experience any problems throughout the whole trip, minus the one bus being fully booked but that was our own fault and it was also lovely not having to get on a plane for a month, especially I'm Australia. Greyhound Australia is a wicked way to see Australia, and you'll even meet new people along the way who are doing the same route as you so if your travelling alone, you'll never actually be alone.
Greyhound is a great way to travel the east coast! Chat to the guys at RatPack Travel to choose a hop on hop off pass, they can get you 10% discount off the direct price using the promo code SOPHIE10. To book your tour contact Sammy at [email protected].