The jewel of the Caribbean, Aruba is best known for its amazing food, friendly locals and beautiful Caribbean beaches. It's the perfect place for adventure seekers and offers some of the best snorkeling in Aruba. Arashi Beach, Malmok Beach and Baby Beach are a few of my faves!!!
The island is an all-year-round destination, with great weather and lots of outdoor activities on offer. Whether it's snorkelling, scuba, hiking, windsurfing, kitesurfing or paddle boarding there is something for everyone on this action-packed and fun-filled island.
The island is only 19.6 miles long and 6 miles across, with a total area of 70 square miles and unlike many other Caribbean islands, Aruba is below the hurricane belt so does not suffer from dangers like this and instead has a dryer climate without much rain at all.
The island is full of history, culture, rugged landscapes, exotic local dishes (read my where to eat in Aruba blog post) and fun activities in Aruba.
There may be lots of activities for tourists to do away from the sand, but my favourite thing about visiting Aruba was the snorkelling.
But where are the best spots for snorkeling in Aruba?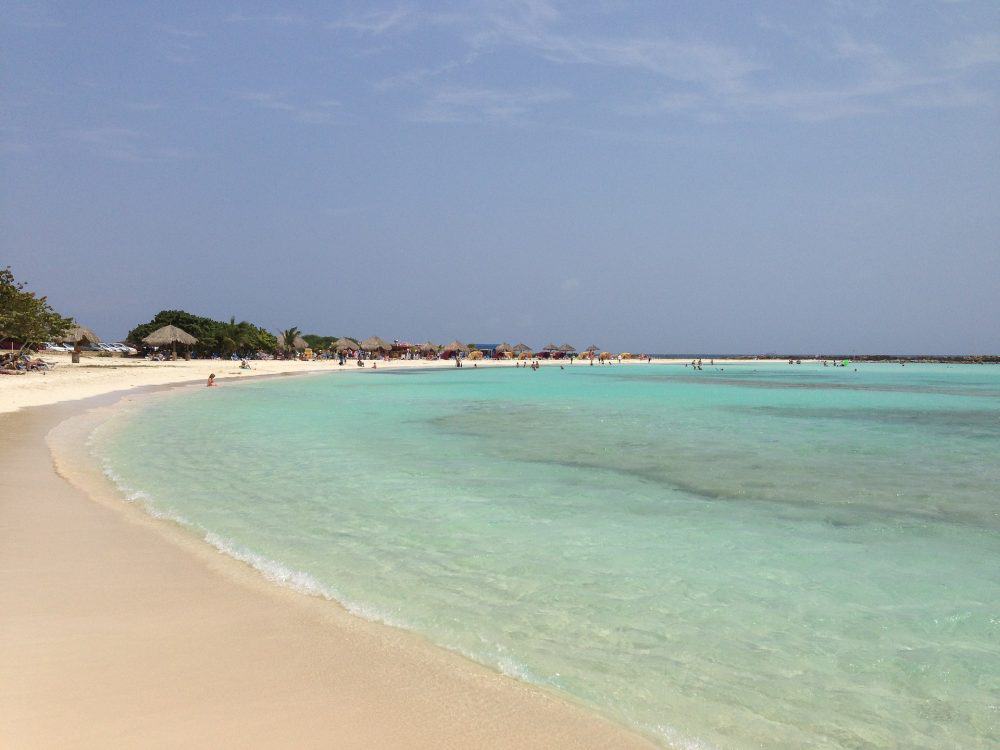 Best Snorkeling in Aruba
There are some incredible Aruba snorkeling beaches where you can find white sands, clear blue waters and warm temperatures. And the marine under-water world is amazing!
I hit up a few spots when I was last in Aruba and it was one of my favourite activities to do on the island. You can see brightly-coloured coral reefs, tropical fish, and on a good day, you may even spot a turtle.
One important thing to remember is Aruba is an arid island, and therefore the beaches wary drastically from one side of the island to the other. This also includes the tides and the winds coming off the ocean, so do your research and remember, at all times, stay safe!
Generally, the best Aruba snorkeling beaches can be found on the east and west side of the island, as the north coast is wild and sometimes unsafe for snorkeling.
I hope this guide helps you with your hunt for the best snorkeling in Aruba…
Top snorkel beaches in Aruba
1. Arashi Beach
One of the most popular beaches in Aruba is Arashi beach, located on the north coast of Aruba, close to the California lighthouse. The beach is popular with local people so can be busy on the weekends, as families descend with their BBQs.
The beach is an amazing snorkeling beach, with lots of underwater marine life, including coral patches, angelfish and goatfish. The waters are super clear, and the white sand makes for a really exciting snorkeling experience.
The beach is also close by to Boca Catalina so you could spend a morning here and then move on for the afternoon. And for those adventure seekers, another reef sits around 150 metres offshore.
2. Baby Beach
My favourite beach in Aruba has to be Baby Beach. I spent a whole day here during my trip a few years ago and it was the perfect way to spend a Sunday. The beach was busy with locals, the waters were clear, and there was an array of marine life to spot.
Baby Beach is at the southern end of Aruba and is a horseshoe shape, wrapped around a calm lagoon. The beach was created decades ago when refinery workers wanted to provide a safe haven for families to swim, and built a concrete wall to support the lagoon.
Within the lagoon, there's a coral reef where you can swim for hours! Visibility isn't always the best but it's worth spending a few hours here.
There is a cafe here called Big Mama Grill and a Flinstones experience, which even though super random, is a fun addition.

3.
Tres Trapi
Not far away from Catalina Cove (which I mention later) is the bay of Tres Trapi. The gorgeous cove is a rocky area, with ocean water in the middle, and there are steps for a safe entry and exit.
Because the waters are so shallow it makes it really safe for everyone swimming and snorkelling. You can also find an abundance of starfish here, to the right of the stairs.
4. Malmok Beach
Another favourite of mine is Malmok Beach, where the snorkeling is amazing, and many boat day trips stop here to see the under-water world. This is also where you will find the famous Antilla shipwreck and Baboo shipwreck, so it's really popular and sometimes gets busy.
I would suggest getting here early morning before the group tours arrive to make the most of these beautiful waters.
There is a vibrant coral reef that's easily accessible from the beach, with both hard and soft corals, tropical fish and sometimes even turtles!
5. Spanish Lagoon
Only 10km south of the capital of Aruba Oranjestad, is the gorgeous Spanish Lagoon. It is one of the biggest natural lagoons in the Caribbean so makes a perfect spot for snorkeling in Aruba. It is also part of the protected environs of Arikok National Park so you are likely to see some incredible marine life here.
The lagoon has a thin ocean inlet where incredible marine species live and swim safely among the mangrove trees making it a perfect location for snorkelling, scuba diving, paddle boarding and much, much more.
6. Eagle Beach
Eagle Beach is one of the best beaches in Aruba and is one of the most famous due to its white sand, clear waters and the iconic famous divi-divi.
When you Google Aruba, you will immediately see lots of photos of a twisted, windswept tree, which the locals call the divi tree. The Arawak name is watapana, and the island now considers it their national tree.
It is also a great beach for activities, and water sports including paddle boarding, kayaking and more. There aren't any coral reefs here but its a good beach for beginners to get used to the water.
7. Palm Beach
Located on the same stretch as the main high rise hotels, Palm Beach is popular with sunbathers alike. Snorkeling isn't the best here, but you can get in the water and get used to the tide and the wind here, so it's perfect for beginners. And there are also an array of your companies here who can take you to nearby spots. Near the DIVI resort, you can find a few more fish and coral patches.
8.
Catalina Cove
Catalina Cove is located in the Malmok Beach area, making it very popular with tourists and locals alike. The shallow conditions make it a great area for marine life, and there is an abundance of tropical fish here, and sometimes even turtles.
---
Best Snorkeling in Aruba: Top Tips
Aruba snorkeling shipwreck
You cannot go snorkeling in Aruba without visiting the famous for shipwrecks. Across the island, there are several shipwrecks and plane wrecks located at different depths and although most of them are only accessible to scuba divers, there are a few that can be visited by snorkelers too.
Baboo Wreck at Malmok Beach
The Antilla wreck at Eagle Beach (the Caribbean's largest shipwrecks)
The Kappel at Mangel Halto
Aruba Snorkeling Tours
If you aren't brave enough to head off on your own, you could always join a snorkelling tour with a reputable company or with your hotel. They can take you to the best beaches and the best places to spot an array of marine life.
Some companies I'd recommend for snorkeling in Aruba include:
Blue Melody & Black Pearl Sailing
Aruba Bob Snorkeling
Aruba Outdoor Adventures
Seabob Aruba
Palm Beach Divers
Aruba Snorkeling Equipment Rental
As mentioned above, there an array of companies for snorkeling in Aruba, running some amazing snorkelling tours, and these guys often also have equipment for rental too. But it may be expensive for full day hire, so I would consider bringing your own equipment if you plan on snorkelling on most days. You may also find your hotel has free equipment hire so ask ahead and see what they've got to offer.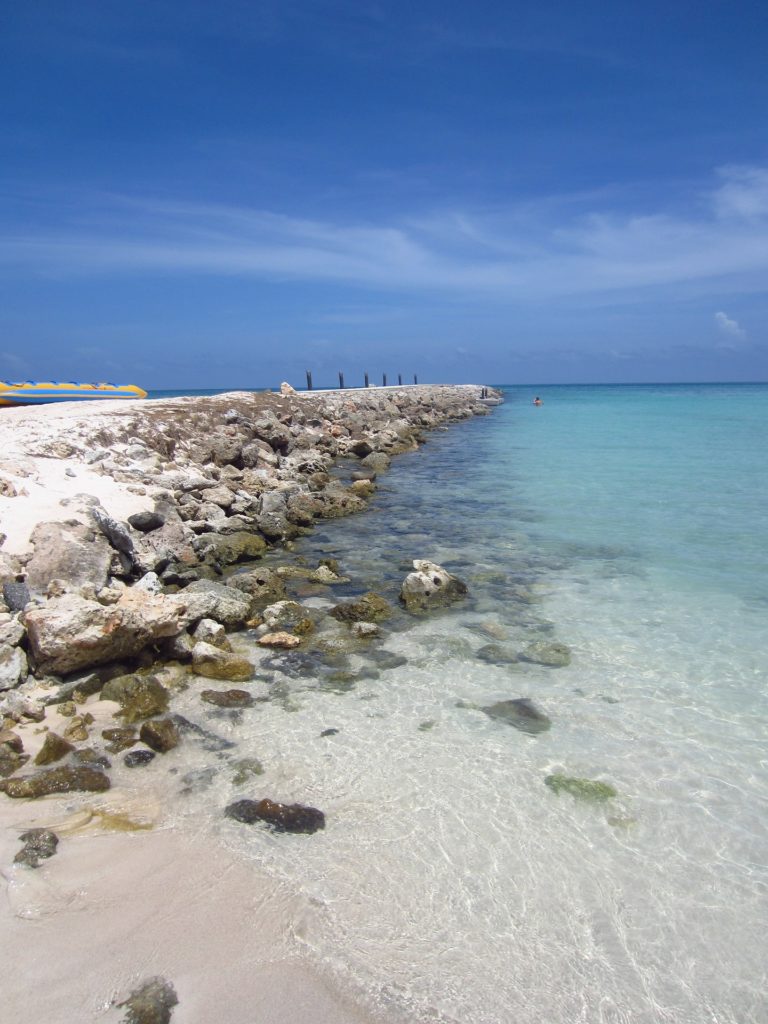 ---
My Travel Tips and Recommendations
Flights
To book flights, I always use flight search engine Skyscanner, I regularly use the Everywhere tool to find the cheapest places to travel. It's how I get to travel so much all around the world. I find it the easiest way to compare flight prices across airlines and get the best deals.
Accommodation
For accommodation, I usually book most of my hotels or hostels through Booking.com. I love using this platform as it provides me with some amazing deals for accommodation all around the world. Or if you prefer, I also recommend using Airbnb. If you haven't signed up with Airbnb already, you can use this link to get £25 off your first visit!
Travel Insurance
Picking travel insurance that covers you in all eventualities is an essential part of planning a trip for every single person. If you can't afford travel insurance, you can't afford to travel. You never know what's around the corner.
Did you know I also vlog my trips? Make sure you subscribe to my YouTube channel so you get alerted when all my travel videos go live… CHECK THEM OUT HERE
Thank you for reading and as always happy adventuring! If you have any questions about the destination please leave these in the comments below.
If you've enjoyed this post, please share it for me with all your friends and family!
Sophie X