If you guys know me, you'll know food is one of my favourite things in life so when I was on a recent trip to Aruba I had to try all the local food I could. And in response, I pulled together my favourites places to eat in Aruba blog post, so when you visit you'll know exactly where to head once you land on this wonderful island.
I spent time in Aruba in July for a week of fun-filled activities, food and new experiences. Aruba, which is famous for its white sandy beaches, all year sunshine and interesting history is the alternative destination for it's million tourist each year.
Aruba is popular with couples, newlyweds, families and groups of friends all looking for a relaxing holiday or action-packed adventure. I travelled with KLM from Heathrow via Schiphol Airport, Amsterdam to the beautiful island of Aruba where I stayed for six nights in the luxurious Renaissance Aruba Resort & Casino.
Where to eat in Aruba
I am fascinated by food, flavours and the delicacies. Aruba was no different, it delighted me with the variety of cuisines available all across the island from Italian to French, and from Caribbean to Indonesian. Aruba has over 90 different nationalities living on the island so it's variation of food was going to be amazing.
The atmospheres also made a big difference in many of the restaurants we were lucky enough to eat at including a sunset dinner, food served whilst sitting in bed and an early morning breakfast in traditional Aruba. Here are my favourite places to eat in Aruba. With over 250 places to eat on the island, Aruba is the perfect place for Caribbean food travel.
Where to eat in Aruba
Top 10 Places to eat in Aruba
Passions on the Beach, Eagle Beach
Screaming Eagle Restaurant, Eagle Beach
Zeerovers, Savaneta
Moomba Beach Bar, Palm Beach
Papillon Restaurant, Palm Beach
Seasalt Grill, Renaissance Marina Mall, Oranjestad
Pinchos Grill & Bar, Surfside Beach
Huchada Bakery, Santa Cruz
The West Deck, Governor's Beach
G Smiths Steak & Chop House, Oranjestad
Where to eat in Aruba
Passions on the Beach, Eagle Beach
Imagine sitting on the beach, sand in your toes with a cocktail in hand watching the sun go down… this is exactly what you experience when you eat at Passions. The restaurant claims to offer the most romantic dinner experience on the island and even though we didn't experience every restaurant we were completely delighted by the experience at this unique restaurant.
The food is also delicious, with the menu offering a mix of meat dishes and fresh fish, alongside more traditional Caribbean food. Whilst we were sat eating our dinner we could see a couple getting married at the end of the beach – super romantic!
Screaming Eagle Restaurant, Eagle Beach
Another great place to eat is Screaming Eagle Restaurant located near Eagle Beach offering an array of dining experiences including indoor and outdoor dining and a unique 'Dinner-in-bed' experience for those romantic types.
Some of the best food on the island is found here across their French-fusion inspired menu and perfectly matched selection of over 300 wine labels and alcohol from around the world. Even though we ate at one of the tables inside, we did jump in to one of the 'beds' for a quick photo before we ate dinner!
Zeerovers, Savaneta
This local restaurant serves seafood right out of the ocean with the catch of the day including wahoo, snapper, barracuda or kingfish, and when available, big shrimps. All of these can be accompanied with fries, plantains, onions in vinegar (pika), and pan bati (Aruban cornbread) which all makes for a local lunch or dinner by the ocean. Sit with locals and enjoy great seafood and a spectacular sunset at this restaurant.
Moomba Beach Bar, Palm Beach
We headed to Moomba Beach Bar after a rainy paddle boarding session on Palm Beach and enjoyed a light lunch beside two giant palapas where you can sip your cocktail, beer or glass of wine whilst overlooking the ocean. The laid back beach bar offers a wide array of tropical drinks and dishes. I had a tasty chicken wings dish with dip which is just what I needed after a morning in the sea.
Papillon Restaurant, Palm Beach
Papillon on Palm Beaches near the main hotels, offers French Caribbean Fine Dining surrounded by a lively atmosphere. Papillon in The Village combines history with a trendy elegant menu, mixing up its French-Belgian cuisine with Caribbean flair. They are also famous for convict Papillon's incredible flight to freedom is the restaurant's theme. At Papillon's I had an incredible steak, French Onion soup and chocolate tart!
Seasalt Grill, Renaissance Marina Mall, Oranjestad
This great little lunch destination is great for all kinds of food from pasta to fresh fish, Caribbean delicacies and much more. Located close to the Renaissance Family hotel near the marina, it is a great spot for a lunch break or dinner in the evening. We enjoyed Grilled Snapper in a creole sauce with rice & fried plantain & a garden salad with a refreshing cold beer, obviously.
Pinchos Grill & Bar, Surfside Beach
Pinchos Grill offers a distinctive outdoor concept has a very inviting, intimate and romantic atmosphere. We dined here on our last night and also my birthday – it was a great place to finish our visit to this beautiful country. The restaurant has a relaxed outdoor chic living room type setting located on the pier at the Surfside Marina.
Some of their most popular dishes include fresh fish and meat from the grill, alongside my choice for the evening; Dark Rum Infused Blue Cheese Tenderloin and my friends; a Pan Seared Caribbean Grouper served with an Apricot & Ginger Sauce.
Huchada Bakery, Santa Cruz
This is a different place; it was more a café than a restaurant but still offered something unique. The bakery is a popular spot with locals and offers an array of Caribbean and Dutch breakfast treats located in the resident's area of Santa Cruz. Everything is baked fresh in store and they also serve an array of tasty desserts. Some of the best delicacies include Raisin bread and Cashew Cake.
The West Deck, Governor's Beach
Set on a wooden deck overlooking the sea and airport, The West Deck for our final place of eating before we jumped on a plane back to the UK. The restaurant is very popular with locals and tourists and has a great menu with lots of variety. We had a tapas-style lunch with lots of different food including fresh fish, steak, chips, shrimp, lobster and shredded chicken with a strong Caribbean influence.
G Smiths Steak & Chop House, Oranjestad
Our first night was at the top steak restaurant, L.G. Smith's Steak & Chop House. It offers mouth-watering American steak house fare and an extensive international wine list and luckily for us it was in the hotel so we could slither off to bed afterwards. The menu offers delicious American Steak; juicy cuts of aged, sizzling grills hot from the cooker, delectable appetizers from both land and sea and tempting desserts, including the Signature Mascarpone Tart. This place was a great start to the trip!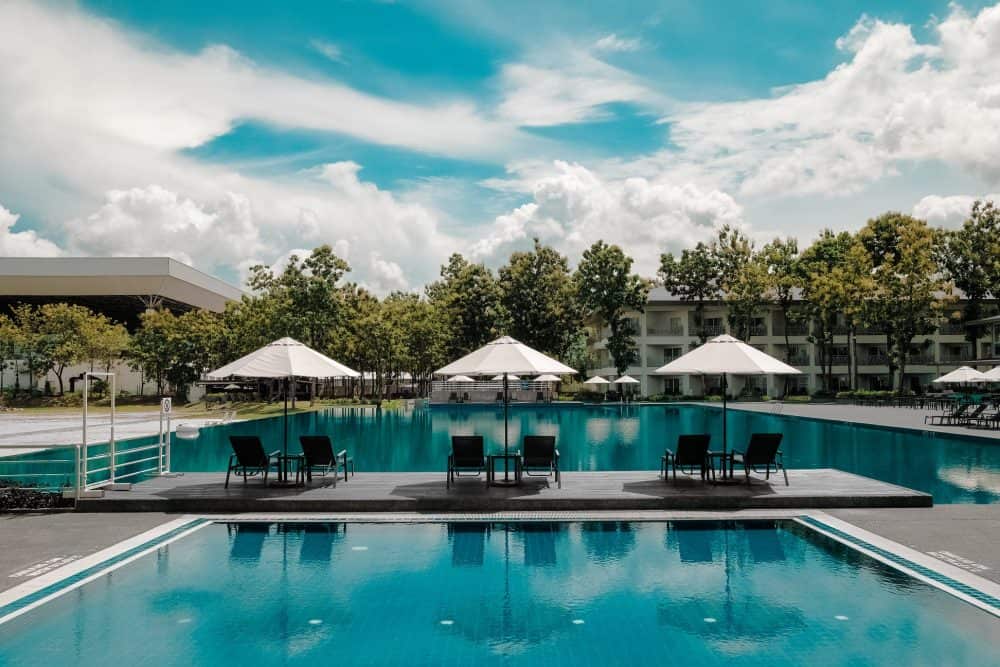 Other posts that may help you:
Ultimate Guide to Honeymoon in The Maldives
Italian Coastal Adventure in Positano
Hot Air Balloons in Cappadocia
The Best City Breaks for Couples
Regional Work: Working on a cattle station in Australia
A Guide to visiting Angkor Wat Cambodia
Sign up to AirBnB with this link and receive a £23 off your first booking.
To receive my articles and reviews straight to your inbox SUBSCRIBE HERE.
Did you know I also vlog my trips? Make sure you subscribe to my YouTube channel so you get alerted when all my travel videos goes live… CHECK THEM OUT HERE
Thank you for reading and as always happy adventuring! If you have any questions about the destination please leave these in the comments below.
If you've enjoyed this post, please share it for me with all your friends and family!
Sophie X