I never thought I'd be someone who could backpack. I would see friends or family wave goodbye to me at the airport, with all their treasured items, shoved into one huge bag on their back, and I couldn't understand how it was possible to live out of one.
One spontaneous decision, and 18 months of backpacking around the world later, I can safely say, it's possible, and it's the best thing I've ever done.
But one of the most important things to do before you go backpacking is to get a really good travel backpack. And there are some amazing cheap travel backpacks and ladies travel backpacks on the market.
So I have pulled together my favourite from years of travelling the world, to help you find a cheap travel bag for your trip.
Keep reading for the best travel backpack…
Why go backpacking?
Put simply – it's so SIMPLE. Backpacking forces you to focus on the essential items you need, and not materialistic ones that take up a lot of space.
When you're jumping on and off sleeping buses, hiking up steep roads to arrive at the accommodation or just need to be quick in a short turnaround of time, you've got your hands free, you need only to worry about one item of baggage and it's a LOT easier to walk on unstable terrains – think sandy beaches in Thailand or cobbled streets of Cusco – without having to lug something behind you.
It's on your back, safely out of the way and means you can concentrate on more important things like finding your hostel! It might feel strange at first if you're new to this, but backpacks give you so much flexibility – you're ready to throw it on your shoulders and start your adventure!
Which are the best ladies travel backpacks?
This is a good question. With the surge in gap year trips and the popularity of travelling growing, you have more choice than ever to choose a backpack.
There's a huge variety of companies advertising backpacks that differ in size, style and litre – so how do you know which one to choose?
Well, my friends, it's dependent on you I'm afraid. There is no right or wrong answer as every backpack suits a different individual.
It's hard to choose – but choose you must! Whether you're planning for your eventual 2021 post-corona adventure or simply want to know for interest, have a look below at some of my favourite backpacks, perfect for every type of travel trip possible!
Here are some of my favourite cheap travel backpacks for women.
**Please be aware all backpack prices are correct at time of publishing – December 2020.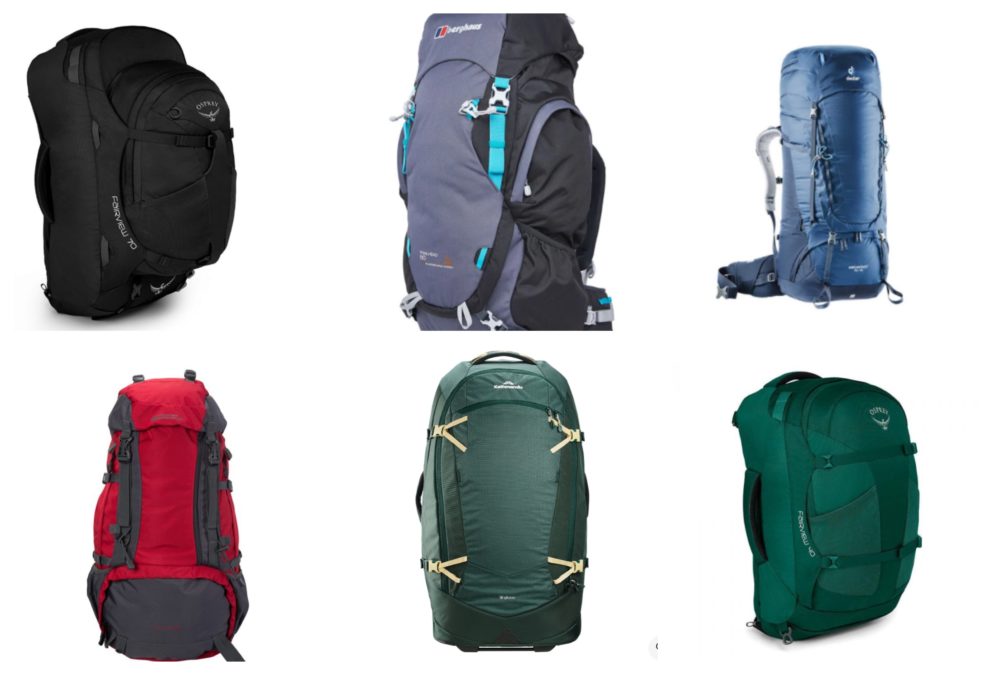 Best Travel Backpacks
The beauty of backpacks as you can see is how easy travelling becomes with them.
What's great is that there are many backpacks that are made in a size that fits easily as carry-on luggage so you don't need to wait around at baggage claim when you land – and the flight ticket is so much cheaper when it's hand-luggage only!
But which is the best travel backpack?
SHORT TERM TRAVEL
Mountain Warehouse Venture 40L
Price: £39.99
When I decided to backpack the USA, I chose Mountain Warehouse's Venture 40L backpack – and it was a great choice!
The price was reasonable, the backpack itself was extremely spacious for 40L and the compression straps reduced the bulk of the backpack considerably, making it easier to shove into the plane's overhead compartment.
The hip strap made the bag really comfortable on my back and I found it very easy to travel with. This is a really great cheap travel backpack for short trips.
Osprey Europe Fairview 40L
Price: £120.00
Another one of the best travel backpacks out there is a firm favourite of mine is Osprey. The brand is renowned in the travel industry for good reason – their backpacks are honestly some of the best on the market. They're slightly more expensive, but you're paying for durability, comfort and maximum space, compressed into something that's easy to put on your back.
The Fairview 40L offers backpack options for both men and women and features supportive and adjustable straps for your shoulders that can be easily zipped up and hidden neatly if you're taking it on a plane. The Fairview is worn like a backpack, but the main compartment is opened like a suitcase, and it also features a shoulder strap in case you want to give your back a breather.
The other compartments are big enough to separate a laptop from your essential items and there is space at the top of the backpack to fit other items eg. your liquids or a medical kit.
The compression straps on the outside of the backpack allow you to carry the separate gear you can't fit inside, and there are mesh pouches to hold your water bottle securely too.
One more thing – the zippers have attached locking sliders which you can attach a padlock to – something which has been key (mind the pun) to have on my backpacking adventures.
Best Travel Backpacks
MEDIUM TERM TRAVEL
Kathmandu Hybrid Trolley 70L
Price: £199.00
As great as it is carrying all your luggage on you, sometimes it can be frustrating and tiring. If you're on good terrain, you might want to give your body a break and pull your baggage along behind you – because in case you didn't know, backpacking can get REALLY tiring.
Maybe you've become fed up of carrying everything on your back OR perhaps you want to check into a nice hotel and you don't want to look like you've just been trekking in the highlands, with a dirty backpack on you.
Either way, Kathmandu's Hybrid 70L gives you the best of both worlds – a classic backpack with versatile straps and a comfortable hip belt which can be swapped and tucked away for wheels and an extendable handle.
This combined with the many compartments makes this a fabulous choice for your trip. The only fault I can find is that unfortunately there is no chest strap which is vital if you're travelling for a very long time. Therefore, I feel this is a great backpack for a month's trip, but not one you should choose for a year of travel if you're planning on carrying a lot of items.
Berghaus Trailhead 60L
Price: £80.50
Berghaus is well known for its focus on comfort and this backpack is no different. This is one of the best travel backpack on the market for a good reason.
Featuring a BIOFIT back system and women's specific harness which can be adjusted for comfort, classic loops to hold walking poles and compression straps to squeeze your items in further, the Trailhead 60L is great for longer trips and is reasonable in price.
You can choose whether between one large compartment or to separate it into two – for clean and dirty clothes – with the help of the fabric provided with the bag.
There are 5 compartments on the outside for various items, with also handy space to attach any extras and it is also hydration system compatible if you fancy doing some trekking on your journey and want to buy a hydration pack for it.
It's also a really good price and one of the best cheap travel backpacks on the market.
Best Travel Backpacks
LONG TERM TRAVEL
Osprey Fairview 70L
Price: £160.00
I couldn't write this article without including the very backpack that took me to South America, India, South East Asia, Indonesia and Australia – and yes, it still functions excellently would you believe!
It's (clearly) extremely durable, insanely comfortable and I used the straps on the front to hold items like flip flops when I needed to change quickly out of my hiking boots. It also comes with a handy detachable day bag so you can clip it onto the backpack without needing to hold another day pack in front of you like a turtle!
70L was enough space for me to travel comfortably (including packing souvenirs) but Osprey also provides backpacks for those that require more space including 80L ones that may be more suitable, depending on your needs and the type of traveller you are!
Deuter Aircontact 75L + 10L
Price: £210.00
I've always said it's worth spending extra on a backpack that is going to see you through to the end of your trip and beyond – there is nothing worse than spending less on a backpack where you end up injured, OR it breaks in the middle of a country where you can't get it fixed – or even find one to replace it!
Deuter's Aircontact backpack is perfect for trekking, extended backpacking and hardcore adventuring. Featuring the traditional top-loading style pack on top, which, when unfastened, offers you an extra 10L of space, there is also a zipper on the front of the backpack which opens like a suitcase, giving you access to items in the middle without needing to unpack the whole thing.
Not many backpacks give you the option of both top-loading style packs and zip to access the rest of your items – so this is already brilliant.
There is a sleeping bag compartment at the bottom of this backpack which is perfect if you're going to be sleeping outdoors and require space to carry your items, as well as a rain cover provided and the heavy mesh padding on the adjustable straps so you can carry a heavy load with ease.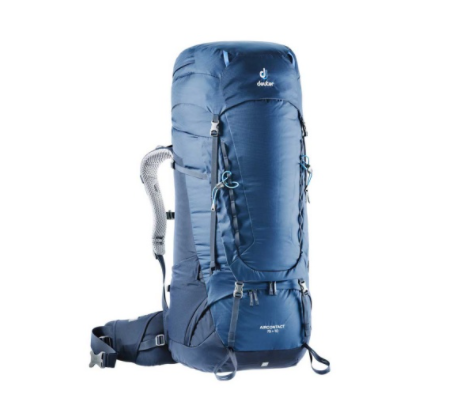 Do you have any favourite backpacks?
Happy adventuring!
Author Bio: Emily runs the blog Emilys Eyes Explore. She has been travelling the world since September 2018, after finally being diagnosed with depression and anxiety. Determined to change her life and mentality around, she moved to Spain for two months to learn Spanish, flew to South America, travelled around India, explored Malaysia, ventured around SE Asia and started life in Australia. Emily blogs to raise awareness of travelling solo as a female who suffers from depression and anxiety and it is her hope that people in the same position will be able to relate to the stories she shares and in turn feel less lonely and isolated as she shares her thoughts, feelings and emotions along this journey. Check out her Instagram too!
---
If you on a bigger trip exploring more of Europe check out my guides to France, Germany, Greece, Iceland, Italy, Portugal, Spain and United Kingdom.
My Travel Tips and Recommendations
Flights
To book flights, I always use flight search engine Skyscanner, I regularly use the Everywhere tool to find the cheapest places to travel. It's how I get to travel so much all around the world. I find it the easiest way to compare flight prices across airlines and get the best deals.
Accommodation
For accommodation, I usually book most of my hotels or hostels through Booking.com. I love using this platform as it provides me with some amazing deals for accommodation all around the world. Or if you prefer, I also recommend using Airbnb. If you haven't signed up with Airbnb already, you can use this link to get £25 off your first visit!
Travel Insurance
Picking travel insurance that covers you in all eventualities is an essential part of planning a trip for every single person. If you can't afford travel insurance, you can't afford to travel. You never know what's around the corner.
Did you know I also vlog my trips? Make sure you subscribe to my YouTube channel so you get alerted when all my travel videos go live… CHECK THEM OUT HERE
Thank you for reading and as always happy adventuring! If you have any questions about the destination please leave these in the comments below.
If you've enjoyed this post, please share it for me with all your friends and family!
Sophie X