Heading off on a honeymoon in The Maldives? Then this guide is for you – packed full of information about my recent trip to The Maldives. A Maldives honeymoon is the ultimate goal for many married couples and millions now spend the beginning of their married life in The Maldives.
But where do you begin with planning a honeymoon in The Maldives?
If you want the most epic honeymoon, then a honeymoon in the Maldives is a must. A Maldives honeymoon incorporates luxury, relaxation and activities, as well as overwater bungalows, crystal clear waters, blue skies, vibrant marine life and activities galore.
If you're planning a trip to The Maldives for your honeymoon, this guide is going to help you plan your trip, including when best to visit The Maldives, best resorts for a Maldives honeymoon, what to pack for the Maldives, weather in The Maldives, how to get to The Maldives and where to stay in The Maldives.
The faraway dream-land of The Maldives is hardly easy to navigate for a first-timer, especially when there are hundreds of incredible resorts and hotels to choose from, so this guide will provide you with everything you need to know before you go on a honeymoon to the Maldives!
To start planning for your Honeymoon in the Maldives you must first look at where you want to stay, do some research on different resorts and then look at all inclusive Maldives honeymoon packages, or half board and B&B options. A Maldives holiday will be a trip to remember for the rest of your life, so choose your resort wisely and don't just go for the first cheap Maldives holiday you see.
There are many companies offering Maldives honeymoon packages, but do your research and ensure you find a resort that fits all of your needs e.g. cuisine, tours, spa, size of the resort, underwater experiences. Some of the best Maldives resorts for your honeymoon, may not be the top 10 you see plastered across magazines and social media. I would recommend also checking out some of the smaller resorts, the more intimate resorts that offer that unique Maldives honeymoon. If you do your research you will be able to find some amazing Maldives offers and packages for couples of their honeymoon in the Maldives.
I spent nearly two weeks in the Maldives earlier this year, visiting a handful of resorts, so I can speak from my own first-hand experiences.
Honeymoon in The Maldives
Where is The Maldives?
The Maldives is made up of 26 circular atolls each with hundreds of coral islands, located in the middle of the Indian Ocean, only an hour from Sri Lanka. The Maldives is a dream destination for millions around the world, who adore its clear skies, white sandy beaches and magical underwater world.
There's snorkelling, there's scuba diving, there's turtle quests, there's sandbanks, there's world class cuisine, there's overwater bungalows, there's surfing, there's underwater restaurants, there's marine life and there's much, much more.
The best resort in the Maldives for honeymooners are: Reethi Faru Resort, Fushifaru, Kandima Maldives, LUX South Ari Atoll, Maldives, Dusit Thani Maldives, Ayada Maldives, Cinnamon Hakuraa Huraa Maldives, Soneva Fushi, Meeru Island Resort, Kurumba Maldives, Veligandu Island Resort, and Coco Palm Dhuni Kolhu. However, these are just a handful of the honeymoon resorts available in the Maldives islands.
There are so many hotels, check out this post of the best hotels in Maldives.
Honeymoon in The Maldives
How to get to The Maldives
The Maldives may be a few plane rides away, but don't let the long flight scare you away from a honeymoon in the Maldives. The journey wasn't half as bad as I was expecting and it was all worth it when we stepped off our seaplane in to paradise.
When searching flights you'll want to look for flights to Male (MLE), but it may be cheaper to fly into Colombo Sri Lanka and buy a flight to the Maldives from there. Depending where you are coming from, it'll probably take around 13 hours from the United Kingdom with a stopover somewhere in the Middle East or if you are coming from the USA it will probably take 16-24 hours to get to the Maldives. Common layover stops are Abu Dhabi UAE, Dubai UAE, and Colombo Sri Lanka.
On our trip to The Maldives with Etihad airways, we upgraded our seats to neighbour-free seats using the new bidding system that Etihad introduced earlier this year. Etihad Airways' new "neighbour-free seat" concept, allows passengers to bid on up to three extra empty seats adjacent to their booked seat. If the bid is won, the extra seats will remain vacant for the duration of the passenger's journey, meaning you could have an entire row all to yourself.
We put in a bid for a neighbour free seat in our row of three from London to Abu Dhabi (the longest leg of our flight to Male) and paid around £80 for the privilege. We also put a bid in for our return leg from Abu Dhabi to Heathrow but we were not successful.
On our trip to the Maldives, we flew from London Heathrow to Male, with a stopover in Abu Dhabi with Etihad Airways in economy class. I would recommended for long-haul flights to the Maldives, in order of our favourites: Emirates, Qatar, Etihad, Turkish Air, and British Airways.
Looking for more inspiration? Check out this guide to the best hotels in Maldives.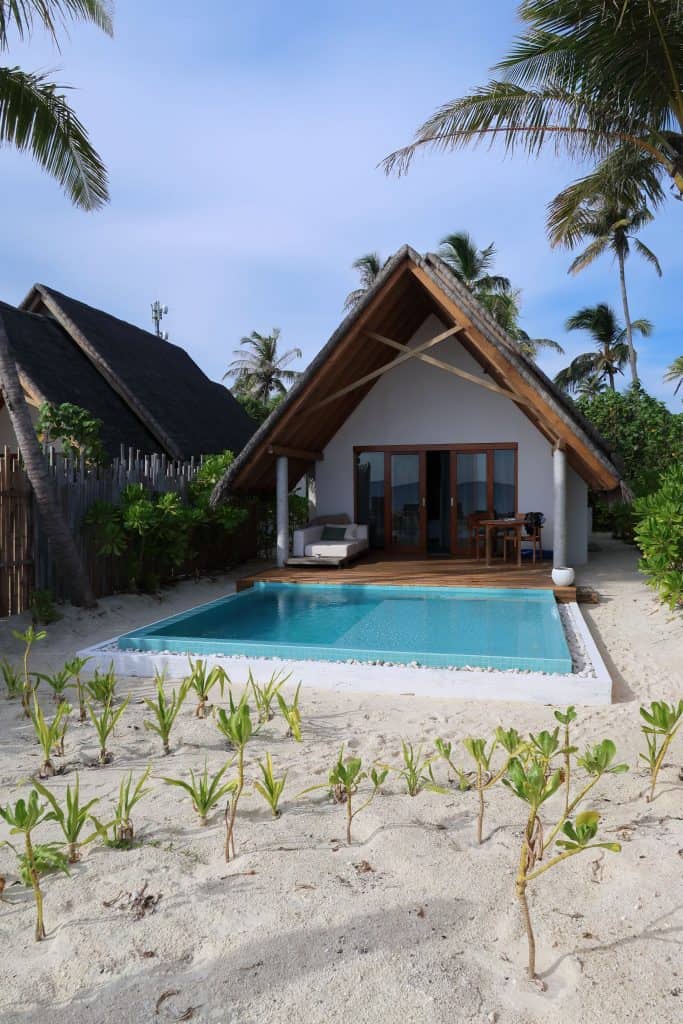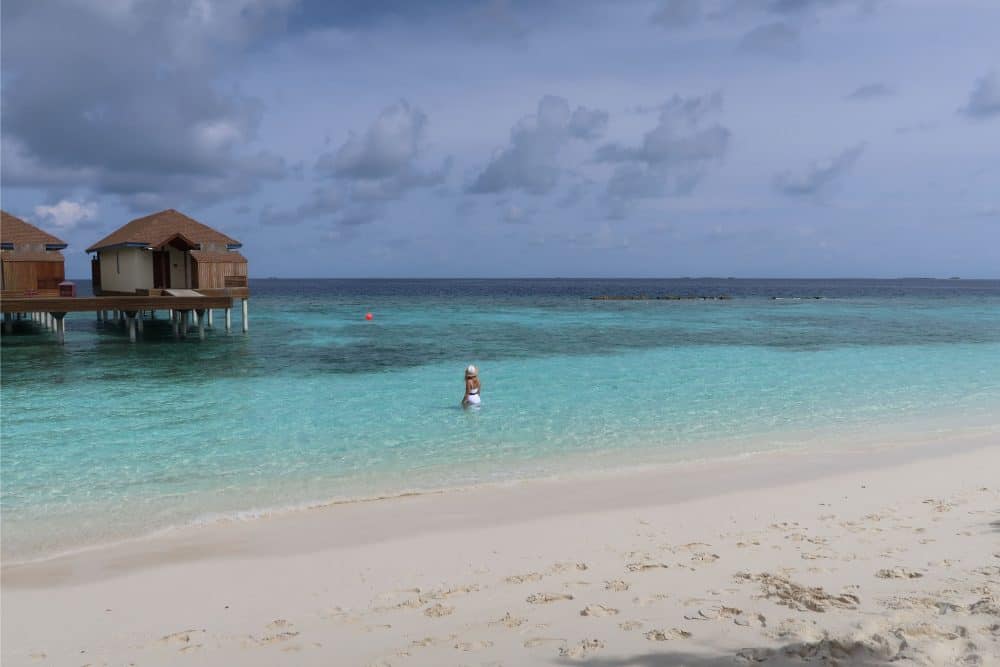 Honeymoon in The Maldives
How to get to resorts in The Maldives
Once you've landed in Malé, most resorts then require guests to travel on another form of transportation to the resort. We opted for two different types of transportation, to Reethi Faru we travelled by domestic plane to another bigger island and then speedboat to the resort. And for Fushifaru we travelled by seaplane from Male domestic airport to the resort. There are public ferries in the Maldives but they don't go to any of the private Maldives resort, and they only go to Male Island.
Tourism in the Maldives only started in the '70s therefore some resorts further away, can be fairly complex to reach. The seaplane was by far the most expensive option costing around $400 return, whereas the domestic plane and speedboat option was cheaper. But not all resorts offer this and it depends if the resort is in an atoll with a domestic airport. It is true, the Maldives are not a great option for honeymooners on a budget, but if you have been saving your money— for a trip of a lifetime, this is the way to go!
Your resort or hotel will book all this on your behalf and they continually work with the airlines, both domestic and international to coordinate flight times. We took two domestic flights, two seaplanes and a speedboat in the Maldives.
Honeymoon in The Maldives
Best time for a honeymoon in The Maldives
The best time to visit The Maldives is any time and is a great all-year-round destination, but there are seasons which are better than others.
There are two main seasons in the Maldives, wet season and dry season. The dry season is typically January through March and wet season is May through November. We opted to travel to The Maldives in September, where it was technically monsoon season, but out of 10 days we were there we only had one full day of rain and the odd shower.
Travelling to The Maldives in monsoon season is also much cheaper, so if you want to visit The Maldives on a budget, a good option would also be to book a trip between May and October. Peak season is December and March and prices will be at their highest. If you want to save some money consider the low season in the Maldives instead.
Honeymoon in The Maldives
Currency and money in The Maldives
For most honeymooners in the Maldives, you'll be staying at a resort in which you won't need cash and everything is put on your room during your stay and you will simply pay your bill at the end of the visit. You can usually pay this in USD (preferred) or your own currency. I would recommend using a Monzo card, as you don't get charged for transactions.
I also use my AMEX British Airways credit card when I travel to pay our bill as you earn Avios points on all transactions and I have already built up enough Avios to fly return to New York. If you want to get your own AMEX card for your travels click here. (By using this link above you will also earn 4,000 Avios in your first month if you spend £1,000)
The Maldives currency is the Rufiyaa, which is roughly $1 USD= 15 but you shouldn't need to pay for anything in the local currency. You can exchange money at the Male airport or get local currency at the ATM. If you spend any time in the capital city Male or local Maldives islands it's best to have Rufiyaa.
Honeymoon in the Maldives
Things to know before booking a Maldives Honeymoon
There are 1,192 Islands in The Maldives
There are 1,192 coral islands in the Maldives and they are grouped into 26 atolls which have 122 resort islands. There are two types of islands in the Maldives, private resort islands, and local islands.
Alcohol in The Maldives
The Maldives is a strict Muslim country and alcohol isn't allowed on local islands. The resorts do have permits to serve and sell alcohol though. Do not purchase any duty-free alcohol and bring it into the Maldives, it will get taken away. Most Maldivian resorts offer an all-inclusive package that includes all the alcohol.
Dress codes in The Maldives
When you are in the resorts do what you want, but it's important to respect the local culture and cover yourself when you on local islands or in Male. On the resorts through, you will be free to wear whatever you want to wear.
The new weekend!
In The Maldives their weekend starts on Friday and finishes on Saturday. Friday is the holy day for Muslims and therefore things operate slightly different on Fridays (even at the resorts) and especially Fridays during Ramadan. Our resort had a lovely Maldivian evening on the Friday to celebrate their weekend.
Food options
Another cultural element of The Maldives is pork products. Pork products are another thing not allowed on local islands in the Maldives but are on resort islands. Most resorts will have pork sausages and chicken sausages at breakfast for you to enjoy.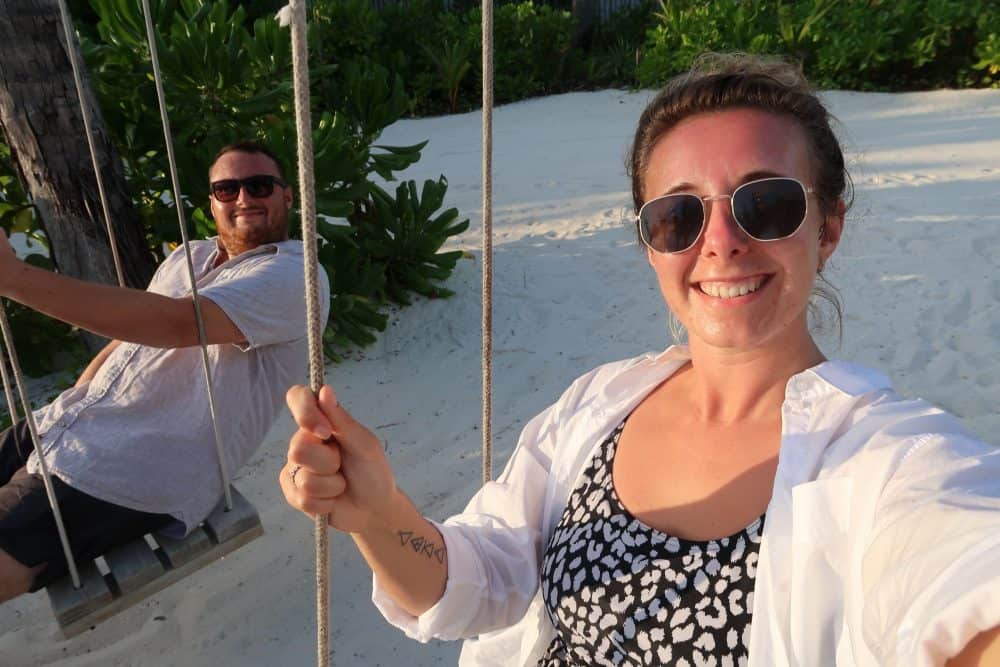 Honeymoon in The Maldives
10 Things to do on your Maldives Honeymoon
A honeymoon in the Maldives is going to be amazing no matter where you stay in The Maldives, every resort offers something unique, and the people in The Maldives are the most incredible humans. There are lots of options for your trip to The Maldives, so I've listed below some unique experiences you can do whilst on honeymoon in the Maldives.
If you were ever considering buying a drone for travel this is the place you'd want it for. Stay tuned for my guide to buying a drone!
Stay in an overwater bungalow
If you're coming on a honeymoon to The Maldives, you must book a few nights in an overwater bungalow! Your Maldives honeymoon dreams come true in an overwater bungalow and it's the perfect way to kick off married life. You can lay in bed and look out to the amazing ocean views, jump of your decking in to the ocean and even have an option to have your very own pool. Maldives overwater villas range from $200 – $30,000 a night, so depending on your budget, you will be able to stay in a Maldives overwater bungalow. Check out my reviews from my stay at Reethi Faru resort to check out our very own water villa.
Go fishing with the locals
If you have a husband like mine, your partner won't be able to sit still and sunbathe for too long and one great option for them is to go fishing with a local. It's such a great day out and an amazing experience of catching and cooking your own fish. You can then follow the day with a barbecue o the beach where you eat your catch of the day, surrounded by white sandy beaches and stars in the sky.
Swim with whale sharks
If swimming with whale sharks is on your bucket list then visiting The Maldives is the perfect place. Make sure you head down to the South Atoll as these magical creatures tend to swim here. It's the perfect place to glide alongside the largest fish in the sea that can reach lengths of 40 feet.
Go scuba diving
One of the best Maldives honeymoon experiences is to go scuba diving, either if you are a newbie or you've been before. It's one of the best places to go scuba diving, as the waters are safe, clear and warm. The Maldives have some good coral reefs, but it's the abundance of marine life throughout the country that sets it apart from other dive destinations around the world.
Visit the Glowing Beach
If you ever end up getting bored of the white sandy beaches, you could head to Vaadhoo Island and stand on the glowing beach to enjoy an experience of a lifetime. The famous beach lights up at night because of rare glowing tides that rinse the shore at night and makes a magnificent view which is amazing.
Do a live aboard experience
Some of the best dives sites in the world are in the Maldives and there is no better way to dive in the Maldives than getting on a live aboard. For those unfamiliar with a liveaboard, it's a boat that you literally live on-board, and it's the best place to stay if you are in the Maldives simply for the scuba diving. Most liveaboards are three to four dives a day and tend to take you to more remote islands and deserted beaches.
Have a couples massage
One of our favourite things to do in The Maldives was to have a couples massage at Fushifaru. You can of course visit a spa anywhere, but in the Maldives, I experienced one of my favourite's massages of all time.
Catch some waves when surfing
You might not know this but the Maldives has some pretty incredible surfing spots. But make sure you do your research as some resorts own a 'break' and therefore you can only surf here if you ar a guest. If surfing is your niche, then book a hotel with its own break. It'll not only guarantee you can surf it but there won't be a ton of surfers due to it being private.
Visit the local town of Malé
Spend a day in Malé, the capital of Maldives, and do some sightseeing with the locals. Most people fly in to Male and then leave within hours to head to their resort, but I would highly recommend spending an afternoon here. You can visit: Maldives National Museum, Maldives Grand Friday Mosque, Maldives Fish Market, and The Esjehi Art Gallery.
Ride a traditional dhoni
On our third day at Fushifaru we headed off on a turtle quest and we travelled to a neighbouring island on a traditional Dhoni; a coconut palm timber cruise boat, with the locals use for fishing and now use to transport guests from island to island for excursions.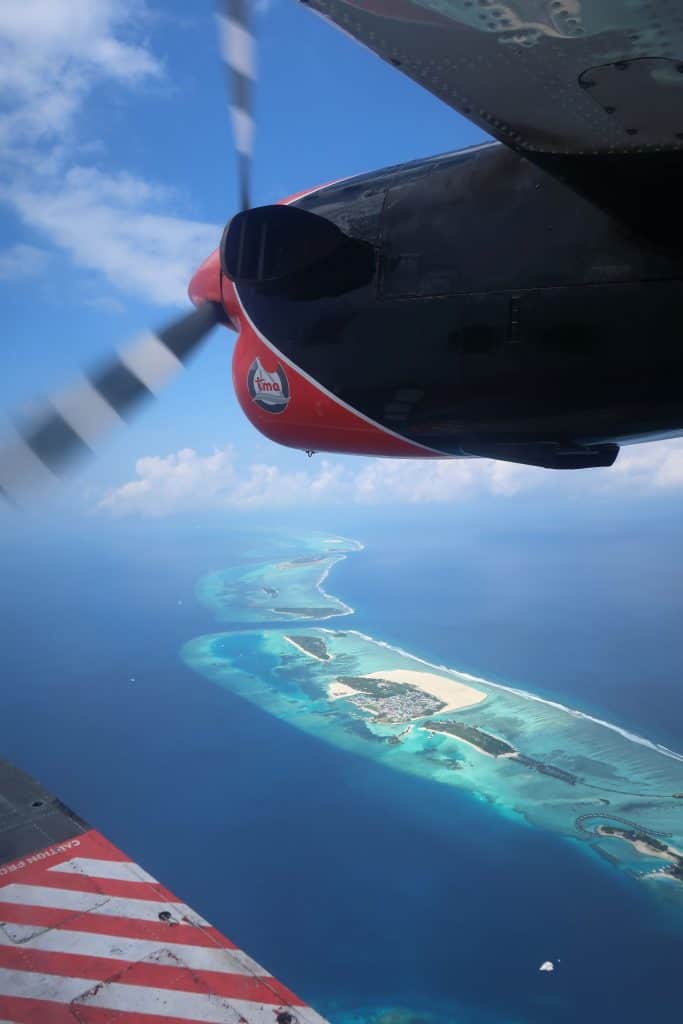 Honeymoon in The Maldives
Maldives Accommodation
Where to stay in The Maldives
Choosing where to stay in The Maldives is a difficult decision for any Maldives holidays. Of course Maldives accommodation is easy to come by these days, but choosing where to stay in The Maldives can prove difficult as you need to really focus on those personalised experiences when booking a Maldives holiday.
It is of course possible to book a Maldives all-inclusive holiday and be done with it, but I much prefer the more authentic stays where you can choose what you eat, what you do and how much of the resort is based around traditional values.
It is more than possible to spend a week in Maldives here and booking a Maldives tour package can be done through tour operators, or you can simply go direct to the resort. There are many resorts offering Maldives all-inclusive holiday packages but this isn't always the best way to experience The Maldives.
Instead really get to know the people, their culture and their customs by going to a more local-orientated resort for your Maldives vacation. And cheap Maldives holidays are also now possible, but again you then don't get to experience the hospitality you get at a resort like Fushifaru.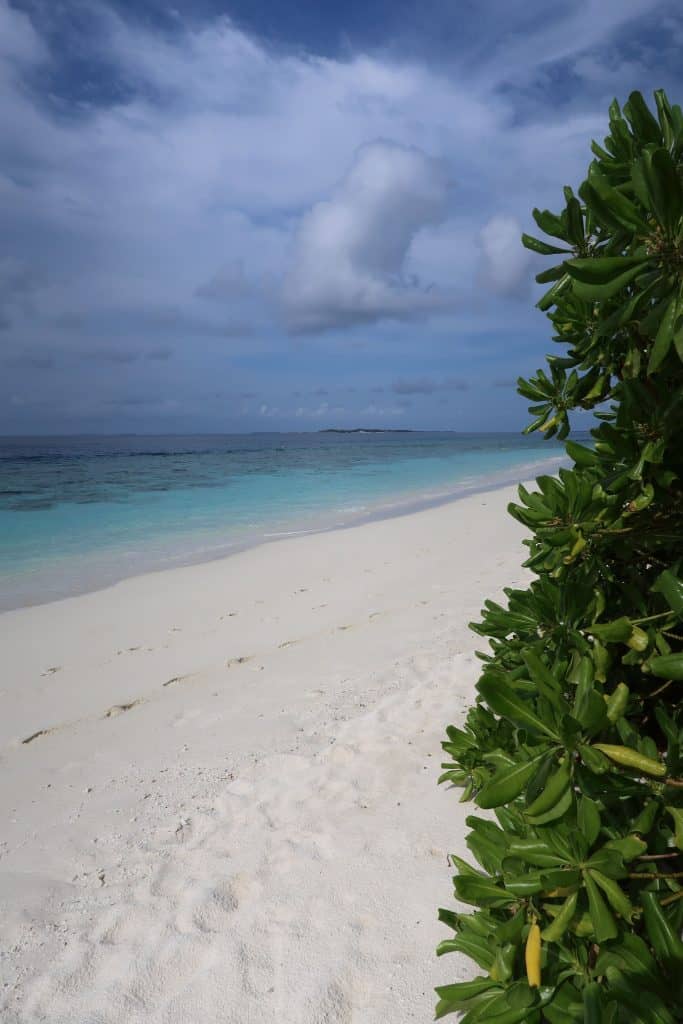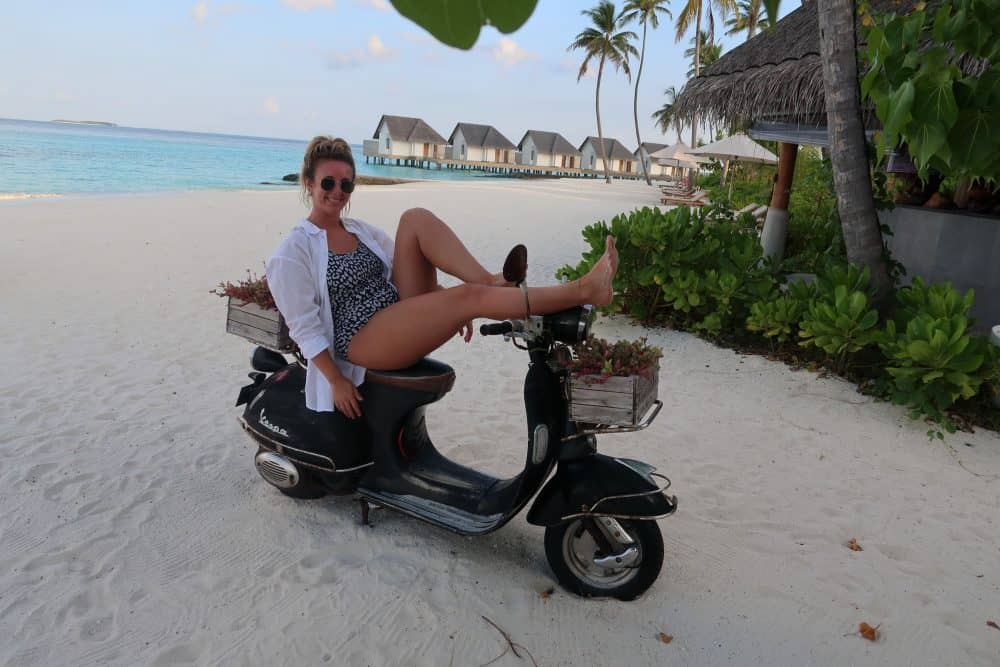 Maldives Accommodation
Fushifaru Maldives
Located in the quiet and low-key Lhaviyani Atoll, only 40 minutes away from Male by seaplane, Fushifaru is the perfect place for a Maldives holiday. The Maldives accommodation is surrounded by healthy reefs, and the underwater world here is second to none.
The resort is based upon a Maldivian village, with coconut palms and sandy paths leading to peaked-roofed villas and common areas, with the heart of the island in the middle and the sandy paths leading out to their amazing white beach.
At Fushifaru resort there are 49 villas tightly woven around the small intimate island, including five water villas on the sunrise side of the island, offering something unique for guests to experience. At Fushifaru there are four types of accommodation available: Water Villa, Sunrise Pool Villa, Sunset Pool Villa and Beach Villa. We stayed in one of their gorgeous Sunrise Pool Villas, with our very own private pool in the garden area, leading straight down to the beautiful beach.
Facilities on-site include a small fitness centre, spa, infinity pool, dive centre, water sports tent as well as restaurants and a bar next to the pool. The island is tiny so there isn't much, but as long as you know what you are getting yourself in for: intimate island life, then this is more than enough.
I was incredibly impressed with the standard of food and drink available on the island, considering they are such a small resort and located in a very isolated atoll. All of their restaurants face the water and I think that's a gorgeous touch. The dining experiences are mostly based around their main restaurant Korakali, which is included on all half and full-board packages, for both breakfast, lunch and dinner.
We had such a wonderful Maldives holiday and despite knowing we could do a trip to The Maldives on a budget, we decided if we were visiting this amazing region, we wanted to do it right and splash out on one of the best resorts we had heard of, Fushifaru. They offer guests the ultimate Maldives vacation, with water bungalow, dolphins and Maldives accommodation worth splashing the cash for.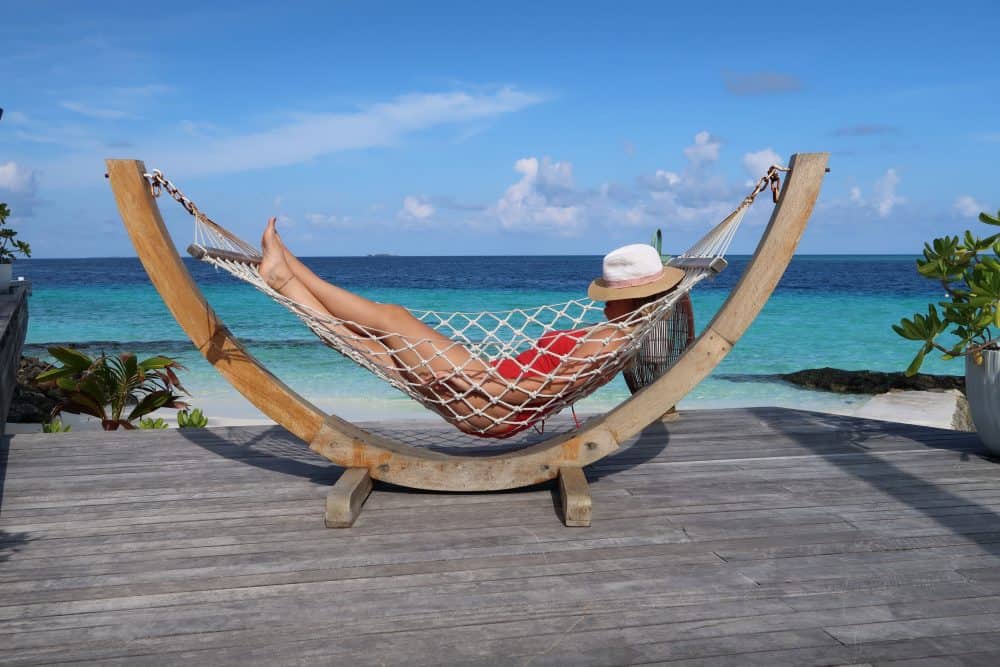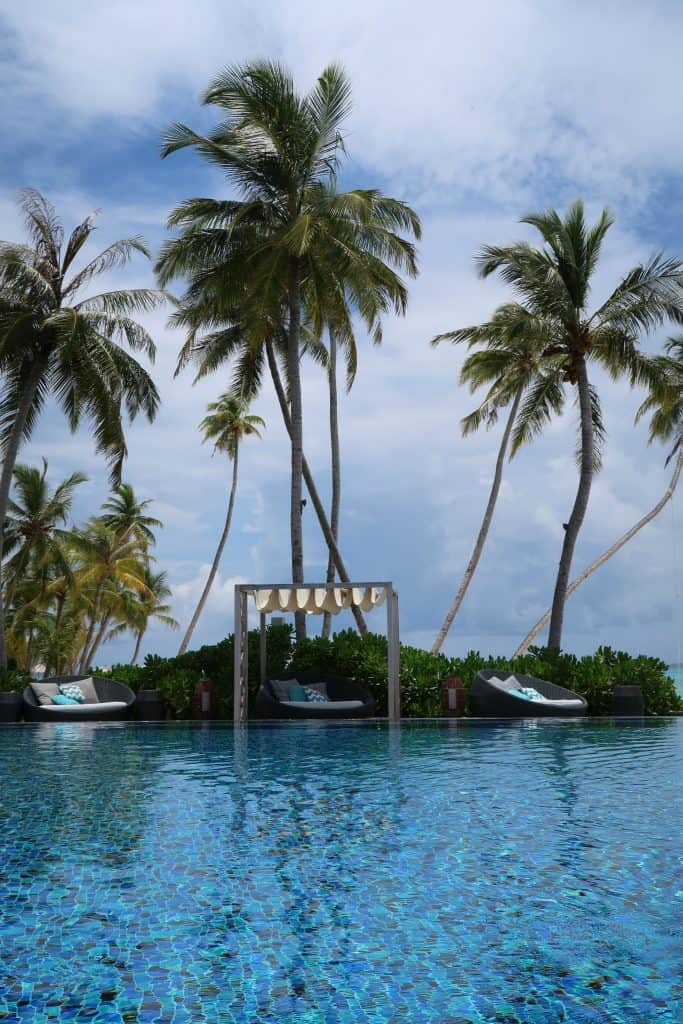 ---
Maldives Accommodation
Reethi Faru Resort
After three gruelling flights from London Heathrow we finally hopped onto a speed boat at Dharavandhoo Island and hurtled towards our Maldives accommodation, the beautiful Reethi Faru Resort. Due to our flight arriving in to Male mid-afternoon, we ended up arriving at the resort after sunset. From the moment we stepped onto the jetty, all we could hear was the sound of the waves and our guides friendly voice, as they welcomed us to the resort with fresh coconut water.
Situated in the Raa Atoll, the magical resort of Reethi Faru boasts a beautifully set 600-meter island fortified by the impressive coral reef that circles the surrounding beaches. A larger resort in The Maldives, they offer guests a choice of over 150 rooms, with many located on the beach or over the water.
Reethi Faru is a one of a kind resort, located on a tropical paradise island, where crystal clear waters and their incredible house reef, set the standard for an amazing visit to The Maldives. The lush island is full of tropical foliage, surrounded by coconut groves and palm trees.
Priding itself on being a bio-luxury island paradise, Reethi Faru is unassuming and isolated, where natural beauty shines through. The stunning lagoon and house reef offers guests the opportunity to swim with an array of marine life, including eagle rays, sharks and fish.
On most mornings we ventured to the pool and enjoyed the views from this side of the island. We then spent the afternoon watching the sea planes come and go, whilst lounging and swimming in the idyllic infinity pool. And there are activities galore on this tropical island, including windsurfing, canoeing, kitesurfing and jet skiing. You can head further out on a sailing trip to nearby islands, or dive deeper underwater on a PADI course.
It is more than possible to spend a week in Maldives here and booking a Maldives tour package can be done through tour operators, or you can simply go direct to the resort. There are many resorts offering Maldives all inclusive holiday packages but this isn't always the best way to experience The Maldives. Instead really get to know the people, their culture and their customs by going to a more local-orientated resort for your Maldives vacation. And cheap Maldives holidays are also now possible, but again you then don't get to experience the hospitality you get at a resort like Reethi Faru Resort.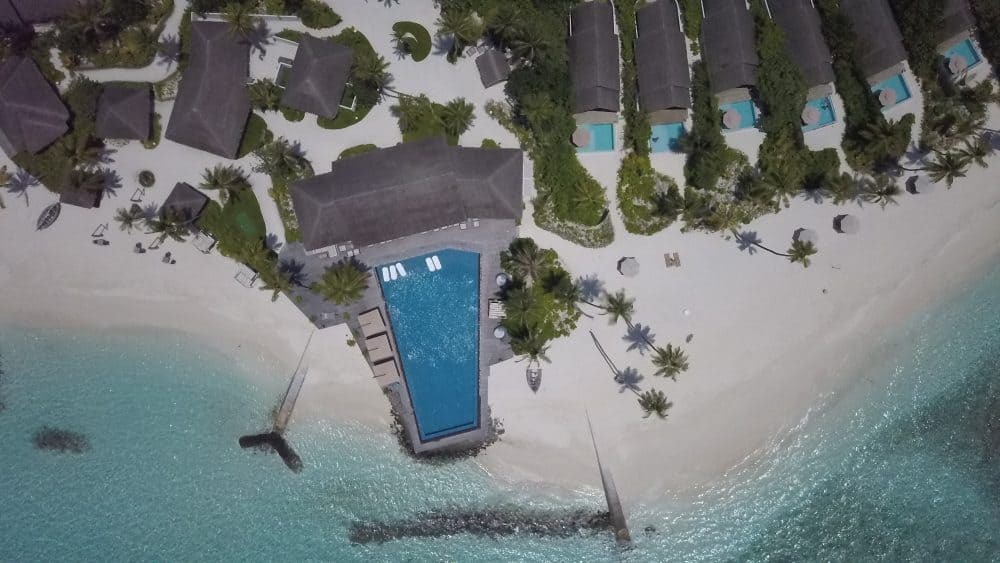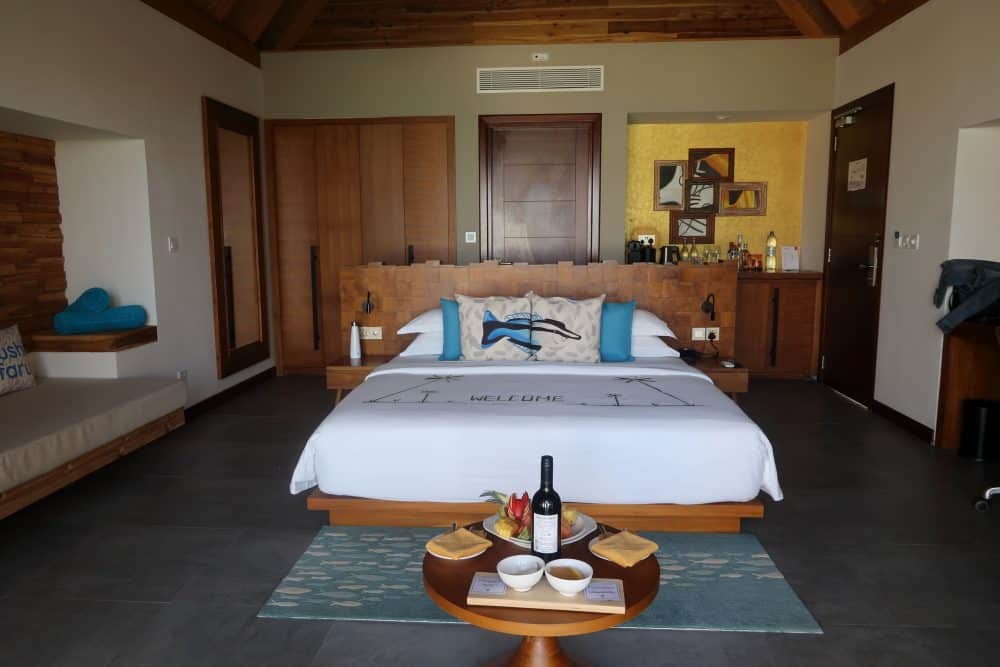 ---
Honeymoon in The Maldives
Maldives Honeymoon Prices
And of course, the costs. What does it cost to go on honeymoon to The Maldives?
That answer I am afraid is endless, and it's much better to work it around your own budget, than the other way around. The Maldives is even more affordable these days and it's still possible to have the most amazing adventure to The Maldives on a budget.
The cost of a honeymoon in the Maldives is going to vary based on which Maldives resort you stay t, what package you go for and how many excursions you want to do whilst at your resort.
If you are trying to take a honeymoon in the Maldives on a budget, don't be afraid of the Maldives, it is possible to do it cheap but be aware the resorts you stay on won't be as amazing. Also another option is to go in off peak season too.
We worked out is cost us around £4,000 for two people with flights, half board, activities, seaplane, transfers, and any additional extras.
One Week Maldives Honeymoon Cost Estimate:
£1,200+ return flights to the Maldives from London (similar from USA)
£200-£800 transportation to Maldives resort island depending on domestic or seaplane transfers
£500+ activities and excursions in the Maldives (snorkelling, kayaking, turtle quest, local village trip, diving, special dinners)
£,1500+ accommodation in the Maldives
AND REMEMBER – DON'T FORGET INSURANCE! I always get my travel insurance with World Nomads which covers which medical, trip cancellation, theft or damage, baggage, car rental coverage, and more.
A honeymoon in the Maldives is easily the best place in the world to take a honeymoon. So what are you waiting for? Get those flights booked and use this guide as your go-to travel companion.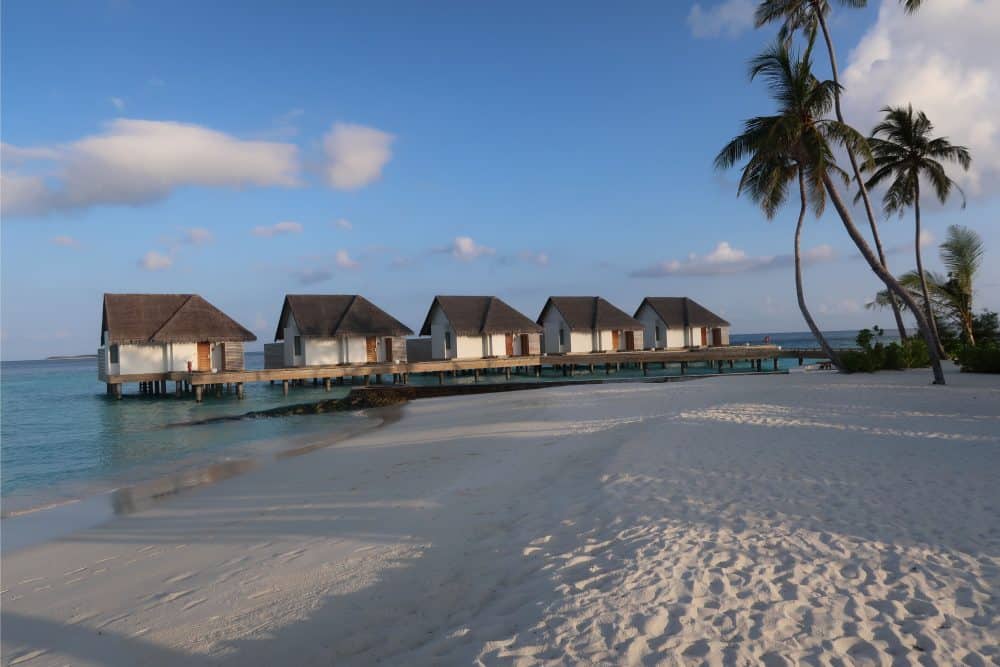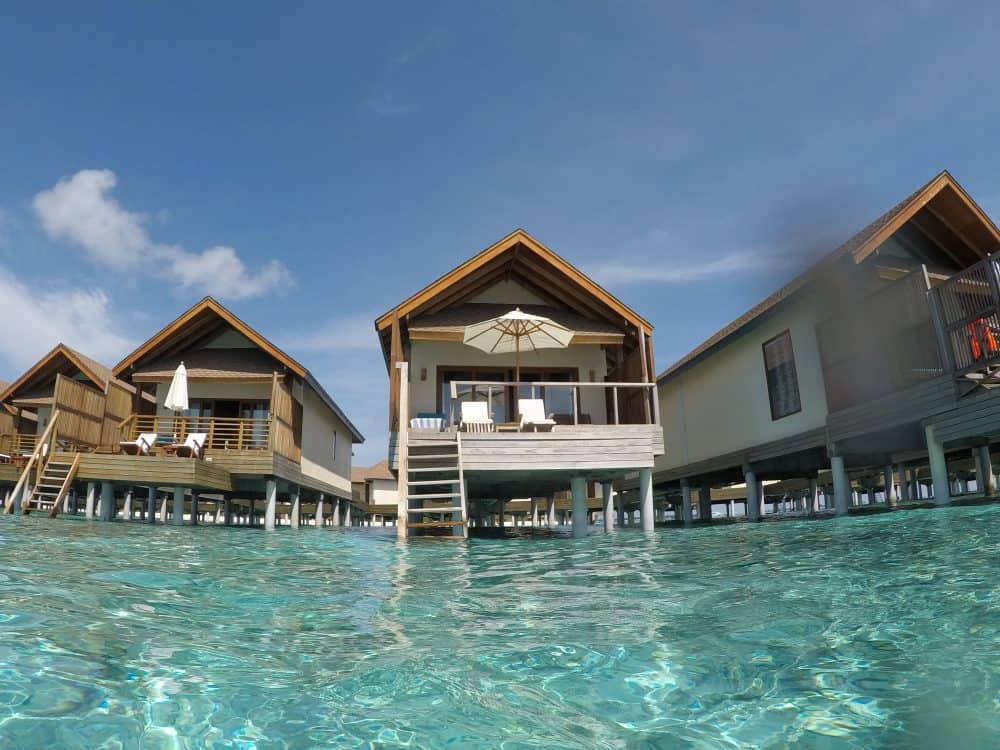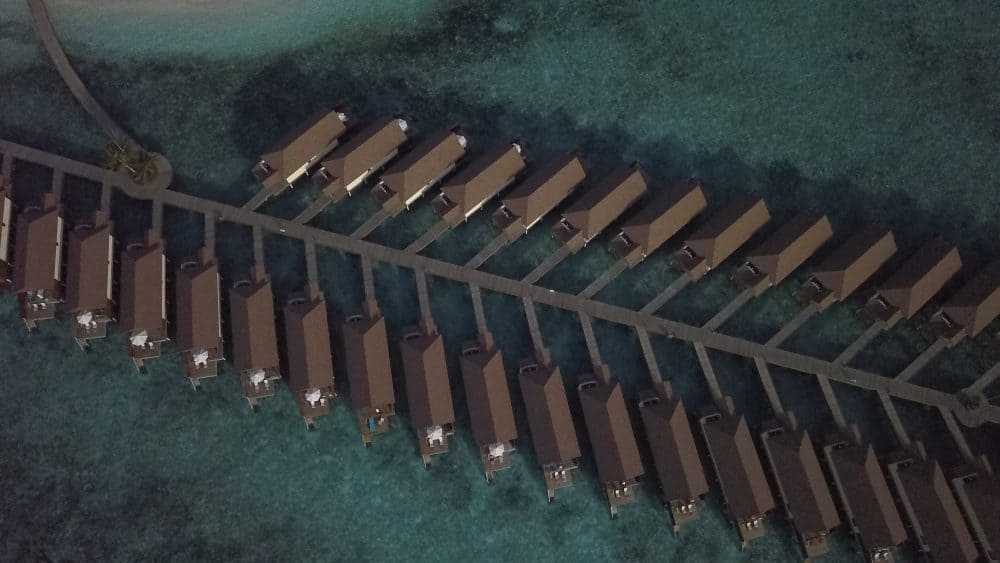 ---
Other epic honeymoon destinations
If a Maldives honeymoon isn't for you make sure to check out some of my other favourite honeymoon destinations.
---
So has that made up your decision on where to stay in The Maldives?
For further information on the Maldives, visit www.visitmaldives.com.
Other posts that may help you:
The Best City Breaks for Couples
10 of the Best places to eat Brunch in London
Ultimate Guide to Columbia Road Flower Market London
Ultimate Guide to one week in Bali Itinerary
Gili Islands Accommodation: Backpacker Hostels to 5* Luxury
10 Things You Can Only Do in Australia
Sign up to AirBnB with this link and receive a £23 off your first booking.
To receive my articles and reviews straight to your inbox SUBSCRIBE HERE.
Did you know I also vlog my trips? Make sure you subscribe to my YouTube channel so you get alerted when all my travel videos goes live… CHECK THEM OUT HERE
Thank you for reading and as always happy adventuring! If you have any questions about the destination please leave these in the comments below.
If you've enjoyed this post, please share it for me with all your friends and family!
Sophie X