Packing… often rather a lot of effort. Therefore I have pulled together my go-to packing list for Europe! And keep reading for my printable packing list for you to download.
After years of travelling around Europe from country to country, I've pulled together my ultimate packing list for Europe (with a printable checklist for your own travels). I love the process of packing, but it can be a hard slog, especially if you're off on a trip which is longer than usual.
I've spent weeks pulling together a suitcase before and often start packing way ahead of my trips. (I have also created a Packing List for Europe which is printable for you!)
The list below is an example of a Europe packing list based around a trip consisting of two weeks of travel, to around five countries. Of course, the printable packing list for Europe will change as per the seasons and it's important to bear this in mind when pulling together your items for the trip.
The idea is to break down the essential items for your trip and give you an idea of what you should carry in your suitcase or backpack for example. Here is my ultimate packing list for Europe!
Packing List for Europe
SUSTAINABLE FASHION
A topic really close to my heart is sustainable fashion. After years of travelling the world, it's made me realise how much clothing is worn once and thrown into a landfill.
We should all be doing more to protect our planet and ensure we are putting as much back into the planet as we are taking out. But there are brands already setting the standard.
A brand which I love, and whose ethics around sustainability are second to none is GANT.
Their vision is to make the world a more beautiful place and they believe that we should Never Stop Learning. Sustainability breathes throughout the GANT brand, promoting effortless style, but also long-lasting clothing, which is timeless and high-quality.
And to celebrate their heritage of being a bio-based business, they continue to source traceable and sustainable plant-based materials globally. This is both beneficial to the brand, but also the planet. As a heritage brand being around since 1949 it's really great to see that an older brand can be taught new tricks and aren't afraid of necessary changes for a better world and future for us all.
Packing List for Europe
At the moment, going on holiday somewhere more than an hour away from your house seems like a very long way away.
However, as we look ahead at the coming year, one of the best treats we can give ourselves is to start thinking about where we want to go and what we want to do once the restrictions start to be lifted and we can treat ourselves to a good, proper, relaxing holiday.
It may be a little while before things are properly back to normal but we are all going to deserve a real break after all of this, so why not start thinking about the useful items you're going to need?
There is a lot of uncertainty about when exactly we'll be able to go on holiday and where we'll be able to go, but some essentials remain the same no matter the season and no matter the location. Here are a few things you will always need in your travel bag.
LUGGAGE
Backpack or Suitcase
Whether you're backpacking around Europe, skiing in the Alps, or travelling for business you will be need something to keep some form of luggage. I often travel with hand luggage only, as it makes for a quick exit when I arrive in a country – however, if you are off on a trip that lasts more than a few days I'd recommend buying a light-weight mid-size suitcase with wheels, or a flexible backpack.
I've tried many suitcases and backpacks over the years and I am yet to decide on my favourite. I have tried Eastpak, Osprey, Caribee, Mountain Warehouse and many more. I use my Eastpak suitcase the most, and love how light it is and flexible.
CLOTHING
Shirt
GANT is best known for their shirts and has been the original shirtmakers since 1949. They've always played a large role in British fashion, and they know a thing or two about how to design a seriously stylish shirt. GANT shirts are designed in order to flatter every body type and are the essence of any wardrobe and come in an array of shirt sizes.
GANT see the shirt as perhaps the most versatile item in every wardrobe and it's certainly an item I recommend for you to take when travelling around Europe. The shirt is an essential item for any European trip, offering luxury, style but also comfort. A shirt can be worn with shorts, open on top of a floral dress or layered as part of a more formal outfit for the evening. Whatever the occasion, a GANT shirt always has you covered.
Bathing Suit
If you're heading off to Europe over the summer you'll going to want to take your swimming costume. Whether you are paddleboarding in Greece, cliff jumping in Cyprus or sailing in the Mediterranean – you'll want to pack some beach essentials in your packing list for Europe. Even if it's not summertime in Europe it never hurts to have a swimsuit in your suitcase. I travel with two one piece swimsuits, one active costume and one nicer one for the beach.
Rain Jacket
No matter the season a rain jacket is always an essential for travelling to Europe (and the rest of the world). I have a rain jacket by FatFace which I take with me everywhere and it's yellow!
A formal outfit
Even if you plan on roughing it, you never know when you might get invited out for drinks at a nice bar or to a family event. I would suggest bringing a more formal outfit such as a black dress for the ladies and a shirt and chinos for the men. Most Europeans are pretty stylish, especially in the cities so make sure you've got one outfit that's more formal.
Active Wear
I love to travel in active wear so end up bringing a kit with me anyway, but even if you don't I would bring a pair of leggings and sports bra for those more adventurous activities on your travels through Europe. They're also useful if you plan to go hiking or skiing for example and remember to also bring a good pair of trainers and /or hiking boots.
Scarf
Scarves are great for fall and winter in Europe, and they can also act as a blanket too for long bus journeys or when it gets colder in the winter months. A versatile item with many uses!
Jumpers
Lightweight jumpers are nice for dressing up or down with other items. They can be worn with jeans and trainers for a day exploring, or added on top of a dress with boots for a more formal look. They are also vital if you are travelling to somewhere where the evenings get cooler or for cool nights.
T-shirts
Bring lots – but bring basics! I always travel with a black, white and grey plan tee, as well as a slogan tee for added personality. They go with everything and you can also wear then with jeans, skirts, under dresses and with shirts.
Jeans
I am a black jeans lover. I own around 10 pairs of black jeans and one pair of blue jeans. But that's okay, because the black jeans go with everything and again, can be dressed up or down for various situations. You can wear jeans for months without washing them and they still won't stink. Plus, jeans are a staple in every European's wardrobe – styled with a Breton tee and you look like a local.
SHOES
Walking Shoes
When you're packing for Europe know that a good pair of comfortable walking shoes is important for getting around European cities. I usually go for a sporty trainer for city explorations and then a hiking boot for the more adventurous days. My favourite hiking boots are from Merrell.
Trainers
I take my Converse EVERYWHERE with me! And a good pair of Vans will last a long time. Personal preference!
TECHNOLOGY
Travel Adaptor
You will definitely need an adaptor for your electronics on your packing list for Europe. We always keep one handy in our carry-on bags, that way we can charge electronics on arrival or at the airport. Oh and TOP TIP – take an extension lead as it's a great way to charge more items all at once with only one adapter!
Camera and memory card
If you're travelling around Europe, you'll want a really great camera to record your memories. I've literally just bought a Canon G7X Mark II and its such a great camera. It's lightweight, compact and takes amazing photos that are just as good as my bigger DSLR – Nikon 3300D.
The Canon G7X also doesn't scream HEY LOOK AT ME I'M A TOURIST. And remember to get a big memory card for all the photos – I have a 64GB memory card since I take lots of photos and video.
GoPro
I take this handy little action camera everywhere with me – every trip I take it's in my pocket ready to point and shoot! They aren't cheap but they do provide you with amazing footage, and shoot within seconds so you'll never miss a moment!
Wireless Range Extender
If you need to be on-the-line like me a lot then I'd recommend getting yourself a wireless range extender for your travels. It is helpful for extending the range of the WiFi in your hotel, or hostel and it means you've got your own little link up to the outside world and won't have to fight for the wifi again.
TOILETRIES
Makeup
This one is for the ladies, and I wanted to make note of it for anyone still wondering what to pack for a trip to Europe. I take to make up with me everywhere – I don't take a lot but I do take the essentials.
Europe is fairly cheap for buying to make up so don't worry too much about packing enough or running out. I usually pack 1 x Mascara, 1 x Face Powder, 1 x Concealer and 1 x Blusher. That's usually enough for me and I will then top up if needed.
OTHER ITEMS
Jewellery
My absolute go-to for jewellery is Daisy London, a much-loved British jewellery brand known for beautiful, everyday jewellery with meaning.
Each piece is designed to be an extension of your own personal style, wherever you are in the world. Dreamt up in London's Portobello Road over ten years ago, the brand has grown to cult status and is one of my favourite jewellery brands out there. Everytime I travel I always take my Daisy jewellery with me, including my ring collection.
Guide Book
As a big fan of Marco Polo Travel Guides, I am constantly buying their books before a trip and a trip to Europe is no different. They've got loads of guide books for countries all over Europe, and they are easy to read, come with local insider tips and have a handy little map at the back for you to pull out and write over. I also use other travel blogs for inspiration for anything the guide book doesn't provide me with!
Travel towels
Quick-dry travel towels are amazing if you're staying in hostels during your trip to Europe. After eight years of travelling around the world, and staying in multiple hostels I have learned to never travel without one. They are light and fold up small, and can dry within one hour.
Water Bottle
Save the turtles bro! Always bring your own bottle with you when you travel to Europe – empty it before going through security though! I've never had a problem with the water in Europe, and it's also saving the planet by buying less plastic bottles!
Now that we're more conscientious about how and where we're picking up germs, we should all be thinking about bringing our own food and water with us where possible, and using your own water bottle will certainly help minimise that risk.
The other most important reason for using your own water container is the same as it has always been: it helps cut out a huge amount of plastic waste for a more environmentally friendly way to stay hydrated.
Packing cubes
I travel a lot and therefore I am constantly on the lookout for ways to make travelling less stressful and more enjoyable. I have recently used packing cubes for my trip to Australia and New Zealand and only a few weeks into the trip the two main cubes had alright ripped or the zip had broken.
Then on a recent trip to IKEA, I realised they had also started selling their version of a packing cube in their travel and IKEA family range. (They have also started selling suitcases, I am intrigued to see how they match up to higher-priced brands.) Read my IKEA packing cubes review here.
Vape Fluid
The vapers among us know that there is nothing more frustrating than being caught without proper supplies.
It's easy enough if you're in a city to pop into a shop and buy a quick, if expensive, replacement or back-up, but if you are heading out with the intention of getting as far away from everyone else as possible, you don't want to be stuck in the middle of the countryside and find that your vape is suddenly out of juice.
Make sure that you've got enough fluid, batteries and replacement coils for your e-cigarette devices to cover any eventuality and you'll save yourself from a whole lot of tetchy panic. You can find vape liquid here.
Book
We have all been having a lot of screen time over the last twelve months, so much so that research charities have started voicing their concerns about what it's doing to our eyesight. With that in mind, why not give your eyes a rest from all that blue light and get back into a good book?
The series you love will still be waiting on the streaming services when you get back, don't worry! And while you're taking a break from the binge-watches, why not try taking a little hiatus from social media too?
We're not saying that you shouldn't take lots of pictures of the scenic views from your break, but we have all done far too much doom-scrolling over the last year or so, and we owe it to our brains and our mental health to take that step back and reconnect with the world that is in front of us, not the one on our screens.
Ear Plugs
These are small but essential travel necessities for Europe as they can be crucial to your sleep. Where you're flying in business class or sleeping in a hostel a good pair of earplugs will help you sleep, as well as a great eye mask – my favourite is from Tempur as it's completely blackout!
What items have I missed?!
Let me know in the comments! I hope you get a lot of use out of my packing list for Europe.
SAVE THIS
Printable Packing List for Europe
**HERE'S MY PRINTABLE PACKING CHECKLIST**
(Simply right click and save, then open in a word document as an image and print)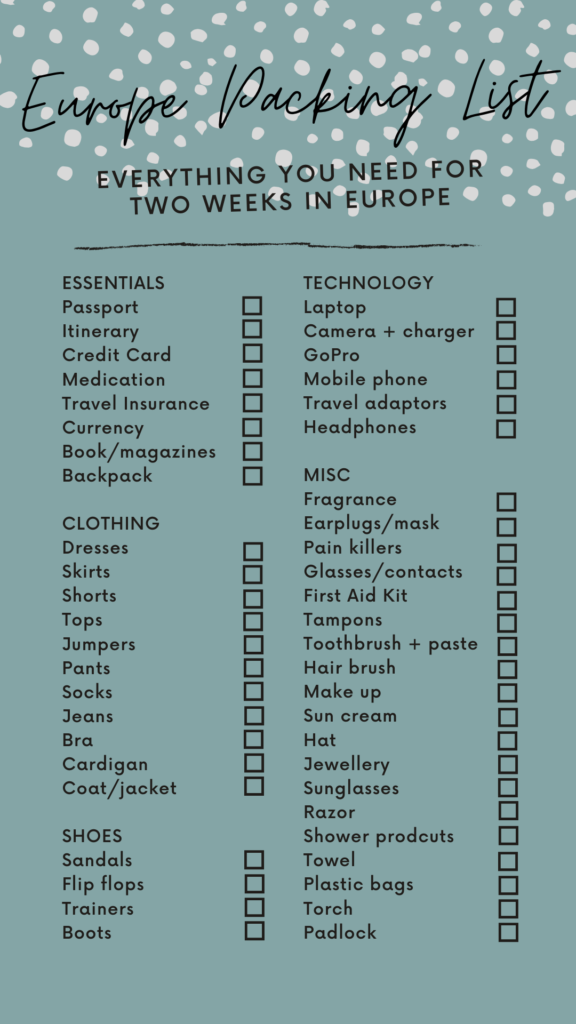 ---
Packing List for Europe
Airline Cabin Luggage Allowances: Guide to hand baggage sizes and weight restrictions
Once you've downloaded my printable packing list Europe, you can save yourself a whole lot of cabin baggage stress and potential additional charges when boarding by checking dimensions and weight restrictions before you travel.
I've pulled together Europe's major airline's cabin allowances into one easy to read the guide below. And if you're fed up with waiting for your luggage at the carousel, and want to maximise what you can get in your cabin bag then check out these great top tips for travelling light with your hand luggage.
We've all experienced the anxiety of arriving at the airport, worrying about how heavy our bags are and whether they'll exceed the luggage allowance at check-in. Should I really have packed two jackets for a beach holiday? Will they have a hairdryer at the hotel? Will they let me spread the weight between two bags? Sound familiar?
SEE MY FULL LUGGAGE

ALLOWANCE

GUIDE FOR A TRIP TO EUROPE AND BEYOND
---
My Travel Tips and Recommendations
Flights
To book flights, I always use flight search engine, Skyscanner, I regularly use the Everywhere tool to find the cheapest places to travel. It's how I get to travel so much all around the world. I find it the easiest way to compare flight prices across airlines and get the best deals.
Accommodation
For accommodation, I usually book most of my hotels or hostels through Booking.com. I love using this platform as it provides me with some amazing deals for accommodation all around the world. Or if you prefer, I also recommend using Airbnb. If you haven't signed up with Airbnb already, you can use this link to get £25 off your first visit!
Photography and Technology
Here is a list of the technology I always travel with:
Travel Insurance
Picking travel insurance that covers you in all eventualities is an essential part of planning a trip for every single person. If you can't afford travel insurance, you can't afford to travel. You never know what's around the corner. World Nomads is an affordable option that I personally recommend. BOOK HERE
Sign up to AirBnB with this link and receive a £23 off your first booking.
To receive my articles and reviews straight to your inbox SUBSCRIBE HERE.
Did you know I also vlog my trips? Make sure you subscribe to my YouTube channel so you get alerted when all my travel videos goes live… CHECK THEM OUT HERE
Thank you for reading and as always happy adventuring! If you have any questions about the destination please leave these in the comments below.
If you've enjoyed this post, please share it for me with all your friends and family!
Sophie X