I'm not sure about you, but during the lockdown, my small 2-bedroom flat in Balham has become a home office, beauty spa and a gym.
For the last 3-4 years, I have had a very solid workout routine. In the last year, I honestly think I finally nailed the balance. My routine would involve monthly class pass credits and purchasing packages at some very fancy London gyms, like FLY LDN, Another Space and Core Collective (when they were on a deal – they can be pretty spenny).
In a week I would do a Spin, HIIT, Pilates and Yoga. It was all about finding a balance that worked for me. Sometimes that's a 06:30 HIIT class, sometimes its 3 or 4 drinks with the girls after work.
9/10 times I would attend these classes with a friend, either before work (goodness knows how I used to get up at 05:50 to make it to AnotherSpace) or at the weekends. So when lockdown hit in mid-March and the gyms shut, it was goodbye ClassPass and hello home gym. And the best people to check out for home workouts? Instagram Fitness Influencers!
Working out from home is far more effective than I ever thought possible. You don't have to limit yourself to a certain time of day, you're steps away from the fridge, you don't have to queue for the shower and if you fancy doing a downward dog mid exercise then you go for it, hun!
At the start of lockdown, I used Instagram live to get my sweat on. This was a great induction to working out at home. What I did miss was the commitment to a class, when you've paid for a class credit then you are 99% more likely to go as if you don't, you've paid for something and got nothing in return.
Keep reading for my recommended home workouts from some of my favourite Instagram Fitness Influencers…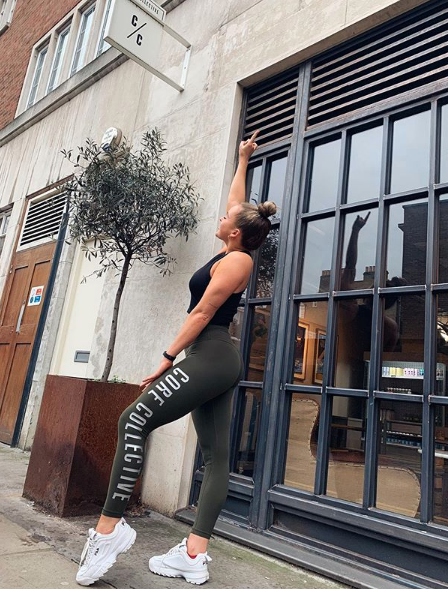 Harriet Heath (@harrietheath_)
Donation-based Instagram Lives – Tuesday 08:00, Saturday 10:00
Keep an eye on her Insta, Harriet is planning to move onto Zoom soon!
I missed working out with friends too/ friends in general! One of my favourite Pilates instructors at FLY LDN Harriet Heath (harrietheath_) started live Pilates classes from her Instagram page, she sends her playlist out prior to the class so you can really embrace the atmosphere and create a home studio.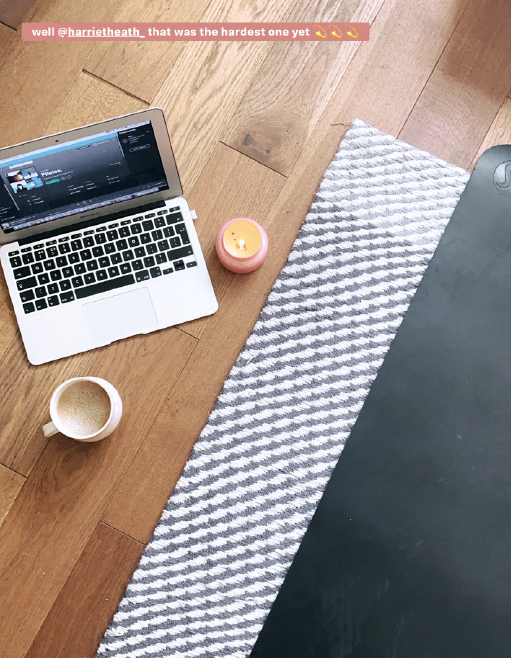 Helen Barlow (@helenbarlow_pt)
Online Training service – £40 per month for 6 x daily live Zoom sessions
Donation-based Instagram Live – Saturday 10:00
At the start of lockdown, Helen Barlow (helenbarlow_pt) offered a similar format to Harriet. Helen is a trainer at Core Collective and started a Saturday morning SWEAT class on IGLive (the sweat towel was essential!). Both instructors are freelance and very fairly asked for a donation if you attend their class, of course, I was more than happy to oblige.
Subsequently, Helen started to offer pre-paid Zoom classes. I signed up ASAP! In these classes, Helen can see your form and correct it, for £20 you get 3x 50-minute classes a week, 1 full-body, 1 weighted workout and 1 core and sweat. She is still offering her donation-based Saturday morning class on her Instagram too. I couldn't recommend these more. With the success and demand growing, Helen has now launched her monthly Online Training service.
For just £40 per month, you will receive 6 x daily live Zoom sessions (£1.66 per class!), daily saved workouts to do whenever you want, plus a whole library of workouts to do in your own time.
Also, her playlists are 10/10 – honestly, I listen when I'm not working out too! It was also so refreshing to see other people, it feels like a little community or 'DREAM TEAM' as Helen calls it!
Lottie Murphy (@lottiemurphy_)
Zoom Classes – Wednesday 17:30, Saturday 08:30
YouTube – https://www.youtube.com/user/lifestylewithlottie
Another favourite instructor of mine is Lottie Murphy (lottiemurphy_). Lottie offers Pilates routines for everybody, to help you move and feel good in your body and mind. She has dozens of routines for beginners to Pilates pros on her YouTube channel. She is also offering 2 live classes over Zoom for £5.
I used to go to Lottie's classes in Brockley on a Saturday morning with friends and then hit up the food market after. Now we do the classes over zoom and instead of brunching at the market, we do it over FT.
Don't get me wrong I miss the buzz of going to a spin class and the luxuries of being in a studio, but in the meantime, this new way of working out from my living room is working well for me right now and my bank account! It offers balance, consistency, community and some great playlists! Lottie is amazing and an Instagram Fitness Influencer worth checking out.
Hopefully, I have inspired you to give one of these a go!
Other Home Workouts to Try
I have mentioned the gyms I go to in London and the instructors I LOVE, but gyms all over the UK are providing online classes and helping you workout from home. Here are some that I'm yet to try but I've heard nothing but great things about.
Corinne Naomi @corinnenaomi_
Live Classes: Tueaday 8AM Pilates with Master Trainer @bloklondon (Run+Lift+Pilates+Barre+Flow+Invert x RepEAT)
Isa-Welly Locoh-Donou @isawelly
Certified Pilates and Wellness Coach, Nutritionist trainee and Head of nourishment Mason Fifth.
Find out online classes: Monday 7.30am Rise with Pilates General 1 hour @ £7.00, Tuesday 6.30pm Pilates- L1/L2 1 hour @ £7.00, Wednesday 7.30am Rise and Shine Pilates General 1 hour @ £7.00, Thursday 6.30pm Pilates General 1 hour @ £7.00, Friday 12.30/ 45min Hip Hop Pilates 45 minutes @ £7.00, Saturday 9.30am Dynamic Pilates (90's tracks) 1 hour @ £7.00
Ianthe Mellors @ianthemellors
Ianthe is HEAD OF FITNESS & DANCE @wearefitxr and is an ambassador for Sweaty Betty.
Eleshia Harris @eleshia_lifestyle
Eleshia helps those who are overwhelmed by running everyday life, looking after their family & trying to be healthy, She is also a Wellness Coach and Barre & Pilates Teacher.
BLOK (@blok)
Manchester – The Blok Instagram account is running daily classes, Classpass Instructor of the year 2019 @ellyasam Ellya is Head Trainer at BLOK London. She is also running classes on her personal page
Cycle City (@cyclecity)
Brighton – If you're a fan of Spin and live in Brighton then you are able to hire Spin bikes from the studio. Check out their Instagram for more details on how to do this.
F45 London (@F45)
Across the UK – F45 meaning fit 45 originated in Australia. The layout of the classes varies day by day. At the start of lockdown, they ran daily classes on Instagram, they are now running classes over Zoom for F45 members. F45 Tooting has started doing social distance outdoor workouts and I am pretty sure they are not the only one. Check out your local F45 gym to see if they are doing anything similar in your area.
Couch to 5k
If you do not want to exercise inside your home and would rather venture further afield then why not try running. I couldn't recommend couch to 5k more highly if you are a running newbie. The app is designed to get you running 5k within 9 weeks, with 3 runs a week and plenty of rest days. Head to the app store and the NHS website to find out more.
Cat Meffan (@catmeffan)
Cat Meffan, certified Yogi runs the Soul Sanctuary and offers a monthly membership where you can show up, connect and take time for yourself to grow both inner and outer confidence. This space is for you to grow your yoga practice and your soul. Each month you will get 2 75-minute yoga flows, 2 30-minute yoga flows and a guided meditation along with access to private Facebook groups and live Q&As. Check out the website for more information – catmeffan.com
FLY London (@fly_london)
These guys are streaming free Instagram live classes on their page 3x a day. They offer a mixture of Low Impact, Barre, Pilates and Yoga classes. Head trainer Katie's Low Impact and Barre classes are fantastic! Check out their Instagram for their weekly timetable.
Another Space/ Digme (@digmefitness)
Fitness instructors are offering a mixture of classes daily on their Instagram. Additionally, former AnotherSpace trainer Annie Kitchen is offering free HIIT/ Boxing classes over on her personal Instagram page at 12noon Monday – Friday. (@annies_blog15)
What Equipment You Need
You can pretty much buy anything on Amazon these days, so to increase that workout burn I would recommend getting the following. FYI these are not essential.
So which Instagram Fitness Influencers homework will you be doing?
---
Alice is 26 and lives in Balham. She enjoys nothing more than requesting annual leave days and planning trips for herself and her friend! Alice's favourite place to travel in the UK is Scotland for nostalgic reasons, ever since she was a child, her family would pack up the car and start the 9-hour journey to Scotland whilst listening to the Harry Potter audiobooks. Now she loves to travel further afield. In only a couple of years, she has visited Bali, India and South America whilst squeezing in a few European and UK city breaks in where she can.
---
My Travel Tips and Recommendations
Flights
To book flights, I always use flight search engine, Skyscanner, I regularly use the Everywhere tool to find the cheapest places to travel. It's how I get to travel so much all around the world. I find it the easiest way to compare flight prices across airlines and get the best deals.
Accommodation
For accommodation, I usually book most of my hotels or hostels through Booking.com. I love using this platform as it provides me with some amazing deals for accommodation all around the world. Or if you prefer, I also recommend using Airbnb. If you haven't signed up with Airbnb already, you can use this link to get £25 off your first visit!
Photography and Technology
Here is a list of the technology I always travel with:
Travel Insurance
Picking travel insurance that covers you in all eventualities is an essential part of planning a trip for every single person. If you can't afford travel insurance, you can't afford to travel. You never know what's around the corner. World Nomads is an affordable option that I personally recommend. BOOK HERE
Sign up to AirBnB with this link and receive a £23 off your first booking.
To receive my articles and reviews straight to your inbox SUBSCRIBE HERE.
Did you know I also vlog my trips? Make sure you subscribe to my YouTube channel so you get alerted when all my travel videos goes live… CHECK THEM OUT HERE
Thank you for reading and as always happy adventuring! If you have any questions about the destination please leave these in the comments below.
If you've enjoyed this post, please share it for me with all your friends and family!
Sophie X