If you are looking for one of the best Peak District walks, look no further. This five-mile circular walk in the Peak District is one of my favourites.
This is a really lovely walk which takes in some highlights of the Chatsworth Estate including the Sowter Stone Waterfall, the Hunting Tower and some spectacular views of Chatsworth House itself.
I used the Komoot app to plan this walk. I really like this app as it publishes other people's walks and lets you search based on highlights.
I knew that I wanted to go to the waterfall and that I wanted no more than five miles (as we had our elderly dog with us) so I searched through the published walks until I found one suitable.
Chatsworth Estate
For the start of this great Peak District Walk, start at the iconic Chatsworth House, a stunning stately home in the Peak District in Derbyshire. It's home to the Duke and Duchess of Devonshire and has been passed down through 16 generations of the Cavendish family.
It's a great place to visit for a day out when you can have a look around the house and its gardens and I especially love it at Christmas where the house is decorated to a theme each year. This year the gardens were also lit up which was truly magical.
Chatsworth also has a farmyard and a woodland playground which is great if you've got children with you.
The Chatsworth Estate consists of 12,000 acres of gardens, fields and countryside and there are four picturesque villages that belong to the estate – Edensor, Beeley, Pilsley and Calton Lees.
If you're visiting the Peak District or Derbyshire and staying nearby in Bakewell, Matlock or Chesterfield then add definitely Chatsworth to your list.
The Route
There are so many walks around Chatsworth – you can choose from short strolls to 10-mile hikes and everything in between.
This route has jumped to the top of my favourites after we went on my birthday this year. It's got it all – wildlife, views and it's a great workout.
The route starts at the Robin Hood pub in Baslow, where there is a free car park specifically for walkers just next door to the pub car park. I've never been to the pub before as it was closed when we did this walk (boo, covid!) but it looks like a really nice lunch/pint stop once you've finished the walk.
The first section crosses the road and then a little brook before climbing quite steeply up along a path to more open fields. The path is really easy to follow for anyone that's not used to navigating but the way is quite steep so make sure you've got your walking boots on.
There are some good edges here with great views over the surrounding forests. We went in spring and it looked great but I imagine the colours during autumn are just spectacular. It's also a good spot to get some Insta pics – if you're brave enough!
Eventually, you'll reach Stand Wood which dates back to Medieval times and then the Chatsworth Hunting Tower.
The Hunting Tower
The Hunting Tower is a great place to stop for a spot of lunch as at this point you'll be about halfway through the walk and, as the first bit was pretty much all uphill, you might be ready for a breather.
Here there are a couple of benches you can sit and relax on while you enjoy some amazing views of Chatsworth House down the hill.
I've often seen couples up here with a bottle of wine and some nibbles and imagine it might be a good place for sunrise or sunset too.
Sowter Stone Waterfall
From here, it's time to drop down through the woods. A last high-up highlight is the Sowter Stone Waterfall. This waterfall provides the water for Chatsworth's famous Cascade water feature. The water feature was built in 1703 and flows down 24 steps.
When the weather is fine you can sometimes see people paddling in there!
The water is then used again in two other water features before flowing back into the River Derwent.
The waterfall itself is pretty impressive with a quiet pool at the top where you can stand and admire the views. Head down a few steps and you can see the waterfall from below.
After you've spent a few moments enjoying the sounds of the gushing water, it's time to make your way down to the house and the open grounds that surround it.
As you walk past the house, you might notice a sparkle and shine in the sunshine (if you're lucky with the weather!). The windows and door frames of Chatsworth House are coated in gold leaf.
Each one used around 1,500 sheets of gold leaf and the whole thing cost £33m! MTV Cribs eat your heart out.
The Grounds
You're now on the final section of the walk which is a lovely stroll through fields back to your starting point at Baslow.
While you're walking keep your eyes peeled for the estate's deer herds. There are two different types of semi-wild deer to spot – 300 fallow deer and 150 red deer. Sometimes you can get quite close to them and the stags are magnificent.
There are also pheasants to spot too…not to mention hundreds of sheep!
If you want to extend your walk further you can always head to the river instead of going back to the car park. Again, the river makes a great place for a picnic when the weather's good and it's also a well-known wild swimming spot so bring your cozzie and take a dip!
This is my favourite Peak District walks, which is yours?!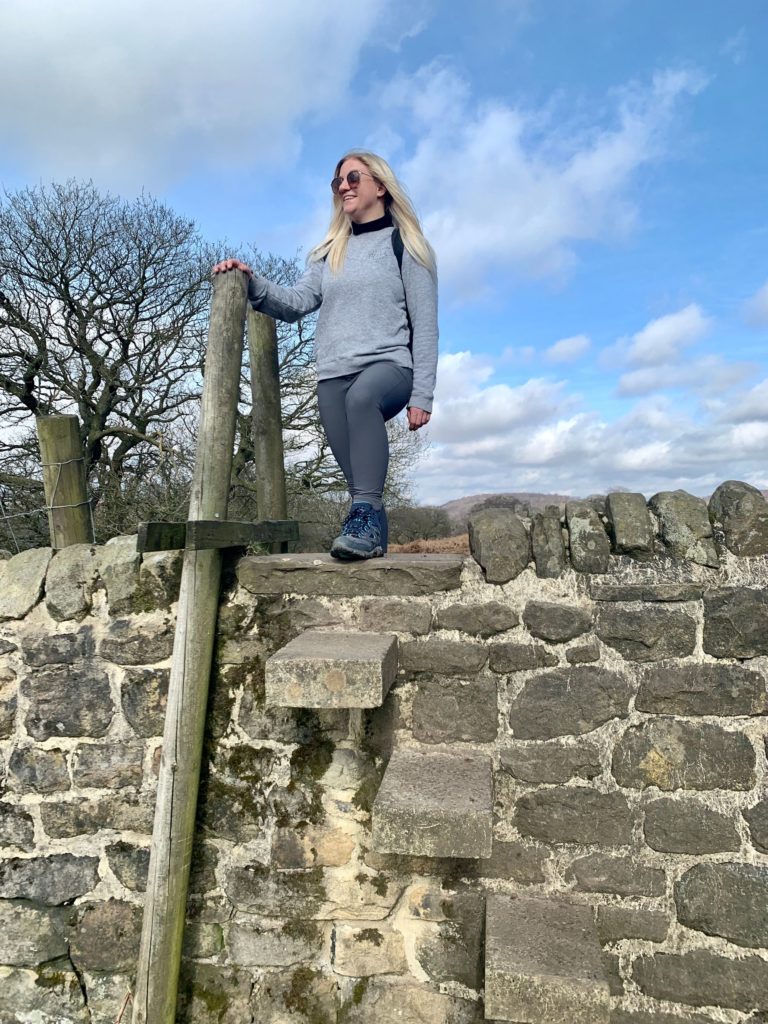 ---
Places to Eat in the Peak District
If you don't fancy bringing your own food on the walk, there are a couple of places to grab a bite to eat and a coffee nearby.
Edensor Tea Cottage is in the estate's village of Edensor and is a really pretty little tea room that serves amazing cakes.
The Chatsworth Estate Farm Shop Café offers seasonal recipes as well as a gorgeous afternoon tea. There is both indoor and outdoor seating and you can unwind with sweeping views of the estate. I've heard that this is a great place for a full English breakfast too so you could even start here and then walk it off!
Other recommendations
The Old Nag's Head, Edale – Pub at the start of the Pennine Way serving great local ales.
Losehill House Hotel & Spa, Edale – Luxe four-star retreat in the heart of the Hope Valley; fresh seasonal produce served in the double AA rosette-awarded Grafene restaurant.
Jolly's, Curbar Gap car park – Hot drinks and homemade refreshments to takeaway, served from a vintage van.
Devonshire Arms at Beeley – Cosy 18th-century inn on the edge of the Chatsworth Estate; dishes use seasonal ingredients, largely sourced from the estate.
The Old Original Bakewell Pudding Shop, Bakewell – Fresh produce (including classic puddings) to takeaway plus characterful first-floor restaurant serving platters and afternoon teas.
The George, Castleton – Tasty pub food in the shadow of Peveril Castle.
Places to Stay in the Peak District
The Peak District and surrounding countryside have a variety of options, from hotels to family-run B&Bs.
Edale Gathering, Edale (https://edalegathering.com/) – Glamping haven with four luxurious tented safari lodges and a Victorian shooting lodge on a private upland farm near Kinder Scout.
Losehill House Hotel & Spa, Edale (https://www.losehillhouse.co.uk/grafene-restaurant) – Luxe four-star retreat in the heart of the Hope Valley, with dramatic countryside views.
The Old Nags Head, Edale – Great traditional pub; walkers' HQ and the unofficial start point of the Pennine Way.
Devonshire Arms at Beeley (https://devonshirehotels.co.uk/devonshire-arms-beeley/) – Cosy 18th-century inn on the edge of the Chatsworth Estate.
The George, Castleton – Pub with rooms in the shadow of Peveril Castle.
Yorkshire Bridge Inn, Bamford – Family-owned multi-award-winning inn, a short walk from Ladybower Reservoir.
If you on a bigger trip exploring more of Europe check out my guides to France, Germany, Greece, Iceland, Italy, Portugal, Spain and United Kingdom.
---
Author Bio: Samantha blogs at CocoTravels.co.uk about travel and adventure. She especially loves exploring more of the UK and is a passionate advocate for travel here as there is just so much to see. You'll most likely find her hiking near her home in the Peak District with her King Charles Spaniel, swimming in the sea, or taking in the sunset with a glass of fizz!
---
My Travel Tips and Recommendations
Flights
To book flights, I always use flight search engine Skyscanner, I regularly use the Everywhere tool to find the cheapest places to travel. It's how I get to travel so much all around the world. I find it the easiest way to compare flight prices across airlines and get the best deals.
Accommodation
For accommodation, I usually book most of my hotels or hostels through Booking.com. I love using this platform as it provides me with some amazing deals for accommodation all around the world. Or if you prefer, I also recommend using Airbnb. If you haven't signed up with Airbnb already, you can use this link to get £25 off your first visit!
Travel Insurance
Picking travel insurance that covers you in all eventualities is an essential part of planning a trip for every single person. If you can't afford travel insurance, you can't afford to travel. You never know what's around the corner.
Did you know I also vlog my trips? Make sure you subscribe to my YouTube channel so you get alerted when all my travel videos go live… CHECK THEM OUT HERE
Thank you for reading and as always happy adventuring! If you have any questions about the destination please leave these in the comments below.
If you've enjoyed this post, please share it for me with all your friends and family!
Sophie X