If you are heading to Switzerland, then a trip to Lake Geneva should be high up your list. There are so many activities in Lake Geneva to do during a weekend here.
Lake Geneva, or Lake Léman in French, is among the largest freshwater bodies of water in Western Europe. Little under two/thirds of the lake belongs to Switzerland and the rest of the lake and the coastline belong to France (mostly the southern part).
The lake has been famous since Roman times and today it's a tourist hotspot and for a good reason. Swimming, sailing, trekking the nearby vineyards, or simply enjoying the stunning view attracts people from all walks of life, including many celebrities. We have compiled a list of things you can do in the Swiss region of Lavaux, situated right on the edge of Lake Geneva.
Keep reading for the best Lake Geneva attractions…
How to get to Lake Geneva
Western Europe is known for a solid road network so reaching Lake Geneva isn't too difficult, even when we take into consideration its location in the northern Alps, with the average surface elevation of 372 meters. The quickest way to get to Lake Geneva is through the Geneva Airport, situated at the edge of the lake.
The airfares to and from this airport are cheaper when compared to the rest of Switzerland. After you leave the airport, get on the Golden Pass panoramic train route that will take you to pretty much any place on the lake's shore you wish to go. The local train has huge window panes, so you can enjoy the stunning mountainous landscape along the way.
The Best Time to Visit Lake Geneva
Although the Alps are known for a cold climate, global climate change means that lake water is getting warmer by the decade. In fact, the average temperature of deep water (around 300 meters of depth) has risen by a full degree during the last 50 years alone. However, air temperatures can still drop to minus one or two degrees in January so the best time to visit Lake Geneva is from springtime to early fall.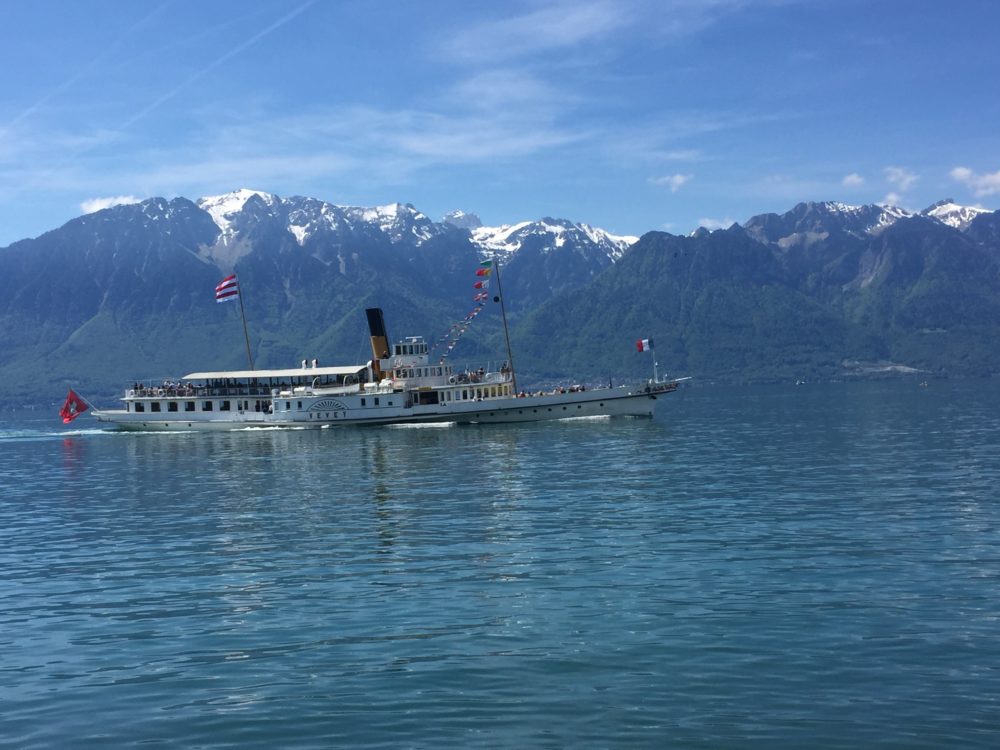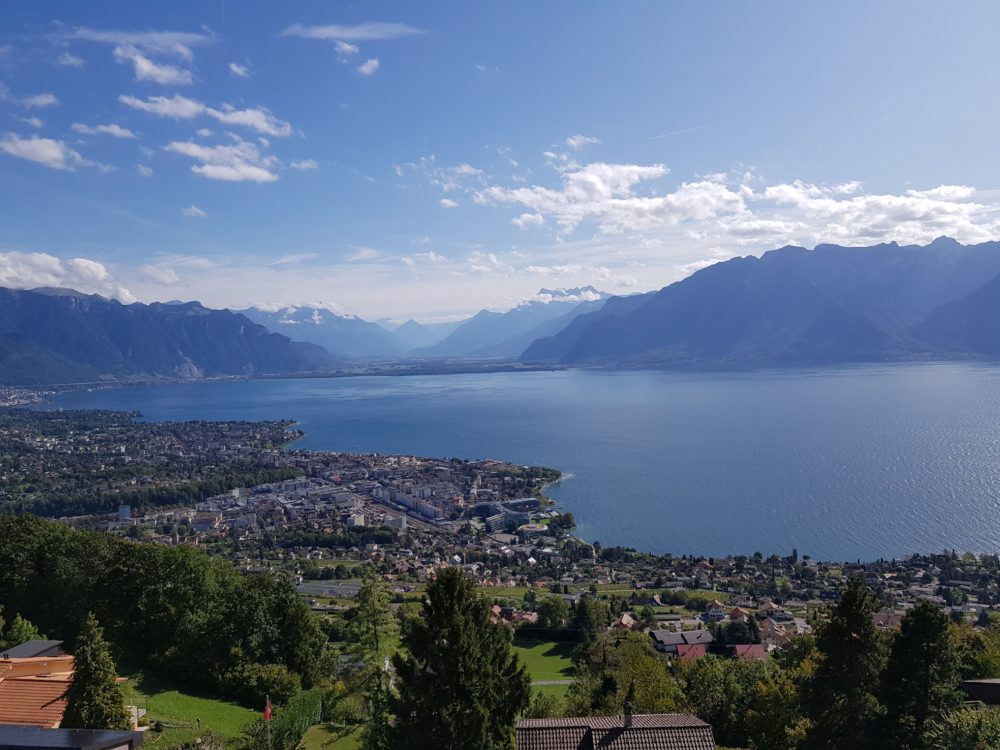 Getting around Lake Geneva
As mentioned earlier, the local train is the quickest way to get from one coastal village to another. Of course, you can always rent a car or a bicycle if you want to take the scenic route. Finally, you can trek across the northern side of the lake in search of the best view of the lake.
Top 10 Things to do near Lake Geneva
Unlike other Alpine destinations, Lake Geneva throws a bit of everything at visitors; it's not all about winter sports. Here are 10 Lake Geneva attractions you can do during your visit:
1. Hiking in the Lavaux Vineyard Terraces
The best activities in Lake Geneva, include hiking through the historic terraced vineyards of the aforementioned Swiss region of Lavaux. Apart from a marvellous view of the lake below and the mountains above, these trails are ideal for beginner hikers to learn the ropes.
2. Château de Chillon Castle
Visit Château de Chillon which is located just 4 kilometres south from Montreux. You can reach this medieval island castle either by bus or train. Château de Chillon was originally a Roman outpost but it became a property of the House of Savoy from the mid-12th century. A wonderful Lake Geneva attraction!
3. Walking in the promenade
A slow but wonderful Lake Geneva attractions, is to walk along the promenade that follows the shoreline. There are countless small cafes and benches that allow you to take a rest and enjoy the view. There are also many white swans you can feed.
4. Visit Vevey
Visit Vevey (SUI), a town located on the northeastern shore of the lake. Not only does this small town of some 20 thousand souls has 4 museums but it has been the headquarters of Nestle since 1867. No wonder then that the famous actor and comedian Charlie Chaplin resided Vevey from 1952 until his death in 1977. There is even a statue of Charlie Chaplin, honoring his life and work.
5. Sailing
Another fun Lake Geneva attraction is to go sailing on Lake Geneva and experience its calm, windless waters. The local wind, known as "Bise" blows from the north and north-east, is cold and dry and it usually lasts from 3 to 9 days at a time. There are also boat races here, the most famous one being Bol d'Or which had been organized since 1939. Major ports on the lake include Port des Eaux-Vives, Port de Bouveret, Port des Mouettes, Port de Rives, Port de Vidy.
6. Cruising Lac Leman
Go for a cruise. The Geneva Lake might not be the open ocean but it can still boast a fleet of dozens of cruise liners. Going on one of these cruises is a great way to see the entire lake without having to drive down winding and steep roads.
7. Montreux Jazz Festival
Visit the Montreux Jazz Festival that starts in July and lasts until mid-September. The Swiss music festival is the second largest of its kind and it has been organized since 1967. Great musicians and bands, from Frank Zappa to Deep Purple have made appearances at the festival. Another amazing activity in Lake Geneva.
8. Mountain biking in the Alps
Go mountain biking in the Alps. Apart from the train and the car, you can explore the surrounding of Lake Geneva on a mountain bike. There are shops where you can rent MTBs and take them across dozens of bike paths, most of which are located in the hills north of Lausanne.
9. Paragliding
Go tandem paragliding over the lake. Experiencing Lake Geneva from the shoreline is beautiful, experiencing it from a boat is mesmerizing but flying over it in a paraglide is stunning! Tandem paragliding sessions are available south of Montreux, in Noville, and they typically last 20 minutes.
10. Hot-air balloon
Finally, you can see the entire area from a hot-air balloon. The flight lasts around half an hour but you won't fly directly over the lake because of the vicinity of the Geneva Airport. However, sightseeing from a hot-air balloon is a must. In summer, you get find them near Lausanne. The ultimate Lake Geneva attraction!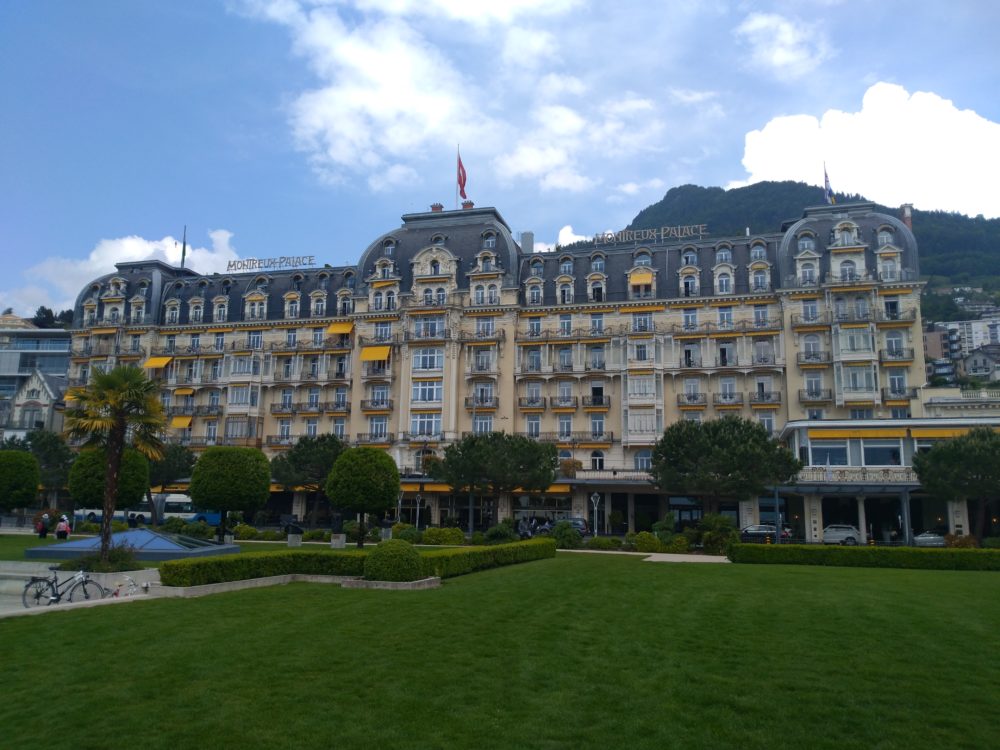 Top Places to Eat Around Lake Geneva
There are many restaurants, eateries, and cafes along the coastline. They are the densest in urban settlements, such as Geneva, Lausanne, Montreux, etc. No two restaurants are alike and although you can find both Swiss and French national dishes, the restaurants are diverse. There are seafood restaurants, ethic cuisine family-owned places, steak houses, pizzerias, etc. For sports lovers, there are even sports bars and pubs.
Sprecher's Restaurant & Pub – Grill
Oakfire – Pizza
Simple Cafe Lake Geneva – Restaurant
Joni's Diner, Sopra Bistro – Restaurants for breakfast
Champs Sports Bar & Grill – Tuscan Tavern & Grill
Gino's East – Champs Sports Bar & Grill
Red Geranium – Sopra Bistro
Grandma Vickie's Cafe – Tienda El Rancho
Medusa – Grill & Bistro
Great Eggs – Breakfast
Next Door Pub & Pizzeria – Pizza
Egg Harbor Cafe – Brunch
Lake Geneva Pie Co – Restaurant
Grandma Vickie's Cafe – Restaurant
Sabai Sabai – Thai & Sushi restaurant
Popeye's on Lake Geneva – Restaurant
Claw's Hot Dogs & Beef – Hot dog
Barrique Bistro & Wine Bar – Restaurant
Best Place to Stay at Lake Geneva
It is no surprise that hotels, both big and small, are the most common type of accommodation across the lake. The majority of these are located in Geneva itself, as the city has about 250 hotels in total, which is more than double what Montreux has to offer.
In recent decades, more and more hostels, inns, and private houses are offering hospitality services. The B&B industry had grown offer the years, as hosts expanded the range of their services. In terms of money, prepare to spend at least 100 euros per night for a decent room in a hotel. When it comes to the famous luxury hotel Fairmont Le Montreux Palace, the price is over 300 euros per night.
There is a good reason why a pleiad of notable people has decided to relocate to Lake Geneva. From Mary Shelley, her husband Percy Shelley and Lord Byron's holiday that gave birth to Frankenstein, to Lenin's chalet at the southern bank, this glacial lake attracted some famous names across the years.
If you are curious to find out what drew Freddie Mercury, Richard Burton, Audrey Hepburn, Ernst Hemingway, Vladimir Nabokov, Michael Schumacher, and many others to Montreaux and its surroundings, then it's high time you visited Lake Geneva.
Options for Accommodation
Grand Geneva Resort & Spa – 4-star hotel – £196
The Abbey Resort – 4-star hotel – £169
Mill Creek Hotel – 4-star hotel – £142
Lake Lawn Resort – 3-star hotel – £130
Holiday Inn Club Vacations at Lake Geneva Resort – 3-star hotel – £133
The Cove of Lake Geneva – 3-star hotel – £155
Harbor Shores on Lake Geneva – 3-star hotel – £157
Bella Vista Suites – 3-star hotel – £164
Timber Ridge Lodge & Waterpark – 3-star hotel – £232
Seven Oaks Bed & Breakfast – 3-star hotel – £222
Author Bio:
Mark Anderson is a tech geek, blogger, and writer in his free time. He likes any kind of outdoor activities like camping, fishing, skiing, hiking, surfing. He is also a contributor to the site
Vogatech
.
---
Looking to spend longer exploring Switzerland?
Check out my guide to spending 5 days in Switzerland.
Whilst Switzerland is geographically quite small and people might think they can do a lot in five days in Switzerland, I wouldn't recommend any less than five days in this magical country, as we felt like we hardly scratched the surface, and next time I visit Switzerland I plan on going to the east of the country to Interlaken and the mountains.
However, if you've only got three or five days, then you will need to have some kind of plan ahead of your trip so you can really make the most of your time visiting Switzerland and check out the countries main cities within easy access to each other. I would recommend Zurich, Lucerne and Basel. I've laid this Switzerland itinerary as a five-day trip, which is easily adaptable to a long weekend in the country. While 5 days in Switzerland isn't enough, it's definitely possible to see some of its best points of interest in five days in Switzerland.
---
My Travel Tips and Recommendations
Flights
To book flights, I always use flight search engine, Skyscanner, I regularly use the Everywhere tool to find the cheapest places to travel. It's how I get to travel so much all around the world. I find it the easiest way to compare flight prices across airlines and get the best deals.
Accommodation
For accommodation, I usually book most of my hotels or hostels through Booking.com. I love using this platform as it provides me with some amazing deals for accommodation all around the world. Or if you prefer, I also recommend using Airbnb. If you haven't signed up with Airbnb already, you can use this link to get £25 off your first visit!
Photography and Technology
Here is a list of the technology I always travel with:
Travel Insurance
Picking travel insurance that covers you in all eventualities is an essential part of planning a trip for every single person. If you can't afford travel insurance, you can't afford to travel. You never know what's around the corner. World Nomads is an affordable option that I personally recommend. BOOK HERE
Sign up to AirBnB with this link and receive a £23 off your first booking.
To receive my articles and reviews straight to your inbox SUBSCRIBE HERE.
Did you know I also vlog my trips? Make sure you subscribe to my YouTube channel so you get alerted when all my travel videos goes live… CHECK THEM OUT HERE
Thank you for reading and as always happy adventuring! If you have any questions about the destination please leave these in the comments below.
If you've enjoyed this post, please share it for me with all your friends and family!
Sophie X