Colombia is one of the most beautiful, colourful, authentic and diverse countries that I've ever had the pleasure to travel. So this Colombia itinerary will give you all the advice and information you need for backpacking in this wonderful part of the world.
When planning my trip and noting the cities I wanted to visit, I thought a month would suffice, but I fell in love with the culture and stayed for a further three weeks.
Colombia is one of those countries you could cover parts of in two weeks, or simply stay in forever but I think a month is a good amount of time to cover the historical cities of Medellín and Guatapé, the colourful town of Bogota, to get your salsa on in Cali, to visit some of the best beaches in the North and fit in some paragliding in San Gil.
You could also use this one-month itinerary for Colombia 2 week itinerary if you are short on time.
Whatever you're looking for, Colombia is sure to offer it – so let's get exploring!
Here is my Colombia itinerary…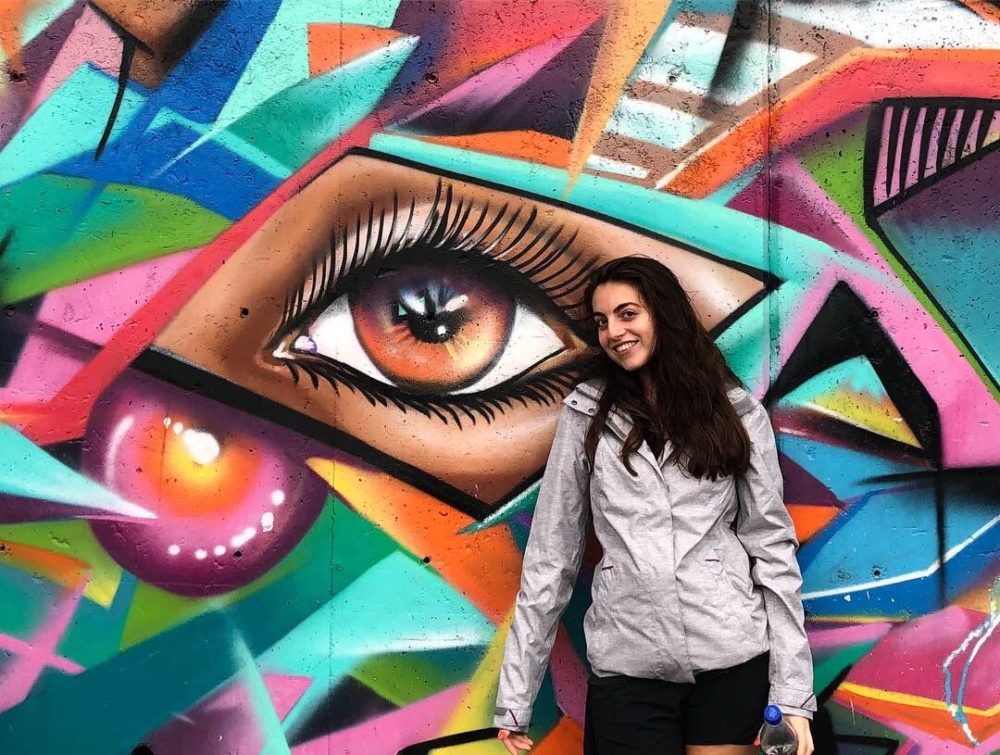 Backpacking Colombia
How to get to Colombia
The cheapest option for your Colombia itinerary would be to fly to Bogota – this serves as your perfect base to start your Colombian trip! You've got a wealth of airlines that fly direct, from slightly cheaper like Lufthansa to around £200 more if you want to fly with British Airways. I decided for a non-direct flight as it was slightly cheaper, flying with BA, with a stop in Madrid and it was perfectly comfortable, but direct flights are always available.
When is the best time to visit Colombia
Colombia's tropical climate is a result of being located right by the equator and therefore the country does not experience massive changes in their weather. Some months, like other countries, are better to visit than others and although they experience a small dry season between July and August, the overall best time to visit on your Colombia itinerary is between December and March for the least amount of rainfall.

Backpacking Colombia
How to get around Colombia
Depending on the airport you fly into, you've got the choice of booking a taxi there and then or using Uber, Cabbify or the Tappsi app (which limits the language barrier). I would NEVER recommend hailing a taxi off the street, especially if you're not with a local and it's obvious you're backpacking Colombia.
When I first arrived in Colombia, I was really nervous to even leave Bogota Airport and therefore had planned ahead and booked transport through my hostel. The driver was waiting for me when I arrived and it took the stress off my shoulders. I would always explore the option of your accommodation providing pick up if this is your first time in Colombia and you're nervous.
For general travelling around Colombia, you've got many options and this will ALWAYS be based on the type of traveller you are. Colombia is extremely accessible via bus – for the smaller distances, a 'collectivo' is provided (you can book this with the local tour agency) which is usually a small bus and is quite a cramped experience.
For the longer distances to main cities, you've got the option of coaches and for me personally, it made more sense to take night buses to arrive in cities during the morning, ready for the day ahead. Night buses usually have air conditioning, reclining seats and some even give you food before you take that shut-eye – be warned that both the air-con AND movies playing are cranked up to the highest level, so bring jumpers, and a blanket and earplugs.
Wifi is standard on buses but usually patchy so make sure you've got Google maps downloaded offline so you can see where you're going. Another tip – although most buses provide a toilet, it's likely they'll be no toilet paper so ensure you've got some at hand – I also recommend wet wipes and don't forget the hand sanitiser!
It's common practice for buses to stop at 'requisas' (military checkpoints) in the middle of the night which will involve soldiers getting on the bus and asking for identification – this is a normal procedure so don't be scared. Sometimes buses stop for meals – if the driver is hungry – but this is not always the case so always take snacks and water.
Colombia does have a reputation for not being the safest country to travel, but as a solo female traveller I had no problems – I was careful. I always kept my small backpack on my lap, I never even placed it on the floor and my valuables were around my waist in a small, hidden bum bag.
I booked all my buses in Colombia through 'Busbud' which offer discount codes and had great experiences on everyone I took. I would recommend Expreso Brasilia and Copetran which are cheaper options and Berlinas, Bolivariano and Fronteras for the more trustworthy and expensive options. Don't worry – you can also take these buses during the day if you feel more comfortable.
Another option if the buses don't tickle your fancy is to travel internally from the main cities – it's more expensive, but there's nothing wrong in spending a little more for peace of mind. The main airlines to use are Avianca, LATAM and Viva Air – Viva Air is the cheaper of the three but keep your eyes peeled as they don't declare their final price until you add luggage later.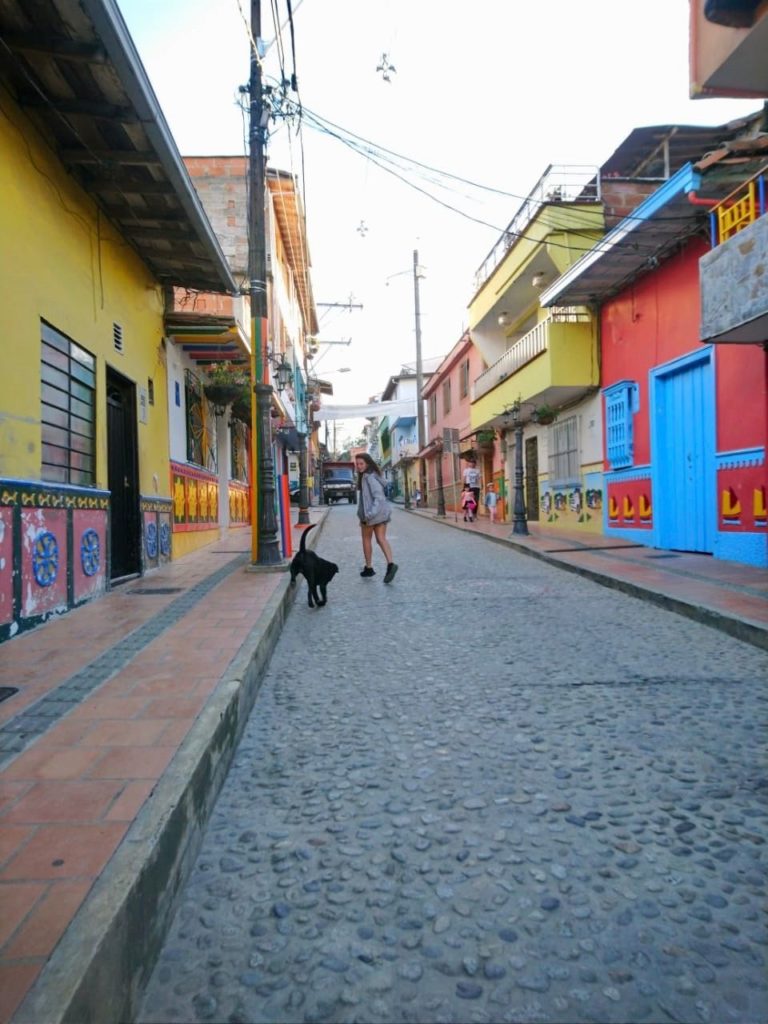 Budgeting for a month
Backpacking Colombia is one of those countries where you can do as much or as little as you want – and everyone is different. The country itself is very reasonable to travel, with the exchange rate currently at £1 to 4899 Colombian pesos – it's when you add in stunning excursions, and restaurants that things begin to add up.
For me personally, I love eating street food and staying in hostels to meet others, but other travellers prefer slightly more luxurious accommodation and restaurant-style food.
I would always recommend budgeting high and returning with money than running out and therefore would suggest £800-£1000 max for the month you are away during your Colombia itinerary.
Backpacking Colombia
Top 10 Things to do in Colombia
So, what is there to do in this magical country? Here are my quick fire cities and the top things you should fit into your Colombia itinerary.
Bogota
I had a fantastic time exploring the art and food scene in Bogota with the group below, which I booked through my hostel. The Bogota Graffiti Tour and The Bogota Food Tour were provided by True Colombian Experience and were really informative as well as being fun.
I met some great people on the tour and together we climbed to take the cable car up Monseratte for views over the city. You should attempt to go there for sunset, the views are magnificent but please do go with people. I would also recommend taking a taxi to the top, as some of the stories of people walking up there have not been pleasant.
Salento
Literally the home of great coffee, you must visit a coffee 'finca' to have a look at how they make the coffee we literally buy from our local supermarket (Sainsbury's own uses Colombian beans!). You'll hear the word 'tinto' a lot and that's the word you use if you want a long black (or an Americano in British English). Don't forget to hike Valle de Cocora where you can be surrounded by some of the tallest palm trees!
Medellín
Made famous by the popular Netflix series 'Narcos', book onto the 'Comuna 13' tour so you can visit the infamous neighbourhood – previously one of the most dangerous in Medellín due to gang culture and drug trafficking. You can learn about the journey of reinventing itself and I would recommend Zippy tours – our guide was extremely informative. Remember to tip the guide after as these tours are free but a lot of work goes into them! Medellín is well known for its expansive nightlife, so feel free to go out and get your salsa on in one of the bars in El Lleras – but be careful, pickpocketing is rife here and always keep a thumb/hand over your drinks.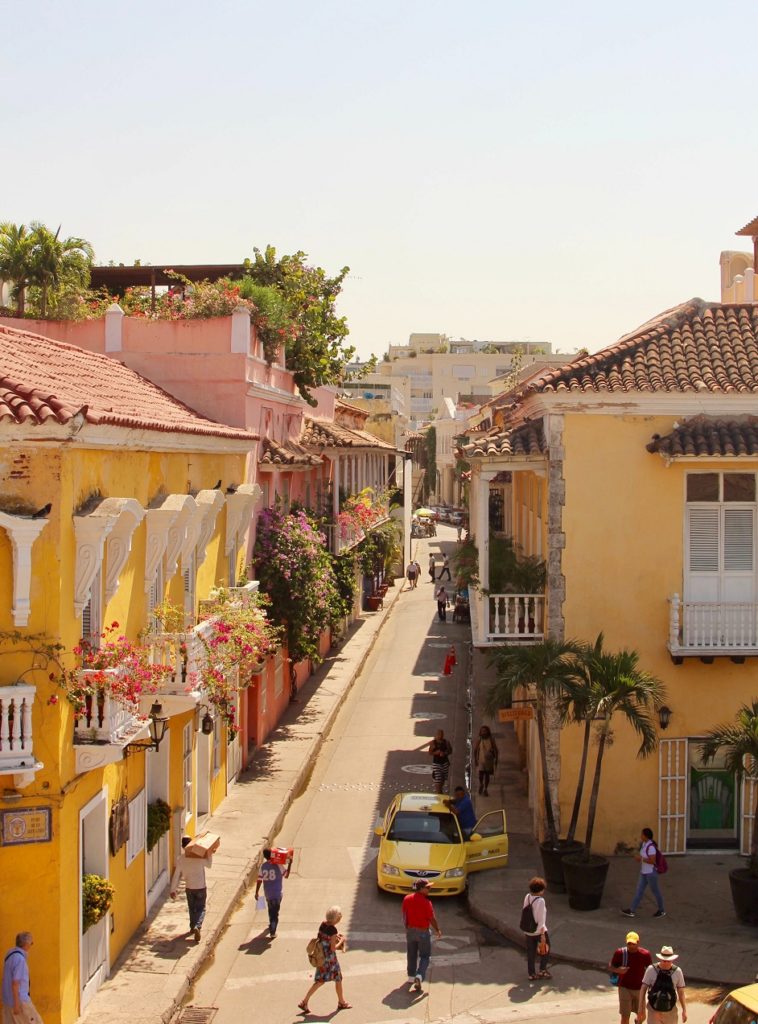 Guatapé
You can visit Guatapé from Medellín, and the town is quaint and beautiful. Get up early to climb El Peñón de Guatapé (The Rock of Guatapé) – there's 700 steps and it gets HOT up there, so don't forget the sunscreen, a cap and water. Make sure you book onto a tour to visit Casa de Manuela – the original summer house of Pablo Escobar. You can book this directly through your accommodation which is usually more expensive or book with a man with a boat by the river 🙂 My friends and I did this and it was much cheaper!
Cartagena
I loved Cartagena so much I extended my stay for weeks on end. The colourful, walled town of Getsemani is perfect to walk around and I enjoyed the beaches. There's a great nightlife here too and some fantastic places to enjoy Colombian food. Make sure you organise a boat tour to all the various islands. It's cheaper to rent privately and go with a group then through an organised tour with the hostel, but either way, it's a great day trip out!
Santa Marta
I didn't love Santa Marta, it's a pretty busy city but makes a great place to base yourself for day trips to the neighbouring fishing village of Taganga. If you're interested in hiking for a few days, the Lost City Trek is challenging but worth adding to your list. You can book through your accommodation so that you're with a group, or simply through a tour agency in the city.
Minca
Situated 660 metres above sea level, welcome to nature's paradise. It gets very chilly here during the night so make sure you pack some layers. Although you can easily base yourself in the nearby city of Santa Marta and just visit for a day trip, I would recommend 2-3 days in Minca so you can enjoy walking to the Marinka waterfalls and explore the various trails available. I would recommend hiking Los Pinos but leave early as it takes around three hours to complete. EXTRA TRAVEL TIP: Wear mosquito spray AND baby oil – which unlike mosquito spray, kills the sand flies that will be eating away on your body so make sure you pack your tiger balm too, they itch like mad.
Palomino
Despite the fact the town of Palomino is very quiet, the beaches here are absolutely stunning and worth a visit. You can stay here or nearer to Tayrona National Park – which is an excursion to add to your list. Some people actually stay WITHIN the park, but I just enjoyed hiking through it for a day.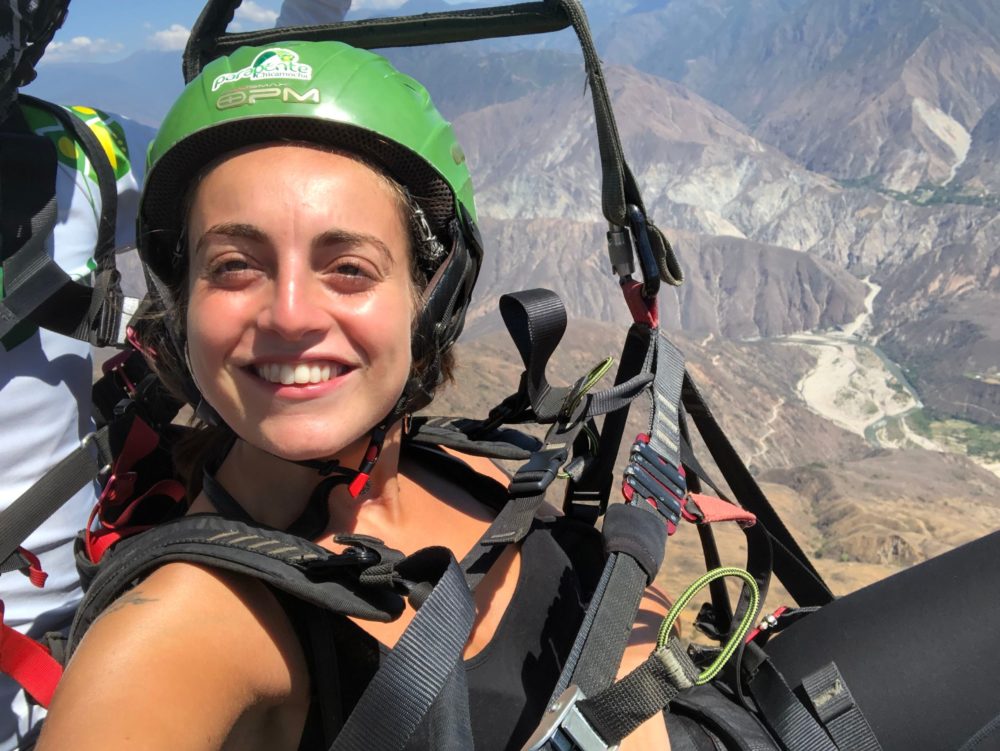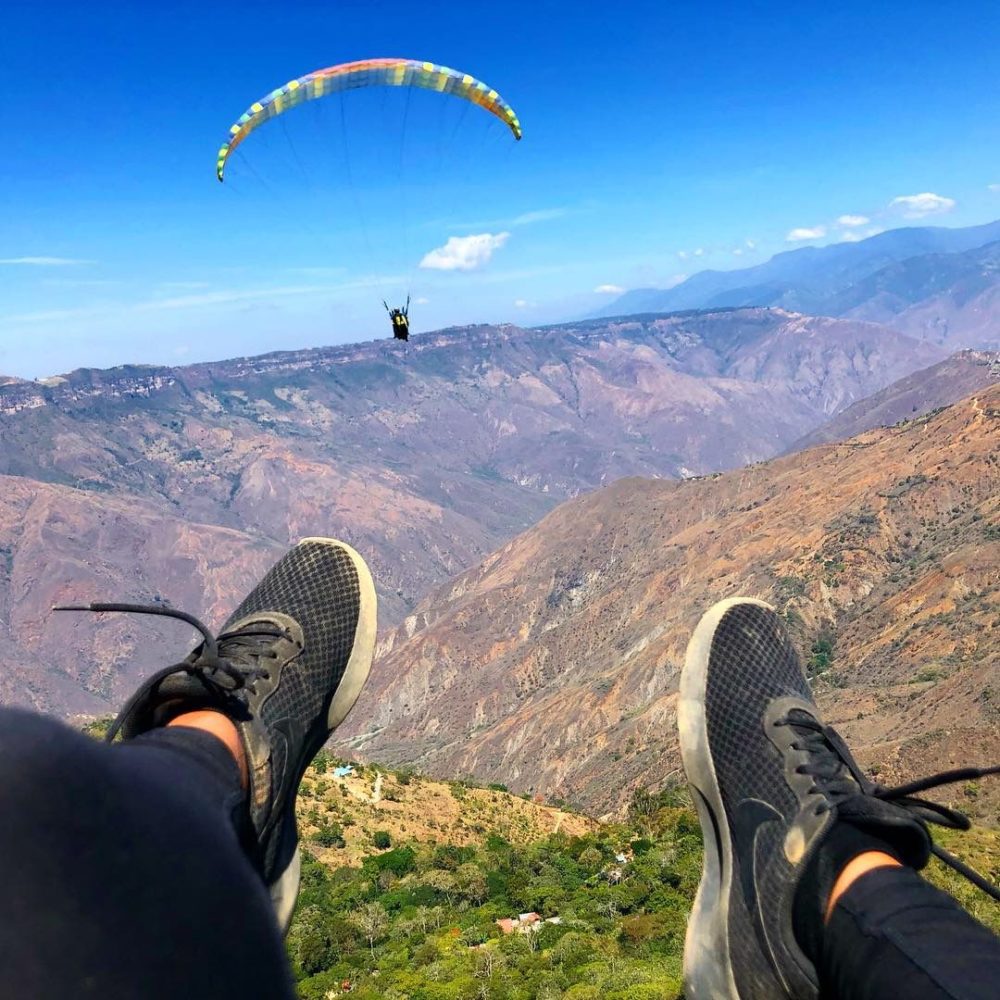 Cabo de la Vela/Punta Gallinas
NOT for the faint-hearted, Punta Gallinas take a little while to get to – but boy is it worth it. Unlike others who booked with a tour agency, a group of friends and I made our own way there using public transport. You have to get a bus to a town called Riohacha, ask to be dropped where you can grab a colectivo to Uribia and then on arrival in Uribia, ask to be taken to where the 4×4 jeeps depart for Cabo de la Vela in La Guajira which is the desert.
Here you will meet many Wayuu people, an Indigenous tribe that live in the peninsula of La Guajira, which in itself is an incredible experience. Here accommodation is limited, but you can book directly through the place you stay to take you to visit the most northern part of Colombia and the sand dunes.
I would absolutely recommend doing this with a group, as I don't think I would have felt so safe without one – there were barely any tourists around and it was tricky to get back, For a more in-depth analysis about what to expect, read my full experience here.
San Gil
When you leave the desert, you'll need to return to Santa Marta in order to get back en route to San Gil. It takes a while but it's worth it. I loved San Gil, walking around the town if I wanted more of a relaxed day and then waking up early to go paragliding. If paragliding is not for you, you've also got the choice of white water rafting, bungee jumping or visiting the nearby waterfall called 'Cascada de Juan Curi'.
Cali
I'm one of the few who didn't spend too long in Cali, although many friends decided to book a salsa or spanish learning course here. I would recommend dancing classes at either Swing Latino or El Manicero. Walking through the small, artsy barrio of San Antonio will be nice during the day and taking in panoramic sites by walking to El Cristo Rey is a must – please DO be careful, and watch your belongings at all times. If you fancy a weekend hike, I would recommend Cerro de las Tres Cruces which is pretty strenuous but the path is well marked and the views of the city are nothing short of incredible. Lots of locals walk this for their own exercise and I suggest you do not walk it unaccompanied.
Villa de Leyva
Less than three hours away from Bogota is Villa de Leyva which is a stunning town, very different to any of the ones mentioned above. Take the time to walk around the cobbled streets, and visit the main square which in itself is very beautiful. I booked a tour through my hostel which included a visit to The Terracotta House (a popular tourist attraction with a house-made entirely from clay), the fossil museum and the Pozo Azules (a series of pools that have taken on a crazy, artificial-looking blue colour – but are totally natural). If you're a wine fan, many of my friends visited vineyards too.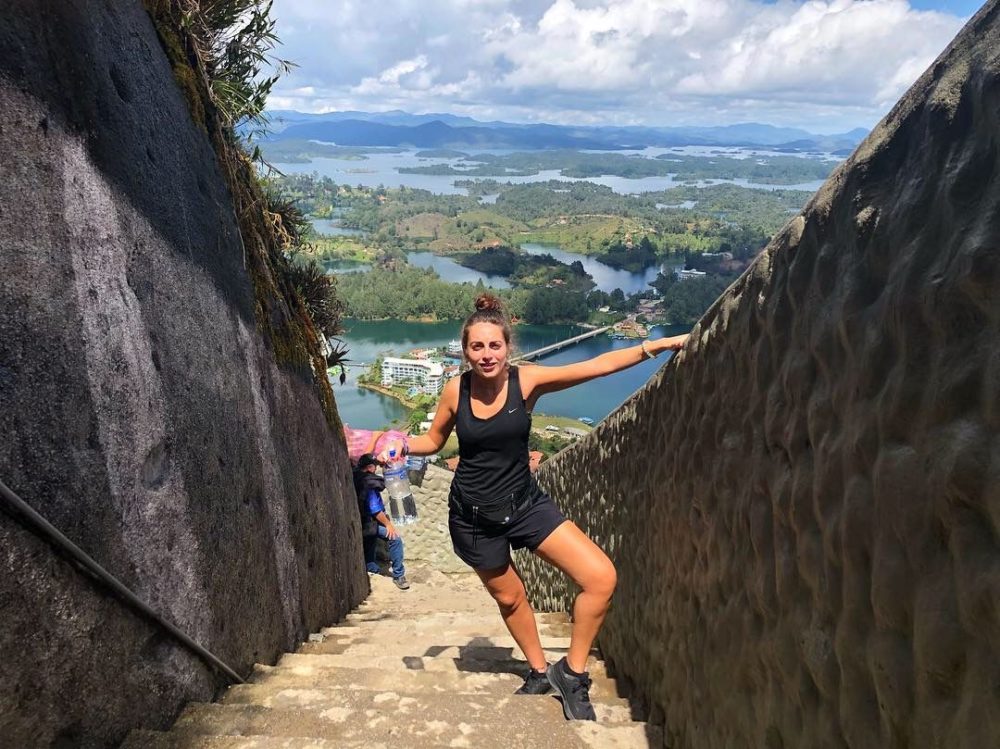 Backpacking Colombia
Top places to Eat in Colombia
There is an unlimited choice of options to eat throughout Colombia depending on your budget and the type of cuisine/atmosphere you're looking for. A lot of the time, the 'menu del dia' is the best option, giving you a starter, main, dessert and a drink for around 8,000-10,000 Colombian pesos (that's around £2!)
If you're in Colombia the most common food to try are Arepas (a cornbread stuffed with cheese or meat – great for those with gluten intolerances), Empanadas (stuffed pastries with meat or vegetables) and Sancocho (a hot stew consisting of meat, plantain and cassava which is a popular root plant of the region).
Tamales are also a firm favourite of mine which is corn dough, cooked with a filling of meat and vegetables, wrapped in a banana leaf. You'll be sure to find all this and more with many street vendors, but if you're looking for more information, here are some of my favourites for this Colombia Itinerary.
Bogota: Los Simbolos
You must try the street food in Colombia, but if you want a guaranteed great snack, I will always recommend my friends at Los Simbolos who are Venezuelan refugees, who moved to Colombia in search of a better life. The family-run business makes possibly the best empanadas I've ever tasted, from inside their house.
Salento: Restaurante Andrea
Tasty food, reasonable prices – what more could you want? I recommend the traditional Trucha a la Plancha (grilled fish)
Medellín: Café Zorba/ Las Delicias de la Flaca
If you're vegan or vegetarian, I would recommend Café Zorba for a variety of pizza options. If you're looking for another local experience, my friends at Las Delicias de la Flaca provide another family-friendly option, cooking up the tastiest arepas. I visited here every night and it was better than any restaurant food I've tasted. There's also a variety of dining options in the affluent El Poblado area – the safest place to stay in Medellín, with security manning the streets.
Guatapé: Hecho Con Amor Deli/ Thai Terrace
Another great option for vegetarians or those with dietary requirements is Hecho Con Amor which serves a variety of delicious foods from lentil burgers to salads and soups – and the desserts here are fantastic. If you're looking for something a little different, Thai Terrace is a gorgeous restaurant situated on the top of the Lake View Hostel, offering an extensive menu of Thai food. It was a cuisine I didn't realise I missed until I had it again!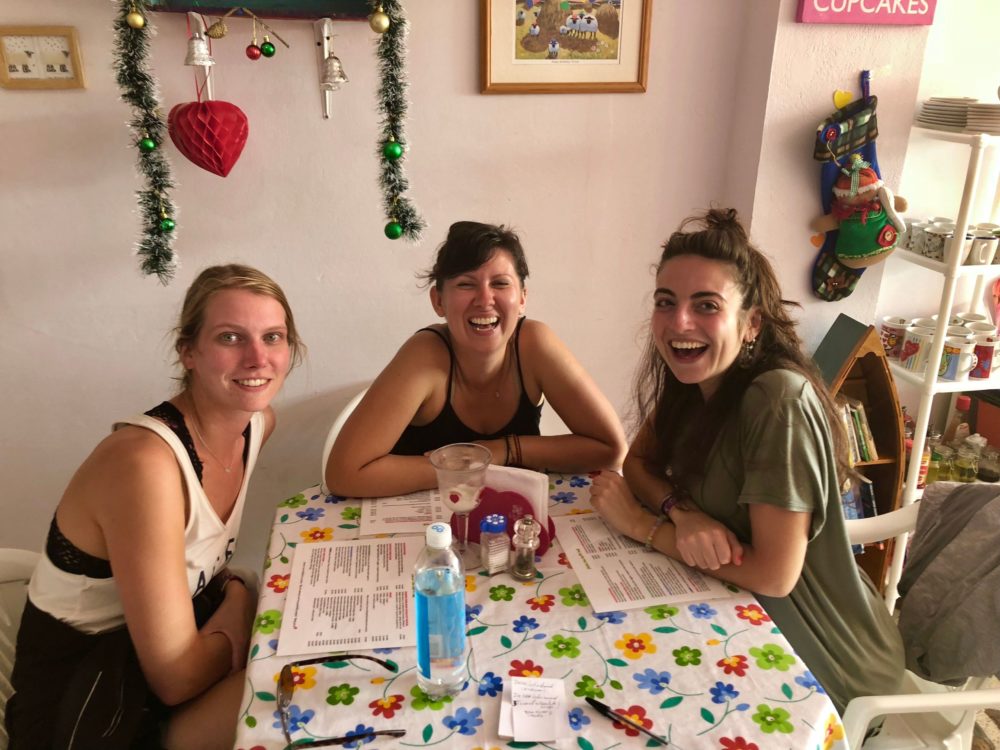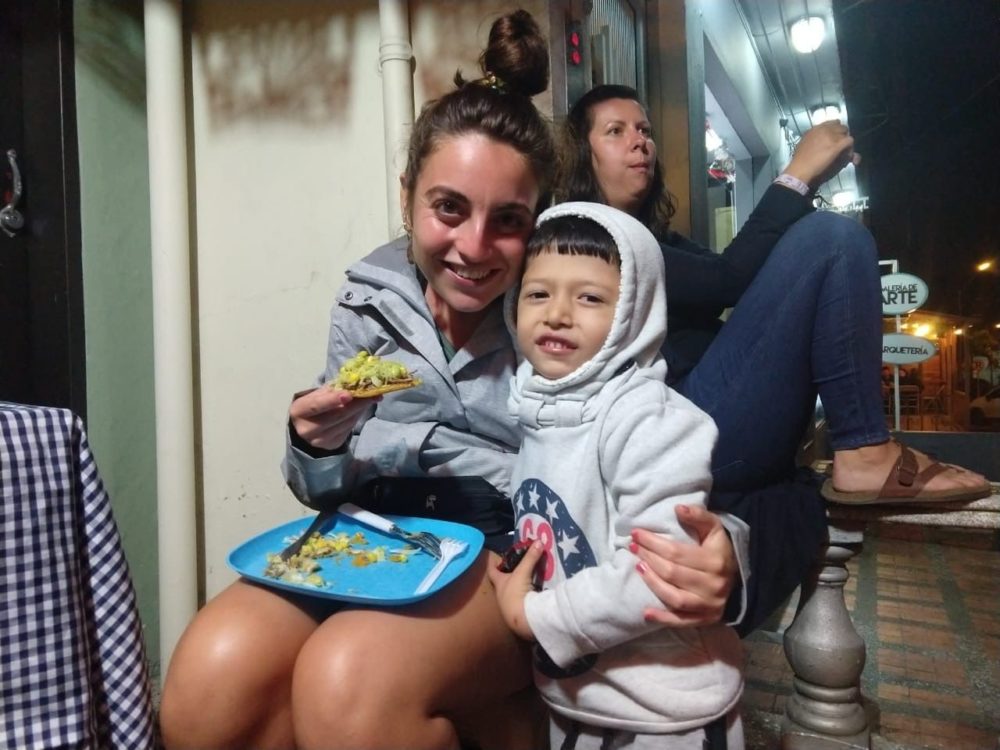 Cartagena: Viva Food/La Taperia
Cartagena is a town that suits every budget. Whether you prefer eating street food at the Holy Trinity Square, sitting down for local food at Viva Food or are in the mood for a fantastic steak at La Taperia, there's something for everyone here.
Santa Marta: Mercado Público/Taganga
Make sure you pay a visit to the Mercado Público, otherwise known as the Santa Marta Market, where you can try food from over 500 different vendors. I love visiting these types of places, it shows you such a contrast between how you buy food and how they do in another culture. For the best fish, make sure you eat in the coastal town of Taganga – they show you how they cook it in front of your eyes.
Minca: Lazy Cat
Popular for a reason, if you've been missing home comforts, I couldn't recommend Lazy Cat more. Sometimes, although eating all the local food is great, a taste of home is really needed and the restaurant provides just that. From burgers, sandwiches, quesadillas and dishes made in the wok, the food is tasty and the atmosphere is great. They also do really good coffee – so try to get here for your morning 'tinto'.
Palomino: La Frontera/Sua
I had to include both of these restaurants in my list, as they're really close in location to each other and they offer you the choice of pizza (La Frontera) or fish (Sua). When you're that close to the sea, you've got to try the seafood, but if you fancy something more homely, La Frontera is a great option. They're both only a 15-minute walk from the coast.
Cabo de la Vela: Toti's
Honestly, the food is really quite basic here. You'll read in my article I've linked to this post that I spent most of my time eating at Toti's, a restaurant overlooking the ocean and I have to say, the fish was the best I've ever had. We mainly ate here for lunch and dinner, but the majority of huts that are on the beach serve breakfast, lunch or dinner which is either goat or fish. Bring snacks when you visit.
San Gil: Gringo Mikes/La Mansion de Sam/Sam's Gastro Pub
You've got two options for food here, either go LOCAL style or settle for what you know is good. Gringo Mike's is really popular here, in fact, the majority of people I met asked me to eat here with them. What you see is what you get, with typical food such as burgers, burritos, seafood dishes and salads to name a few.
I stayed at a hostel called Sam's VIP which actually owns both La Mansion de Sam and Sam's Gastropub and the food there was ALSO fantastic but heavy on the meat. If you're a vegetarian, I had an amazing lunch at Miel Y Trigo which was a 'menu del dia' – a starter, main course and a dessert including a drink. The quinoa soup is delicious!
Cali: Corinne Cafe/ Asados El Galán
For breakfast, make sure Corinne Cafe is on the list with options including waffles, bagels and salad. Asados El Galán is a lovely restaurant preferable for dinner, that serves either barbecued beef, chicken or pork complete with plantain and salad. It's really reasonable for money and the meat is divine.
Villa de Leyva: El Rincón Gourmet de la Villa
This restaurant serves lovely Spanish food that I found really delicious and it's also a piano bar. It's not the cheapest of restaurants, but I found it worth the price tag. The service was great too.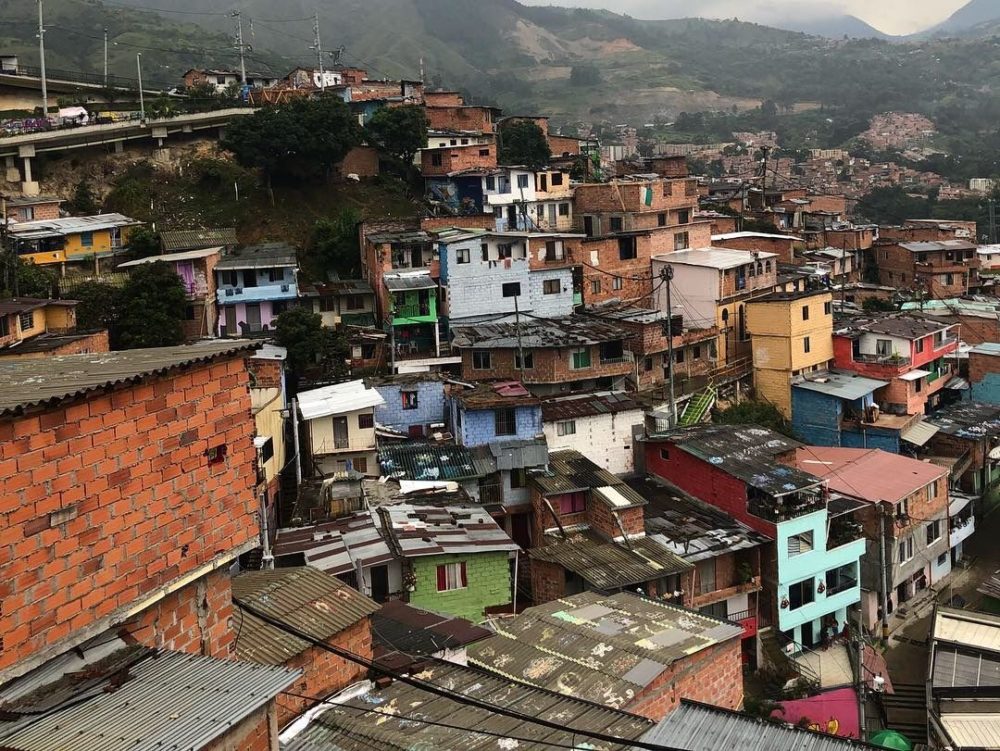 Backpacking Colombia
Top places to drink in Colombia
It would be a crime to visit Colombia and not try their fantastic coffee – although it's known fact their exported coffee is slightly tastier than their imported coffee. The chain Juan Valdez is actually VERY good if you're looking for a quick "tinto" – remember, this is black coffee in Colombia, although the term differs in different Latin countries.
If you're looking for something a little more fruity and alcoholic, there's tons of fantastic bars to visit too. I visited so many places that listing them all would take hours, so with that in mind, here are my absolute top 5 favourites that you must include in your Colombia itinerary.
Cartagena: Cafe Del Mural
This beautifully decorated cafe I visited about ten million times, whether for some time for myself or introducing a new group of friends to it. The coffee here ranges from hot to iced, nitrogen infused to alcohol based – and its taste is FANTASTIC. Whatever crazy creation you think of, it's likely to be on their menu. They also offer coffee making workshops too, so you can see if you're a secret barista.
Salento: Cafe Jesus Martin
You can't be in the 'well renowned for its incredible coffee' town of Salento without trying a 'tinto' at Cafe Jesus Martin. The coffee is delicious (and I'm a coffee snob and went back for a second cup so I'm not lying) and there's also a great selection of cakes. Plus, he's made it onto the BBC for his impact on the coffee world so that's not too bad either.
Medellín: Envy Bar
We're swapping the coffee for the Espresso martinis at Envy Bar which you MUST pay a visit to if you end up in Medellín. This rooftop bar has STUNNING panoramic views of the surrounding mountains and across the city, which is lit up in the night sky. It's a stylish bar, so make sure you dress to look the part.
Cali: La Topa Tolondra
You can't visit Cali without trying your hand at Salsa – and if that's too stressful for you, at least visit La Topa Tolondra to see the professionals dance the night away. I wouldn't say the drinks menu is extensive, but the electric atmosphere more than makes up for it and really showcases the best of Latino dance culture. Not too many tourists visit this bar, so it's a great way to feel like a local.
Villa de Leyva – La Galleta Pastelería Cafe
For such a small town, there's a vast array of coffee shops to enjoy a drink at. My favourite in this little town was called La Galleta Pasteleria cafe. I couldn't eat it (I'm gluten intolerant) but my friend had the most delicious 'milhoja' which is otherwise known as 'millefeuille'. Please try one for me!
Backpacking Colombia
Where to stay in Colombia
Throughout my month of travelling, I stayed in a variety of places, from hostel dorms to private rooms with ensuites. Here are some of my favourites for this Colombia Itinerary.
I never stayed in an Airbnb, preferring to be around people so I don't want to advise on specific Airbnb rentals, but what I would say is that if you do wish to stay in an Airbnb, please do so within the areas below which are deemed the safest and always check the reviews of the place as well as the level of security around it.
If you would prefer to choose a different area to the ones suggested below, please do your research on it – especially if you're to be travelling alone. The majority of hostels have private rooms, so if you're keen to mix with others but would also like some privacy, or simply don't want to stay in a dorm with others, this is always cheaper than a hotel. As many people recommend, never walk alone at night.
Bogotá – La Candelaria
High Budget: The Orchids Hotel, a double room is approx £71/night
Medium Budget: Selina Hostel, a private room is approx £32/night
Low Budget: Cranky Croc Hostel, a dorm room is approx £9/night, privates from £25/night
Salento
High Budget: Hotel El Mirador del Cocora, a double room is approx £43/night
Medium Budget: Hotel Salento Real Eje Cafetero, a double room is approx £28/night
Low Budget: Viajero Hostel, a dorm room is approx £6-£8/night, privates from £25/night
Medellín – El Poblado District
(the safest part, with security lining every corner, parading the streets)
High Budget: Celestino Boutique Hotel, a double room is approx £58/night
Medium Budget: Los Patios Hostel, a double room is approx £28/night, dorms from £9/night
Low Budget: Purple Monkey Hostel, a dorm room is approx £8/night, privates from £20/night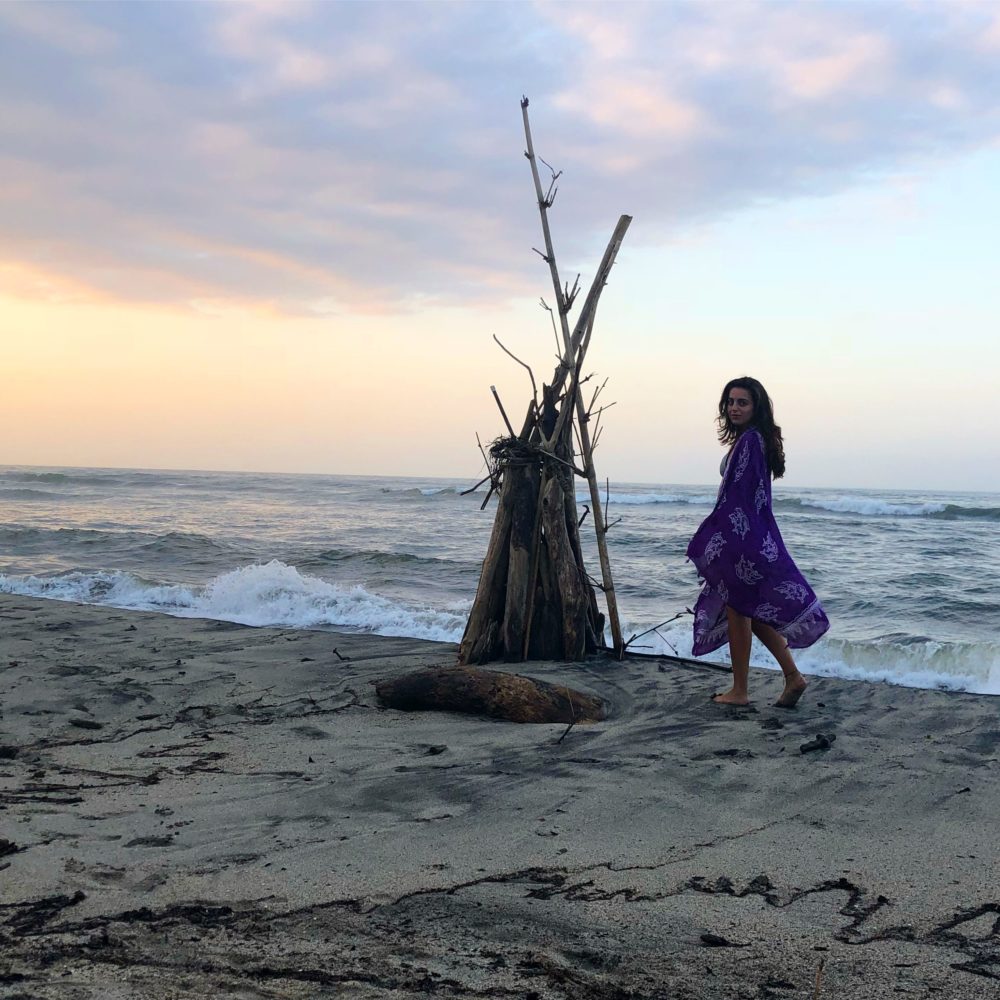 Guatapé
High Budget: Hotel Los Recuerdos, a double room is approx £70/night
Medium Budget: La Madriguera, a double room is approx £37/night
Low Budget: Lake View Hostel, a dorm room is approx £5/night, privates from £26/night
Cartagena – Getsemani
High Budget: Hotel Casa de Lola, a double room is approx £109/night
Medium Budget: Selina Hostel, a double room is approx £40/night, dorms from £16/night
Low Budget: Casa Del Pozo Boutique Hostel, a dorm room is approx £11/night, privates from £60/night
Santa Marta
High Budget: Hotel Boutique Marbore, a double room is approx £45/night
Medium Budget: Republica Hostel, a dorm room is approx £7/night, privates from £45/night
Low Budget: La Brisa Loca Hostel, a dorm room is approx £6/night, privates from £25/night
Minca
High Budget: Siembra Boutique hotel, a double room is approx £51/night
Medium Budget: Casa Viejas, a double room is approx £23/night, dorms from £10/night
Low Budget: Costeño River Minca, a dorm room is approx £6/night, privates from £18/night
EXTRA places to visit: If you like to PARTY, make sure you visit El Rio Hostel, where you can choose from a dorm or a hammock. If you would like to stay on a BEACH, then don't forget to pay a visit to Costeño Beach Hostel. If you want to visit Tayrona Park, look at staying either inside the park or go for a day trip and stay at Viajero Tayrona for the most unbelievable beach views.
Palomino
High Budget: Makao Hotel, a double room is approx £49/night
Medium Budget: The Dreamer Hostel, a dorm room is approx £9/night, privates from £38/night
Low Budget: Tiki Huts, a dorm room is approx £7/night, privates from £25/night
Cabo de la Vela
Daniel's – hammock/dorm (single beds in one room), price upon arrival
San Gil
High Budget: Hotel Alejandria Resort, a double room is approx £58/night
Medium Budget: Sam's VIP Hostel, a dorm room is approx £5/night, privates from £17/night
Low Budget: La Mansion Hostel, a dorm room is approx £4/night, privates from £13/night
Cali
(San Antonio and Miraflores are very safe areas to stay, but even then I would not recommend walking around alone at night)
High Budget: Hotel Spirito by Spiwak, a double room is approx £112/night
Medium Budget: Casa Miraflores, a double room is approx £17/night
Low Budget: Viajero Hostel and Salsa school, a dorm room is approx £6/night, privates from £18/night
Villa de Leyva
High Budget: Casa Emaus, a double room is approx £92/night
Medium Budget: Hostal Renacer, a double room is approx £24/night
Low Budget: Hostal Rana, a dorm room is £6/night
I really hope that this Colombia Itinerary can give you something to eventually look forward to when restrictions ease and cases lower – Colombia is, without doubt, a country worth exploring and hopefully, with this information, it'll make planning your future trip even easier. Happy Backpacking Colombia!!
And remember simply pick your favourite spots if you are on a Colombia 2 week itinerary.
Author Bio: Emily runs the blog Emilys Eyes Explore. She has been travelling the world since September 2018, after finally being diagnosed with depression and anxiety. Determined to change her life and mentality around, she moved to Spain for two months to learn Spanish, flew to South America, travelled around India, explored Malaysia, ventured around SE Asia and started life in Australia. Emily blogs to raise awareness of travelling solo as a female who suffers from depression and anxiety and it is her hope that people in the same position will be able to relate to the stories she shares and in turn feel less lonely and isolated as she shares her thoughts, feelings and emotions along this journey. Check out her Instagram too!
Photo credit: Author and Pexels.
---
If you on a bigger trip exploring the world check out my guides to France, Germany, Greece, Iceland, Italy, Portugal, Spain and United Kingdom.
My Travel Tips and Recommendations
Flights
To book flights, I always use flight search engine, Skyscanner, I regularly use the Everywhere tool to find the cheapest places to travel. It's how I get to travel so much all around the world. I find it the easiest way to compare flight prices across airlines and get the best deals.
Accommodation
For accommodation, I usually book most of my hotels or hostels through Booking.com. I love using this platform as it provides me with some amazing deals for accommodation all around the world. Or if you prefer, I also recommend using Airbnb. If you haven't signed up with Airbnb already, you can use this link to get £25 off your first visit!
Photography and Technology
Here is a list of the technology I always travel with:
To receive my articles and reviews straight to your inbox SUBSCRIBE HERE.
Did you know I also vlog my trips? Make sure you subscribe to my YouTube channel so you get alerted when all my travel videos goes live… CHECK THEM OUT HERE
Thank you for reading and as always happy adventuring! If you have any questions about the destination please leave these in the comments below.
If you've enjoyed this post, please share it for me with all your friends and family!
Sophie X