Iceland is a hot destination right now, from gorgeous waterfalls to epic sunrises. But how much does it cost to travel to Iceland? There is honestly nothing like travelling to Iceland.
But there's a catch, it's expensive. Last month Katie and I spent four wonderful days exploring Iceland, staying at the lovely Frost & Fire Hotel in Hveragerði, rented a car from Geysir at Keflavik Airport, and booked our own tours in advance of the trip.
In order to help you guys with planning your own trip (after I spent hours and hours researching the best places to go and where to stop) I decided to throw together my own guide of what we spent, and overall costs to travel to Iceland.
Here is a round-up of what we spent (or would have spent – some of my trips was sponsored by brands). Read all my posts from Iceland here.
Flights to Iceland with WOW Air with hold luggage: £300
Iceland has exploded over the past decade with more tourists than ever heading north to the wonderful wintery island that is Iceland. Within the space of a few years, and a great PR campaign behind it, Iceland went from being a tiny, unknown island in the Arctic that only adventurous travellers would visit, to an extremely popular tourist destination that's on everyone's bucket lists today.
And unless you've been living under a rock, you would have seen pictures of Iceland all over social media and travel blogs inspiring you to check out this winter wonderland once and for all. Always one to be sceptical, I was sure there was a catch, that the flights couldn't be as inexpensive as they advertised or, if they were, surely they wouldn't be at all comfortable.
But I was wrong… from booking to check-in, to gate departures to in-flight service, the whole experience was brilliant. And much better in fact than a lot of airlines I have flown on in the past year! Read my full review here.
Worth the price? Yes – great service, good price.
Accommodation for 3 nights at Frost & Fire Hotel in a double deluxe room: £450 (sponsored)
This part of our trip was sponsored by the hotel, in return for a review. However, I looked at the price of the rooms, and our room was a double deluxe with balcony, breakfast, access to the pool and jacuzzi and had a really great location. The price per night for our room was around £100-£150 per night – which is around average for a 3* hotel in Iceland.
The hotel was very easy to find and we were welcomed in with a tour of the building. There are a heated pool and two hot tubs that are heated by the hot springs. These all over look the beautiful river situated just behind the hotel which the rooms also overlook.
The tubs were perfect to sink into after a day of exploring and we both loved listening to the stream and relaxing. Robes & footwear were also provided for the guests which is a lovely touch and very helpful as it was super cold on your walk from the room to the hot tubs outside by the river.
The hot tubs were the real selling point for us, as it gave the hotel that extra 'sparkle' despite the cold weather. Every evening after we returned from a busy day we put on our swimsuits and headed down to the hot tubs for a chill out for both mind and body. Read my full review here.
Worth the price? Yes – amazing location, great amenities.
Four-day Geysir Car hire with insurance: £200
As part of our four-day visit to Iceland, we hired a car from the guys at Geysir at Keflavik airport. We opted with this option, as opposed to getting buses and doing tours, as we wanted more freedom. We wanted to stop when we wanted to stop, go off-piste, find some lesser-known places, do the Blue Lagoon at our own pace, and mostly just to have a more chilled trip.
This was the best decision we made on this trip and I would recommend anyone coming to Iceland to rent a car for their visit. We rented our car from Geysir, and we loved the process. We arrived at Keflavik airport at 2pm, jumped on a shuttle bus which took us 200m down the road, where we then checked in and picked up our keys.
The pick up was easy and simple; we added an extra driver so we could take turns and opted for their Insurance Bundle to protect us against the always changing weather and wind. We were given our Toyota Yaris which was great, with more than enough room, and was super easy to drive.
We loved driving around Iceland and I would recommend it to anyone! Read my full review here.
Worth the price? Yes – probably could get cheaper, but it was stress free for us.
Morning Whale Watching boat trip with Elding: £140
On our second day in Iceland, we headed out on Elding's classic Whale Watching tour which took 3-4 hours from the harbour. The tour commences at the ticket office in the Old Harbour in downtown Reykjavik where you jump on board.
Once on board the tour boat there are several outdoor viewing platforms, a large indoor saloon with an onboard café where you can buy light refreshments, basic bathroom facilities and a cloakroom where you can borrow one of our blankets or overalls on colder days.
You can either stay outside in the fresh air but you are also welcome to stay inside the heated lounge and observe the views from within, through our large panoramic windows. Whilst on the tour we managed to see some dolphins and the best bit…. a Minke whale!
They are the most abundant, along with White-beaked dolphins, Harbour porpoises and the occasional Humpback whales. Despite not seeing a humpback we were pretty happy with our trip and before long the boat headed back to the harbour. Read my full review here.
Worth the price? Yes and no – but we didnt get to see much, but they did give us a free return trip because of this.
A few hours at the Blue Lagoon: £150
I enjoyed my time at the Blue Lagoon and I would go back, if it wasn't so bloody expensive. It was a fun few hours as we bathed in the pools, grabbing a drink using our wrist band, heading over to the face mask bar, and swimming around. In late April, temperatures were around 5C, which made the pool nice and toasty, despite a heavy wind coming in from the south!
The Blue Lagoon has a sauna and steam room, as well as an exclusive section. Here you can get a variety of spa treatments, including a massage on a float right in the Blue Lagoon! There are cocktails, smoothies and more at the swim-up bar, but we both opted for beer instead, which I paid for with my wristband (everyone gets one free drinks and you can put any additional purchases on these too and pay as you leave). Read my full review here.
Worth the price? Yes and no – amazing experience but wouldn't return because of the price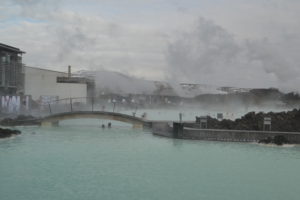 Spending money for lunches and dinner: £500
We then took around £500 for spending money – this mostly went on entrance to the Whale Museum £40, lunches which varied but were average around £40 for two people, dinner one night at a restaurant which cost £80, and two pizza takeaway meals from the local pizza restaurant £35 each time.
We then also filled up the car twice, which cost us around £100 in total.
This came to around £400 and we then bought some souvenirs and drinks along the way. PS. Beer (alcohol sorry) is expensive, at around £8 a pint! Drink sparingly….
Worth the price? We had to eat so yes, but still super expensive, could of been done cheaper.
Suggested budget for Road Trip in Iceland
Totals: £1,740 for four days for two people
Overall: So yes, it is expensive, that's a hell of a lot of money. I mean it could get you to Asia and back for a month. However, Iceland is incredible and my god it is worth it. Even if you do it once, do it!
---
My Travel Tips and Recommendations
Flights
To book flights, I always use flight search engine, Skyscanner, I regularly use the Everywhere tool to find the cheapest places to travel. It's how I get to travel so much all around the world. I find it the easiest way to compare flight prices across airlines and get the best deals.
Accommodation
For accommodation, I usually book most of my hotels or hostels through Booking.com. I love using this platform as it provides me with some amazing deals for accommodation all around the world. Or if you prefer, I also recommend using Airbnb. If you haven't signed up with Airbnb already, you can use this link to get £25 off your first visit!
Photography and Technology
Here is a list of the technology I always travel with:
Travel Insurance
Picking travel insurance that covers you in all eventualities is an essential part of planning a trip for every single person. If you can't afford travel insurance, you can't afford to travel. You never know what's around the corner. World Nomads is an affordable option that I personally recommend. BOOK HERE
Other posts that may help you:
Ultimate Guide to one week in Bali Itinerary
Visit Lisbon: 9 Day Trips from Lisbon
Berlin City Break: How to spend a Weekend in Berlin Germany
The Best City Breaks for Couples
10 of the Best places to eat Brunch in London
Sign up to AirBnB with this link and receive a £23 off your first booking.
To receive my articles and reviews straight to your inbox SUBSCRIBE HERE.
Did you know I also vlog my trips? Make sure you subscribe to my YouTube channel so you get alerted when all my travel videos goes live… CHECK THEM OUT HERE
Thank you for reading and as always happy adventuring! If you have any questions about the destination please leave these in the comments below.
If you've enjoyed this post, please share it for me with all your friends and family!
Sophie X