There are many exciting day trips from Manchester, from city breaks to outdoor adventures, which means you can decide based on your preferences. No matter your interests – there will be something on this list for you.
Manchester is a great city to spend a weekend; full of exciting things to do, such as parks, free museums, nightlife, and delicious food, but its best-kept secret is its location in the North West.
Manchester boasts excellent road and rail links in the UK, which means that you can quickly access wonderful, historical, and exciting places.
This post is a tell-all to some of the best Manchester day trips you can take, including how to get there, the distance, and whether you can or need to take public transport.
It will also cover an overview of the city or area and the list of exciting things you can do on a day trip from Manchester.
Are you wondering how this can get better? These are all places to visit within 2 hours of Manchester!
Top Tips for Day Trips from Manchester
If you do not have access to a car, do not worry; most places in this thrilling list are accessible by public transport (with a couple of exceptions).
If you are going on your day trips from Manchester by train, you should try to book your tickets in advance. It is the only way to ensure that you will not be paying an arm and a leg for your ticket (train travel in the UK can be expensive).
Most trains will leave from Manchester Piccadilly or Manchester Victoria, but check the station you need carefully.
Due to some of these places' popularity, they can get swamped, so if you can avoid taking your day trip on the weekend or in school holidays, you will likely have a better experience.
Best 11 Day Trips from Manchester
Peak District National Park
Distance from Manchester: 23 miles
Train: The Hope Valley Line stops at Grindleford, Hathersage, Bamford, Hope and Edale from Manchester. Alternatively, you can access Dovestone from either the Greenfield or Marsden stops from Manchester. (Around 1-15-minutes – depending on the destination).
Drive time from Manchester: 1 hour
The Peak District is the oldest national park In the UK and is on Manchester's doorstep. The national park has over 10-million visitors annually, which is not surprising because there is something for everyone, from outstanding views, unique flora, grand rock formations, quaint English towns and hiking for all abilities over 555 square miles.
Some of the best and popular hikes for a day trip from Manchester include Mam Tor, Padley Gorge, Dovestone Reservoir and Ladybower Reservoir.
Alternatively, you can head to the Baslow and walk to Chatsworth House, with its 737 hectares of gardens and have an afternoon tea in the Farmhouse café. Another popular spot to walk from is Edale, where you can walk to Kinder Scout and along the Pennine Way.
Top Tip: visit at the end of August or the beginning of September to see the Peak District covered in purple and pink heather. The weather is mild, and the hiking conditions are excellent.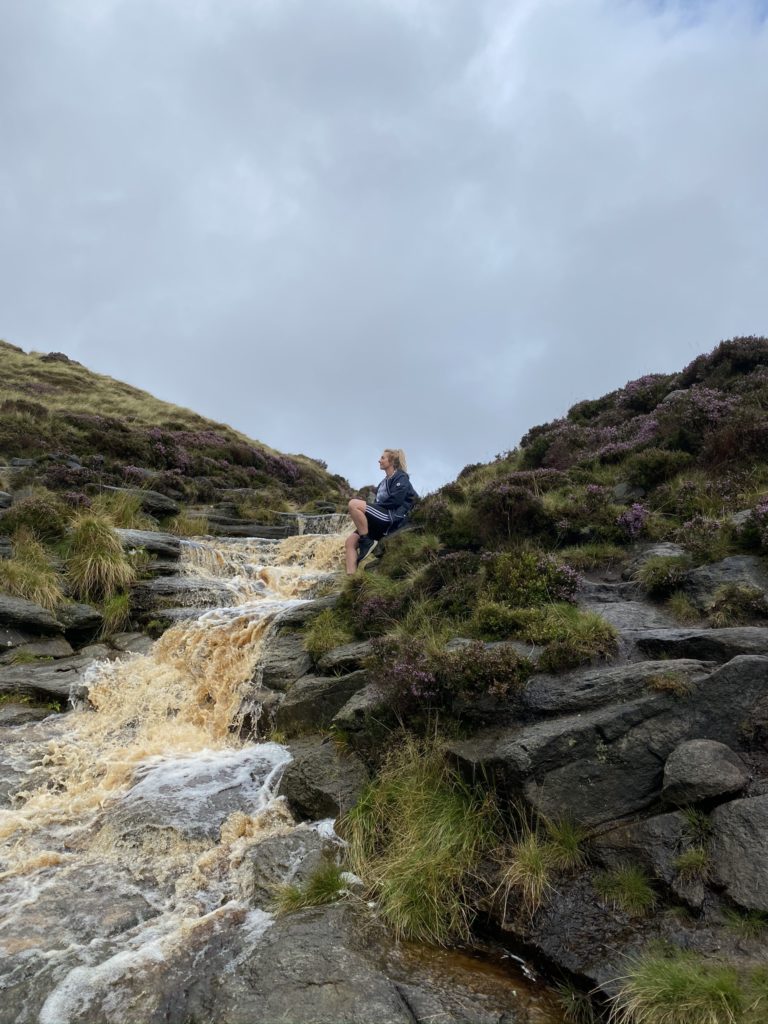 Liverpool
Distance from Manchester: 35 miles
Train from Manchester: 40-minutes
Drive time from Manchester: 1 hour 10-minutes
Liverpool is the sister city to Manchester and is famous as it's the home of The Beatles! It is also well known for its excellent museums and historic trading ports. For something a bit different, you should head to the Baltic Triangle, for some impressive street art that rivals Manchester's Northern Quarter and for some fabulous cafes.
There are a million beautiful things to do in Liverpool. For example, you can visit the Cavern Club (the Beatles' birthplace), the Georgian Quarter, the hip Royal Albert Dock area and The Beatles Story Museum. You can also take a boat trip on the Mersey or visit the Liverpool Football Club. Whatever your interests, there is something for you in the city!
York
Distance from Manchester: 72 miles
Train: 1 hour 20-minutes
Drive time from Manchester: 1 hour 30-minutes
Undeniably, one of the best day trips from Manchester is visiting the medieval city of York. It is compact, and it's easy to get around its narrow and cobbled streets. The city has a rich history, and there's no better place to feel it than the grand Gothic 7th-century York Minster.
There are many exciting things to do in York, including walking down one of the most famous streets in the world – The Shambles – the real-life Diagon Alley. You can also climb Clifford's Tower, stroll by the riverside and walk the 13th –century walls.
You can also have an unforgettable afternoon tea at Betty's Tea Room, learn about York's Viking past at Jorvik Viking Centre and enjoy the York Chocolate Museum. York is one of the most magical cities in the UK and is one of Manchester's best day trips.
Top Tip: go on a free walking tour with a local guide to learn about the city's history.
Snowdonia, North Wales
Distance from Manchester: 95 miles
Drive time from Manchester: 2 hours
That's correct. You can go to Snowdonia National Park in Wales as a day trip from Manchester. Snowdonia is one of the most beautiful national parks in the UK and is the perfect spot to escape the city for an outdoor adventure. It is also home to Snowdon, the highest peak in Wales and the second (after Ben Nevis) in the UK.
If you climb Snowdon, please be aware that it is one of the most popular hikes in the UK, and it can get bustling. However, do not be put off by the 500,000+ people that hike the mountain every year. The views are sensational, and there is a café at the summit. It also has a train that can take you to the top and back, which is a pretty unique experience, isn't it?
Tatton Park, Knutsford
Distance from Manchester: 17 miles
Drive time from Manchester: 40-minutes
Tatton Park in Knutsford is the perfect example of how you do not need to go far to have a wonderful day trip from Manchester. Knutsford is a quaint market town that is home to the historic estate of Tatton Park. The National Trust owned park has over 50-acres of garden walks, a 1930s working farm and a medieval manor house. You will also be able to spot deer!
You might not need a full day to visit Tatton Park, but nearby, you can see the Penny Farthing Museum and the 18th-century Tabley House. There's also the option to do some designer shopping on the high street.
Lake District
Distance from Manchester: 75 miles
Train from Manchester: To Windermere is 2 hours
Drive time from Manchester: 1 hour 30-minutes
The Lake District is a UNESCO World Heritage Site and an excellent Manchester day trip for those who want to hike or take incredible beauty. A day trip will only give you a taste of the experience, and on arrival, you will likely want to stay longer.
If you are there to hike, you should head to the incredible Scafell Pike, England's highest peak, for a unique challenge. Alternatively, you can visit England's largest lake – Lake Windermere – for a less active trip. In the area, you should make time to visit the beautiful but smaller villages in the Lake District.
Yorkshire Sculpture Park
Distance from Manchester: 44 miles
Train from Manchester: the closest central train station is 7 miles from the Yorkshire Sculpture Park – Wakefield Westgate. 2 hours 15-minutes.
Drive time from Manchester: 1 hour 16-minutes
The Yorkshire Sculpture Park is the first sculpture park in the UK and is an important centre for art for Britain and beyond. It is on a 500-acre site and has ever-changing artwork to keep everyone entertained.
You can visit one of the 6 Indoor Galleries, go on a walk on the Lower and Upper Lakes, and see some incredible wildlife, including Highland Cows. Before you go, download the Sculpture Cam App to create 3D animations and if it's a sunny day, pack a picnic to enjoy overlooking the incredible sculptures.
Top Tip: book your tickets in advance because they can get packed, especially at weekends or in the school holidays.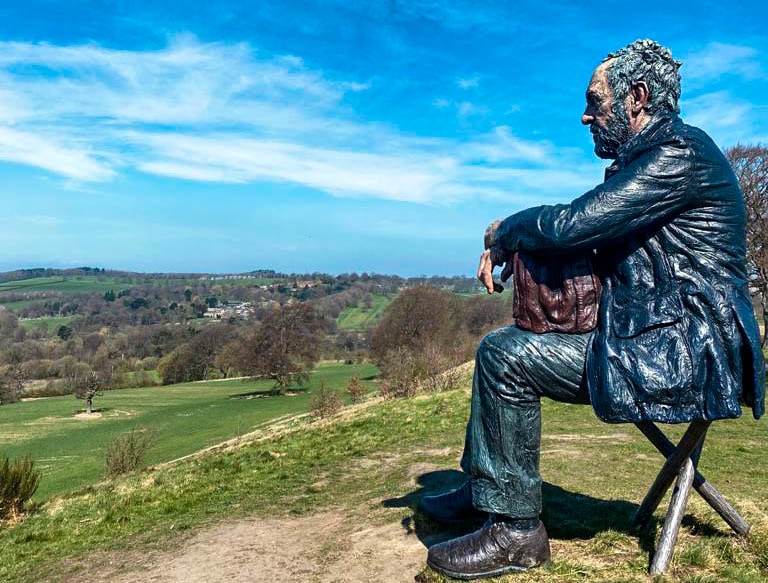 Chester
Distance from Manchester: 41 miles
Train from Manchester: Less than an hour
Drive time from Manchester: 1 hour 10-minutes
Chester's delightful city dated back to the 1st-century and was once a Roman Fortress in 79AD. It is one of the most popular day trips from Manchester, because of its rich history, as you can see a grand Roman Amphitheatre, Roman walls and Tudor style half-timber buildings called The Rows.
You can also visit the 1000-year-old Chester Cathedral, go on a cruise down the River Dee and take beautiful pictures of Chester's Eastgate Clock. You can feel different periods of history as you walk around the city, from the Romans to the Vikings, to the Norman invaders.
It is also a popular destination to go shopping and has an exciting café culture. Let the people watching commence!
Leeds
Distance from Manchester: 45 miles
Train from Manchester: 1 hour
Drive time from Manchester: 1 hour 5-minutes
Leeds is an exciting city to visit and has a lot more to offer than you might think. It is one of the most exciting day trips from Manchester because there are excellent museums, high-end shopping, and lots of independent dining.
If you are in Leeds for a day trip, you should make sure you see the best sights. These include browsing at Leeds Kirkgate Market (birthplace of Marks and Spencer), exploring the beauty of the Corn Exchange and taking a Water Taxi to Leeds Dock from Granary Wharf.
From here, you can have a coffee at the best coffee shop in Leeds – North Star Coffee and visit the Royal Armouries, which is a free museum that displays armor from around the world and across time. If you're hungry, transport to Thailand at Mommy Thai and enjoy a drink at the Headrow House rooftop afterward.
Blackpool
Distance from Manchester: 53 miles
Train from Manchester: 1 hour 20 minutes
Drive time from Manchester: 1 hour 7-minutes
Blackpool has not got the best reputation, but many people talk the talk without visiting the town. It is the perfect day trip from Manchester city or Greater Manchester if you feel like riding thrilling roller coasters at Blackpool Pleasure Beach theme park or seeing famous faces at Madame Tussauds.
There is also the mighty Blackpool Tower to go up to see panoramic views, or you can have ice cream on Blackpool Beach. If you need to unleash your inner child or want to go to a seaside resort, then Blackpool is the day trip from Manchester for you!
Knaresborough
Distance from Manchester: 74 miles
Train from Manchester: 1 hour 55-minutes
Drive time from Manchester: 1 hour 30-minutes
Knaresborough is a historic, medieval town in North Yorkshire and is one of the most unique day trips from Manchester. When you arrive, you'll notice the imposing Knaresborough Viaduct built-in 1851 over the River Nidd.
The most popular thing to do in Knaresborough (especially on a sunny day) is hiring a rowing boat and taking some beautiful pictures with the viaduct's arches. It is only open from March to October, so if you visit outside this time, go to the Knaresborough Visitor Centre and talk to the helpful staff to advise what to do.
Other memorable attractions include admiring the Norman Knaresborough Castle, the museum, Knaresborough Square, the Bebra Gardens and visiting St John the Baptist Church. There are also many independent shops and restaurants in the town to discover. If you have time, visit the 15th-century Mother Shipton Inn. You can try some food or drinks overlooking the River Nidd – it is glorious.
Top Tip: You could stop at Hebden Bridge on the way there or back to see another beautiful town.
This list has only scratched the surface of the best day trips from Manchester. There are so many days out near Manchester to choose from – the only thing that is for sure – you will have an exciting day out (whichever one you choose)!
---
Author Bio: Nico is a Sardinian traveller, who has lived in Lithuania, Slovakia, Australia and the UK and runs the travel blog averagelives.com with his partner Rachel. He aims to promote a love of affordable travel and shares extraordinary travel stories. Follow his journey on Instagram.
---
If you on a bigger trip exploring more of Europe check out my guides to France, Germany, Greece, Iceland, Italy, Portugal, Spain and United Kingdom.
My Travel Tips and Recommendations
Flights
To book flights, I always use flight search engine Skyscanner, I regularly use the Everywhere tool to find the cheapest places to travel. It's how I get to travel so much all around the world. I find it the easiest way to compare flight prices across airlines and get the best deals.
Accommodation
For accommodation, I usually book most of my hotels or hostels through Booking.com. I love using this platform as it provides me with some amazing deals for accommodation all around the world. Or if you prefer, I also recommend using Airbnb. If you haven't signed up with Airbnb already, you can use this link to get £25 off your first visit!
Travel Insurance
Picking travel insurance that covers you in all eventualities is an essential part of planning a trip for every single person. If you can't afford travel insurance, you can't afford to travel. You never know what's around the corner.
Did you know I also vlog my trips? Make sure you subscribe to my YouTube channel so you get alerted when all my travel videos go live… CHECK THEM OUT HERE
Thank you for reading and as always happy adventuring! If you have any questions about the destination please leave these in the comments below.
If you've enjoyed this post, please share it for me with all your friends and family!
Sophie X