The moment June and July comes around I am desperate to seek out lavender. The smell, the colour, the atmosphere. So every year I head to Hitchin Lavender Fields just north of London for an evening running around collecting lavender and taking snaps. The lavender fields at Hitchin is an amazing place and well worth a visit!
Last month I drove over to Hitchin with Theo and we spent the evening walking through the fields collecting lavender in our paper bag and snapping away.
We managed to get some really incredible photos from the visit, and I was overwhelmed by the beauty of the place.
It dawned on me though when I was looking at visiting that it wasn't always easy to find out opening times, amount to get in and what was actually there, so I decided to pull together a guide to Hitchin Lavender Fields for anyone looking at visiting this summer.
Keep reading for all the information you need for a visit to Hitchin Lavender Fields…
The Lavender Fields Hitchin is a working lavender farm close to London and they have over 25 miles of lavender rows which you can walk through and pick your fresh flowers from. Not only do they have lavender, but they also have sunflowers and wildflowers, so you've got a lot of choices!
The fields have some wonderful views of rural Hertfordshire and Bedfordshire, as well as an array of walks around the surrounding area.
If you want to make a day of it, they've also got a cafe, inside a renovated barn, which sells cakes, sandwiches and serves tea. This is also where you can buy products made with lavender grown on-site.
You are entitled to pick with both the adult and child's entrance fee and on arrival, you are given a bag and a pair of scissors to pick the lavender, the wildflowers and the sunflowers – when they are in bloom the sunflowers are 50p a stem. You can grab extra bags for another £4. Please note summer 2020 they are not allowing cutting at Hitchin Lavender Fields.
When is the best time to visit Hitchin Lavender?
The best time to visit is between July and August every year when the Lavender blooms!
Hitchin Lavender Fields Opening Times
The lavender fields Hitchin opening times are between 10 am and 5 pm every day throughout the season (last entry 4.30 pm) and from June 19th until the end of August every Tuesday and Friday until 9 pm (last entry 8.30 pm) with last orders in the cafe at 8.00 pm
How to get to Hitchin Lavender Fields?
The lavender fields Hitchin are located just north of Hitchin and are close to the A1M. I would recommend taking junction 10 off the M1 and then follow signs on the A507 in the direction of Letchworth.
On the second roundabout take a left-hand turn and continue until you see a sign pointing right off a double roundabout towards Ickleford and after a left-hand turn towards the village they are just inside the Hertfordshire border on the left-hand side.
This is how to get to Hitchin lavender farm!
COVID Update – Summer 2020
This summer Hitchin Lavender is open to a limited number of people who are able to get to us and enjoy the farm. We have introduced time slots to help us stagger visitors entering the farm. To help with the flow we are not permitting cutting the lavender this year.
Picnics are allowed and there are refreshments and plenty of cake on site. The farm shop will operate from the field. The barn and play area will not be open.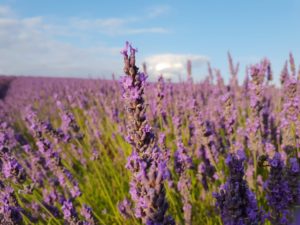 How much is Hitchin Lavender Fields
ADULTS: £6.00 (picking included)
UNDER 14's: £3 (picking included)
UNDER 5's: FREE
EXTRA BAGS: £4.00
PROFESSIONAL PHOTOGRAPHY: £50.00 (Note this doesn't mean if you come in with a friend and start taking snaps, only if you hire a professional photographer)
**This is what they said on the Hitchin Lavender Fields website: Even if you have any professional looking equipment there is no extra charge after paying £6 for the entrance into the field. However, there is a charge of £50 for anyone looking to use our field as a location for portrait shots, even if they are not going to be used on a commercial basis.**
Is Hitchin Lavender Fields accessible?
Whether you have a wheelchair or a pram you can get into the main field at Hitchin Lavender, however, it is a working farm and therefore the ground is uneven.
Once in the farm, unfortunately, the lavender is just too thick to allow for any wheelchair to get in between the rows, though there is a track up the hill to the right of the field if you were wanting to get some different views of the field or enjoy the view from the top.
Make sure you book your tickets for lavender fields at Hitchin!
---
To receive my articles and reviews straight to your inbox SUBSCRIBE HERE.
Did you know I also vlog my trips? Make sure you subscribe to my YouTube channel so you get alerted when all my travel videos goes live… CHECK THEM OUT HERE
Thank you for reading and as always happy adventuring! If you have any questions about the destination please leave these in the comments below.
If you've enjoyed this post, please share it for me with all your friends and family!
Sophie X