I've just invested in a Scratch Map! This great Scratch Map is a really good idea for those keen travellers who want to put a map on the wall which is unique.
It's an amazingly high quality, uber-massive wall map, featuring a gold top foil layer.
And the great thing is you can scratch it off!
You get a unique, slick looking gold wall map to start with, and then scratch off all the places you've visited to reveal a whole new world below, featuring colour and geographical detail.
And of course, the result is a totally unique and personalised world map. It's great to not only present the places you've already been but also those countries you want to visit!
But have you found luckies island?
That said, however, great care must be taken when removing the map from the tube as it would be easy to scratch any of the gold off.
You must be really careful and delicate when scratching off the countries as it's sometimes not that easy to see where two countries border and once you scratched off the wrong area there's no going back…
Added bonus: It also includes facts about certain countries and cities.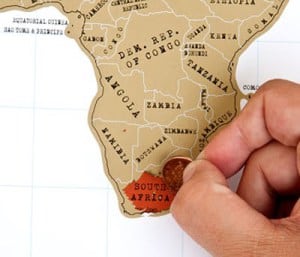 Luckies Scratch Map Personalised World Map by Luckies of London
Each country is a different colour
Covered in gold foil for a sophisticated finish
Luckies island is hidden on the map!
9 x 58.2 cm world map
Buy your Scratch Map now on Amazon: for £14.99 or various other retailers.
BUY NOW ON AMAZON
Other posts that may help you:
The Ultimate Guide to the Christmas Markets in Copenhagen
Best Vegan Restaurants in Malmo
10 of the Best places to eat Brunch in London
The Best Weekend Trips in the UK
Log cabins with hot tubs in the UK
Thank you for reading and as always happy adventuring!
If you've enjoyed this post, please share it for me with all your friends and family!
Sophie X