There are so many things to do in Sri Lanka, in fact the list is endless. The island of Sri Lanka is known as the gem of the Indian Ocean with an array of landscapes, architecture and cultures. The different regions of Sri Lanka offer a varied insight in to local life, and Sri Lanka is an island of friendly faces.
When I visited last month I felt at home the moment I arrived. From hiking, to tea plantations, and from beaches to temples, Sri Lanka has something for everyone. In Sri Lanka there are so many things do.
I have pulled together my favourite things to do in Sri Lanka….
10 Things to do in Sri Lanka
Hiking Pidurangala Rock in Sigiriya Sri Lanka
Elephants in Sri Lanka at Minneriya National Park
Visit Nine Arch Bridge in Ella
Taking a train ride from Kandy to Ella
Hiking Riverston Matale and 'The Knuckles'
Sunrise at Mirissa Sri Lanka
Trek through a Tea Plantation in Nuwara Eliya
Explore Colombo
Climb Sigiriya Rock
Sunset at the Famous Rope swing in Dalawella
Paddling at the top of Diyaluma Falls
Hiking Little Adam's Peak
Temple of the Sacred Tooth Relic
Dambulla Royal Cave Temple and Golden Temple
Yala National Park
Looking for more Sri Lanka travel tips? CLICK HERE!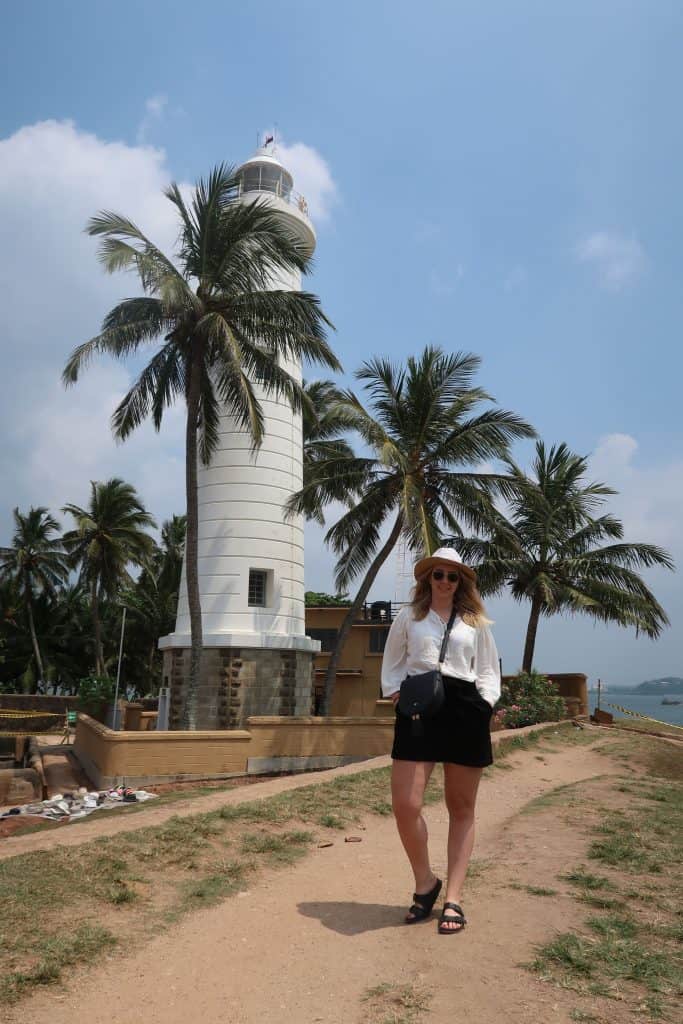 10 Things to do in Sri Lanka
Where to stay in Sri Lanka
In between planning things to do in Sri Lanka, you will also need to book some accommodation in Sri Lanka. The island is huge, so it's best to travel around from hotel to hotel during your trip, plan your itinerary first, and then look for hotels close by to those main hot spots.
For example, when you are visiting Sigiriya Rock, Jetwing Lake is going to be your best bet, as it offers great service, stunning pool and is only 20 minutes from the rock.
15 Epic Things to do in Sri Lanka
Hiking Pidurangala Rock in Sigiriya Sri Lanka
One of my favourite things we did in Sri Lanka was climbing Pidurangala Rock in Sigiriya. While Sigiriya Rock is the most famous, and also offers tourists an experience that is rich in history and access to the lion's paw and the mirror wall, Pidurangala Rock for us, offered far more.
Hiking Pidurangala Rock was a more local experience, as we climbed early morning to get there for sunrise and we also visited the temple on the way up.
Pidurangala Rock is not far from Sigiriya Rock and also offers the best viewing spot of Sigiriya Rock. We visited at sunrise and we experienced the most magical views I have ever seen as the sun rose in the background. Pidurangala Rock is slightly smaller, so offers a great viewing platform of the entire area. You can see 360 degree views and see for miles and miles.
The climb took around 25 minutes, depending on how fit you are and cost only a couple of $$USD. It's much cheaper than the fee for Sigiriya Rock which is around $30.
However, don't worry too much as you don't need to choose between the two, you could climb Pidurangala Rock at sunrise and then head over to Sigiriya Rock for sunset. I talk further about Sigiriya Rock later on, so keep reading.
Elephants in Sri Lanka at Minneriya National Park
A bucket list experience is going on an elephant safari in Sri Lanka – I did this and it was the best decision we made, despite the long drive into the middle of the country. It is an unmissable experience to go on safari while in Sri Lanka and although there are lots of national parks to choose from, including the famous Yala National Park, I would suggest heading to Minneriya National Park if you are after herds of elephants in the wild.
We jumped on a jeep at our stop off and our driver took us into the national park where we drove around for around four hours in total, stopping as and when we wanted and when the driver guide saw an elephant or got a tip-off from another guide.
We got into an open-top jeep and began cruising through the national park, and we also spotted some other animals during the trip including peacocks, antelope and several monkeys.
Then before you know it around every corner there would be an elephant or seven, and our most magical experience was when we were heading back to the entrance of the national park to head home and in our way crossing a river was a herd of elephants, both adult and baby elephants.
We waited and watched patiently as they crossed the before our jeep rolled out into a clearing. It was an incredible experience and one which I would recommend to anyone!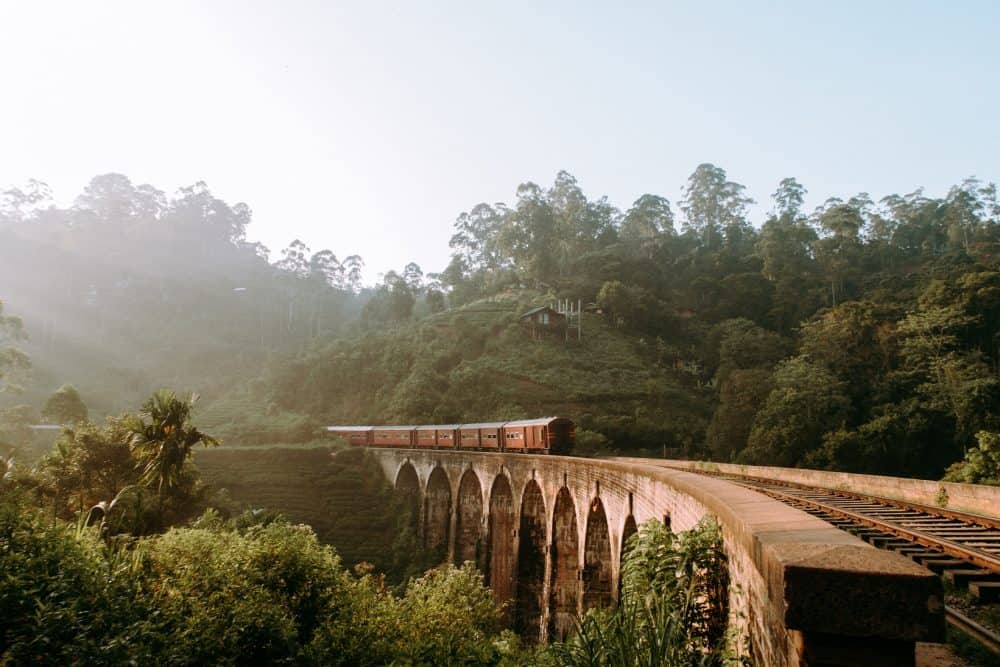 Photo by Genine Alyssa Pedreno-Andrada from Pexels
Visit Nine Arch Bridge in Ella
The Nine Arch Bridge in Ella another bucket list experience anyone visiting Sri Lanka must visit. Spanning 91 meters at a height of 24m the bridge is one of the most iconic shots of Sri Lanka and only a short scroll on Instagram will show you millions of shots of this iconic bridge.
It's actual name is 'Ahas Namaye Palam' meaning nine skies bridge in Sinhalese and was built at Gotuwala between the Ella and Democrat stations during the British Colonial period and commissioned in 1941. The bridge was then set to be built, but then World War 1 broke out and therefore only rock, bricks and cement were available for use and the builders could not use the original material of steel they wanted to build it with.
Of course with the popularity of the bridge, there is now a handful of cottages, cafes and street sellers around the bridge. My advice for visiting Nine Arch Bridge in Ella would be to go early e.g. 6 am early and find out what time the first train crossing the bridge is. You will then get an iconic shot of the bridge with the train in use!
Beautiful Train Ride: Kandy to Ella Train
Following on from the train topic, another amazing experience to do in Sri Lanka is to take the Kandy to Ella train journey. Said to be one of the most epic train journeys in the world, it's certainly an experience worth adding to your Sri Lanka itinerary.
The train journey from Kandy to Ella can take around six hours, depending on the season, but you can also break up the trip with a stop off in nearby Nuwara Eliya – Nanu-Oya is the station you get out at – a colonial hill station 2,000 metres above sea level. In Nuwara Eliya you can find more history on British colonialism and a much colder climate. It is also where a lot of the islands tea plantations are located due to its height above sea level and temperature.
The train was originally introduced by the British Colonial government in 1864 to transport tea from the tea plantations in the hills so they could export around the world from Colombo, however these days it's simply a great way to travel through the country and it's super affordable.
For our journey from Kandy to Ella, we arrived at Kandy train station and grabbed our tickets – you can expect to pay around $1-$3 for lower class, and $5-$10 for upper class for the entire journey!!!
There are three types of tickets you can buy for the train and they differ in cost and comfort.
1st Class – Reserved only tickets and can be bought in advance. They do have some left on the day, we were just lucky!
2nd Class – There can only be bought on the day of travel and you do not get a reserved seat.
3rd Class – The lower class, and the locals tend to travel using these. It's certainly an experience but may not be great for 6-7 hours.
It is one off, if not the most beautiful train journeys in the world, so add it in to your Sri Lanka itinerary!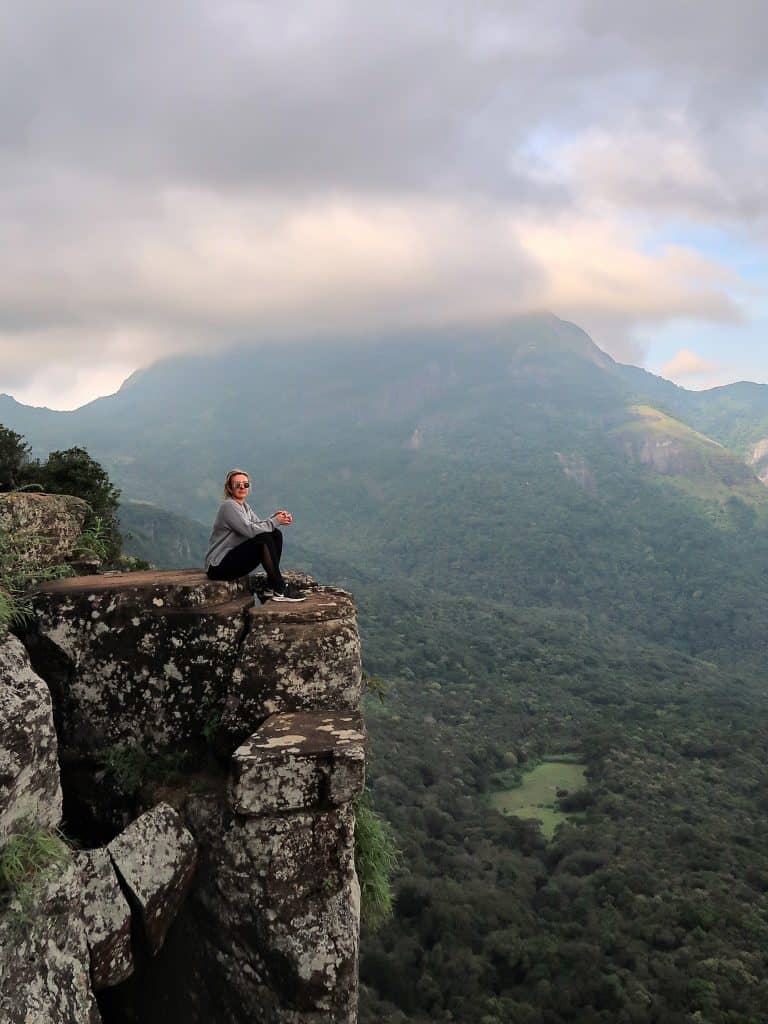 Hiking Riverston Matale and 'The Knuckles'
Something we hadn't originally added to our list of things to do in Sri Lanka was hiking in Riverston but I am so glad we did. What an incredible region of the country and so far it's barely touched by tourists. It ended up being an unexpected highlight of our journey in Sri Lanka and I would highly recommend getting a tour guide and heading out to explore this area.
Riverston is a region in the middle of the country, and quite a distance from most towns and cities. It is in the middle of nowhere so be prepared for a long drive early morning before arriving in the Matale, Knuckles and Riverston area.
We firstly arrived at World's End – a drop off point overlooking the Thelgamuwa Valley, with a 4,000 drop to the forest floor. From here you can also see the terraced rice fields, and the Knuckles mountain range in the background. The hike here is around 5 km and a really easy hike – although due to it being our first stop we really felt the attitude at this point.
Then we headed back in the car and we started hiking in to the mountains. It was here we wandered through rice paddies, visited a monk, went for lunch with a local family and then hiked back via some waterfalls. It was an incredible day, spent with friendly Sri Lanka people and we really felt like we got to see the local side of Sri Lanka during this Riverston adventure.
If you would like to organise a tour we had a lovely guide who does similar hikes with tourists throughout the year. Drop me a message for more information!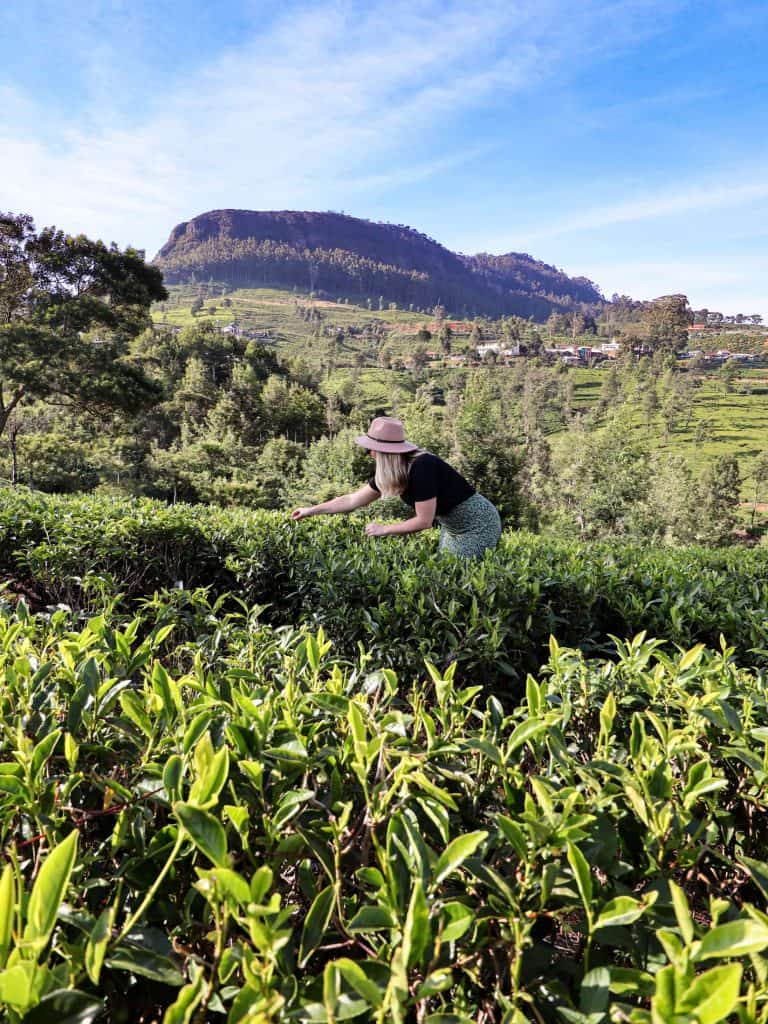 Trek through a Tea Plantation in Nuwara Eliya
Tea is a staple in every home in England so I couldn't not stop at Nuwara Eliya during our Sri Lanka itinerary.
Whilst most people take the train from Kandy to Ella, we actually jumped off the train at the hilltop town of Nuwara Eliya for a night, before heading on towards Ella and then Galle. It was definitely a great decision and I really loved exploring this different region of Sri Lanka.
If you love tea, you will know Ceylon tea, and Nuwara Eliya is where it's produced. Because of the climate and soil, it is the perfect place to grow tea, meaning that there are multiple tea plantations and boutiques in Nuwara Eliya. It reminded me of a mix between the Swiss Alps and Scotland, offering a colder climate but stunning fields as far as the eye could see.
For our adventure in Nuwara Eliya, we headed to the famous Pedro Tea Plantation, as we had been told by lots of people this is one of the best things to do in Sri Lanka.
Also known as Lovers Leap Ethical Tea Boutique, located inside the Pedro Tea Plantation 3km outside of town, the tea factory is one of the most famous and soon after we arrived we were given a tour of the factory, before being given a cup of tea to enjoy with some amazing views, before heading out in to the fields ourselves to collect some tea.
Whilst we were wandering around the tea fields, we chatted to a couple of women about how many hours they work, how much tea they collect every day and what their lives are like. It was a really great experience and I would highly recommend anyone adding it to their top things to do in Sri Lanka list.
The Pedro Tea Plantation is also a great employer, offering health programmes to the women, and setting up sustainability initiatives in the local community. They also have an empowerment programme to help all staff at the factory set goals and achieving them by learning new skills.
Image by Mohammad afras from Pixabay
Explore Colombo
Colombo, the capital of Sri Lanka, has a long history as a port on ancient east-west trade routes, ruled successively by the Portuguese, Dutch and British. That heritage is reflected in its its architecture, mixing colonial buildings with high-rises and shopping malls. And there are some really interesting buildings dotted around the city.
The imposing Colombo National Museum, dedicated to Sri Lankan history, borders sprawling Viharamahadevi Park and its giant Buddha, and it's a great way to spend an afternoon in Colombo.
No trip is complete without a day in Colombo so I would suggest spending a day here, either at the start of end of your trip in Sri Lanka, before heading back to the airport. We spend a day here at the beginning of our trip, but it was enough time, and we were then ready to start our adventure in Sri Lanka.
We were lucky enough to stay at Mount Lavinia Hotel just outside of the city, which had a gorgeous pool looking out over to the ocean and served some amazing food in their restaurants. The hotel also had an interesting British colonialism history which was really interesting to see around the hotel.
Make sure you book a hotel with a pool, so after a day of exploring you have somewhere to come back and relax. I would say it's one of the most relaxing things to do in Sri Lanka after your big adventure!
Climb Sigiriya Rock
Also known as Lion Rock, Sigiriya Rock is one of the most popular tourist landmarks to visit on any tourists top things to do in Sri Lanka. The rock, which is a natural phenomenon is a massive 250 m square rock and is also now a recognised as one of the eight UNESCO World Heritage sights.
Although a natural happening, it is also an astonishing feat of architecture, where there is now a fortress at the top. This rock has seen many wars and invasions over the years, so the site now has a very important historical relevance in Sri Lanka's history. It is thousands of years old and was the site of the Royal Palace of one Sri Lanka's ancient Kings.
When you arrive at Sigiriya Rock, your first port of call is the museum where you can learn more information about Sigiriya Rock and see artefacts that have been excavated from the site. You frstly head through the Water Gardens , which offers impressive views of the surrounding areas, before you weave your way and a first sighting of Sigiriya.
As you start to climb, you will pass cliff faces and boulders, that seem to float in mid air above your head. There is a short half way point, where you can stop for a moment to enjoy the views, and take a photo at the base of Lion Rock – here you can find the large carved lion claws in the rocks. Then you continue to climb – be aware it is quite a hard climb, so be prepared to sweat!
Then once you are at the top, the views are incredible and the fortress is comprised of abandoned palaces, ponds, waterways, canals, stairs and walls. It really is a wonder to be imagined! It is one of the most popular things to do in Sri Lanka and it's easy to see why.
We also hiked nearby Pidurangala Rock which also offers the best viewing spot of Sigiriya Rock. We visited at sunrise and we experienced the most magical views I have ever seen as the sun rose in the background. Pidurangala Rock is slightly smaller, so offers a great viewing platform of the entire area. You can see 360 degree views and see for miles and miles.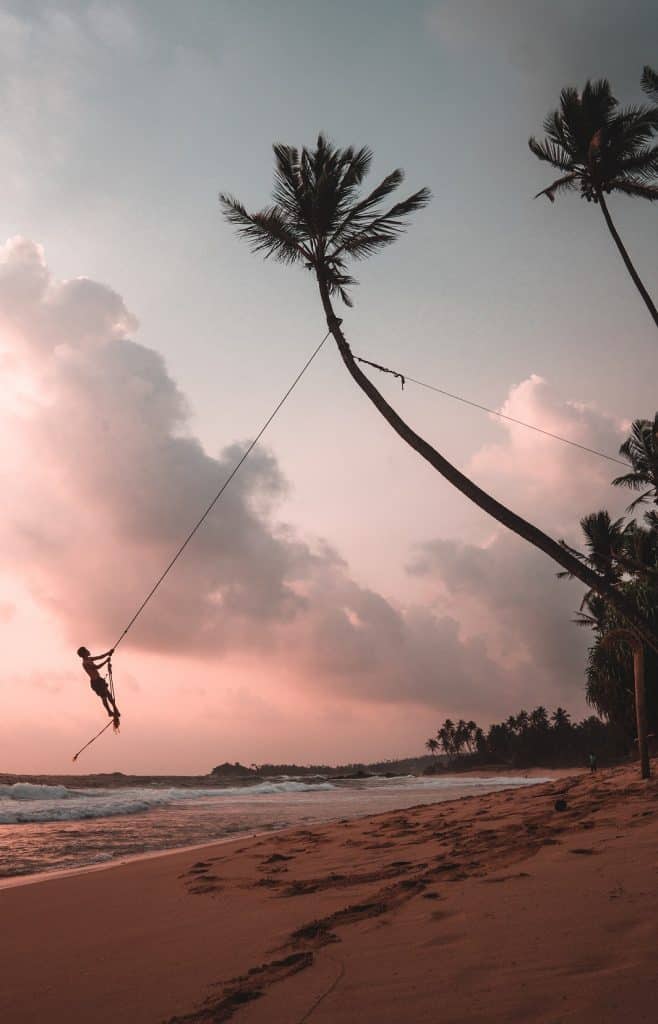 Photo by Alexis Azabache from Pexels
Sunset at the Famous Rope swing in Dalawella
Instagram has made many places famous around the world, but one which became an overnight sensation for one small hotel in Sri Lanka is the Famous Rope swing in Dalawella. And now it's at the top of many tourists things to do in Sri Lanka bucket list.
The palm tree rope swing at Dalawella Beach is stunning, and even more beautiful at sunset. We didn't get chance to visit here during our trip as we ran out of time when we were exploring Galle, but if we had another day here we would of headed here for sunet with some beers and the iconic Instagram shot.
The location of the swing is on Dalawella Beach, on the south of the island of Sri Lanka in the popular town of Unawatuna, just outside Galle. Once you arrive at Dalawella Beach the exact location is actually in front of a guesthouse called Dream Cabana, who built the swing as something fun for guests to enjoy, but is now one of the most talked about and most popular things to do in Sri Lanka.
Paddling at the top of Diyaluma Falls
If waterfalls are your thing, then Sri Lanka is going to be amazing for you. Sri Lanka has some of the most incredible waterfalls I have ever seen, some large, some small, but all powerful and stunning. One of the most iconic falls in Sri Lanka and top of many tourists list for things to do in Sri Lanka is Diyaluma Falls.
The foot of the Diyaluma Falls is located around one hour away from Ella so you do need a car to reach this gorgeous area but the views and the experience is well worth the drive. It's the perfect adventure for a full day experience in the highlands of Sri Lanka.
The 220-meter high waterfall is the 2nd highest waterfall of Sri Lanka, and has an array of levels and natural pools on the top of the mountain. The hike to the top of Diyaluma Falls is an easy hike, and only takes around 40 minutes, with a good route laid out for tourists. You don't need a hike for this adventure, but you could take one if you wanted to explore more off the beaten track.
At Diyaluma Falls you will find a series of pools cascading towards the edge of the cliff, where you can head on in and relax with some of the most amazing views. There's a collection of small pools, which all lead in to one another, and then one final pool, which the water then crashes 500+ feet below. Be aware of your limit and take care when climbing in and out of the pools.
Note: Always check the weather forecast a day before as I wouldn't recommend going here in rainy season.
Hiking Little Adam's Peak
In the area surrounding Ella, you will find an array of hikes varying from easy to hard. In this area you've also got the town of Ella, Nine Arches Bridge and Lipton's Seat.
Hiking in Ella provides you with some of the views in Sri Lanka – with villages, tea plantations and bridges. If you want an easy hike, not too far from Ella I would recommend heading to Little Adam's Peak. The peak is around 20 minutes outside of Ella and offers tourists an incredible sunset experience.
The hike begins with an easy incline, winding its way through fields of tea, before leading you 1200m above sea level to the peak. The hike is marked the entire way, as it's now a popular hike with tourists, and there are an array of stairs and paths to the first view point.
Once you reach the top the views are just incredible, offering you miles and miles of stunning scenery of this magical country. Although a popular hike, it isn't as popular as Sigiriya Rock for example, so you won't find hoards of people once you reach the summit. I would recommend taking a drink and some snacks to sit and watch the sunset and epic scenery of the 360-degree views from the top!
Tours of Sri Lanka
Explore tea plantations and rock fortresses on this 14-day tour, which is designed to please. This tour is about more than just beaches and stunning views; it's about the inspiring people you'll meet along the way. You will visit major cultural sights within Sri Lanka, including the most scenic train ride in the world from Kandy to Ella. All of the highlights, culture, access, and I-can't-believe-we-did-that moments, all at a great price. Includes expert guides, meals and transport.
Fancy a trip to the Maldives following your adventure in Sri Lanka? This is the tour for you! This 14-day combo trip brings together the best of Sri Lanka's cultural highlights and the once-in-a-lifetime opportunity to sail the islands of the Maldives aboard a dhoni boat. Experience a safari in Udawalawe National Park, discover cultural treasures of Negombo and Kandy, and then spend an entire week cruising from one tiny and perfect atoll island to another, snorkelling in crystal-clear waters and stretching out on blazing white-sand beaches. From culture to paradise, this tour's got it all.
---
My Travel Tips and Recommendations
Flights
To book flights, I always use flight search engine, Skyscanner, I regularly use the Everywhere tool to find the cheapest places to travel. It's how I get to travel so much all around the world. I find it the easiest way to compare flight prices across airlines and get the best deals.
Accommodation
For accommodation, I usually book most of my hotels or hostels through Booking.com. I love using this platform as it provides me with some amazing deals for accommodation all around the world. Or if you prefer, I also recommend using Airbnb. If you haven't signed up with Airbnb already, you can use this link to get £25 off your first visit!
Photography and Technology
Here is a list of the technology I always travel with:
Travel Insurance
Picking travel insurance that covers you in all eventualities is an essential part of planning a trip for every single person. If you can't afford travel insurance, you can't afford to travel. You never know what's around the corner. World Nomads is an affordable option that I personally recommend. BOOK HERE
Other posts that may help you:
Hiking Pidurangala Rock in Sigiriya Sri Lanka
Elephants in Sri Lanka at Minneriya National Park
The World's Most Beautiful Train from Kandy to Ella
Hiking Riverston Matale and 'The Knuckles' in Sri Lanka
Pedro Tea Factory Tour in Nuwara Eliya Sri Lanka
50 Sri Lanka Photos to Inspire Your Next Trip
Sign up to AirBnB with this link and receive a £23 off your first booking.
To receive my articles and reviews straight to your inbox SUBSCRIBE HERE.
Did you know I also vlog my trips? Make sure you subscribe to my YouTube channel so you get alerted when all my travel videos goes live… CHECK THEM OUT HERE
Thank you for reading and as always happy adventuring! If you have any questions about the destination please leave these in the comments below.
If you've enjoyed this post, please share it for me with all your friends and family!
Sophie X