Tea is a staple in every home in England so I had to stop at Pedro Tea Factory in Nuwara Eliya during our Sri Lanka itinerary.
Whilst most people take the train from Kandy to Ella, we actually jumped off the train at the hilltop town of Nuwara Eliya for a night, before heading on towards Ella and then Galle. It was definitely a great decision and I really loved exploring this different region of Sri Lanka.
If you love tea, you will know Ceylon tea, and Nuwara Eliya is where it's produced. Because of the climate and soil, it is the perfect place to grow tea, meaning that there are multiple tea plantations and boutiques in Nuwara Eliya.
It reminded me of a mix between the Swiss Alps and Scotland, offering a colder climate but stunning fields as far as the eye could see.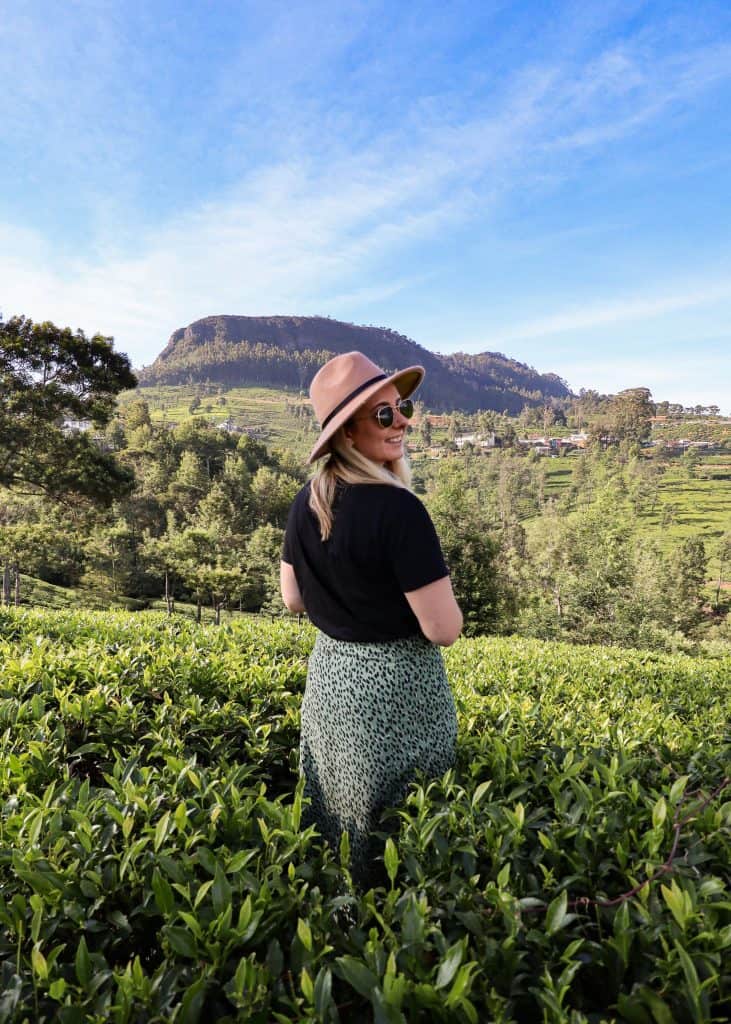 Brief History of Tea Plantations in Sri Lanka
Due to its cooler climate, it has become the most important area for tea production in Sri Lanka. It became a prominent area for tea production in 1824 during the British Colonisation when tea was planted in the Royal Botanical Garden and less than 20 years later became a commercial centre for tea planting.
In the modern-day there are multiple regions in this area, with large tea estates, all taking advantage of the cool temperatures and consistently high levels of rainfall. The tea plants are scattered with no particular pattern although they are often layered creating a beautiful linear design on the side of the mountains.
Today Sri Lanka is lauded as the producer of the world's finest black tea and having tasted some myself, I have to say it's very good!
Visiting the Pedro Tea Factory
For our adventure in Nuwara Eliya, we headed to the famous Pedro Tea Plantation, as we had been told by lots of people this is one of the best things to do in Sri Lanka.
Nestled amongst the beauty of Sri Lanka's hill country, you will find the Pedro Tea Estate just a few minutes drive from the centre of Nuwara Eliya. The factory was originally built in 1885 and is packed with 19th-century engineering.
If you are staying in this region of Sri Lanka I would highly recommend visiting if you have a free morning or afternoon, especially if you're a big tea lover!
Also known as Lovers Leap Ethical Tea Boutique, located inside the Pedro Tea Plantation 3km outside of town, the tea factory is one of the most famous and soon after we arrived we were given a tour of the factory, before being given a cup of tea to enjoy with some amazing views, before heading out into the fields ourselves to collect some tea.
Whilst we were wandering around the tea fields, we chatted to a couple of women about how many hours they work, how much tea they collect every day and what their lives are like.
It was a really great experience and I would highly recommend anyone adding it to their top things to do in Sri Lanka list.
The Pedro Tea Plantation is also a great employer, offering health programmes to the women, and setting up sustainability initiatives in the local community. They also have an empowerment programme to help all staff at the factory set goals and achieving them by learning new skills.
Pedro Tea Estate is quieter than some of the more popular plantations such as the one at Lipton's Seat, but this is great as it offers more opportunity to wander off on your own and feel like a local.
How to get to Pedro Tea Factory
Pedro Tea Factory is located about 3km east of Nuwara Eliya by car or taxi. Or if you want to get the bus you can jump on the Ragalla-bound bus from the main bus station in Nuwara Eliya.
Pedro Tea Factory Opening Times
Opening times: 8am – 11am and 2pm – 4pm
Pedro Tea Factory Ticket Prices
Tour price: LKR 200 approx. $1
Tour of Pedro Tea Factory
We headed straight to Pedro Tea Factory as we stepped off the train from Kandy at Nuwara Eliya. You can read more about my journey on from Kandy to Nuwara Eliya train.
We arrived in Nuwara Eliya around 1pm and jumped in our taxi to head to Pedro Tea Factory for a tour of the factory, and then on to a wander around the tea fields.
As soon as you arrive you will arrive right in the middle of the estate, surrounded by green fields of tea, buildings and the most amazing views.
In the tea fields, you can see tea pickers at work carefully picking the leaves that go into making Ceylon tea. Then you head into the factory to learn about the process of tea picking and what happens to it once the ladies in the fields have collected their 18kgs a day.
There is a guided tour of the factory where you learn about the next stage in the production including Tea plucking, withering, rolling, fermentation, firing and grading.
Most of the production is done at night when the temperatures are cooler, so you won't see all the machines at work during the day and instead there were staff sorting, and cleaning the building.
Then it is bulk packed and sent to Colombo for tea auction, and then it is shipped all over the world.
We really enjoyed the factory tour and it was really fascinating to find out more, especially because I drink so much tea every day. It was really interesting to see how it was made before it landed in my cup. Here at Pedro Tea Factory and made other plantations in this area make a very light coloured tea, slightly different from the standard English Breakfast Tea.
The tour then finished by being shown the different types of tea and how they are sorted by the size of the leaf. The large leaf teas tend to fetch higher prices in comparison to the dust grades.
Then as our factory tour finished we were shown back to Lover's Leap where we were given a cup of Ceylon Tea with one of the best views!
Where to stay in Nuwara Eliya
The best place to stay when visiting Pedro Tea Factory is in Nuwara Eliya as there are hundreds of different options for accommodation in this colonial town. There is a range of options ranging from budget to luxury accommodation. My recommended option is Jetwing St Andrews but I have also listed some other options.
Jetwing St Andrews
Jetwing St Andrews – This hotel was incredible! The hotel is a little out of town, but it's worth it, with an incredible iconic history in these beautiful lands. Located high above the coastal plains of Sri Lanka, mountain clouds rest upon a blanket of tea plantations is the stunning hotel of Jetwing St Andrew.
It was in these very highlands where the colonial British retreated for cooler climates and built empires from hill stations that became their adopted home. A timeless favourite has always been the city of Nuwara Eliya – a city so nostalgic, that it has since earned the nickname of 'Little England'.
Set apart from Nuwara Eliya hotels, the hill country home of hospitality lives up to the city's historical moniker in all forms. As a restored Georgian style country mansion, we invite you to step back in time and indulge in all the pleasures of upcountry luxury – as did the English of yore, but now, with a contemporary Sri Lankan touch.
Other options of where to stay in Sri Lanka

How to get to Nuwara Eliya
The most amazing experience things to do in Sri Lanka is to take the Kandy to Ella train journey. Said to be one of the most epic train journeys in the world, it's certainly an experience worth adding to your Sri Lanka itinerary.
The train was originally introduced by the British Colonial government and Sri Lankan rail network in 1864 to transport tea from the tea plantations in the hills so they could export around the world from Colombo.
For many years, the Kandy to Ella Train route was simply tightly packed crates of tea on route to the big city for selling. However, these days it's simply a great way to travel through the country and its super affordable.
Today, the network is one of the cheapest ways to navigate Sri Lanka and is a vital transport link for locals. This train journey is without a doubt one of the top things to do in Sri Lanka.
The train journey from Kandy to Ella can take around six hours, but you can also break up the trip with a stop off in nearby Nuwara Eliya.
You can jump off the train at a nearby colonial hill station 2,000 metres above sea level called Nanu-Oya and then take a taxi to Nuwara Eliya.
In Nuwara Eliya, you can find more history on British colonialism and a much colder climate. It is also where a lot of the island's tea plantations are located due to its height above sea level and temperature.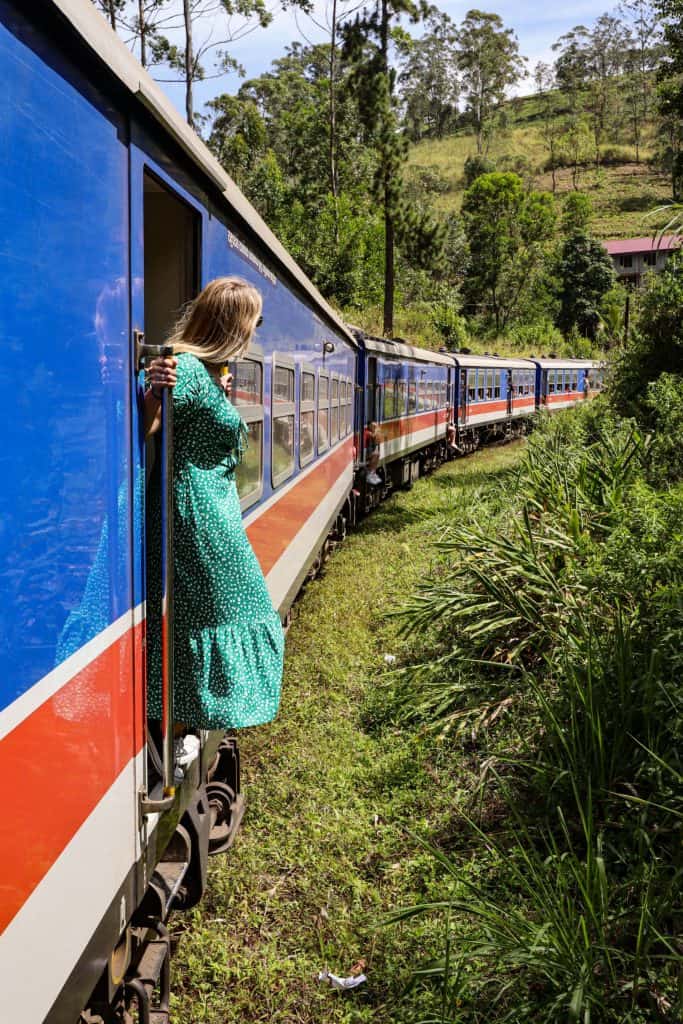 ---
Kandy to Ella Train Experience
Train travel is one of the best ways to get around in Sri Lanka mostly because its cheap, but also because its easy. Trains may not be direct but they certainly offer you value for money and they provide some of the most amazing sights in Sri Lanka.
There are around 5 trains serving this route every day, including both fast and slow trains. The fast trains are blue trains.
The Kandy to Ella train ride forms only one section of the main train line route from Colombo to Kandy to Badulla (the longer option).
There is also an overnight sleeper train Colombo to Ella but I only recommend this if you are getting back and have witnessed the journey in the day time.
Tours of Sri Lanka
Explore tea plantations and rock fortresses on this 14-day tour, which is designed to please. This tour is about more than just beaches and stunning views; it's about the inspiring people you'll meet along the way. You will visit major cultural sights within Sri Lanka, including the most scenic train ride in the world from Kandy to Ella. All of the highlights, culture, access, and I-can't-believe-we-did-that moments, all at a great price. Includes expert guides, meals and transport.
Fancy a trip to the Maldives following your adventure in Sri Lanka? This is the tour for you! This 14-day combo trip brings together the best of Sri Lanka's cultural highlights and the once-in-a-lifetime opportunity to sail the islands of the Maldives aboard a dhoni boat. Experience a safari in Udawalawe National Park, discover cultural treasures of Negombo and Kandy, and then spend an entire week cruising from one tiny and perfect atoll island to another, snorkelling in crystal-clear waters and stretching out on blazing white-sand beaches. From culture to paradise, this tour's got it all.
---
My Travel Tips and Recommendations
Flights
To book flights, I always use flight search engine, Skyscanner, I regularly use the Everywhere tool to find the cheapest places to travel. It's how I get to travel so much all around the world. I find it the easiest way to compare flight prices across airlines and get the best deals.
Accommodation
For accommodation, I usually book most of my hotels or hostels through Booking.com. I love using this platform as it provides me with some amazing deals for accommodation all around the world. Or if you prefer, I also recommend using Airbnb. If you haven't signed up with Airbnb already, you can use this link to get £25 off your first visit!
Photography and Technology
Here is a list of the technology I always travel with:
Travel Insurance
Picking travel insurance that covers you in all eventualities is an essential part of planning a trip for every single person. If you can't afford travel insurance, you can't afford to travel. You never know what's around the corner. World Nomads is an affordable option that I personally recommend. BOOK HERE
Other posts that may help you:
Ultimate Guide to one week in Bali Itinerary
Visit Lisbon: 9 Day Trips from Lisbon
Berlin City Break: How to spend a Weekend in Berlin Germany
The Best City Breaks for Couples
10 of the Best places to eat Brunch in London
Sign up to AirBnB with this link and receive a £23 off your first booking.
To receive my articles and reviews straight to your inbox SUBSCRIBE HERE.
Did you know I also vlog my trips? Make sure you subscribe to my YouTube channel so you get alerted when all my travel videos goes live… CHECK THEM OUT HERE
Thank you for reading and as always happy adventuring! If you have any questions about the destination please leave these in the comments below.
If you've enjoyed this post, please share it for me with all your friends and family!
Sophie X