I know, I know. I've done a lot of spa weekends recently, I stayed at Rudding Park in July for my birthday, I then went for a spa day at Y Spa with my best friend before she jets off to South America, and then I booked Ragdale Hall to spend a weekend with my mum. We hadn't caught up in a long time, just me and her, so we decided to head to our favourite spa, Ragdale. 
Set amongst the soothing peace of the Leicestershire countryside, the 93 bedroom Ragdale Hall Health Hydro and Thermal Spa offers luxurious pampering with a huge range of facilities, including five pools and eleven heat experiences, Tennis, boules, pitch 'n' putt, croquet, cycling, and a mind gym are all available. I mean, it's relaxing, but there's also so much to do and see whilst there.
Total relaxation is the aim, with staff ensuring that guests are well looked after whether you are staying for a retreat of up to seven days or for a spa day. The service is next level which I think is one of the reasons me and mum return every now and again.
Mum and me booked in for Ragdale's Overnight Reviver Break which includes spa access plus buffet lunch, an overnight stay in the hotel, breakfast, a 50 minute Blissful Face & Back Therapy, complimentary robe hire and a three-course evening dinner in their award-winning restaurant. It is a quick reviver to get your body and soul back on an even keel. Due to the nature of our break, we arrived late on Thursday afternoon, after a day at work, ready to check in, and get relaxed. We were taken through to the atrium, served a drink, and asked to fill in our health forms, and breakfast order for the morning.
We then headed to our room, where we got ready for dinner and sipped on a glass of prosecco. For dinner I opted for Mediterranean vegetable, roast garlic & basil soup to start, Char-grilled 7oz 21 day aged fillet of beef, caramelised onion, slow roast plum tomato, roast mushroom, asparagus with peppercorn sauce for main, and for pudding I had Ragdale fruit salad, soya yoghurt. The food was wonderful, and the steak was beautifully tender, with lots of flavour.
That night I slept like a baby, I didn't get up to wee in the night (which never happens to me) and I woke up feeling fresh as a daisy, ready for a relaxing day in the spa. Not long after we woke breakfast arrived to our room, where I had opted for a healthy version, including chia seed smoothie, banana bread, and muesli with a lemon tea.
After a quick pack up, we headed down to the spa in our robes. Ragdale has an array of options for you including access to exercise classes, a relaxation area, and chill out rooms. But the best area in the thermal spa, where many of the experiences have been exclusively designed for Ragdale Hall. The Thermal Spa features 12 luxurious and unique heat and water experiences including rocks, stone and lush planting abound Thermal Spa Entrance. And I'd agree with them when they say it is the most contemporary and pampering experience in the UK.
Mum and me spent hours here, and we even popped a stone in to the Wishing Stream where you caress an age-old pebble before throwing it into the stream that runs through the centre of the spa to rid yourself of negative energy before starting your journey around the spa. The Thermal Spa is like an indoor playground for adults so relax, have fun and really enjoy this unique experience!
For lunch, it is served buffet-style but any concerns are quickly dispelled when you see the buffet which includes an amazing array of salads, rice, pasta and soups, and for main there was roast gammon, jacket potatoes and a pulled pork special. As usual we both ate too much, and left feeling rather bloated, maybe not the point of the break! After we headed back to the spa to read our books, and explore more of the thermal spa area.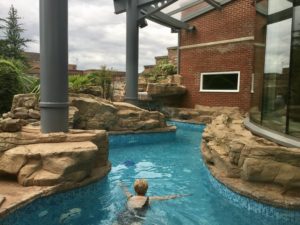 After letting our food go down, we then headed to the treatment area where we were both booked in for a Blissful Face & Back Therapy. Now, you know I don't like, so when I say this was the best massage I have ever had, I mean it. This massage was the best I've ever had. It was intense, and delicate all at the same time. And the lady really showed that she wanted to please, by asking questions before  hand about my skin, muscles and pressure I wanted. She was wonderful, and I left feeling totally zoned out!
After letting myself wake up, and after a quick cup of tea, we packed out bags and reluctantly headed home.
*Thank you to Ragdale Hall for hosting me for this visit, but I have visited three times before and would return again and again. 
Two night weekend breaks from £384 per person. Best value spa break:  The Unwind and Relax Week Away from £138 per person per night (7 night break) Book at www.ragdalehall.co.uk.