Planning a trip to the New Forest? There are so many things to do in the New Forest and this guide gives you an overview of the best spots to visit.
The roadmap is here baby and the holidays are around the corner (fingers crossed Boris doesn't go and change his mind!)
Last month Boris announced that he wants to "get the country flying again", he added that he was "hopeful" that getaways would be possible to a limited number of destinations from May 17th.
Now, I don't want to start this blog post off by being pessimistic, however, I am a realist and I think foreign travel is going to be unlikely for a while. Personally, I don't want to be going on holiday and having to wear a mask 24/7, so for that reason, this summer I will be sticking to exploring the UK!
The days are getting longer and the skies are getting bluer. I have caught myself thinking about a summer holiday (or two) in recent weeks, especially after London's mini heatwave. I mean this was incredibly mini as 4 days after being 24 degrees it was snowing in London!
The hot UK weather got me feeling nostalgic. When I was a kid, if the weekend weather was looking good, we would trade in the congested city streets of London for a rather different traffic issue: wild horses!
Honestly, you can buy a wild horse in the New Forest for less than your Saturday morning Avo and Toast in London (well you could 20 years ago anyway). Wild horses rule the roads here.
Escape working from home life this summer and explore the world that's on your doorstep. Make peace with the leisurely pace of the New Forest and embrace what it does best: getting back to basics.
Explore sun-speckled woodlands and national trusts, hire bikes, cycle across open fields whilst dodging wild horses, stroll its charming market towns and taste fresh seasonal produce from some of the best restaurants and pubs in the area.
How to get to the New Forest
You can get to the New Forest in around 2 hours by car and 1 hour 30 by train from London Waterloo to Brockenhurst.
How to get around in the New Forest
Having a car whilst in the New Forest is the most ideal option as restaurants and bars can be in the middle of nowhere (The Pig for example). I would recommend hiring bikes, this can be done very easily and most hotels and B&Bs will have further information on how to hire them.
However, if you are keen on a tipple or 10, then look into local minicab companies are Uber is still "up and coming" in The New Forest, mainly because phone reception is so poor! Get a taxi or stay within walking distance of one of the main streets.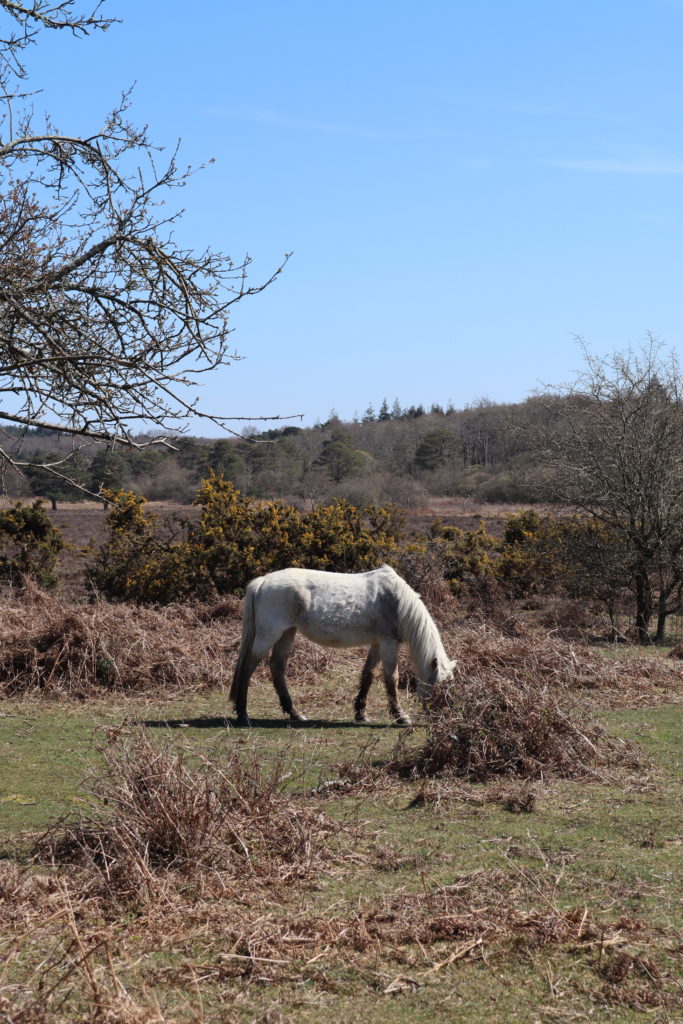 10 Things to do in the New Forest
1. The New Forest National Park
This national park is pretty much a paradise for nature lovers. Hike, Bike or even drive the national park, but don't miss Bolderwiid at the heart of the New Forest – The main attraction is the Deer Sanctuary. Take a picnic and enjoy the scenery.
2. Hurst Castle in Milford on Sea
One of the best places around here where you can get ice cream in the New Forest.
3. Brockenhurst Village
Don't be surprised if you see a horse or donkey standing in line for the local bank, they just roam the streets freely. It is a beautiful rural village with fantastic restaurants and pubs to take a pit stop at after all the fresh air you will be getting.
4. New Forest Paddle Sport Company
You can swap land for water and have a go at paddleboarding. Situated in Milford on Sea you will take in views of the Isle of Wight and Hurst Castle.
5. Visit Lymington
The village of Lymington is a beautiful Georgian sailing town with cobbled streets. Go on a Saturday morning for their weekly farmer's market
6. Smoke Uncut Food Festival
Put on by the team behind the original The Pig Hotel in Brockenhurst, this one-day festival has expanded across three of the group's restaurants in the South East. Join Michelin starred chefs and their foodie friends at their long table events. Think family-style three-course meals cooked by Angela Hartnett and Chef Mark Hix.
The delicious food comes with a side of music, The Vaccines, Kaiser Chiefs and Sister Sledge are top of the bill across three events. Brockenhurst, New Forest (6th July) and Lyndhurst, New Forest (27th July).
7. Take a day trip to the Isle of Wight
Hop on the ferry and spend the day exploring the Isle of Wight. Take the ferry from Lymington to Yarmouth in 40 minutes. (It was recommended to book in advance)
8. Native otters at the park
Visit the New Forest Otter, Owl and Wildlife Park. The New Forest Wildlife Park is located on the edge of The New Forest close to the towns of Ashurst and Lyndhurst. The park specialises in native and past-native wildlife of Britain and otters and owls from around the globe, housing four species of the former and ten of the latter.
9. Go wine tasting
You can also visit Marlings, the award-winning New Forest Vineyard. Marlings is one of the oldest vineyards in Hampshire, their aim is to make a range of wines that they can share with everyone who enjoys the remarkable new forest. They produce high-quality English sparkling wines and Rose.
Where to eat in the New Forest
The Kitchen Garden and Smoke House at The Pig Hotel
The Mill at Gordleton
Apple Court Garden and Nursery
Where to stay in the New Forest
Here is where the price of things can go up very quickly, particularly if you are looking to go during the summer holidays.
It's a really good idea to have a rough budget that you'd like to hit so things don't go out of control, especially if you are looking to take the whole family with you.
I often find that Airbnb is the best option. I've had some seriously great ones over the years. I like the fact that you get your own kitchen so you can buy fresh local produce and cook it at home.
If you want to blow your international travel budget and make the most of your staycation, then soak your limbs are the Lime Wood Hotel and Spa (they have freestanding bathtubs in the bedrooms) or settle in for a cosy night or two at the original The Pig Hotel in Brockenhurst.
---
Author Bio: Alice is 28 and lives in Balham. She enjoys nothing more than requesting annual leave days and planning trips for herself and her friend! Alice's favourite place to travel in the UK is Scotland, ever since she was a child, her family would pack up the car and start the 9-hour car journey to Scotland whilst listening to the Harry Potter audiobooks. Now she loves to travel further afield. In only a couple of years, she has visited Bali, India and South America whilst squeezing in a few European and UK city breaks in where she can.
---
If you on a bigger trip exploring more of Europe check out my guides to France, Germany, Greece, Iceland, Italy, Portugal, Spain and United Kingdom.
My Travel Tips and Recommendations
Flights
To book flights, I always use flight search engine Skyscanner, I regularly use the Everywhere tool to find the cheapest places to travel. It's how I get to travel so much all around the world. I find it the easiest way to compare flight prices across airlines and get the best deals.
Accommodation
For accommodation, I usually book most of my hotels or hostels through Booking.com. I love using this platform as it provides me with some amazing deals for accommodation all around the world. Or if you prefer, I also recommend using Airbnb. If you haven't signed up with Airbnb already, you can use this link to get £25 off your first visit!
Travel Insurance
Picking travel insurance that covers you in all eventualities is an essential part of planning a trip for every single person. If you can't afford travel insurance, you can't afford to travel. You never know what's around the corner.
Did you know I also vlog my trips? Make sure you subscribe to my YouTube channel so you get alerted when all my travel videos go live… CHECK THEM OUT HERE
Thank you for reading and as always happy adventuring! If you have any questions about the destination please leave these in the comments below.
If you've enjoyed this post, please share it for me with all your friends and family!
Sophie X