A Weekend in Vancouver, Canada. A remarkable city nestled between the Pacific Ocean on one end, and the North Shore mountains on the other, it is no surprise that Vancouver is considered one of the best cities to live in around the world.
With Vancouver settled in such a stunning location, there is an abundance of things to see and do there. Even better, with numerous stunning hikes and sights within close distance, Vancouver is perfect for those who love the great outdoors.
But, with so much beauty within close proximity, it may be hard to decide what to do on a timeline. Say, one weekend in Vancouver. What sights should you see? What hikes should you summit? Where should you eat?
Well, to help you out, I have assembled all of my Vancouver knowledge (based on my 22 years of living there) into an ultimate guide to a weekend in Vancouver. Enjoy!
The Best Time to Visit Vancouver
The best time to visit Vancouver is during the summer, from June to August. The weather is at its best (being warm, but not overbearingly hot or humid), the oceans and lakes are warm enough to swim in, and it is the ideal time to go hiking.
However, June to August is also the high season, which comes with some drawbacks. Namely, the crowds are larger, and the hotels cost more. So, if you're travelling to Vancouver during the high season, book in advance!
Additionally, there may be some forest fires in the later summer months, which can blanket the air with smoke.
If you don't plan on hiking much, or if you hate crowds and want to save money, you can visit during the shoulder season. This is from April to May, and September to November. The weather during this time of year is still pleasant and warm, but there is more rainfall.
Finally, the low season is from December to March, when the weather is at its worst. However, Vancouver's winter months are a lot warmer compared to the rest of Canada. They receive very little snow; instead, the winter in Vancouver is wet, gloomy, and overcast.
But this is the best time to visit if you love winter activities, as you can travel to the surrounding mountains to go skiing, snowboarding, snowshoeing, and more.
How to Get to Vancouver
The best way to get to Vancouver is by plane. The Vancouver International Airport (YVR) is considered one of the best airports in North America, and it'll take you around 25 minutes to get from YVR to the downtown area.
Other ways of getting to Vancouver include car, bus, ferry, and train (depending on your point of departure).
How to Get Around Vancouver
When you arrive at Vancouver International Airport, there are a few different ways to get downtown. These include taxi, train, and rent-a-car. The easiest way is by train, which costs around $8.75 CAD. The train is easily accessible from the arrival gate, and will only take you around 25 minutes to get downtown.
Once you're in Vancouver, there are numerous ways of getting around, such as:
Public Transportation
The Vancouver TransLink system offers a few different options to get around: the SkyTrain, the bus, and the SeaBus. The SkyTrain is the most efficient way to get around, and occasionally provides some great views of Vancouver. But, if the SkyTrain can't take you to your destination, there are countless bus routes that can take you there. And finally, the SeaBus connects Downtown Vancouver to North Vancouver.
Car
If you plan on visiting some more remote areas, you can rent-a-car. However, it may be frustrating to find parking downtown. Another option, which may be better for a weekend trip, is signing up for Evo or Car2Go. It will allow you to use a car on a minute, hour, or daily rate. However, there are registration fees.
Taxi
For short, convenient trips around the city, you can always take a taxi. Additionally, Vancouver now offers both Uber and Lyft.
Bicycle
Vancouver is a great city to roam around on a bike, offering lots of bicycle lanes and various bike rental services!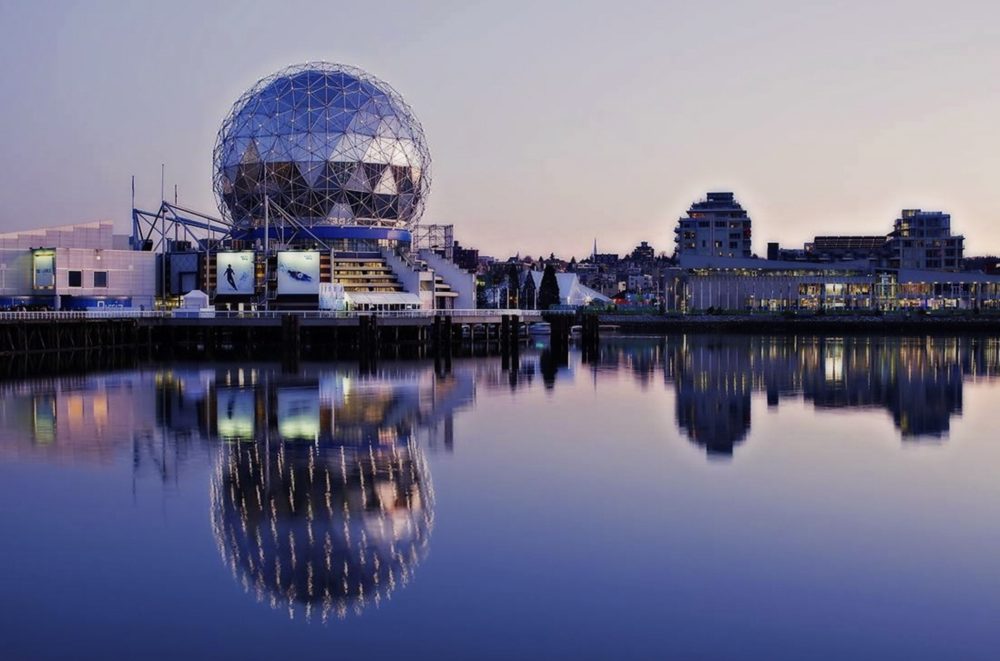 Budgeting for a Weekend in Vancouver
First off, your budget for a weekend in Vancouver is completely dependent on how much you're willing to spend.
However, on the lower, backpacking end of the spectrum, you'll probably spend around $95 CAD a day (not including flights). This is if you stay in a cheap hostel, use public transportation, eat cheap food, and avoid more costly activities. If you want more tips on how to travel on a budget, click here!
At a mid-range budget, you'll probably spend around $175 CAD a day (excluding flights). This is if you stay in a cheap, private hotel room, eat at mid-tier restaurants, pay for more costly activities, but stick with public transportation.
At a high-end budget, well, the sky's the limit.
Top 10 Things to Do in Vancouver
1. Explore Gastown
The first thing to do on your weekend in Vancouver is to visit Vancouver's oldest neighbourhood, this delightful area is filled with Victorian architecture, delicious food, charming boutiques, and one of the few working steam clocks in the world.
2. Walk along the Vancouver Seawall surrounding Stanley Park
With picturesque views of the vast ocean, towering mountains, and Vancouver, the Seawall extends for 28 km. But not to worry! The walk around Stanley Park is only 9 km long, which takes about 2-3 hours to complete.
3. Visit the Capilano Suspension Bridge Park
One of Vancouver's most popular tourist attractions, the park allows you to admire the stunning coastal rainforest through a swinging bridge, suspended footbridges that go up to 30 meters above the forest floor, and the Cliffwalk.
4. Shop for souvenirs at Granville Island
With a thriving public market, various artisan workshops, lovely boutiques, and great dining options, this is an excellent place to spend the day.
5. Embark on the Grouse Grind, or swim in Lynn Canyon
There's an abundance of incredible hikes of varying difficulties close to Vancouver, so put on your hiking shoes, and get going! Other recommendations include Eagle Bluffs, Saint Mark's Summit, Mount Seymour Trail, Dog Mountain, Baden Powell Trail, and the Lions.
6. Relax at one of Vancouver's many beaches
Try English Bay or Jericho Beach Park.
7. Learn more about indigenous art and culture at the Museum of Anthropology.
8. Wander around the Vancouver Art Gallery.
9. Admire the views on the Sea to Sky Highway on your way to Whistler
With sparkling lakes, breathtaking mountains, and lush forests, Whistler is the home of some of the best British Columbia hikes!
10. Eat your way through the Richmond Night Market
Held annually on summer weekends, this night market provides diverse, mouth-watering foods, music, and stalls with cute knick-knacks!
Top Places to Eat in Vancouver
On top of the fabulous food you can find on Granville Island or in the Richmond Night Market, here are my top 5 recommendations of where to eat:
Smoke's Poutinerie: You absolutely cannot visit Canada without having some poutine!
The Flying Pig: With the goal of providing delicious, authentic food inspired by local ingredients, this is a restaurant you don't want to miss.
Japadog: Serving hot dogs with a Japanese twist, you won't regret eating at this unique joint.
Gyu-Kaku Japanese BBQ: The best place to enjoy with friends, Gyu-Kaku provides an authentic Japanese barbeque experience, where you grill your meat and vegetables yourself!
Earnest Ice Cream: For dessert, Earnest Ice Cream is the place to go. A hipster joint committed to reducing waste, there are a variety of flavours to choose from!
Top Places to Drink in Vancouver
The Diamond: A charming bar with a huge selection of cocktails, this is the perfect place to relax in after a long day of sightseeing.
The Keefer Bar: Housed in China Town, this hip bar offers unique drinks and delicious food.
Key Party: For something more unique, the Key Party is the place to go. With a fake accounting office storefront, this cosy bar will captivate you.
Storm Crow Alehouse: If you're a huge nerd, the Storm Crow Alehouse is for you. With a science fiction theme and a large selection of board games, this lively pub is tons of fun.
Alibi Room: If you're in Gastown, I definitely recommend checking out the Alibi Room. Housed in one of Vancouver's heritage buildings, this bar offers a relaxing atmosphere and locally-sourced food.
Where to Stay in Vancouver
There are a few different neighbourhoods you can stay in Vancouver: Downtown, China Town, Coal Harbour (Waterfront), the West End, North Vancouver, and Yale Town are amongst the areas to consider. Here are a few accommodation options, and their price points:
Hostel: Stay in a mixed dorm room at the Cambie Hostel in Gastown for $39 CAD a night.
Airbnb: The average cost for 2 people per night is around $186 CAD. However, it is fairly easy to find a cheaper room, based on location and amenities.
Hotel: For a double room near downtown, the price can go as low as $85 CAD a night. I recommend the Samesun Hotel.
Author Bio: Mia is a Canadian with a passion for hiking and exploring the world on foot. She is currently working abroad in Japan and runs the successful travel blog Walk a While with Me, where she shares her tips and guides for travelling around the world. Follow Mia adventures on Instagram too!

---
Sign up to AirBnB with this link and receive a £23 off your first booking.
To receive my articles and reviews straight to your inbox SUBSCRIBE HERE.
Did you know I also vlog my trips? Make sure you subscribe to my YouTube channel so you get alerted when all my travel videos goes live… CHECK THEM OUT HERE
Thank you for reading and as always happy adventuring!
If you've enjoyed this post, please share it for me with all your friends and family!
Sophie X