What a year 2018 has been; it's taken to me to some incredible countries, cities and most importantly, hotels. And a great hotel doesn't mean 5* in my eyes, it means comfort, warmth, design, and simplistic. Whether I am exploring the Cotswolds, or travelling around Saint Lucia, a hotel is so important for me! Some traditional, some modern, some with exceptional staff and others with winning menus! Here I have listed my favourite hotels from the year, and those that I would recommend to you guys too… All of these hotels have added that little extra to my stay!
JANUARY
Yorkshire 
In January, we drove three and a half hours up the M1 to Richmond, North Yorks. We were staying at the wonderful Brompton Lakes,, Yorkshire, part of the Holiday at Home family. We went up there with our best friends Tom and Sophie to celebrate Theo's birthday in style. After a chaotic festive period, we wanted a trip that would be a mix of adventure and relaxation and when we stumbled across Brompton Lakes we knew it was the perfect location with a hint of luxury, alongside a splash of wellbeing = my perfect trip! Brompton Lakes is a collection of 5* lakeside holiday lodges with hot tubs in Richmond, North Yorkshire, where you will find everything you need for a weekend retreat away from the chaos of everyday life with family or friends.
FEBRUARY
Sweden – RC Hotel
From the outside the RC Hotel simply looks like a British leisure centre but it is actually so much more than this. It's a hybrid activity centre, bowling alley, curling centre, gym, restaurant, conference centre and they even have a hotel popped upstairs comprising of 59 tastefully designed rooms. The hotel is also in a great location in the Rosenlund district, not far from the city centre of Jönköping.
The hotel is newly built and is a great choice of hotel for the active traveller. Me and Theo were doubtful at first as we'd never stayed anywhere like this, but we were pleasantly surprised by the hospitality and offering from this great hotel. At RC Hotel you can get involved with so many different sports including tennis, rock climbing, curling, badminton, bowling and so much more. It's a great place to combine a stay with activities and great food!
Sweden – Hestraviken
Beautifully located with lake view next to Isaberg mountain in Småland, Hestraviken is a wonderful hotel, with a mix of style and tradition rolled in to one. The main buildings of the hotel are a traditional yellow manor and red timbered houses, with beautifully 1900's restored interiors. Whereas, tastefully furnished rooms and luxurious suites are located in the various houses around the grounds. Our room was located in a separate building and all of the rooms were modern and stylish, overlooking the lake.
The hotel also has a restaurant, located in the yellow manor house, which has a lovely atmosphere almost as if you were visiting a beautiful home where everything has it´s personal touch. There are small charming dining rooms, lounges, bar and a veranda designed as a pleasant winter garden with a open fireplace. The kitchen is the heart of Hestraviken and the food was incredible, thought out well and included fresh seasonal ingredients from the region itself.
Sweden – Hotel Amalius Hus
Located in the heart of southern Sweden, Hotel Amalias Hus is a luxurious four star boutique hotel situated on a unique 18th Century estate in the picturesque town of Gränna. We stayed at the wonderful Hotel Amalias Hus for one evening on our last night in Sweden and we were gutted we only got to experience this adorable little hotel for any longer. The hotel provides an oasis for leisure time and is the perfect location for exclusive and romantic getaways, both my family and friends.
The hotel's 20 guestrooms have been masterfully restored to their original 18th century grandeur and are all individually decorated with hand-selected custom furnishings. Our room, located close to the main building, was a beautiful low set cottage, with a teal green exterior, and interiors features included a large comfortable bed, with draped curtains at the headboard, alongside a lounge room with fireplace and place to sit and relax in the evening. The room also had a bathroom with jacuzzi bath, shower and heated flooring. We loved spending the evening relaxing in our room with a bottle of prosecco before heading out for an evening in the nearest city.
APRIL
Iceland – Frost & Fire Hotel
When you think of Iceland, you think small towns, hot springs and beautiful scenery. This hotel was a perfect place to stay for all of this, just 45 minutes outside of Reykjavik is the Frost and Fire hotel situated in the small town of Hveragerdi. This place is perfect if you have rented a car and you're in need of some rest & relaxation. Read all my posts from Iceland here.
When we flew into Keflavik, we picked up our car and drove into Reykjavik for some exploring. We then drove the super easy drive to the hotel and took in the amazing views along the way. As we approached Hveragerdi, we commented on how great the town looked amongst the mountains and thought the town had lots to offer for its size. There are restaurants, cafes, a supermarket, a petrol station and endless mountains. We found the hotel was in a great location, and much better than staying in the city. It mean't we had a really accessible base for our four days. It was easy to get back in to the city, we joined the south Iceland road trip easily, and you can also jump straight on to the Golden Circle route in only 15 minutes. The location was great, but it wasn't the best thing about this place…
MAY
St Lucia – St James' Club Morgan Bay 
As we walked out of arrivals at Hewanorra International Airport, the 32 degree heat hit us in the face, but after being stuck on a plane for 8 hours I couldn't be happier to breath fresh air. We got picked up from the airport by a wonderful driver called Chris, who really went out of his way to make us feel welcome. The drive is around 90 minutes but is breath-taking with panoramic vistas from the hill-side highway as you pass through the heart of the rainforest. Chris got the holiday off to a great start, giving us a low down on the island throughout our journey from the airport to the hotel in the north.
As we arrived at the hotel we were greeted by a lovely lady who served us a strong rum punch and a wet towel, before we were quickly checked in. The reception area to the resort was airy with sofas and chairs in aqua and orange colour dotted around the space. Once we had finished our drink we were transported by one of the resort's golf buggies up to our sea-view room, on the northern side to the bay.
Isle of Wight – Woodside Bay Lodge Retreat
Last month, over the bank holiday weekend, we headed off to the Isle of Wight for four days of adventures. To give ourselves a 'home' for the weekend we checked in to Woodside Bay Lodge Retreat, located on the North East shore of the Isle of Wight, close to Ryde. The resort boasts access to a beautiful shingle beach, surrounded by glorious woodland and if you're lucky views across to Portsmouth and Southampton. Luckily for us, we jumped on a Wightlink Ferry from Portsmouth to Fishbourne, which meant we only had a five minute drive to our resort once we docked in the Isle of Wight.
JULY
United Kingdom – Pennyhill Park
Home to the England Rugby training ground, Pennyhill Park Hotel & Spa in Surrey, is the ultimate luxury retreat and spa. In addition to spending time with my wonderful friends and family for my birthday, I was also treated to a wonderful spa weekend at the highly recommend Pennyhill Park Hotel & Spa, located close to Reading. Here is what we got up to during our overnight spa weekend at Pennyhill Park Hotel & Spa….
The hotel itself dates back to the 19th century and after many owners was bought by Exclusive Hotels in 1982 who expanded it considerably from its original 17 bedrooms. The hotel now has 120 bedrooms, ranging from doubles to suites and junior suites, some with four-poster beds, balconies, private patios and even a Roman-style marble bath.
We booked in for an overnight spa detox, staying in one of their beautiful suites, complete with double bathtub, walk-in showers and four-poster bed. We also had a small lounge area to sit, with super high ceilings, and a decadent feel. The room got a thumbs up from me for containing lots of information about the hotel itself, a full list of spa treatments and a walking map of the grounds. I certainly needed the map to find my way across the hotel complex to the spa and to find where we were to go for Afternoon Tea.
Malta – Maritim Antonine Hotel & Spa
Located in Mellieha Heights, Maritim Antonine Hotel & Spa in Malta is one of the best hotels on the island. Only 1km away from the largest beach on the island, Mellieha Bay, the hotel is the ideal place to base yourself during a week exploring the wonderful island of Malta. Recently given a four star of excellence, this hotel has a prime spot with breathtaking views across to Gozo and Comino due to it's many terrace levels carved out of the town's rocky slopes.
When staying at the hotel, you can relax around the outdoor swimming pool, which is set in the landscaped terrace or around the pool located on the rooftop. And a great new addition to the hotel is the the newly renovated Marion Mizzi Wellbeing wellness facility, offering a spa, with indoor pool and treatment rooms. There is also a bus stop right outside the hotel for easy access to the rest of the island…
AUGUST
Malmo – Oh Boy Hotell 
On my trip to Malmo last month we stayed at the wonderfully unique Ohboy Hotell on the Western Harbour. Ohboy Hotell is accommodation with a difference, offering 31 loft hotel rooms (55 rooms in total) within walking distance to the city and Central Station. And the beach is only around the corner, as well as lots of cafes, bars and grocery stores.
The hotel offers accommodation for the modern, urban traveller, making it easier to live green with solutions to enable the sharing of resources, reducing emissions all the while living a comfortable life in the city. The loft hotel rooms' interiors are locally sourced – design, production and materials for the furniture are all from the south of Sweden.
The location is perfect; five minutes from the Central station and the city centre. The sea and the beach is just around the corner, as is grocery stores and cafes. Every room includes comfortable beds, a kitchen, workspace and your own bike to get around town – it's the hotel of the future!

SEPTEMBER
Europe – Princess Cruises 
In September I headed off on the trip of a lifetime onboard Crown Princess Princess Cruises, boarding in Barcelona for a week-long adventure around the Mediterranean, stopping at Gibraltar, Marseille, Genoa and Pisa. As part of my trip around the Mediterranean, I wanted to give provide a quick tour of Crown Princess, including all of these amenities that are onboard this magnificent ship. As you'd expect from the name, Crown Princess, is a beautiful ship with long, spacious decks, an array of restaurants, cafes and bars to choose from, and stunning decor from top to bottom. The ship was recently refurbished in April 2018, and now is in-line with the rest of Princess Cruises' classy fleet.
United Kingdom – DeVere Cotswolds Water Park
After a manic September I headed down to The Cotswolds for a weekend break with my mum and Arabella. We opted to stay at the De Vere Cotswold Water Park for our stay in this iconic region, as it was well situated from the main honey-coloured villages and towns The Cotswolds has to offer, including Bibury, Bourton-on-the-Water and Stow-on-the-Wold. Set among the rolling hills of The Cotswolds, De Vere Cotswold Water Park is a hotel as spectacular as its surroundings located in the heart of the 152 lakes that make up the Cotswold Water Park. The hotel sits perfectly in the heart of this area, literally balancing at the side of one of the areas biggest lakes, with every room offering views across the water.
NOVEMBER
Amsterdam – Yays Bickersgracht

Every time I go to Amsterdam, without shadow of a doubt I always stay with Yays! And on this trip to Amsterdam I stayed at Yays Bickersgracht. Yays is an apartment rental company with 100's of apartments in Amsterdam, alongside another newly opened building in Barcelona. Yays is a new travel and stay concept located in unique neighbourhoods, offering you a home from home whilst you travel. This trip to Amsterdam we travelled with my brother and his girlfriend, so an apartment was the best option for four of us!
Yays offer concierged-boutique apartment living at its best, in historical buildings that have been restored to the best of their ability, in line with local districts, and that are hosted by local personnel. In a Yays apartment you can really feel like a local whilst you explore the city. As I have grown older, and grown out of hostelling as much, apartment living has been the next best thing.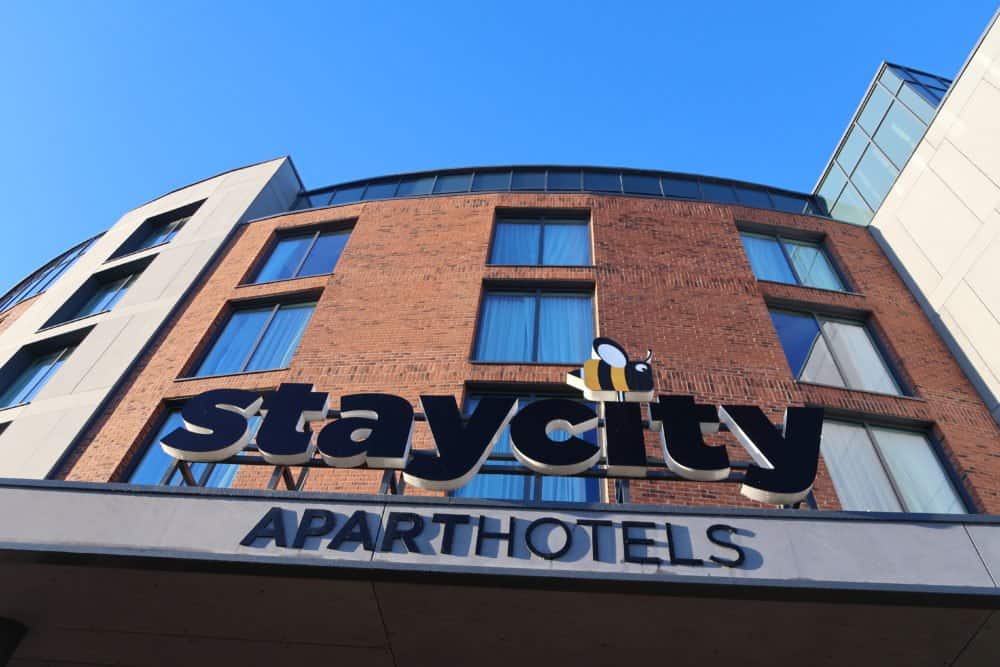 DECEMBER
York – Staycity York
Last month me and Katie headed to York for a festive weekend in one of England's oldest cities. York is a city with Roman roots and a Viking past, almost exactly halfway between London and Edinburgh. Combining the best of its heritage with modern British life, you'll feel as if you've stepped back in time as you amble down intertwining streets lined with 13th-century walls, but its thriving cultural scene will bring you right back to the present. Whilst we were there, we stayed at the wonderful Staycity York, just on the outskirts of the city for two nights in a two-bedroom apartments overlooking the city walls. Staycity Aparthotels are the perfect way to experience a new city – combining all of the advantages of a hotel with the comforts of home. Your Staycity serviced apartment is just like being in your own home – put your feet up in the living room, watch TV on the flat screen, browse the internet using the complimentary WiFi and help yourself to endless cups of coffee in the fully equipped kitchen.
READ FULL POST: TBC!
Jersey – The Royal Yacht Hotel
To top off my final trip of the year to Jersey, we were also treated to an incredible stay at The Royal Yacht in St Helier! The hotel is a super stylish hotel with views over the marina and the square. It's such a great hotel to enjoy the ambience of a luxury yacht (as the name suggests), but without the seasickness – PERFECT! The decor at the hotel is luxury with dashes of wood and chrome throughout both the lobby and common areas, as well as the bedrooms. Most of the rooms also have balconies overlooking the harbour, which are created with sheets of curved glass to create waves across the front of the building. The hotel is full of elegance and style, around every corner. Our room was stunning, with a massive double bed, hardwood furniture offset by deep blue and bronze soft furnishings, as well as a stunning bathroom, with underfloor heating and separate bath and shower in most rooms.
READ FULL POST: TBC!