For me, as a child, my summer holidays were always spent in France. We would pack up the car, drive across the channel, and arrive in France ready for our two-week road trip.
It was a holiday I looked forward to every year; the excitement of being on the road, the unexpected beauty around every corner, and spending time with my family.
I have fond memories of summer holidays in France, so when we were looking for a holiday to take this July with Bella we couldn't think of a better place than Les Village Nature.
Located 30 km outside of Paris and 6km from Disneyland Paris, Les Villages Nature is an eco-paradise, providing fun for all the family. Owned by French accommodation company Pierre et Vacances and Disney, it was a recipe for success, offering the magic of Disney alongside beauty and nature.

I would say Village Nature is a cocktail mix of traditional Center Parcs atmosphere, with a spattering of French culture, and a dash of Disney magic.
And the thing I loved most about the parc as a whole was how un-uniform it was. There weren't block after block of apartments that stood out like sore thumbs, the building were all designed thoughtfully, and lovingly. They blended into the woodlands, and every building had plants and trees intertwined with the building.
It's the ultimate relaxing getaway with family where you can experience an enchanting stay in the park, and even take a day trip to the Disneyland® Paris parks.
Les Villages Nature Paris offers a complete change of scene to help you reconnect with the things that truly matter, all while minimising the impact on the environment. Whether you're with family, friends or partner, you'll feel in harmony with nature in this extraordinary green village. Explore all five immersive worlds and the unforgettable experiences they promise.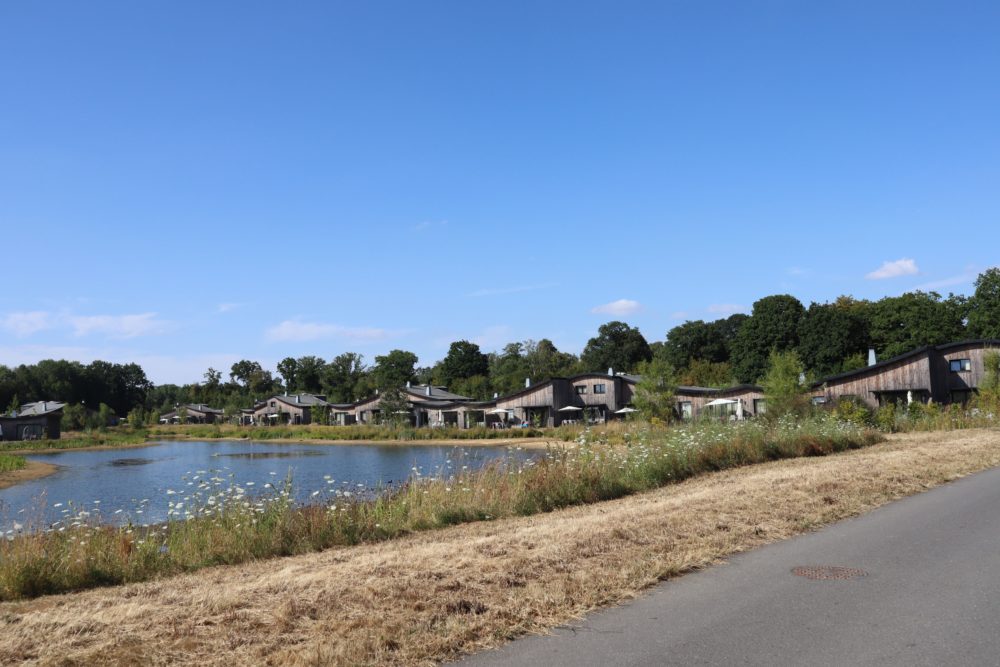 Premium Cottage
For our stay at Village Nature, we stayed in one of their Premium Cottages.
The Premium cottage slept four people, with two-bedroom, two bathrooms and was a single-storey cottage. It was a great base for our stay and was super clean when we arrived. The cottage also had a small outdoor space which was lovely in the evenings. We spent many evenings here with a glass of wine relaxing as the sun went down.
The cottage was designed with accents of yellow and a slight woodland theme throughout. There was woodland-themed wallpaper, twig coat hooks and natural fabrics. It made for a very home-from-home feel in the cottage.
Included with the cottage was:
Wi-Fi
Welcome package
1-2 parking space(s)
Kitchen package (kitchen towel, tea towel)
Towel package (bath sheet and towel)
Bed making service
Sheet package
Final cleaning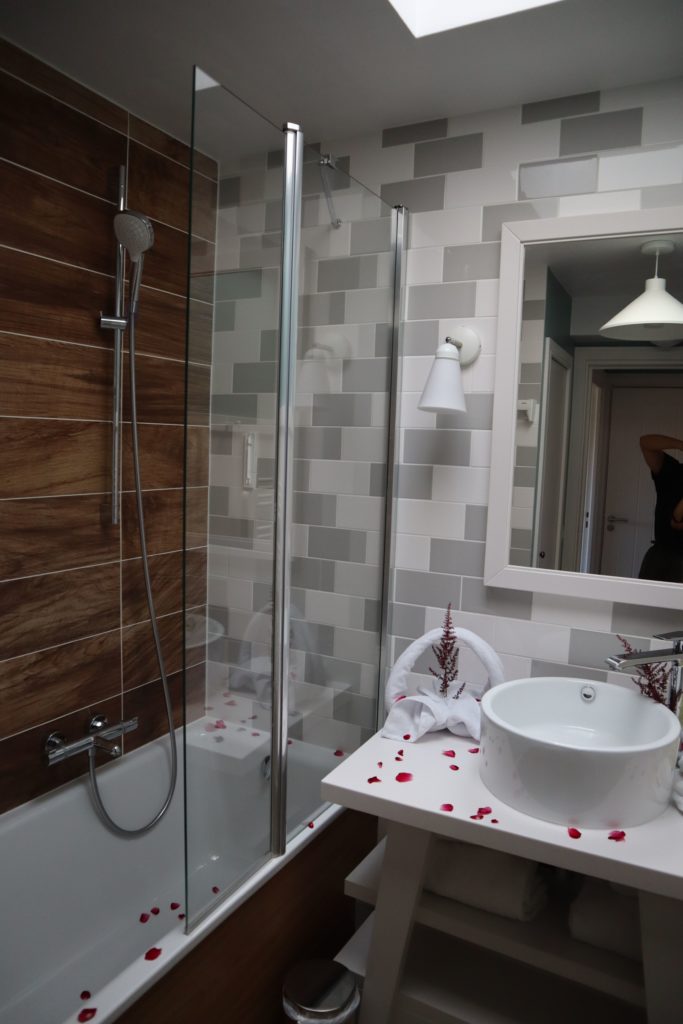 We opted for the Premium Cottage as it provided us with a little more luxury than their standard cottages. They are the perfect solution for long, enjoyable days and you can enjoy some little extras, such as beds made for your arrival, a kitchen kit, a hair-dryer and even a second television in the bedroom.
And as part of every stay, you get:
Luxurious cottages and apartments
Free unlimited access to water park Aqualagon with a lot of free activities
Free unlimited access to our 5 recreational worlds
A wide range of indoor and outdoor activities
End cleaning of your accommodation
Unlimited Wi-Fi access
Unlimited access: BelleVie Farm, Extraordinary Gardens, Lakeside Promenade, Forest of Legends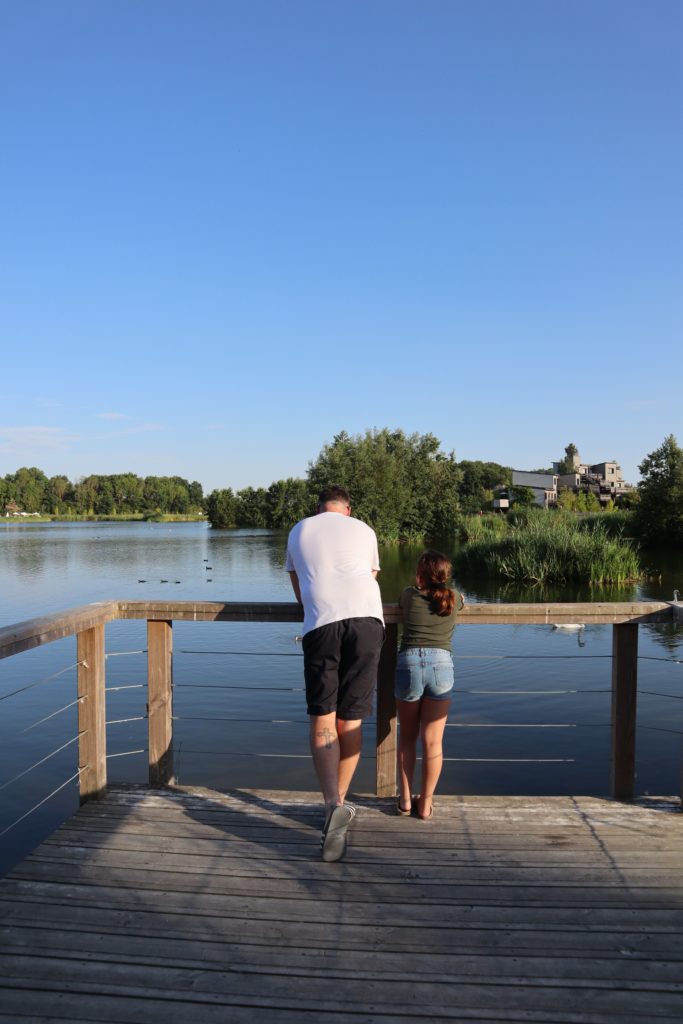 Activities
A selection of invigorating and entertaining activities for all ages is included in your stay, as well as extra activities with our partners, so you can take your fun, exploration and learn even further.
At the Aqualagoon you can find giant waterslides, a wave pool, jacuzzis and more, all connected to a 2500 m2 open-air lagoon heated naturally at 30°C year-round. It's one of Europe's largest covered water parks with an indoor pool and lots of waterslides.
At the Extraordinary Gardens: you can discover so much in the four gardens inspired by Nature's four elements. The Extraordinary Gardens are split into earth, fire, air and water sections with games and info where you can learn more about the plants. We loved coming here for a stroll in the evening.
Then there's BelleVie Farm, where kids and adults alike can have fun, learn and explore. Enjoy a vegetable garden, a pony club, an 800 m2 indoor play area as well as activities: animal care, cookery and gardening. Here you can find resident cows, sheep, pigs and goats, as well as classes such as breadmaking and chocolate workshops.
There's also The Forest of legends, an outdoor play area designed around the legends of the forest, with rope bridges, treehouses and secret pathways. A beach for an outdoor dip and where you can feel the sand between your toes. In summer you can bathe in the clear lake water and enjoy your favourite beach games and sports.
At the Lakeside Promenade, you can find restaurants, cafes and activities. This is the central gathering place for all of the guests on-site and is the heart of the Village. The Promenade also has shops, a market, a bowling alley and more.
And if that wasn't enough, you can also find Forest trails. This is where you can swing from the trees on the aerial obstacle course. And for the adults, there's The Spa: a haven of well-being. It's here you can enjoy utter relaxation, come to the Spa and let us pamper you.
Eating Out
I did worry at first that the food at Villages Nature would be no different than being in England, but although you did find burgers and chips here, there was also an array of other options.
There were around six main restaurants open when we were there:
Lagon Café
Treat yourself to a gourmet break between two aquatic activities. You'll find refreshments, ice creams, salty and sweet snacks and gourmet desserts.
Bowling Bar
In front of the bowling lanes, refresh yourself with a cocktail or a hot drink. Enjoy a snack or ice cream between two strikes.
Restaurant CEPAGES
OUR FAVE RESTAURANT!! Explore the flavours of our regions through different traditional dishes accompanied by a glass of wine. The restaurant CEPAGES welcomes you in a warm and dimmed decor to discover the simple pleasures of wine. A deli and a selection of takeaway bottles are also available.
PUR etc. Restaurant
Looking for something tasty and quick? You've come to the right place. PUR etc. sells prepared dishes made with seasonal produce all day long, from breakfast to supper: hot dishes, salads, sandwiches, desserts, fresh-pressed juices and hot drinks. PUR etc. believes in preparing clean, healthy food and prioritizes quality and locally sourced ingredients. It's a delight for the tastebuds.
Les Délices de la Ferme Restaurant
The restaurant Les Délices de la Ferme welcomes you every day in a family atmosphere, for your lunch and dinner. You will enjoy daily specials and a varied menu of fresh, seasonal and regional products. All-day long, you can come and enjoy breakfast, lunch, homemade pastries, fresh juices, hot drinks or cocktails.
Miam Miam Burger
Enjoy, with family or friends, our delicious homemade burgers and great desserts (cheesecake, brownies, ice cream…) in a bright and sparkling setting. On a sunny day, you can take advantage of the terrace with a breathtaking view of the Aqualagon.
Vapiano
The welcoming, casual atmosphere of Vapiano is perfect for meals with family and friends. The Mediterranean-inspired dishes with Italian flavours are prepared before your eyes. From the pasta to the desserts, everything is made in-house from fresh ingredients delivered each day. Talk directly to the chefs to order your pasta, pizza or salad and enjoy your meal on the large oak tables alongside a vertical garden or around a centuries-old olive tree.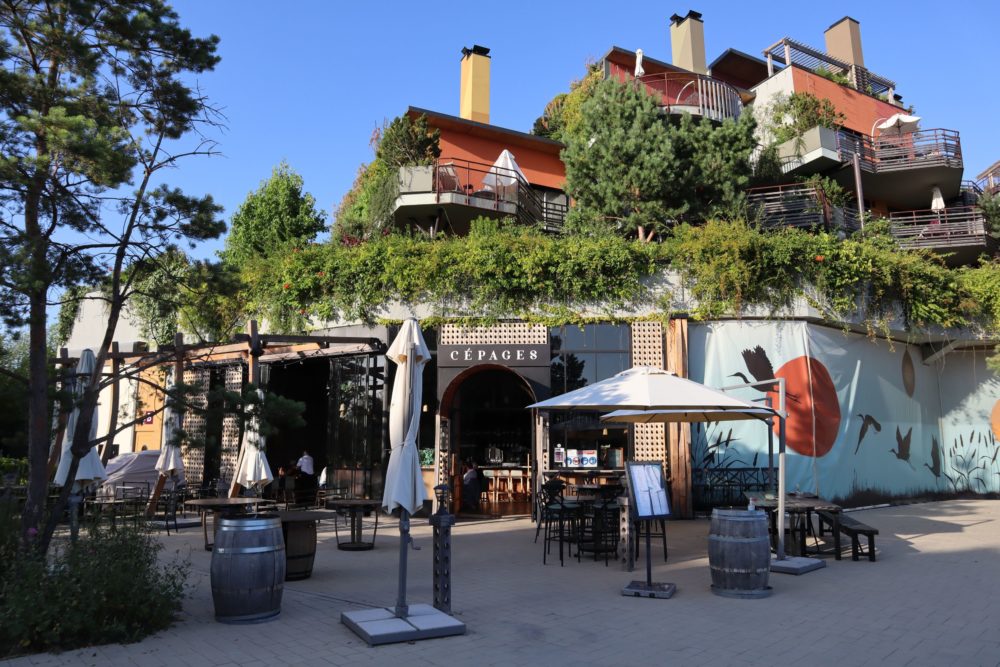 Sustainability
Les Villages Nature Paris lets you feel close to nature, where you can stay in perfect comfort and tranquillity all while minimising impact on the environment.
The heating and hot water use geothermal energy and rainwater is collected from the Aqualagon roof to use in its showers and toilets.
And even the building of the site has been done as environmentally friendly as possible, they have used sustainable building materials and have integrated trees and plants into every space or orifice.
They are also big on recycling and you can find bins and recycling points all over the site and in your cabin. Oh and the whole site is car-free, minus when you are checking in and out. Everyone walks or cycles, and you can pick up your bike from the Bike Rental hike near main reception.

Access to Disneyland Paris
By staying in a Disney Hotel, you gain exclusive access to parts of the Disney Parks long before anyone else and chances to meet up with Mickey, Minnie and friends. Cuddle up and strike a pose in a range of distinctive settings for snapshots to cherish forever. You can even enjoy attractions before the official opening times.*
* Depending on your date of visit, the duration of Extra Magic Time may vary, as may the number of Disney Parks in which it applies. Please check this page for more information.
If you on a bigger trip exploring more of Europe check out my guides to France, Germany, Greece, Iceland, Italy, Portugal, Spain and United Kingdom.
---
My Travel Tips and Recommendations
Flights
To book flights, I always use flight search engine, Skyscanner, I regularly use the Everywhere tool to find the cheapest places to travel. It's how I get to travel so much all around the world. I find it the easiest way to compare flight prices across airlines and get the best deals.
Accommodation
For accommodation, I usually book most of my hotels or hostels through Booking.com. I love using this platform as it provides me with some amazing deals for accommodation all around the world. Or if you prefer, I also recommend using Airbnb. If you haven't signed up with Airbnb already, you can use this link to get £25 off your first visit!
Photography and Technology
Here is a list of the technology I always travel with:
To receive my articles and reviews straight to your inbox SUBSCRIBE HERE.
Did you know I also vlog my trips? Make sure you subscribe to my YouTube channel so you get alerted when all my travel videos goes live… CHECK THEM OUT HERE
Thank you for reading and as always happy adventuring! If you have any questions about the destination please leave these in the comments below.
If you've enjoyed this post, please share it for me with all your friends and family!
Sophie X