Over May Bank Holiday I visited the beautiful and charming Ellenborough Park Hotel, just outside of Cheltenham in the Cotswolds, Gloucestershire. From the moment we drove through the gates I was in utter shock at the charm of the incredible five star, celeb-filled Ellenborough Park Hotel and Spa.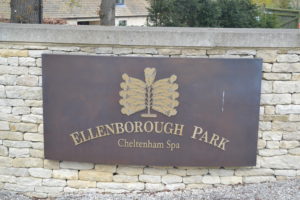 When you arrive you follow a road around the edge of the hotel, across the front and to the main doors at reception where there are footmen waiting to valet your car for you. I had to apologise as soon as we arrived and say sorry for the state of my car, I think I genuinely said "sorry my car is a shithole!"
Once we had grabbed our bags we were welcomed by an array of staff in reception who helped us with our bags and checked us in for our stay. As our room wasn't ready we decided to grab something small for lunch and asked for a tour of the house including the history.
Our guide, and one of the footmen Tim was wonderful. He was such a character and made us feel very at ease as he showed us around the magnificent hotel, taking us from room to room and letting us know about the history of the house over the last century. It was a great way to find out all about the hotel and its residents. This charming Cheltenham manor house has galloped ahead of the local competition picking up an array of awards over the last few years since its opening and its clear to see why….
The Grade II-listed Elizabethan building is designed by interior design guru, Nina Campbell making Ellenborough is a delight for the eyes with grand fireplaces, oak-panelled walls, rich wood furnishings and stylish scarlet and royal blue sofas and chairs throughout the library and Great Hall. The hotel perfectly combines olde-world elegance with modern country chic to create a truly stunning space.
After the tour me and Sophie checked in to our room, and to our delight we were upgraded to a suite; a god damn SUITE! We made our way up to our room and as we opened the door our eyes glared and mouths dropped, we had landed in heaven.
Our room was the size of both of our apartments put together with twin beds, a lounge area, desk corner, window seat and coffee station. As we then wandered around the corner we fell upon the open plan bathroom which was so incredible I took about 100 photos of it. It was beautiful with a romantic setting throughout including double sinks, rainforest shower with two entrances (not sure why!), freestanding bath tub and toilet situated in the corner of the room.
Ellenborough Park has a host of celebrity-style suites hidden away in the hotel's many ancient towers and turrets including an array of luxury hotel rooms, alongside a handful of suites. Our suite was the named the Kauto Star Suite, but there are other rooms including the dramatic Istabraq Suite nestled in the eaves of the Great Hall, and the Arkle Suite which has its own private dining area, oak-clad walls and spa bathroom. You can live out your amorous Elizabethan fantasies here!
After we had checked in we headed downstairs to the splendid oriental-inspired spa for a spot of pampering. The little spa feels extremely private, and includes a sauna, star-lit steam room, sensation showers and hydrotherapy pool, along with seven treatment rooms and a relaxation room with magazines and prosecco!
We threw on our gowns and headed to the sauna and steam room before I headed off for a Deep Tissue Massage with a wonderful lady who managed to push, pull, and stretch every tense muscle and sore bits out of my body. I left feeling refreshed, but jelly-fied.
It may have been April, and a little chilly but there was no way we were missing out on an outdoor swim in their glistening courtyard pool. We made sure we had our prosecco to hand as we sit in the sun feeling like ladies of the manor before heading back to the room to get ready for dinner.
The hotel's foodie credentials are fantastic too and are said to attract many a local celebrity round for lunch, dinner or drinks including a lot of local products that are used across the menu from the beef to the vegetables. Our dinner consisted of a five-course meal in The Beaufort Dining Room in addition to the aperitif and petit fours. We had a delicate bottle of wine to go alongside our dinner, hand-picked by the resident sommelier.
I ate:
• Aperitif: Consisting of sweetcorn and popcorn combined – I cannot remember the name
• Starter: Grilled Wye Valley Asparagus, Confit Egg yolk, Ham Hock & Spring Onion
• Main: Roasted Thyme Loghorn Beef Fillet, Wild Garlic Potato Puree, Tomato Fondue, Young Carrot & Thyme Jus
• Desert: Selection of British Cheese, Miller Damsel Biscuits, Celery, Grapes, Apple and Thyme Jelly, Home Made Chutney
• Petit fours: truffle chocolate, nougat and jelly sweets
Or if this sounds far too formal, near reception you can grab food from the Brasserie, for something equally as delicious but not quite so formal.
The following day feeling bloated and full, we ate even more with a full English breakfast delivered to the bedroom. We sat in our luxurious suite and dined on streaky bacon and scambled egg whilst reading The Times newspaper; this realy is the life!
Once we had finished we headed to the hotel's personal boot room where a lovely man kited us out in Hunters wellies and Dubarry jackets for our hike to Creeve Hill. The walk took us two hours with a quick stop at the top to admire the views looks out over Cheltenham Racecourse, the Cotswolds and Gloucestershire. It is a great walk for a Sunday morning and certainly helps you shift the pounds from dinner the night before! Ellenborough Park's fabulous Boot Room has a selection of Dubarry boots and jackets, and Hunter's wellies for guests to borrow.
This quaint hotel was the perfect retreat for me and Sophie away from our busy lives and chaotic work schedules. We felt looked after, at ease and we were welcomed in to the Ellenborough way of life the moment we walked through the door. I will be back…
Ellenborough Park Hotel & Spa: Tel 01242 545454, www.ellenboroughpark.com with doubles from £179
*I was hosted by Ellenborough for a one night stay, however as always opinions are my own.