Last month I headed up north for a weekend in Aberdeen with Theo! I have only ever been to Scotland once before (for Hogmanay) and I did not feel like I got to see the real Scotland. On this trip though, I really did.
We spent a wonderful 48 hours exploring the wonderful city that is Aberdeen, as part of Aberdeen Restaurant Week and then we also jumped in the car we had hired to explore the highlands. We visited some castles and drank lots of beer at Brewdog.
We had such a fun time exploring this part of the world, and cant wait to return again soon. We even met our friends Megan and Sean for a few hours, and we've promised to return to see them – stay tuned!
PLANNING YOUR WEEKEND IN ABERDEEN
How to get to Aberdeen
We fly on a Friday to a Sunday and flew with Flybe from Heathrow for around £90 each return, but you can get even cheaper flights from other airports such as Birmingham and East Midlands. The flight is only around 90 minutes so it's super quick!
When to visit Aberdeen
Aberdeen is a wonderful city to visit any time of year. In the summer months, you can go hiking, walking and cycling when the weather is warmer and the sunshine across the landscape, there's a visit in winter, when the city becomes alive with the festive period, and then you can visit in Spring and Autumn when the region starts to come to life or get ready for the colder season.
We visited in February and it was the perfect trip for us, as we wanted to experience the colder months in Scotland but it was warm enough to get outside and explore. February was also great as it was Aberdeen Restaurant Week meaning we also got to experience the great variety of food Aberdeen has to offer, from cuisines all around the world.
How to get around Aberdeen
If you're staying in the city centre its easy enough to walk around from one place to the next, however, if you want to head to Footdee, and further afield to places such as Brewdog, Balmoral and beyond, you will need a car. We couldn't have visited most of the places on our bucket list if we hadn't got a car. The car gave us a lot of freedom and would certainly suggest it! Our car was only £40 for two days Friday – Sunday.
Where to stay for a Weekend in Aberdeen
During our weekend in Aberdeen, we stayed at Skene House Rosemount, located in the city centre, and only a few minutes walk to the shops, restaurants and coffee shops. Skene House Rosemount has 78 apartments that come in all shapes and sizes, 1, 2 and 3 bedrooms, all with separate living room, dining area and fully equipped kitchen.
Plus each apartment has a bathroom or shower room! The fact the apartments come with separate living area and lots of space is also great for families, as you can still relax even when the kids are asleep!
The apartments were lovely with massive king-size bed, offer modern facilities throughout and they come with additional facilities you wouldn't get in a hotel, such as free parking, accessible rooms, pet-friendly rooms, full Scottish breakfast and laundry services. Each apartment also comes with complimentary hi-speed wifi.
Our apartment was super comfortable and acted as our home-from-home during our weekend in Aberdeen! The price is also great, with a one-bedroom apartment with breakfast starting at £80 per night per apartment. And if you're staying longer, they also offer stays for more than 30 days too.
WHAT TO DO ON A WEEKEND IN ABERDEEN
Brewdog HQ
I was convinced that Brewdog was an American brand until a friend of ours told us we were, in fact, wrong and it was a Scottish brewer. Located on a greenfield site in Ellon, north of Aberdeen, Brewdog's state-of-the-art eco-brewery is one of the most fun places I've ever been, combining food, fun and beer.
It is also one of the most technologically advanced in the world, as they constantly challenge people's preconceptions about what beer is and how it can taste. And Ellon is also home to the DogTap taproom, serving up the freshest beer straight from the brewery.
They are now one of the most prominent success stories of the craft beer revolution, so make sure you either head over to Ellon for lunch and a beer or join them on a 90-minute tour of the brewery and factory. It is a must-visit place and the chicken wings are amazing!
Aberdeen Beach
A beach you say?! Yes, a beach in Scotland! And it's just outside the city centre, also called the Esplanade! It has a few beachfront shops, cafes and even an art-deco style ballroom. We visited in February so the weather can super windy and cold, but it didn't stop us heading for a walk along the beach.
It was a little too cold for ice cream and a dip in the sea though! On a day with better weather, I imagine a brisk walk or jog along the promenade, all the way from Footdee to the River Don would be beautiful.
Aberdeen Maritime Museum
Located just off the main high street in the city centre, the Aberdeen Maritime is a must-visit for tourists. The award-winning museum is interesting and educational, providing insight into Aberdeen's historic relationship with the sea, from the petroleum and oil industry to shipbuilding and beyond.
There's lots to do inside, as well as a collection of maritime artefacts, paintings, and touch-screen computers, make the material come to life. An amazing thing to do in Aberdeen!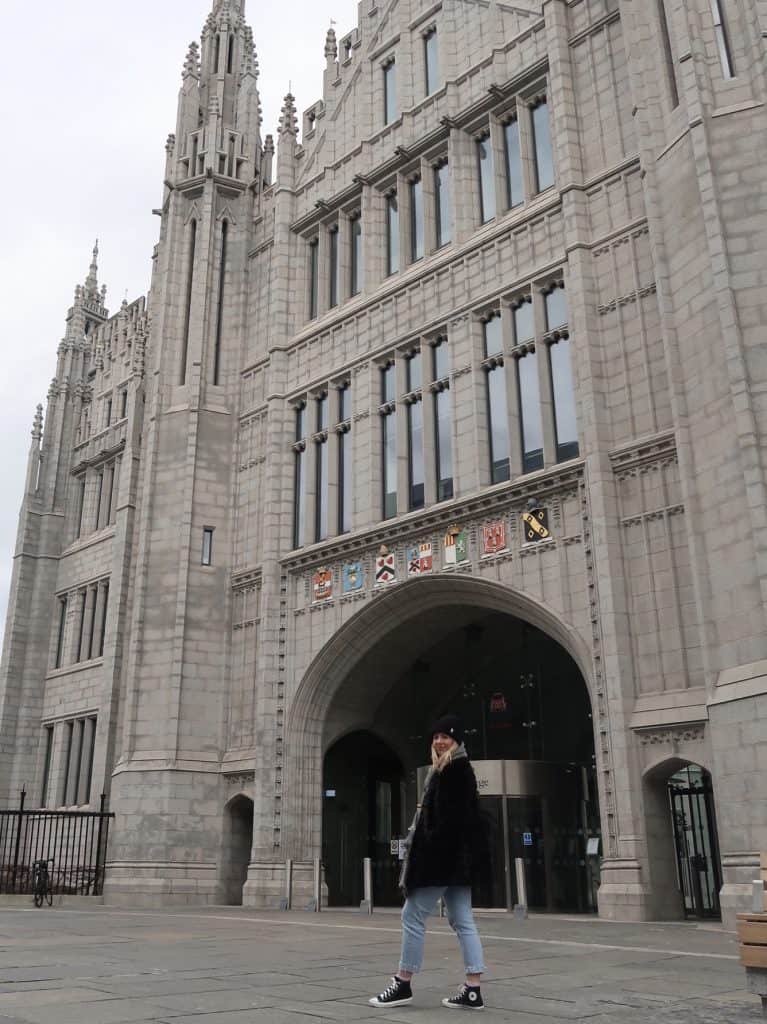 Footdee
One of the most iconic photos you'll see of Aberdeen is the wonderful seaside village of Footdee, around a ten-fifteen minute walk from the city centre. The charming streets of Footdee, known locally as 'Fittie' is a former fishing village with charming cottages and cobbled lanes originally built to rehouse an influx of fishermen to the city.
It's worth a wander around Footdee just to see a different side of the city. And if you're hungry stop by at Moon Fish Café or Silver Darling!
Slains Castle
We headed over to Slains Castle after we had finished at Brewdog as it's only 15 minutes away. Old Slains Castle is a ruined castle in Aberdeenshire, which overlooks the North Sea from its cliff-top site 1 kilometre east of Cruden Bay.
The core of the castle is a 16th-century tower house, built by the 9th Earl of Erroll and was the inspiration for Dracula! The castle is now abandoned but makes for a great place to explore as the sunsets!
Craigievar Castle
If fairytales were real, all castles would look like Craigievar. We headed out to this wonderful castle on our final day in Aberdeenshire and hired a car to head out into the shire to explore. This castle is said to be the inspiration behind Disney's Cinderella Castle and you can certainly see why.
The outside is stunning and you can also head on inside in the week to admire an impressive collection of artefacts and art – including Raeburn portraits, armour and weapons – or enjoy a peaceful stroll around the garden and estate. The pink elegant tower of Craigievar Castle is beautiful, and the property is now owned by the National Trust for Scotland.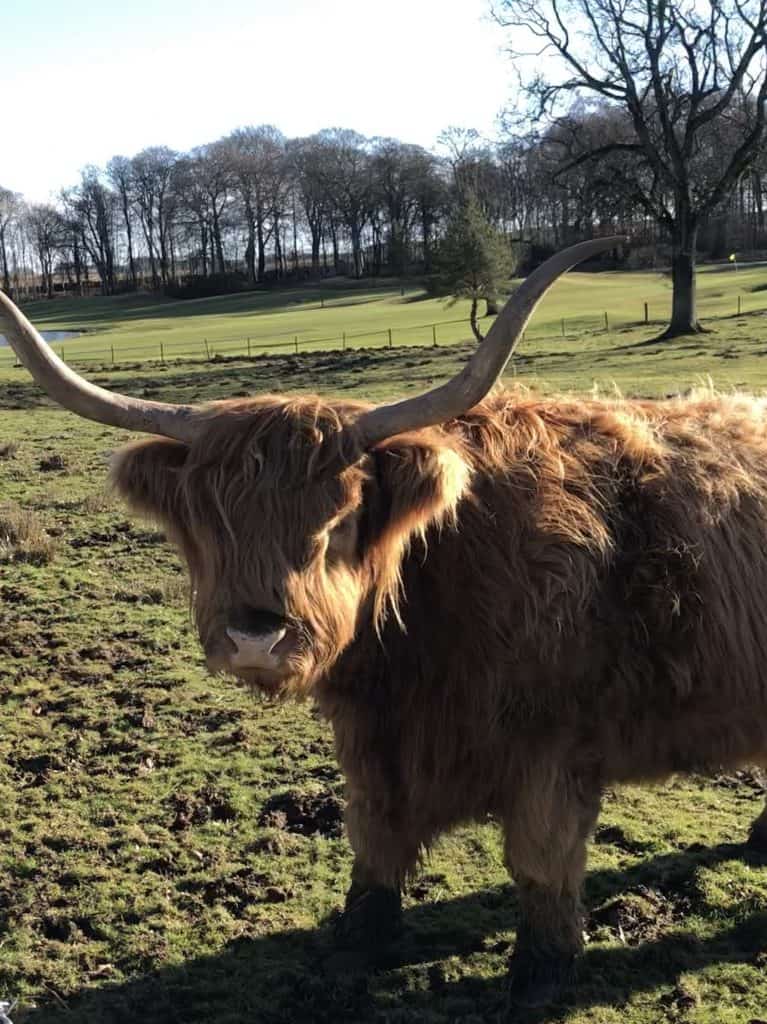 WHERE TO EAT & DRINK IN ABERDEEN
Whilst I was in Aberdeen it was also Aberdeen Restaurant Week (4th-10th February 2019), where the whole city gets ready for a week of amazing food from all over the world, offering an array of cuisines!
The offer for the week consists of £10 lunch menu, and £20 dinner menu (per person) and each restaurant offers a set menu chosen by them for this price. It's such a great offer and nearly every restaurant we visited was packed out, and everyone was enjoying some amazing food!
The next Aberdeen Restaurant Week is returning from 15th – 21st July so make sure you book your trip to this wonderful city around those dates!
Angus & Ale
We ate here on our first day in Aberdeen and fell in love with this small restaurant, hidden under a small arch off the main street. Angus & Ale offer the best of great meat, including burgers, steaks and much more.
We loved this place and the food even more so! I opted for the Schoolhill Special – beef, highland cheddar, bacon, onion rings, burger sauce, mustard mayo, lettuce and tomato served in a brioche roll with a side of rosemary salted chips, whilst Theo chose Jalapeno & Chickpea Fritter (veg), relish, lettuce, tomato served in a brioche roll with a side of rosemary salted chips. Both were amazing!!!
Topolabamba
When I spoke to my friend about where to eat in Aberdeen this place was at the top of her list. And I now realise why! Taking inspiration from the four main regions of Mexico; Oaxaca, Chiapas, Chihuahua and their namesake, Topolabampo – this place offer the very best Mexican food.
And they were rather offended when I asked for nachos, declaring that that was, in fact, tex mex and they don't do that type of cuisine. They're very proud of their food and it shows! Topolabamba's menu is a mix of classic Mexican dishes and authentic street food, like tacos and tostadas with a range of exciting fillings.
Cafe52
Cafe52, the Aberdeen restaurant on The Green, in the heart of Aberdeen, is another favourite with both locals and tourists. The building where Cafe52 lies was once forgotten for years, and lay derelict and neglected. However, through the efforts of young local entrepreneurs it has become a much sought after foodie area and home to Cafe 52, tucked behind Union Street.
Chaophraya
We were gutted we were;t in Aberdeen another night, because if we had been we would of headed to this gem on the corner of the main street in the centre. Here you can escape the bustle of Union Street and dine at Aberdeen's best Thai restaurant Chaophraya Aberdeen.
Accommodated in one of the city's most notable buildings, former home of The Monkey House, they have truly transformed the space into an opulent eating establishment which offers an impressive mix of classic Thai and signature dishes. Next time!
Howies
Just a short walk from the main shopping district, Howies is a local favourite, with restaurant, courtyard and private dining rooms. They offer a relaxed and stylish atmosphere, where you can chat amongst friends whilst eating incredible food.
Here you'll find the same great tasting menus – packed with local produce – and fantastic value for money. Whether it's salmon from the Shetland Isles, cheese from Banchory or craft beer brewed just up the road – they source their produce for their seasonal menus as close to home as possible.
Mackie's 19.2
And last but not least, Mackies! Famous for their ice cream, these guys have been around decades! And they've just opened up their new ice cream parlour and coffee shop located 19.2 miles from the family farm where they started making ice cream more than 30 years ago.
The ice cream rippled ceiling feature, illuminated multi-coloured cow and a neon-lit, Italian specialist ice cream counter all make for a very fun way to eat your pudding!
---
My Travel Tips and Recommendations
Flights
To book flights, I always use flight search engine, Skyscanner, I regularly use the Everywhere tool to find the cheapest places to travel. It's how I get to travel so much all around the world. I find it the easiest way to compare flight prices across airlines and get the best deals.
Accommodation
For accommodation, I usually book most of my hotels or hostels through Booking.com. I love using this platform as it provides me with some amazing deals for accommodation all around the world. Or if you prefer, I also recommend using Airbnb. If you haven't signed up with Airbnb already, you can use this link to get £25 off your first visit!
Photography and Technology
Here is a list of the technology I always travel with:
Travel Insurance
Picking travel insurance that covers you in all eventualities is an essential part of planning a trip for every single person. If you can't afford travel insurance, you can't afford to travel. You never know what's around the corner. World Nomads is an affordable option that I personally recommend. BOOK HERE
Sign up to AirBnB with this link and receive a £23 off your first booking.
To receive my articles and reviews straight to your inbox SUBSCRIBE HERE.
Did you know I also vlog my trips? Make sure you subscribe to my YouTube channel so you get alerted when all my travel videos goes live… CHECK THEM OUT HERE
Thank you for reading and as always happy adventuring! If you have any questions about the destination please leave these in the comments below.
If you've enjoyed this post, please share it for me with all your friends and family!
Sophie X