As you would expect, some of the best food I've ever eaten has been when I've been down in Cornwall. Cornish dishes are largely influenced by their surroundings with many of the restaurants and cafes, being strict with where they get their ingredients from, always trying to buy local and seasonal. Here are some of my favourite Cornwall Restaurants.
This is also the case for a lot of the fish on the menu across the county; restaurants try to buy from local fisherman that catch in the morning and it ends up on plates in the evening. The most famous of these dishes is Stargazy pie where the head of a fish sticks through a pie-crust as if it were "star-gazing" – I don't eat fish so I didn't get chance to try it, but apparently it's amazing!
However, you can't come to Cornwall without trying one of the regions most loved cuisine; the Cornish pasty. The pastry-based dish is traditionally filled with beef, onion, potato, swede, salt and pepper but you'll find many variations of fillings.
Cornwall Restaurants: 10 Places to eat in Cornwall
Brasserie by the Bay, Falmouth
On our first night of our Cornall getaway, we dined the the hotel amazing Brasserie on the Bay which overlooks the sub-tropical gardens and on to the dazzling sea. The restaurant showcases the best in Cornish ingredients and their head chef works closely with local producers, farmers and fishermen to create a menu which focuses around using locally grown and reared produce.
The chef at Brasserie on the Bay creates dishes that are fresh, of the highest quality and low in food miles – something that me and Theo loved. It felt fresh, healthy and home-grown. The morning's catch is brought in each day, so only the freshest fish and seafood make it to your plate. A supporter of sustainable fishing, St Michaels Hotel ensure the species we choose are not threatened or from depleted stocks. For dinner we opted for Cured mackerel with beetroot escabeche, horseradish creme fraiche, sourdough croutons and Seared pheasant with pickled cherries, Jerusalem artichoke, chestnut, endive to start, followed by Aromatic squash curry with tamarind & coconut curry, jasmine rice, pak choi and Cornish duck breast with root vegetable dauphinoise, charred hispi, blackberry & star anise jus for mains.

Cornwall Restaurants: 10 Places to eat in Cornwall
The Herring, Bedruthan
We dined at The Herring on our first night in Newquay and we adored the setting and ambiance of this restaurant. It's the quieter more intimate dining experience, and is the perfect spot to enjoy the sunset on an autumn evening. The daily-changing menu is inspired by the seasons and Cornwall's amazing produce, and we really saw this when we visited in October, but lots of pumpkin and lamb on the menu. At The Herring you can expect fresh fish, juicy scallops, pigeon breast and pumpkin gnocchi. You can dine here on their three-course dinner menu is £37.50

Cornwall Restaurants: 10 Places to eat in Cornwall
12 Beach Road, Newquay
We visited 12 Beach Road on the last day of our Cornish adventure and it was just what we needed before our five hour drive home. The new restaurant originally opened as Barefoot on the Beach on the old Chy Bar site but they've rebranded recently to what they are today with the same great team and service. The restaurant overlooks the beach, and with a brand new refurbished restaurant, with wooden bar stools, trendy fabrics and a very nautical theme throughout, there's lots of reasons to visit 12 Beach Road.
And the food is just as good, serving a range of Cornish fish and seaside signatures, grills, tacos and sourdough pizza. At 12 Beach Road the food is fantastic and with so many options, whether you're in the mood for a pizza, want to share some tapas or want a full three course meal, they will have you covered. We opted for pizza with sides, and a beer to share. And they even gave us the best table in the house, right in the window overlooking the surfers in the distance. We had a lovely meal and would 100% recommend this place to anyone visiting Newquay for the day or over a weekend.

Cornwall Restaurants: 10 Places to eat in Cornwall
The Stable, Falmouth
We haven't stopped talking about this place since we got back from Cornwall. The Stable was trendy, offering some of the best pizza we've ever had and the largest selection of cider we've come across. It was right up our street! The Stable is at the beautiful Custom House Quay overlooking the harbour with over 50 varieties of cider the best pizza around and we have to agree!
It's simple food, that's simply amazing and they proudly source prime local ingredients from the finest growers and producers in the region to create their totally unique, West Country inspired dishes. It goes without saying that everything is responsibly sourced and prepared and we loved this about this restaurant and the brand of restaurants as a whole. They ensure that no preservatives go into the food and everything is freshly handmade from scratch, from their organic sourdough pizza bases to their super spicy Naga chilli oil. Each day the chefs chop, slice, stir, fry and roast fresh ingredients, preparing them for topping our delicious pizzas. A total gem in Falmouth!

Cornwall Restaurants: 10 Places to eat in Cornwall
Lusty Glaze Beach, Newquay
Lusty Glaze is a secluded cove on the outskirts of Newquay, Cornwall, open all year for beachside dining, weddings, live music, holidays and activities. Nestled in a secluded cove, just a short walk from the centre of Newquay and down the infamous 133 steps, the Bar & Restaurant at Lusty Glaze Beach is the epitome of Cornish living with laid back lounge areas, a restaurant that may as well be on the beach, and nautical theme throughout.
Lusty Glaze Beach is the perfect spot for lazy lunches, cosy coffees, and seaside suppers and whatever the weather, the view from your table is breathtaking. We dined here for lunch and unfortunately there was a wedding next door, so we couldn't see the beach, but we scoured their Instagram and it looked like the perfect place to sit with a coffee on a rainy morning watching the surfers. And in the summer you can sit on the terrace and soak up the sunshine with a cold drink, or on wild winter days, cosy up by one of two roaring log burners with one of their famous hot chocolates.

Cornwall Restaurants: 10 Places to eat in Cornwall
The Scarlett, Bedruthan
Cornwall's new The Scarlet is design-conscious, eco-friendly – and own one of the UK's first family hotels. At The Scarlet Hotel Newquay you can relax, reflect and refresh in a … The owners, who also run the Bedruthan Steps Hotel just down the road. We may have stayed at Bedruthan Hotel, but we opted to dine at The Scarlett on one of the evenings we were staying at Bedruthan to experience a different type of cuisine.
The Scarlet Restaurant gazes out over Mawgan Porth beach to the Atlantic ocean beyond, serving seasonal dishes to watch the waves, weather and sunset by. The Scarlett have been serving fresh, locally sourced food since 2009 led by Head Chef Mike Francis, The team brings together modern European-style dishes with the gusto of Cornwall at its heart and they also work with Cornwall's most innovative, organic and sustainable growers, farmers and fishermen to source the best produce the county has to offer.
Dishes include pan-fried John Dory with wild garlic, cockle and parsley sauce, and St Ives beef with caramelised shallots, salsa verde and griddled polenta. Sweet tooths should save room for pudding – try the cider jelly with tarte tatin and blackberry sorbet.
3 Courses: £45.95 / A glass of fizz + 3-course wine flight: £40 / 3-course wine flight: £30

Cornwall Restaurants: 10 Places to eat in Cornwall
Amanzi, Falmouth
A total rogue card when it came to choosing where we wanted to eat whilst we were in Cornwall but I am so glad we stumbled across this absolute gem in Falmouth. As you enter Amanzi from busy Arwenack street in Falmouth you're immediately welcomed with a warm and cosy vibe combined with a sense of adventure from the lovely South African owners Ian and Carolyn.
The smell of great food is the first thing you come across and then the quirky interior of the restaurant, decorated with intricate wooden statues of African animals, an array of zebra and leopard print and the best music! In the summer there is a colourful terrace for dining al fresco too and the food is just as amazing. We opted for an array of traditional dishes including Biltong, Droëwors, Avocado Salad and Prime Hake fillet, sautéed chorizo, sun-blushed tomatoes, spring onions. It was just divine! ​
All food served is fresh and any fish is supplied by the local fisherman. Rather than restrict themselves to one cuisine you can experience dishes from Marrakesh to Mogadishu and the Cape with Ian creating some mouth watering food using his own creativity. They even cure their own Biltong using Cornish beef. If you want to have a different dining experience, try Amanzi.

Cornwall Restaurants: 10 Places to eat in Cornwall
The Wild Cafe
And if The Herring wasn't enough, upstairs you can find The Wild Cafe. Here you can enjoy simple and contemporary food, grown and prepared locally, and driven by the seasons. This is also where hotel guests will have their breakfast, and we were lucky enough to get a window seat both mornings, so we could have our coffee and watch the surfers on the waves. The breakfasts at Wild Café is great, and although the buffet has limited choices, you can order other options from the specials menu on the wall. The specials menu includes options such as smoked salmon bagel or avocado with poached eggs. With a separate children's menu that changes daily, the hotel's aim is to cater to all ages and tastes, offering a family friendly, fine dining experience.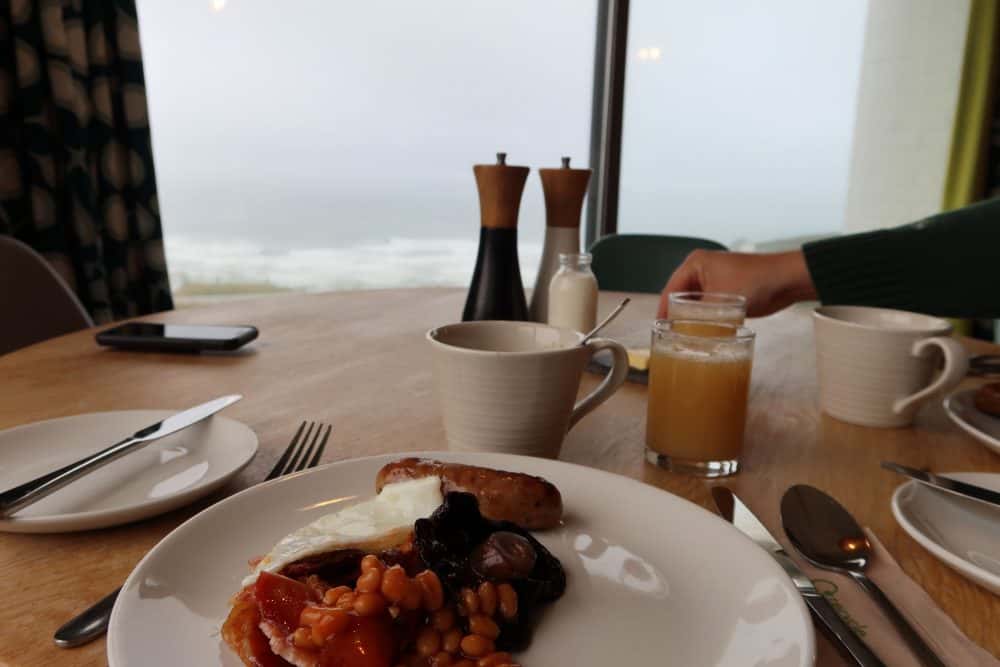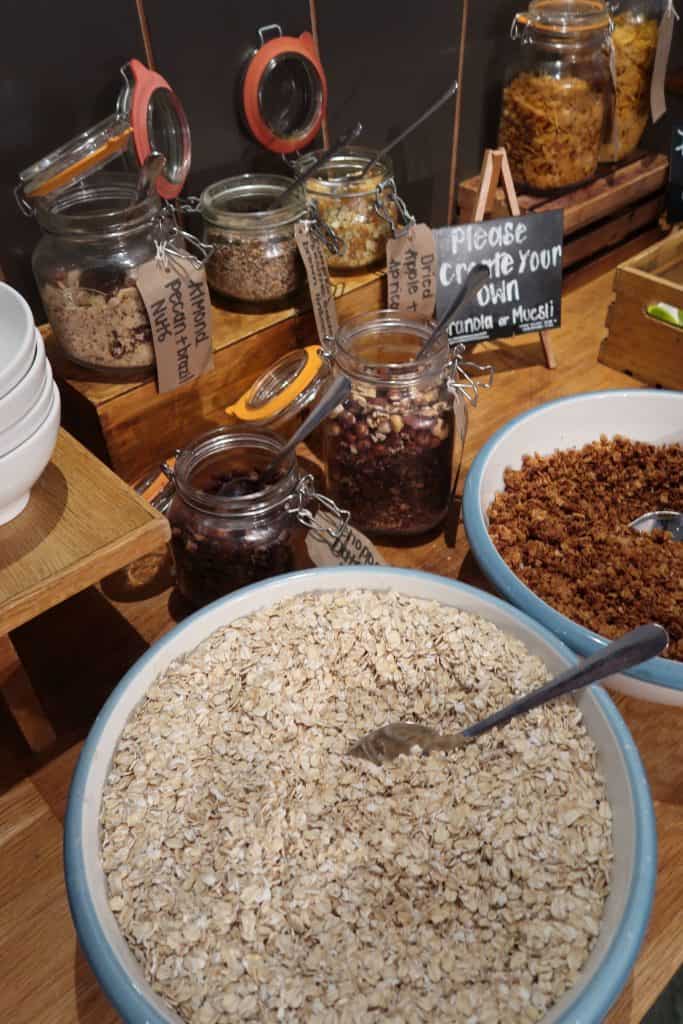 Other restaurants recommendations:
Are you looking for a great restaurant in Cornwall? Make sure you save this article: 10 Places to eat in Cornwall
Other posts that may help you:
The Best City Breaks for Couples
Beginner's Guide to Europe Interrail Routes
Copenhagen Chic at the Andersen Hotel
Best Vegan Restaurants in Malmo
Ultimate Guide to a Weekend Break in York
10 of the Best places to eat Brunch in London
The Best Weekend Trips in the UK
Sign up to AirBnB with this link and receive a £23 off your first booking.
To receive my articles and reviews straight to your inbox SUBSCRIBE HERE.
Did you know I also vlog my trips? Make sure you subscribe to my YouTube channel so you get alerted when all my travel videos goes live… CHECK THEM OUT HERE
Thank you for reading and as always happy adventuring!
If you've enjoyed this post, please share it for me with all your friends and family!
Sophie X