There is so much you can do for 4 days in Iceland, including exploring the south of the island, the Golden Circle and capital city of Iceland Reykjavik.
In order to help you guys with planning your own 4 days in Iceland (after I spent hours and hours researching the best places to go and where to stop) I decided to throw together another of my '4 days in' destination guides, but this time it was for the amazing country of Iceland.
For our trip to Iceland, we rented a car from car hire company Geysir, which was located at Keflavik airport. I would highly recommend hiring a car for your 4 days in Iceland as it gives you much more flexibility and freedom when exploring this island. And will also enable you to explore much more during your trip.
I spent four days in Iceland so check out my other guides to visiting Iceland here.
4 Days in Iceland Itinerary
How to get to Iceland
Iceland has exploded over the past decade with more tourists than ever heading north to the wonderful wintery island that is Iceland.
Within the space of a few years, and a great PR campaign behind it, Iceland went from being a tiny, unknown island in the Arctic that only adventurous travellers would visit, to an extremely popular tourist destination that's on everyone's bucket lists today.
And unless you've been living under a rock, you would have seen pictures of Iceland all over social media and travel blogs inspiring you to check out this winter wonderland once and for all.
Always one to be sceptical, I was sure there was a catch, that the flights couldn't be as inexpensive as they advertised or, if they were, surely they wouldn't be at all comfortable. But I was wrong… from booking to check-in, to gate departures to in-flight service, the whole experience was brilliant. And much better in fact than a lot of airlines I have flown on in the past year!
Read my full review here.
When to go to Iceland
The best time to visit Iceland is any time of year, depending on what you're after from the trip. A lot of people say the best time to spent 4 days in Iceland is in the summer. The midnight sun and warmer temperatures make summer the best season in terms of accessibility and weather, however, if you want to see more wildlife and the Northern Lights head to Iceland in Winter, so November through to April.
We went in April and I loved going on our 4 days in Iceland at this time of year as it was in the middle of the seasons.
The weather was good, yet there was still a chill in the air, yet we also got to see whales and snow-topped mountains.
4 Days in Iceland Itinerary
Iceland Weather
Weather in Iceland in January – max. 2 to -2 min.
Weather in Iceland in February – max. 3 to -2 min.
Weather in Iceland in March – max. 3 to -1 min.
Weather in Iceland in April – max. 6 to 1 min.
Weather in Iceland in May- max. 9 to 4 min.
Weather in Iceland in June – max. 12 to 8 min.
Weather in Iceland in July – max. 14 to 9 min.
Weather in Iceland in August – max. 13 to 8 min.
Weather in Iceland in September – max. 10 to 6 min.
Weather in Iceland in October – max. 7 to 2 min.
Weather in Iceland in November – max. 4 to 1 min.
Weather in Iceland in December – max. 2 to – 1 min.
Where to stay in Iceland
When you think of Iceland, you think small towns, hot springs and beautiful scenery. This hotel was a perfect place to stay for all of this, during our 4 Days in Iceland Itinerary. Just 45 minutes outside of Reykjavik is the Frost and Fire hotel situated in the small town of Hveragerdi. This place is perfect if you have rented a car and you're in need of some rest & relaxation.
When we flew into Keflavik, we picked up our car and drove into Reykjavik for some exploring. There are so many free things to do in Reykjavik!
Then we drove the super easy drive to the hotel and took in the amazing views along the way. As we approached Hveragerdi, we commented on how great the town looked amongst the mountains and thought the town had lots to offer for its size.
There are restaurants, cafes, a supermarket, a petrol station and endless mountains. We found the hotel was in a great location, and much better than staying in the city. It meant we had a really accessible base for our four days.
It was easy to get back into the city, we joined the south Iceland road trip easily, and you can also jump straight on to the Golden Circle route in only 15 minutes. The location was great, but it wasn't the best thing about this place… 100% recommended for a 4 Days in Iceland Itinerary.
Read my full review here.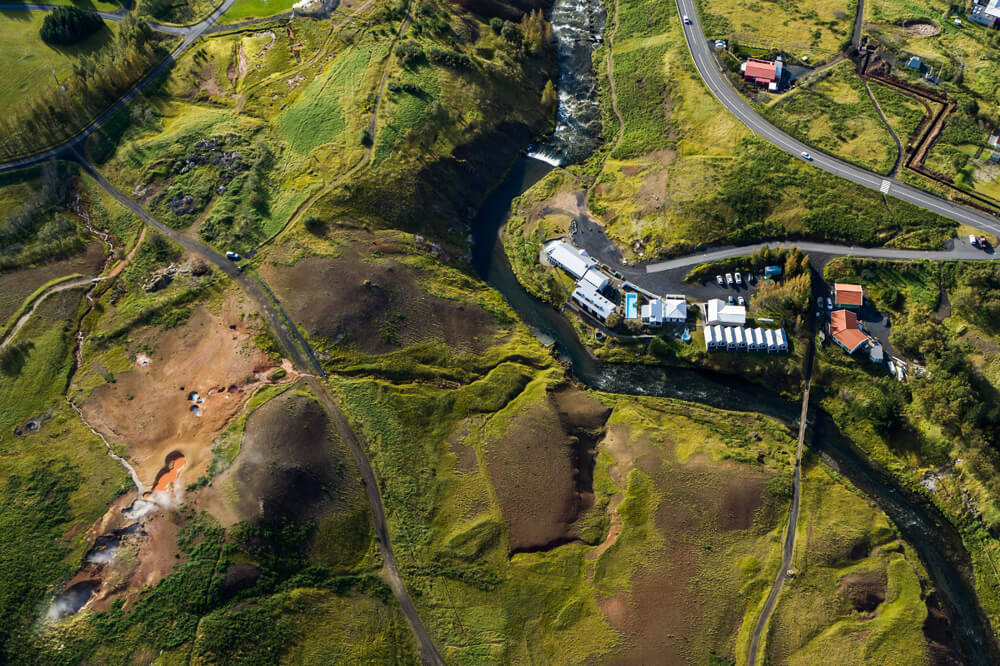 4 Days in Iceland Itinerary
16+ Things to do in Iceland
1. Whales with Elding
On our second day in Iceland, we headed back into the city for 9 am to head out on a boat trip with Elding.
We headed out on their classic Whale Watching tour which took 3-4 hours from the harbour. The tour commences at the ticket office in the Old Harbour in downtown Reykjavik where you jump on board a converted fishing vessel permanently placed by the pier, which is where you will meet our crew for the day.
Once onboard the tour boat there are several outdoor viewing platforms, a large indoor saloon with an onboard café where you can buy light refreshments, basic bathroom facilities and a cloakroom where you can borrow one of our blankets or overalls on colder days.
You can either stay outside in the fresh air but you are also welcome to stay inside the heated lounge and observe the views from within, through our large panoramic windows. We grabbed a table on the upper deck (inside) whilst also popping outside throughout the journey when the wind got a bit too much!
Whilst on the tour we managed to see some dolphins and the best bit…. a Minke whale! They are the most abundant, along with White-beaked dolphins, Harbour porpoises and the occasional Humpback whales. Despite not seeing a humpback we were pretty happy with our trip and before long the boat headed back to the harbour.
Prices are adults: 10990 ISK (£77), children (7-15 years ): 5495 ISK (£35), children (0-6 years): 0 ISK.
2. The Blue Lagoon
I go into this further in another blog post, but I couldn't leave it out of this must-see list either. When me and Katie headed to Iceland last month, we couldn't bypass the famous Blue Lagoon geothermal spa, one of the most visited attractions in Iceland, and it's not hard to see why.
The Blue Lagoon is simply a large lake that has the perfect temperature to bathe in, on average it's 39°C/102°F. It's supposedly great for your skin, offering soothing waters and rich skin nourishment.
The lagoon's warm geothermal water and natural active ingredients; mineral salts, silica and blue-green algae help you relax and unwind while the lagoon's distinctive white silica mud gently cleanses and exfoliates the skin. Read my full post on The Blue Lagoon here.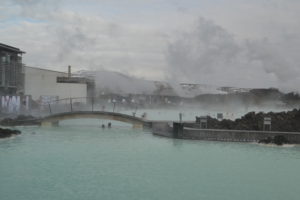 3. Reykjavik
For your 4 Days in Iceland Itinerary don't be misled by your airport booking, your plane will actually land at Keflavik and then you'll need to travel 45 minutes to the city from there. Reykjavik, on the coast of Iceland, is the country's capital and largest city. It's home to the National and Saga museums, tracing Iceland's Viking history and much, much more.
We only got to spend a few hours here, and wish we'd had more time! We had lunch at Kaffivagninn, Iceland's oldest restaurant located in the harbour and visited the Whale Museum, as well as the striking concrete Hallgrimskirkja church. Here are some other budget-friendly things to do in Reykjavik.
4. Urriðafoss
Whether you're coming from our hotel or Reykjavik, you will begin your journey, coming across a lesser-known waterfall close to our hotel called Urriðafoss. As our hotel was super close we arrived around 9am and there was no one else around. It was stunning to watch the waterfall from the river down to the south.
We wandered here for a while, despite it being super windy and about 5 degrees that morning at 9am. The sheer power of this waterfall was felt some 1km away when we could still feel the water droplets landing on our faces. A must-visit place to add to your road trip adventure.
5. Seljalandsfoss
Next up for your 4 Days in Iceland Itinerary is Seljalandsfoss, the second most famous waterfall after Skogafoss. A unique waterfall in the river Seljalandsá, about 30 km west from Skógar which is 60 meters high with a footpath behind it at the bottom of the cliff.
It is the only known waterfall of its kind, where it is possible to walk behind it, but be aware the path may be shut due to ice. Even in April when the weather was warming up, the footpath was closed. The waterfall is very picturesque and offers an opportunity for some amazing photos. Plus it's right by the road so no detours taking you on a wild goose chase…
Note: You have to pay for parking at the car park Seljalandsfoss and the machine only accept credit cards.
6. Skógafoss
After you've finished at Seljalandsfoss, not far along the road is Skógafoss. You must have been living under a rock for the last decade if you didn't know about Skógafoss waterfall. The pictures are everywhere!
Situated on the Skógá River in the south of Iceland at the cliffs of the former coastline, Skógafoss is my all-time favourite waterfall from the trip, simply because you could really see it's power as it fell from the 60-metre drop.
Skógafoss is one of the biggest waterfalls in Iceland, with a drop of 60 meters and a width of 25 meters, and you can walk right up to, but be prepared to be drenched, as we did. And if you can try head there early in the day so you miss the buses arriving!
We got there about 40 mins before everyone else arrived so managed to get some incredible photos! It is just overwhelming standing next to it – take your time to watch this immense natural wonder.
7. Solheimajokull Glacier
Then after an hour, you'll pass by Solheimajokull Glacier on your left. Now, I am biased here because we didn't do a tour at Solheimajokull Glacier, but I've heard they're great, despite being expensive. Instead, we stopped off on our road trip of the south of the island and parked up.
We chucked on our hiking boots and went for a 15-minute walk up to the edge of the glacier, where you can see it in all its glory falling from the mountains, as it falls into the glacial lagoon. Don't attempt to climb onto the glacier unguided as it is very dangerous.
Sólheimajökull is a glacier in southern Iceland, between the volcanoes Katla and Eijafjallajökkull. Solheimajokull glacier is an approximately 11-km-long outlet glacier, which advances from Myrdalsjokull glacier, down a one to two km wide valley.
The glacier falls from a height of about 1,300 m down to 100 m and, because of the location and shape of the glacier, it is sensitive to climate change. If the climate continues to warm, there is a possibility that the glaciers will have virtually disappeared in 100 to 200 years.
8. Sólheimasandur Plane Crash
For your 4 Days in Iceland Itinerary, literally across the road, you've got Sólheimasandur Plane Wreck. I'm sure you've seen photos before… every Instagrammer and their family has visited this wreck on the south coast. It's twisted wreckage from an old aeroplane crash on Sólheimasandur black sand beach.
If you don't know where to look, it can be a difficult place to discover on your own, as it can't be seen from the road and is actually around 45-60 minutes walk from the car park on the right-hand side of the road.
On Saturday, Nov 24, 1973, a United States Navy Douglas Super DC-3 aeroplane was forced to land on Sólheimasandur's black sand beach in the south of Iceland after experiencing some severe icing. Luckily all crew members survived the crash, but the aeroplane's fuselage was abandoned.
The wings & tail are missing, it's full of holes, and the crumbling fuselage is covered with wind-blown black sand. Now it's become a photography dream location! Even Bieber filmed part of his latest music video skateboarding on top of the plane.
I have mixed opinions on whether this stop is worth it as its a super long walk, and it nearly killed me, but it is cool. So you decide, if you want a lengthy walk, do it. If you'd rather do something else, give it a miss!
9. Black Sand Beach (Reynisfjara)
Next up, ranked one of the 10 most beautiful non-tropical beaches in the world in 1991, Black Sand Beach is beautiful. The lava beach of Reynisfjara is stunning and possibly one of the coolest beaches in the world with its black sand, insane basalt columns, lava formations, towering cliffs, gaping rock faces and caves galore.
Reynisfjara is found around 180 km from Iceland's capital city, Reykjavik, and is a popular stop-off for those taking a sightseeing tour along South Coast. It was super busy when we arrived at around 2pm as the buses were there too, so pick a spot and grab a view of this amazing sight. A must-visit for your 4 Days in Iceland Itinerary.
10. Puffins at Dyrhólaey
Then around the corner of the bay, you've got Dyrhólaey, a small peninsula on the south coast of Iceland. The whole place is stunning with massive cliffs, volcanic arch, lighthouse and views of the coastline.
You can see puffins in the summer in Dyrhólaey so head here if you're after a glimpse of one of Iceland's most famous animals. The best experience is to leave your car in the parking lot at the bottom of the hill and go for a walk. You can also see Black Sand Beach from here and the basalt columns.
11. Hveragerði Hot Springs
We actually stayed close to here so we didn't go too far away from the hotel as we had our own hot springs in the hotel grounds, but we did go for a wander up to the top of the hills near Frost & Fire.
The Hveragerdi hot spring river trail is one of the most visited hiking trails in Iceland. The trail leads from the town of Hveragerdi to a geothermal river where you can bathe in warm water while admiring the astonishing Icelandic landscape.
The name of the valley, Reykjadalur, means Steam Valley and is filled with hot springs and mud pools, and there is even a hot river in which one can bathe! One to add to the list for your 4 Days in Iceland.
4 Days in Iceland Itinerary
The Golden Circle
12. Gullfoss
Gullfoss, another famous waterfall, is located in the canyon of Hvítá river in southwest Iceland. Gullfoss is one of the most popular tourist attractions in Iceland with millions visiting this expansive waterfall each year.
The wide Hvítá river rushes southward, and about a kilometre above the falls it turns sharply to the right and flows down into a wide curved three-step "staircase" and then abruptly plunges in two stages (11 metres or 36 feet, and 21 metres or 69 feet) into a crevice 32 metres (105 ft) deep.
Together with Þingvellir and the geysers of Haukadalur, Gullfoss forms part of the Golden Circle, a popular day excursion for tourists in Iceland. A must-visit on your four days in Iceland.
13. Geysir Hot Spring Area
Don't be fooled by the Instagram photos, the great Geysir is not the only geyser in the Geysir hot spring area.
The most active geyser in the area is called Strokkur as it sprouts hot water as high as 30 meters into the air every few minutes or so, but the area as a whole is pretty cool, with small spring rivers running down the valley, smaller pools with bubbling brooks and an array of natural phenomena for you to see.
I would try and miss the crowds by visiting the early morning or late afternoon as it gets busy.
14. Kerið Crater
Kerið is a volcanic crater lake in Grímsnes, South Iceland, and is a great addition along Iceland's world-famous Golden Circle route. Kerið is normally visited as an extra, and we hadn't planned originally on stopping here, in addition to the famous Thingvellir National Park, Haukadalur Geothermal Valley and Gullfoss waterfall.
Kerið is a striking volcanic crater lake filled with milky blue-green water amid stark black and deep red slopes. Once believed to be an explosion crater formed 3,000 years ago, and last had a volcanic eruption more than 6,000 years ago. Kerid is 55 meters deep.
There is a path lining the rim for visitors to walk around and view the red and black slopes contrasting with the striking aquamarine water contributing to the otherworldly landscape. We visited here early morning around 9am and it was super quiet, only us and another couple here walking. A great end to your four days in Iceland….
15. Laugarvatn Fontana
An alternative version to The Blue Lagoon, if you're not bothered or you've done it before, is Laugarvatn Fontana. Here you can soak in the warm geothermal pools and get energized in the natural steam rooms, with the hot spring bubbling right below you.
Laugarvatn Fontana is located only one hour drive from Reykjavik, in the middle of the Golden Circle, on the black beach of beautiful Laugarvatn Lake.
16. Þingvellir National Park
Thingvellir is a favourite stop among travellers along the Golden Circle route and has been one of Iceland's most popular National Parks since 1930. It has also been named a World Heritage site by UNESCO in 2004.
It is said that Viking settlers arrived in the 10th century it was the site they chose as the meeting place of Althing. The Alþingi is the oldest surviving parliament in the world.
The park lies in a rift valley that marks the crest of the Mid-Atlantic Ridge and the boundary between the North American tectonic plate and the Eurasian. To its south lies Þingvallavatn, the largest natural lake in Iceland.
This is where tours for 'Diving in Silfra' take place. Diving is permitted in two submerged rifts in the National Park, Silfra and Davíðsgjá. Silfra is one of the best spots for diving in Iceland and many people find the rift unique on an international scale. ADD THIS PLACE TO YOUR FOUR DAY ICELAND ITINERARY!!!
Fancy something a little different? Why not try Ice-Climbing in Iceland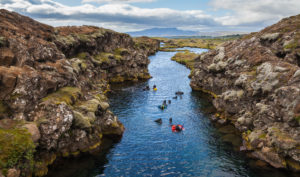 If you're planning your own 4 days in Iceland, feel free to ask me any questions by tweeting me @sophiessuitcse or use the Google Map I created for our trip here. I loved visiting this magical country and can't wait to come back!
Renting a Car in Iceland
As I mentioned at the start of this Iceland itinerary, hiring a car is a must-do for any trip to Iceland. I hired a car through Geysir and loved using them!
We loved the process and would highly recommend going with these guys. We arrived at Keflavik airport at 2 pm, jumped on a shuttle bus which took us 200m down the road, where we then checked in and picked up our keys. It was a really smooth process and we were on the road within 30 minutes.
The pick up was easy and simple; we added an extra driver so we could take turns and opted for their Insurance Bundle to protect us against the always changing weather and wind. We were given our Toyota Yaris which was great, with more than enough room, and was super easy to drive.
Recommended Iceland Road Trip Itineraries
South Iceland Road Trip – Reykjavik to Vik
Eastern Iceland Road Trip – Vik To Hofn
The Golden Circle – Return from Reykjavik
Here are some top tips…
Check and then check again that you have the right insurance cover that you need
Take a GPS navigation system or a phone which is good enough to guide you through Iceland
Take a Marco Polo Travel Guide as a backup map just in case…
Wind damage is not covered a lot of the time so be careful or add it on
Check weather conditions in Iceland as they can change in seconds, so if you are not a confident driver then you may need to rethink hiring a car
Going 'off-road' or onto gravel is not covered a lot of the time either but there are car parks that are all gravel. Check you are covered in car parks or get better cover…
The underneath and chassis are not covered by insurance if you damage the car
You must always have your lights on!
If you hit an animal and damage the car this is not covered either
With our hire company, we got a card that gave us a discount at some stations
---
My Travel Tips and Recommendations
Flights
To book flights, I always use flight search engine, Skyscanner, I regularly use the Everywhere tool to find the cheapest places to travel. It's how I get to travel so much all around the world. I find it the easiest way to compare flight prices across airlines and get the best deals.
Accommodation
For accommodation, I usually book most of my hotels or hostels through Booking.com. I love using this platform as it provides me with some amazing deals for accommodation all around the world. Or if you prefer, I also recommend using Airbnb. If you haven't signed up with Airbnb already, you can use this link to get £25 off your first visit!
Photography and Technology
Here is a list of the technology I always travel with:
To receive my articles and reviews straight to your inbox SUBSCRIBE HERE.
Did you know I also vlog my trips? Make sure you subscribe to my YouTube channel so you get alerted when all my travel videos goes live… CHECK THEM OUT HERE
Thank you for reading and as always happy adventuring! If you have any questions about the destination please leave these in the comments below.
If you've enjoyed this post, please share it for me with all your friends and family!
Sophie X