Last weekend me, Theo and Arabella jumped in the car early doors and drove down to Brighton for the weekend, and my we picked a corker of a weekend to visit. The sun was out, it was around 26 degrees and we even managed a quick dip in the sea!
We headed down to Brighton for a relaxed weekend to explore one of my favourite cities, spend time outdoors and head to the outdoor cinema on the beach with Ibis hotels. We picked our film for the Sunday, and opted for Beauty and the Beast (the new one!).
We starred out to the sea, wondering why we don't live anywhere near to the sea back at home, in awe of it's beauty and calming atmosphere. And if you need ideas of things to do during a trip to Brighton I love this list of quirky things to do in Brighton.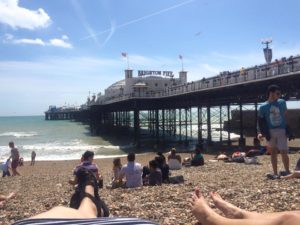 Then we headed on down the beach, taking a stroll down the Brighton Pier. Arabella was in awe of all the slot machines, and we had a go on some of the slots, before Theo attempted to win a minion toy on the pick up machines, like in Toy Story. Brighton Pier is amazing, with lots of do, places to eat and such a wonderful British tradition. There were lots of tourists but you've got to expect that in mid-summer on a scorcher of a day.
After we'd spent all of Arabella's pocket money in the arcades we headed across to Brighton Royal Pavilion for a wander around the garden, and that famous shot out the back of the building. The building is beautiful, and you can see why 1000's flock to see it's incredible architecture every year.
We then headed back to the room, before heading out for dinner at the The Coal Shed where we dined on steak, prosecco and squash for the little one. After a busy day of driving and walking around Brighton we headed back to our room for a good night's sleep.
As Sunday rolled around, we had a slow morning, having breakfast downstairs before checking out and dumping our bags in the car. Once we'd done this, we headed towards The Lanes to check out an array of boutique shops, and cute cafes. We stopped off at Choccywoccydoodah and a few other shops selling cute homeware and clothes. My favourites included Pretty Eccentric and Little Beach Boutique.
We then headed back down to the sea front, and kicked off our sandals to dip our toes into the water. Arabella even stripped down to her swimming costume and jumped right in. Brave – as the water was NOT warm!
After spending more time getting dry, than in the water, we then headed over to the Brighton's Big Screen. Ibis had teamed up with Brighton's Big Screen, to offer cinema goers the ultimate outdoor cinema experience on their VIP sweet beds. You get the best seat in the house within the VIP tent, where you can sit back, relax and we delivered popcorn, drinks and hot food.

It was such a great way to watch a film, and you really did feel like a VIP! Once the film had finished we decided to head back home, feeling relaxed and having had such a fun 48 hours.
---
My Travel Tips and Recommendations
Flights
To book flights, I always use flight search engine, Skyscanner, I regularly use the Everywhere tool to find the cheapest places to travel. It's how I get to travel so much all around the world. I find it the easiest way to compare flight prices across airlines and get the best deals.
Accommodation
For accommodation, I usually book most of my hotels or hostels through Booking.com. I love using this platform as it provides me with some amazing deals for accommodation all around the world. Or if you prefer, I also recommend using Airbnb. If you haven't signed up with Airbnb already, you can use this link to get £25 off your first visit!
Photography and Technology
Here is a list of the technology I always travel with:
Travel Insurance
Picking travel insurance that covers you in all eventualities is an essential part of planning a trip for every single person. If you can't afford travel insurance, you can't afford to travel. You never know what's around the corner. World Nomads is an affordable option that I personally recommend. BOOK HERE
Other posts that may help you:
Ultimate Guide to a Weekend Break in York
10 of the Best places to eat Brunch in London
The Best Weekend Trips in the UK
Ultimate Guide to Columbia Road Flower Market London
Log cabins with hot tubs in the UK
Sign up to AirBnB with this link and receive a £23 off your first booking.
To receive my articles and reviews straight to your inbox SUBSCRIBE HERE.
Did you know I also vlog my trips? Make sure you subscribe to my YouTube channel so you get alerted when all my travel videos goes live… CHECK THEM OUT HERE
Thank you for reading and as always happy adventuring! If you have any questions about the destination please leave these in the comments below.
If you've enjoyed this post, please share it for me with all your friends and family!
Sophie X