One of my favourite types of holiday involves both the mountains and snow. So when I was invited on a press trip to The Alps for a weekend break skiing in Méribel with Ski Total, I jumped at the chance. I love the mountain air, the adrenaline, and the crisp white snow beneath your feet. The Alps are also the best place for skiing with your family, and some of the best ski resorts in France for me include Meribel, as well as La Plagne!
The ski resort needs of families naturally varies according to children's ages and family ability, but it makes life easier, especially when ski school is involved, to stay in a compact, car-free place with slopes on the doorstep or close by. So come on then, let's discover the best ski resorts for families!

Best Ski Resorts in Europe for Families
Méribel, France
If you didn't know already Méribel is a ski resort in the Tarentaise Valley in the French Alps, situated near the town of Moûtiers. Méribel refers to three neighbouring villages in the Les Allues commune of the Savoie department of France, near the town of Moûtiers, called Méribel Centre, Méribel-Mottaret and Méribel Village. However all three areas are now basically one massive winter ski destination providing millions of holidays for families over the year. Skiing in Méribelis iconic!
There are plenty of reasons to love Méribel, not least for its pretty, chalet-style architecture, wooded surroundings and friendly, village atmosphere. But the prime reason is its central position within France's huge Trois Vallées ski area – it's the biggest collective ski area in the world with over 600km of piste. The ski area includes resorts Courchevel and La Tania, and to the west, Val Thorens. By combining all three of these resorts it makes it the perfect place to head on your ski holiday this year.
Access to Méribel's neighbouring resorts is amazing with both ski lifts and the new Saulire Express gondola which whisks up to 2,400 people an hour from the centre to the Saulire peak at 2,700m and takes only 12 minutes to get there! This is a must-do if you are in the area as the views are breathtaking! The combination of extensive slopes, superb location and attractive chalets dotted up the mountains, makes Méribel one of Europe's best places for a ski trip!
Where to stay in Méribel
Chalet Hotel Alba is in a prime location situated just above the heart of Méribel's resort centre. It's right on the edge of the slopes and with the main Doron piste just 20 metres across the street, and a ski bridge to bring you back to the ski room door, the setting is every skier's dream. The hotel, which is in the style of the traditional Meribel chalet overlooks famous Rond Point and has direct access on to the slopes. Chalet Hotel Alba has a lounge and bar area downstairs next to reception, with a restaurant to the right. In the lounge there are lots of places to relax, and my favourite was in front of the open fire! To complete the whole package, there's a wellness area on the lower ground floor, exclusive to guests, with a sauna, steam room and hot tub, giving you a perfect place to unwind after a day on the slopes and ease those muscles!
Best Ski Resorts in Europe for Families
Val Thorens, France
Val Thorens is probably the best ski resort in Europe and part of the "Les 3 Vallées" which offers more than 600 km of slopes and more than 140 lifts and one of the largest ski areas in the world. Val Thorens has all the ingredients for an ideal ski resort: it is perfect for all levels, from beginners to advanced professionals, it also offers accommodation ranging from small, affordable apartments to superb hotels like the Pashmina le Refuge probably one of the best ski resort hotels in Europe. This hotel offers direct access to the slopes, a superb wellness centre and a very good restaurant. I will be heading here on my next ski trip!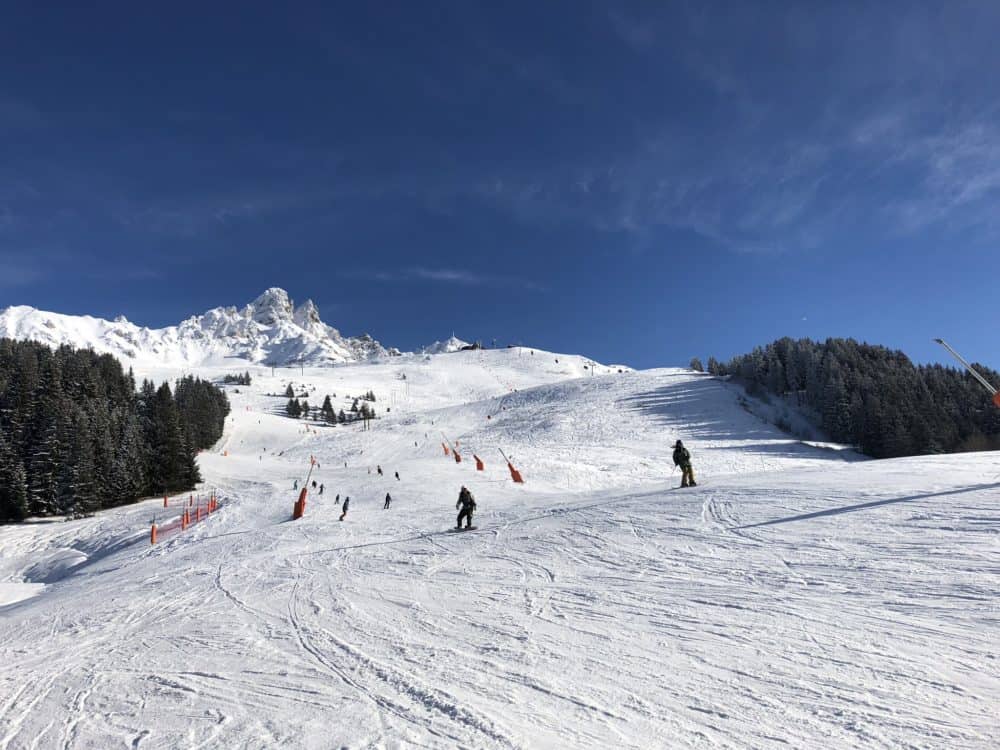 Best Ski Resorts in Europe for Families
Åre, Sweden
Sweden is one of my favourite countries in the world. And we went skiing at Isaberg however I've heard great things about Åre in Sweden. It is the country's biggest downhill resort, with three separate ski areas strung out beside a frozen lake, and a ski season that goes on well into April thanks to the long hours of sunlight and warmer temperatures later in the season. It's popular with families who love the off‑slope activities including dog or reindeer sled rides, tobogganing, snowmobiling, skating, curling and ice fishing. Åre's slopes suit beginners and intermediates – most of the runs are green and blue, set among trees on the lower part of the mountain.
Best Ski Resorts in Europe for Families
Montgenèvre, France
Montgenèvre is a small village sitting on a high east-west pass only 2km from the Italian border. And its a smaller version of the larger ski resorts across France, so it's fairly quiet and great for beginners. The village is set on the sunny slope above the main street looking over the nursery slopes at the foot of the north-facing slopes of Les Gondrans. Montgenèvre is a historic and one of the oldest ski resorts in France and more than 400 kilometres of slopes are here. This enthusiasm for Montgenèvre is probably due to the many activities for children, the quality of its ski school but also the very affordable prices.
Best Ski Resorts in Europe for Families
Mayrhofen-Ahorn, Austria
A firm favourite with families and children is Mayrhofen in Austria. Its a favourite because of its quality 130 km of slopes and many places to keep the kids busy including ski school, Eagle's stage with birds of prey shows, adventurous escapades along Ahorn Sinnespfad Trail and lots more. There's also the Fun-Zone Mayrhofen, a recreation park for young and old with indoor and outdoor pools. Make sure you add this place to your list of places to stay!
Best Ski Resorts in Europe for Families
Les Gets, France
Les Gets is the perfect resort for beginners, with its village-based nursery slopes, pedestrian-friendly centre and road train shuttle between the main slopes and separate Mont Chery ski area. The giant Portes du Soleil ski area makes an ideal base for families. There are hundreds of groomed runs, 286 to be exact. And there are also many child-friendly activities in the village include skating, farm tours and tenpin bowling.
Ski Total (www.skitotal.com / 01483 791 935) is offering seven nights at the four-diamond plus Chalet Hotel Alba in Méribel, France from £721 per person. Price includes flights, resort transfers and chalet catered accommodation with wine. For more information on visiting Méribel, go to www.meribel.net and to book lessons or guides, go to www.esf-meribel.com.
*I was invited to Meribel as part of a press trip, however all opinions are my own, as always!