Travel to Morocco feels like you are in another world of colors, smells and tastes, and reminds me so much of the story of Aladdin. As you wander the markets of Marrakech or journey into the Sahara, it feels like you are traveling back through time and it's something amazing to be seen. Morocco is extremely budget-friendly so you can splurge out on five star hotels, the most amazing restaurants in Marrakech or go for a spa day.
Marrakech has been on my must-visit list for years and finally last month I visited the beautiful Morocco. I spent two days exploring Marrakech and two days in the Atlas Mountains at the mountain retreat Kasbah Toubkal. I had looked at visiting last summer but was told the temperatures where high above 38 degrees throughout the summer, so instead I decided to head over to Morocco this May just before the heat sets in. Here is my guide to Morocco:
As I arrived in Morocco I was blown away by the bustling city of Marrakech. It was a sensory overload from the moment we stepped out of the taxi in to the colourful and chaotic street.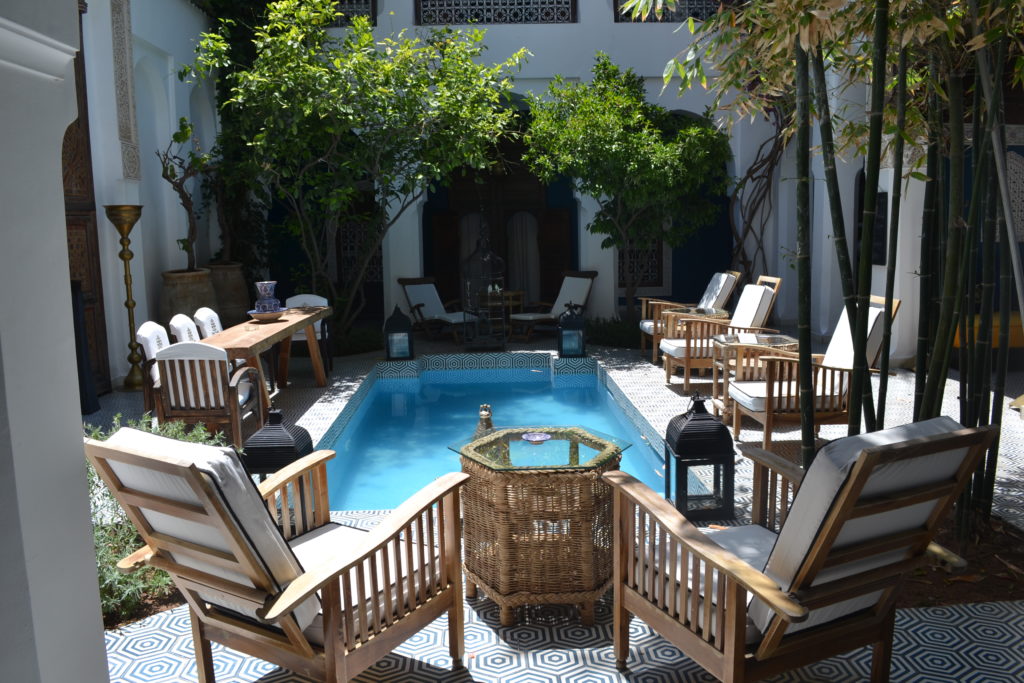 How to get there
You can fly to Marrakech from £150 return in peak season. I flew from London Luton in the morning and arrived at 10.30, it was only a four hour flight but it felt like another world. I flew with EasyJet but I think Ryan Air and British Airways etc. also fly there. I tend to use Skyscanner to find the best deals for flights, or one of the other flight comparison websites.
When to go
The country is at its most beautiful in spring (mid-March to May) when the landscape is green and lush, making for spectacular mountain hiking. Morocco is also lovely in Autumn (September to October) when temperatures are very pleasant.
Where to stay
I stayed at the beautiful Riad Les Yeux Bleus, located within the old town medina. It was down a few windy streets, and round the corner at the end of a lane there was a door. Once you go through the door it is like going through the wardrobe in the Lion, Witch and the Wardrobe. I felt so relaxed here and we were made to feel very welcome. The whole hotel focused around a beautiful courtyard with a small pool. Head to the roof terrace for breakfast and dinner with a view.
Then I stayed at the mountain lodge Kasbah Toubkal when we ventured in to the Atlas Mountains. This incredible lodge has been voted one of the best in the world, so it must be good. I would recommend this lodge as the perfect trekking accommodation, as well as for those seeking peace and calm.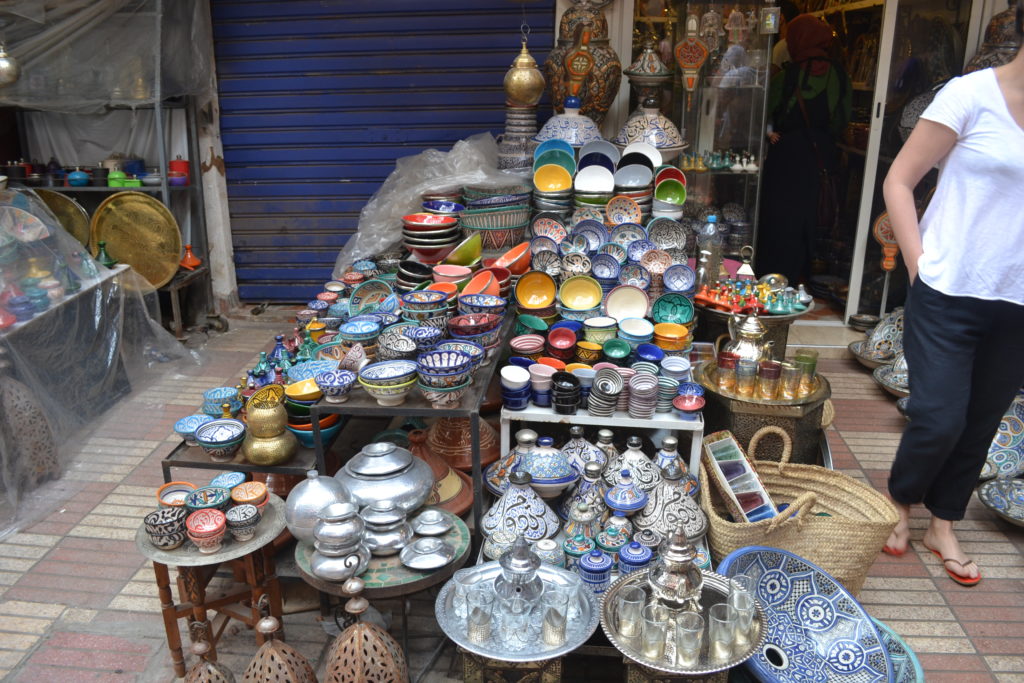 What to do
1.Acclimatise
Spend the first days getting used to your surroundings, the culture and the people. Marrakech and Morocco can be overwhelming for a lot of people, especially if you are British but if you explore a little on your first day, eat traditional food and read up on your hot spots for the next day you can then fully immerse yourself.
Take a visit to the Jardin Marjorelle, an exotic garden and beautiful oasis within the city. It covers 12 acres and was gifted to the city by Yves Saint Laurent many years ago. This is the perfect spot to acclimatise and get you ready for day two!
2.Explore Marrakech
Day two is all about exploring the medina and the old town. That means heading out in the medina and visiting the souks. Why not try your hand at haggling, grab a traditional Moroccan lunch or simply go for a wander around the 11th century UNESCO World Heritage Site. Don't worry about getting lost; you will make it out alive!
Then in the afternoon head to the city square Jamaa el Fna, as it comes to life in the late afternoon and evening. There are an array of market stalls selling things from juice, to coffee, and handbags to shoes. There are also magicians and snake charmers if you fancy getting out of your comfort zone.
3.Visit the Atlas Mountains
For a break from the hustle and bustle of the city take a day trip 40kms from Marrakech to the Atlas Mountains. It is easiest to book ahead and go on a tour, or like I did we had accommodation booked within the region so they picked us up from Marrakech, dropped us to our hotel and then returned us to the airport.
Most day tours include lunch and an activity of some kind, as well as visiting the local villages in the region. An overnight stay will include half board most likely, accommodation and the opportunity to go trekking.
4.Go trekking
There is an enormous range of pre-packaged treks and adventures you can take advantage of from both hotels and tour groups. The hotel I stayed at in Imlil offered an array of tours including day treks and also a two-day trek to the summit Toubkal. The highest peak in the Atlas Mountains which is 4,167m-tall, it is a trekking destination within Morocco's Toubkal National Park. The Atlas Mountains are dotted with Berber villages and riven with canyons and ravines.
What did you think to my Guide to Morocco? Let me know in the comments your top tips!
BOOK TRAVEL INSURANCE BEFORE YOU FLY

Picking travel insurance that covers you in all eventualities is an essential part of planning a trip for every single person. If you can't afford travel insurance, you can't afford to travel. You never know what's around the corner. World Nomads is an affordable option that I personally recommend.BOOK HERE
Other posts that may help you:
Festive Things to do in London at Christmas in December
Ultimate Guide to one week in Bali Itinerary
Visit Lisbon: 9 Day Trips from Lisbon
How to spend 5 days in Switzerland Itinerary: Basel, Zurich and Lucerne
Ultimate Guide to Honeymoon in The Maldives
Sign up to AirBnB with this link and receive a £23 off your first booking.
To receive my articles and reviews straight to your inbox SUBSCRIBE HERE.
Did you know I also vlog my trips? Make sure you subscribe to my YouTube channel so you get alerted when all my travel videos goes live… CHECK THEM OUT HERE
Thank you for reading and as always happy adventuring! If you have any questions about the destination please leave these in the comments below.
If you've enjoyed this post, please share it for me with all your friends and family!
Sophie X