One of the best places to visit in Sri Lanka is the iconic Galle Fort and the Galle Fort Lighthouse. Galle Fort is located in the Bay of Galle on the southwest coast of Sri Lanka and was built in 1588 by the Portuguese.
It was one of my favourite mornings, visiting the Galle Fort Sri Lanka.
In the 18th century, the Dutch build their headquarters, Galle Fort, on the Sri Lankan coast but in modern times, the old buildings have become a popular area with trendy shops, independent cafes and much more.
Top 10 things to do at Galle Fort
De Groote Kerk
Galle Lighthouse
Old Dutch Hospital
The Galle Clock Tower
National Maritime Archaeology Museum
Galle Fort – Flag Rock Bastion
All Saints church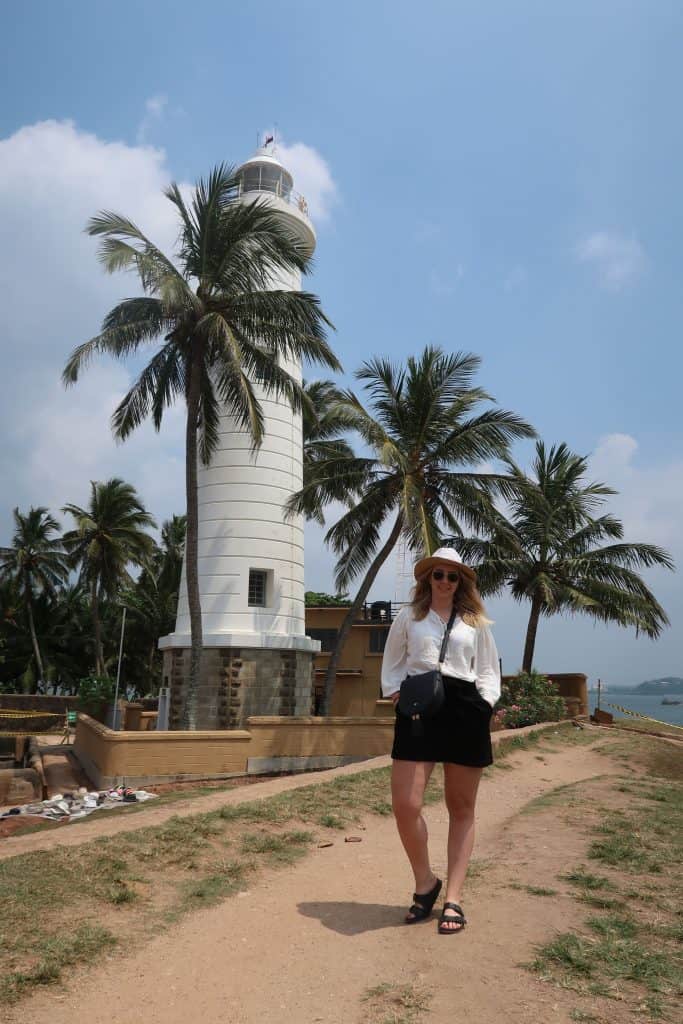 Exploring Galle Fort Sri Lanka
Top 10 things to do at Galle Fort
1. De Groote Kerk
The Groote Kerk or Dutch Reformed Church is located within the Galle fort in Galle, Sri Lanka and is situated near the entrance to the fort. The church was built by the Dutch in 1755 and is one of the oldest Protestant churches still in use in the country.
2. Galle Lighthouse
The Galle Lighthouse is an onshore Lighthouse in Galle, Sri Lanka and is operated and maintained by the Sri Lanka Ports Authority.
It is Sri Lanka's oldest light station and has become synonymous with a ray of hope for Sri Lanka after the fort saved thousands during the Boxing Day tsunami in 2004, which damaged part of coastal area Galle town.
The lighthouse is strategically located at the southern end of the promontory, built approximately 6 metres (20 ft) above the road level on the ramparts, at what is known as the Point Utrecht Bastion, giving it full view of any ships entering Galle Harbour.
3. Old Dutch Hospital
The Old Colombo Dutch Hospital is considered to be the oldest building in the Colombo Fort area dating back to the Dutch colonial era in Sri Lanka. It is now a heritage building and a shopping and dining precinct.
4. The Galle Clock Tower
The Galle Clock Tower is located within the Galle Fort in Galle, Sri Lanka. The Clock Tower is a popular landmark and overlooks the central Moon Bastion, on the site of the former guard room. The clock tower was constructed in 1883, paid for by the people of Galle. The tower is roughly four storeys high and is situated immediately inside the fort ramparts.
5. National Maritime Archaeology Museum
The National Maritime Museum in Galle, Sri Lanka is situated within Galle Fort. It was first opened to the public on 9 May 1992 and is located in a 1671 Dutch Warehouse above the Old Gate of Galle Fort.
6. Galle Fort – Flag Rock Bastion
Flag Rock was in the past a Portuguese Bastion and it is located in the southernmost end of the Galle Fort. It is a good place to see the sunset and is a popular place with visitors to look out to the ocean.
7. All Saints church
All Saints' Church is an Anglican church located within the Galle fort in Galle, Sri Lanka and is located on Church Road. Consecrated in 1871, the church is in a Victorian Gothic Revival style, in the historical Dutch fortress in Galle.
Best time to visit Galle Fort
We visited in February and it was a lovely time to visit Galle Fort. But anytime between January and April or October – November is best. You will hit the rainy season in the months between May and September.
Where to stay in Sri Lanka
In between planning things to do in Sri Lanka, you will also need to book some accommodation in Sri Lanka. The island is huge, so it's best to travel around from hotel to hotel during your trip, plan your itinerary first, and then look for hotels close by to those main hot spots.
Images from Pixabay or my own.
---
Tours of Sri Lanka
Explore tea plantations and rock fortresses on this 14-day tour, which is designed to please. This tour is about more than just beaches and stunning views; it's about the inspiring people you'll meet along the way. You will visit major cultural sights within Sri Lanka, including the most scenic train ride in the world from Kandy to Ella. All of the highlights, culture, access, and I-can't-believe-we-did-that moments, all at a great price. Includes expert guides, meals and transport.
Fancy a trip to the Maldives following your adventure in Sri Lanka? This is the tour for you! This 14-day combo trip brings together the best of Sri Lanka's cultural highlights and the once-in-a-lifetime opportunity to sail the islands of the Maldives aboard a dhoni boat. Experience a safari in Udawalawe National Park, discover cultural treasures of Negombo and Kandy, and then spend an entire week cruising from one tiny and perfect atoll island to another, snorkelling in crystal-clear waters and stretching out on blazing white-sand beaches. From culture to paradise, this tour's got it all.
Looking for more Sri Lanka travel tips? CLICK HERE!
---
My Travel Tips and Recommendations
Flights
To book flights, I always use flight search engine, Skyscanner, I regularly use the Everywhere tool to find the cheapest places to travel. It's how I get to travel so much all around the world. I find it the easiest way to compare flight prices across airlines and get the best deals.
Accommodation
For accommodation, I usually book most of my hotels or hostels through Booking.com. I love using this platform as it provides me with some amazing deals for accommodation all around the world. Or if you prefer, I also recommend using Airbnb. If you haven't signed up with Airbnb already, you can use this link to get £25 off your first visit!
Photography and Technology
Here is a list of the technology I always travel with:
Canon G7X Mark II

GoPro Hero Black 7

DJI Mavic Pro

RØDE VideoMic GO On Microphone
Travel Insurance
Picking travel insurance that covers you in all eventualities is an essential part of planning a trip for every single person. If you can't afford travel insurance, you can't afford to travel. You never know what's around the corner.
Sign up to AirBnB with this link and receive a £23 off your first booking.
To receive my articles and reviews straight to your inbox SUBSCRIBE HERE.
Did you know I also vlog my trips? Make sure you subscribe to my YouTube channel so you get alerted when all my travel videos goes live… CHECK THEM OUT HERE
Thank you for reading and as always happy adventuring! If you have any questions about the destination please leave these in the comments below.
If you've enjoyed this post, please share it for me with all your friends and family!
Sophie X