If you have booked a trip to the wonderful town of Kotor, you may already be thinking what are the best things to do in Kotor?
When Lonely Planet names their top destination for a year, you know that place is special. In 2016, they named Kotor in Montenegro as the place to visit. The whole world collectively asked "where?" and then the tourism came rushing in. As it turns out, there are some incredible things to do in Kotor, whether you have a weekend, 3 days, or longer.
If you're planning to visit, here's what you need to know. I'll share why Kotor is special, the best things to do in Kotor, and how to plan a Kotor weekend trip.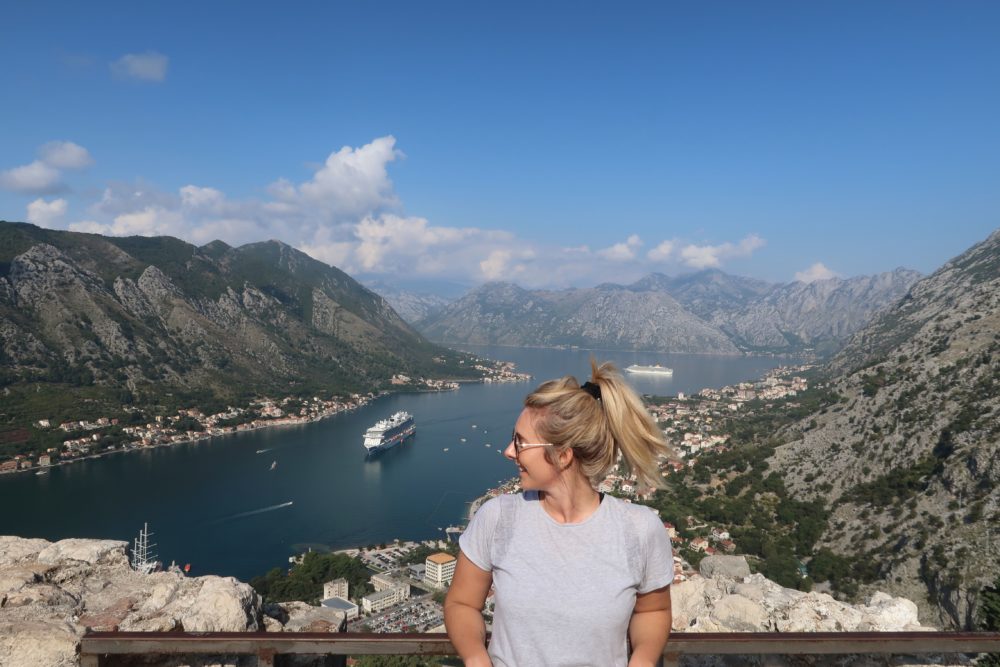 Why Visit Kotor, Montenegro
If you're not familiar with it, Kotor is an amazing destination for history and culture lovers.
The small town has only 13,000 residents – mostly spread along the shoreline of the Bay of Kotor. This ria (submerged river valley) is reminiscent of Norway, with towering mountains and a deep, healthy waterway.
Unsurprisingly, it draws hundreds of cruise ships to port each year and nearly a million tourists (based on my rough guess of the ship size) visit the town, usually for less than a day.
Best Things to Do in Kotor
Two days might not seem like enough time to see Kotor, but it's perfectly sufficient to hit most of the best sights. It's also far more than most cruise tourists spend (typically 4-8 hours in port). If my trip to Kotor taught me anything, it's a small town with plenty to explore. Two days is sufficient – but you'll want to stay longer or come back again!
I've written this as a weekend trip (Friday to Sunday), but you could easily adapt this for other days of the week. Here's how to spend 48 hours in Kotor.
Day 1: Arrive & Enjoy Dinner
There are two main ways to arrive in Kotor when you're not arriving by cruise ship. You can fly into a nearby airport (such as Dubrovnik or Tivat) from another European destination, or arrive by bus (again from Dubrovnik or perhaps Tirana, Albania). What I'm getting at is that to get to Kotor, you're going to have to travel a bit.
You can also visit Kotor by bus from Dubrovnik. Bus timetables and tickets can be booked through GetByBus. The bus ride is approximately ~2.5 hours from Dubrovnik to Kotor, and tickets start at €15.
After arriving, make your way to your accommodation for the duration of your trip. Need some tips?

Evening – Al Fresco Dining in Kotor
Once you're settled into your accommodations, strike out for dinner. This first evening, enjoy your dinner within the Old Town. Here are some good options:
Cesarica

– This was the #1 restaurant from my Airbnb host Janko, and it was a top-notch recommendation. I enjoyed a cheese plate with champagne, followed by a cheesy risotto and a fresh tuna steak. Seriously, five stars.

Luna Rossa

– A cosy casual spot with delicious food and plenty of options. The cheese, meat, and olive appetizer

look

amazing.

Old Winery

– A place we missed but were eager to try. As the name suggests, your experience is wine-centric with food options to back it up.
A note on addresses: I haven't included any, as all of Old Town Kotor is numbered – each and every address is a number, and you just ask which number and which way to go to find it. The concept of street names is a little unnecessary in such a small town.

Day 2: Sampling, Sightseeing & Sailing
It's interesting waking up in a town where you can't see the sunrise or sunset very well, but Kotor is such a town. Instead of rising early to catch a view of the sun coming up, sleep in and rouse yourself for breakfast.
Morning – Leisurely Breakfast
There are two breakfast options:
Head to one of the hotels and buy the breakfast buffet for a fixed price. I ate breakfast at the

Hotel Vardar

one morning, looking out over the main square of the Old Town. It was a conglomeration of fruits, cheeses, sausages (sliced and links), and pastries, with orange juice.

Find a cafe and sit down for a coffee and pastry. There are some options like Forza and Siempre right inside the main gates to the Old Town. This is good if you want to grab a quick bite and get straight to exploring.

Mid-Morning – Sightseeing in Old Town Kotor
The area of the Old Town is quite small, so my best advice is just to set out and explore. You won't get lost, and you won't run out of things to see.
Like Dubrovnik, you can explore part of the city walls in Kotor too. These are free to access and give you a good vantage point for the rest of Kotor. I recommend accessing from the northwest-most point inside the old town; there's a stairwell and a public bathroom there.
There's a market on the outside of the Old Town walls where you can see locals shopping for fruits, vegetables, meats, cheeses, and seafood. You can also walk along the waterfront and enjoy the ships that have tied up. There are plenty of small alleyways, restaurants, and shops to explore too; let your sense of adventure guide you.
In the northern corner of town, you can find a large number of cats. Kotor is an unofficial top destination for feline tourism, and there are many strays you can say hello (or 'meow') too. There's also a Cats Museum, where you can learn about cats and see a collection of art that displays cats doing human things (like courtship and teaching). It's certainly a unique experience!
One last thing: if you are staying in an Airbnb or vacation rental, at some point you will need to stop and register with the Kotor Residence Registration Office. All visitors who stay in Montenegro overnight must pay a small tax (€0.70 per person per night). It takes less than ten minutes to fill out the paperwork, but it protects both you and your host.

Afternoon – A Trip to Our Lady of the Rocks and Perast
In the afternoon, head to the waterfront and look for signs that will give you a 2-3 hour trip to the town of Perast and the island church of Our Lady of the Rocks. These are two of the main tourist sights near Kotor and are a good way to pass the afternoon.
Once you pay (usually €15-20 per person) and board your boat, you'll spend 45-60 minutes sailing to the island church. Our Lady of the Rocks is a famous church for its beautiful interior artwork, including paintings from a famous Baroque artist from nearby Perast. Additionally, the interior is almost entirely covered by small tin plates which sailors have long affixed to the walls before and after setting out on voyages.
A five-minute ride will lead you to Perast, where you can walk around the small town. Street vendors offer various souvenirs and ice cream treats if you're looking for a way to spend any extra coins in your pocket. Additionally, you can climb the bell town of Saint Nicholas church. It's only 150 steps, but takes you above the entire city and has great views of the Bay of Kotor.

Evening – Dinner and Night Lights
After returning to Kotor by boat from Perast, opt for an earlier dinner outside the Old Town walls.
The best sit-down restaurant in town is Restaurant Galion, with stunning panoramic views of the Old Town and Bay. The restaurant is gourmet, on par with most restaurants of a similar caliber in other European cities, and is heavy on seafood.
Another more casual option is Tanjga, which holds the #3 spot for restaurants in Kotor according to TripAdvisor. It's a barbecue restaurant, with roast meat and veggie options – reviews say it's great food at an affordable price.
After dinner, take a stroll along the outer boundary of the Old Town. At night, the lights along the walls are lit up – including all the way up the mountain. It's a mesmerizing view, and reminds you of the historic importance of this small, fortified city; the Venetians built these walls in the 13th and 14th centuries, and they still stand.

Day 3: Climbing, Kayaking & Diving
Morning – Climbing the Walls
A leisurely evening and restful night should have you full of energy to climb the fortified walls to the top of the Mountain of St. John.
If you arrive early enough, there may not be someone monitoring the entrance to the stairs; otherwise, expect to pay €2-3 per person for access to climb the walls. Get ready – it's a long climb! The climb is 1355 steps – more or less – that takes you from the town to almost 1000 feet above sea level. From many points along the climb, you'll have stunning views of the Old Town and the whole countryside surrounding Kotor.
Plan to spend about 45-60 minutes climbing the stairs – and the same amount of time to come back down. Be sure to bring water too, there are no facilities along the fortified walls.

Afternoon – Kayaking, Snorkeling, and Caving
After a quick lunch, it's time to set out and explore more of Montenegro.
I recommend booking the kayaking, snorkelling and caving tour in Montenegro, which takes you out to the Adriatic coast. Jeffrey and his team made me feel very welcome despite a last-minute booking, and I had an amazing time on the tour. We drove out to the coast, spend several hours kayaking, and got to jump in and out of our kayaks to snorkel and explore caving systems all along the rocky coastline.
The tour ended by dropping us back off in Kotor, just in time to catch the bus back to Dubrovnik. In the late afternoon, you can make your way on to Dubrovnik, or fly out from Tivat to your next destination.
Now you're all set to plan your trip to Kotor including these best things to do in Kotor.
If you on a bigger trip exploring more of Europe check out my guides to France, Germany, Greece, Iceland, Italy, Portugal, Spain and United Kingdom.
---
Author Bio: Valerie Stimac Bailey of Valerie & Valise grew up in Alaska, so it's no surprise she loves sharing stories from there and the rest of the American West. On her blog, you can find resources to have unforgettable experiences throughout the western U.S. including California, Hawaii, and yes, The Last Frontier.
---
My Travel Tips and Recommendations
Flights
To book flights, I always use flight search engine Skyscanner, I regularly use the Everywhere tool to find the cheapest places to travel. It's how I get to travel so much all around the world. I find it the easiest way to compare flight prices across airlines and get the best deals.
Accommodation
For accommodation, I usually book most of my hotels or hostels through Booking.com. I love using this platform as it provides me with some amazing deals for accommodation all around the world. Or if you prefer, I also recommend using Airbnb. If you haven't signed up with Airbnb already, you can use this link to get £25 off your first visit!
Travel Insurance
Picking travel insurance that covers you in all eventualities is an essential part of planning a trip for every single person. If you can't afford travel insurance, you can't afford to travel. You never know what's around the corner.
Did you know I also vlog my trips? Make sure you subscribe to my YouTube channel so you get alerted when all my travel videos go live… CHECK THEM OUT HERE
Thank you for reading and as always happy adventuring! If you have any questions about the destination please leave these in the comments below.
If you've enjoyed this post, please share it for me with all your friends and family!
Sophie X