Paris is a city full of love and light, it's a city that never disappoints and changes every time you visit. I have visited Paris multiple times over the years, at various different stages of my life and every time I find a new area or a new cafe that I didn't know about previously. I have pulled together some of my most useful Paris travel tips, that I wanted to share with you too.
There are world-famous landmarks and museums, mixed with chic shopping, street-style cafe life, gastronomic blowouts and stunning strolls along the banks of the glorious River Seine. When I visited Paris last year I had no idea where to start, I hadn't been in years and I wasn't sure what to do over the weekend was in the city.
Exploring Paris at night is also amazing and a must-do whilst in the city, as well as wandering around the beautiful Paris streets. Travelling to Paris really is a bucket list experience and one I would recommend.
I will never forget how gorgeous Paris was whilst I was growing up, it was always such a beautiful city with an elegant style set against fun and exciting atmosphere. It is a city of iconic landmarks and traditional scenes and it is no wonder that a romantic trip to the French capital is on many people's bucket lists!
However, finding the time to go for a week or even a weekend can be difficult so why not explore this beautiful city in a day or longer. Here are my travel tips for Paris…
"Paris is always a good idea." – Audrey Hepburn
1. Book a tour guide
My first Paris travel tips are bought to you by the team that runs The Roman Guy and are known for providing unforgettable experiences for their customers, by delivering the highest standards of customer service and offering a modern and fun approach to tourism. They pride themselves on having found the top local experts, aimed at immersing visitors in culture and removing them from the crowds and lines.
Each tour is available to book online, and you can see their start dates on the tour page booking
2. See the Moulin Rouge
One of my favourite things to do whilst in a city is to organise tours and I love booking mine with Klook. Klook is an awesome activity booking app and website, which gives you awesome access and discounts to some of the best experiences in nearly all cities around the world. Paris is a perfect example, as there are hundreds of activities you can book with them, so keep reading to find out my favourites. If you want to experience the real Paris why not book a ticket to the Moulin Rouge!
3. Have a traditional French cooking lesson
Arrive in Paris and grab brunch. Or kill two birds with one stone and learn how to make a traditional French brunch, and then eat it… have a cooking lesson. What is better than trying the local delicacies in a city you visit. But take one step further when you visit Paris and step up your cooking skills.
4. Bike your way around Paris
You are short on time so often the quickest and best way to explore a city is by bike, and Paris is no different. You can see lots of things, explore secret alleyways and stop when and where you like. It is also one of the cheapest ways to explore a city.
5. Explore Montmartre
Ensure you get a bit of culture thrown in for good measure. If you want to step away from the crowds why not explore Montmartre. It is a wonderful little land of its own with great shops, places to eat and many a sweet treat.
6. Find the rooftop terrace at Le Perchoir
Evenings are for spending time with your loved ones with a drink in hand as the sunsets. The rooftop terrace at Le Perchoir is a beautiful hidden gem and it is the perfect place for a chilled out evening.
7. Sparkle at night
My favourite Paris travel tips to share with visitors is that as the sun sets each night the iconic structure known by millions around the world lights up for the thousands who can look upon the Eiffel Tower from the city. The structure lights up every hour for a glitzy performance to finish off your speedy trip to the capital of love!
8. Indulge in French cuisine at Le Jules Verne
The extraordinary setting 400ft up the Eiffel Tower (reached by the restaurant's own lift, south pillar) takes the stuffiness out of grand-occasion dining with a suave decor by Patrick Jouin and nonchalant waiters who don't bat an eyelid when you get up to take photos.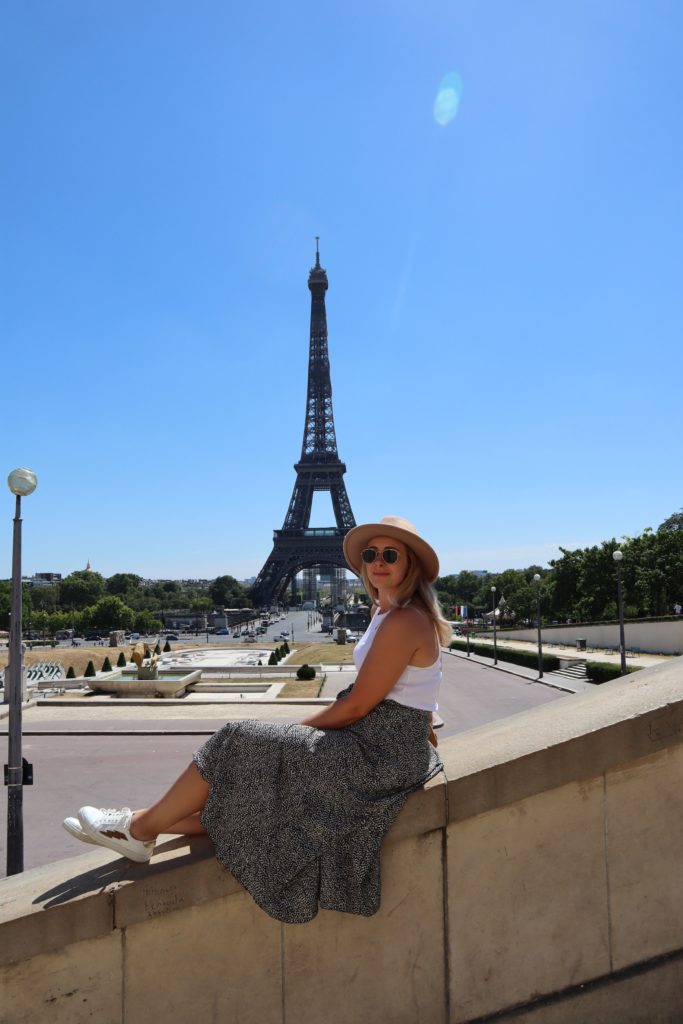 9. Stay at the stunning Hotel Grand Amour or Hotel Lumen Paris Louvre
In two of Paris' chicest and most bohemian districts, in the 9th and 10th arrondissements, lies two hotels that have quietly been drawing in the world's coolest and influential movers and shakers Hotel Amour and Hotel Grand Amour. Or if you fancy some Parisian chic head to the Hotel Lumen Paris Louvre for your next weekend break or family holiday, where elegance and design combine!
10. A visit to Paris Catacombs
The Catacombs of Paris are underground ossuaries in Paris, France, which hold the remains of more than six million people in a small part of a tunnel network built to consolidate Paris' ancient stone mines. The Paris Guy's Skip the Line Paris Catacombs Tour is filled with facts and folklore that bring the Paris catacombs. The tour features passionate, storytelling, expert local guides, skip the line tickets and a look at actual human bones.
11. A visit to The Palace of Versailles and Garden
The Golden Versailles Palace and Garden tour takes you to the iconic Castle and Gardens just outside of Paris, without any of the fuss, hassle or planning. On a day tour from Paris, to Versailles, you'll feel like royalty as their passionate guide not only escorts you from Paris to Versailles but then helps you to understand exactly what it was like to be a French King or Queen in 17th century France.
I hope these Paris travel tips have inspired you! Let me know yours below!
Have you got a few more days to explore? Why not head off on some day trips from Paris by train?
---
To receive my articles and reviews straight to your inbox SUBSCRIBE HERE.
Did you know I also vlog my trips? Make sure you subscribe to my YouTube channel so you get alerted when all my travel videos goes live… CHECK THEM OUT HERE
Thank you for reading and as always happy adventuring!
If you've enjoyed this post, please share it for me with all your friends and family!
Sophie X