Welcome to the characterful seaside town of Herne Bay! Located on the south east coast of England, Herne Bay has been a hit with visitors since the Victorian era. The town is 6 miles from Canterbury and 4 miles east of Whitstable, and is the perfect place for a weekend at the seaside. It's an easy drive from Herne Bay to Canterbury if you want to explore both towns.
There are so many things to do in Herne Bay including a visit to the distinctive 80ft Clock Tower, foraging along the coast, screen-printing workshops at Beach Creative, animal experiences at Wildwood Trust, cafe culture galore in the town centre and many great beaches in and around the town.
There is a plethora of galleries, shops, restaurants and a vibrant cafe culture, which I took advantage of when I was in the town earlier this month. Around every corner I found awe-inspiring views of the ocean and on our last night in Herne Bay seafront we witnessed the most epic sunset from Herne Bay Pier.
Therefore I have pulled together my top 16 things to do in Herne Bay, so you can plan the most amazing weekend here.
Where to stay in Herne Bay England
The Little Ship at 'She Rose', Herne Bay Airbnb
Address: 165 Mortimer Street, Herne Bay, CT65HE
For our accommodation whilst we were in Herne Bay England we stayed at small but perfectly formed 'The Little Ship' owned by artist Jo Oakley. The retreat is brand-new and can be found in the heart of Herne Bay next door to the gallery 'She Rose.' The accommodation is honestly a true gem bursting at the seams with art, vintage décor and quirky features.
Jo made us feel very welcome from the moment we arrived, letting us park inside her drive, and showing us around the cosy accommodation. She also left us with tea, coffee and milk, and told us we could also relax in the communal areas outside the retreat. The place came with breakfast included and it gave us a great start to the day, before another day of exploring Herne Bay. I would recommend as one of the best Airbnb in Herne Bay.
Top 16 Things to do in Herne Bay Kent
1. Herne Bay Beach

You cannot come to Herne Bay without going to the beach, and Herne Bay beach is one of the best I've been to. Although its stone, and not sand, the beach is stunning with the most incredible views. There are many ice cream stalls, fish and chips shops and food vendors dotted along the promenade where you can grab supplies, and in the summer the beach is full of locals enjoying the sunshine and ocean views. The Herne Bay seafront is an amazing place to spend an afternoon.
2. Walk down Herne Bay Pier
Another iconic landmark at Herne Bay seafront, is the Herne Bay Pier was the third pier to be built at Herne Bay, Kent for passenger steamers and was one of the biggest at the time. However it was destroyed in a storm in 1978 and dismantled in 1980, leaving a part of the landing stage isolated at sea.
What remains today is two further piers, and my favourite has to be the pier at Central Parade, where you can all the traditional pier activities, games, food outlets and fair ground rides. We wandered down the Pier at sunset and it was magical.
Address: 81 Central Parade, Herne Bay England
3. Foraging experience with Forth & Forage
One of the most unique things to do in Herne Bay is to go foraging. Whilst we were in town we headed off on a mini tour of wild food on the downs starting from the Kings Hall roof. We also explored the magic and history of the abundant herb 'mugwort' and discover medicinal plants such as yarrow and Alexanders. Before finishing with a herbal hot chocolate at Scoops to warm up! A really unique and fun thing to do in Herne Bay, Kent.
Address: The Kings Hall (Front Entrance) Beacon Hill, Herne Bay, CT6 6BA.
4. Dinner at The Four Fathoms 'Kent's best pub'
A wonderful place to go on a Sunday afternoon is the historic, award-winning pub, the Four Fathoms. The pub serves up fine food and drink just a stone's throw from the sea-front and sets itself out to offer a unique experience with a team obsessed with fantastic food, fantastic beers, wine and spirits and above all delivering a fabulous experience to its visitors.
We enjoyed dinner here and loved the atmosphere (they had a saxophonist playing during dinner) and the food was amazing!
Address: 2 High Street, Herne Bay, CT6 5LH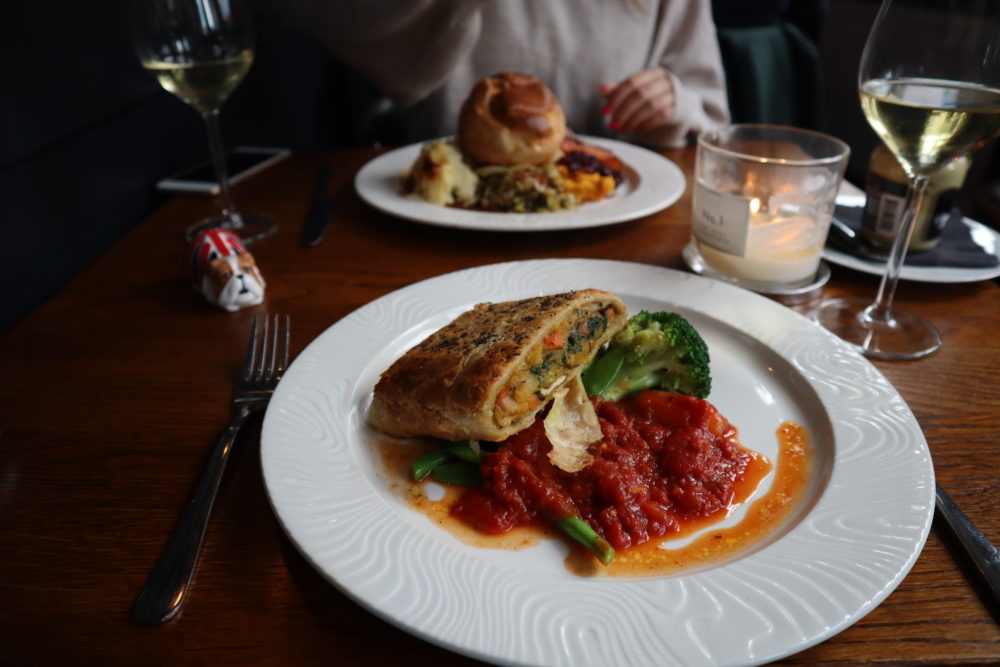 5. Get some gelato from Makcaris
Right in the thick of it on the seafront in Herne Bay, Makcari's ice cream parlours celebrate everything that's good about ice cream. Opened in 1931 and re-launched in 2008, they continue to serve their fresh coffee and home made Italian Gelato ALL YEAR ROUND!
Address: 54 Central Parade, Herne Bay England CT6 5JG
6. Screen Printing workshop at Beach Creative
For those that love being artsy, another of the best things to do in Herne Bay includes joining a bespoke Screen Printing workshop with Beach Creative director Gill Wilson and learn a new skill whilst discovering the wonderful world of Beach Creative. You can relax, create and get inspired as you design, make and take home your very own silkscreen printed artwork.
It was such an amazing experience and we adored Gill, and loved the community spirit that was in abundance at Beach Creative.
Address: Beach House, Beach Street, Herne Bay, Kent. CT6 5PT
7. Animal experiences at The Wildwood Trust
If you love animals you are in luck, as only a short drive out of Herne Bay is the The Wildwood Trust, Herne Bay's centre of excellence for the conservation of British Wildlife and they even offer once-in-a-lifetime animal encounter experiences for visitors to enjoy.
For our visit to Herne Bay Kent we had the amazing experience of meeting and feeding their two brown bears – and learn all about the animals from their expert keepers.
Address: Wealden Forest Park, Canterbury Rd, Herne Common, Herne Bay Kent CT6 7LQ.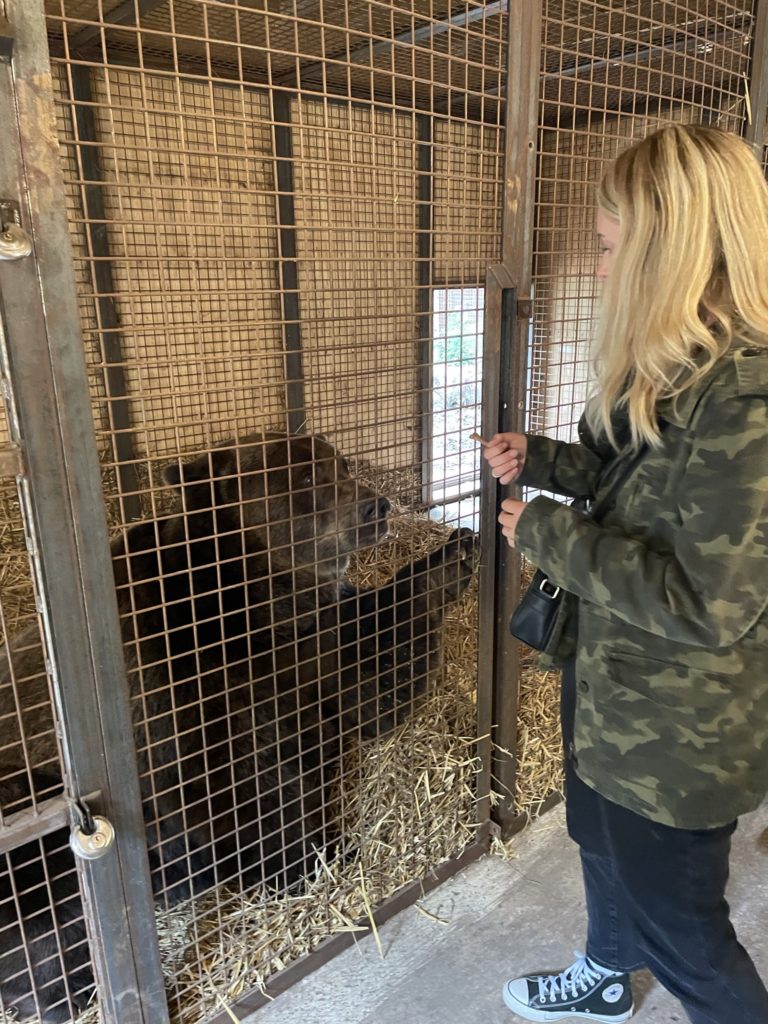 8. She Rose Gallery
Herne Bay is well-known for it's art shops and galleries and our accommodation owner Jo has created a space where you can do so much more than just buy her own art. Located only a few minutes from Herne Bay seafront, she also offers workshops and an ever evolving selection of art work from other artists, as well as homeware, cards and gifts.
She Rose is a beautiful space to browse, it feels like she has opened her door and welcomed you in to her living room.
Address: 165 Mortimer Street, Herne Bay, CT65HE
9. Herne Bay Clock Tower
One of the iconic things to do in Herne Bay is take a trip to see the famous Herne Bay Clock Tower, a Grade II listed landmark in Herne Bay and is believed to be one of the earliest purpose-built, free-standing clock towers in the United Kingdom. It was funded by Mrs Ann Thwaytes and today serves as a memorial to the fallen of the Second Boer War.
Address: Mill Lane, Herne, Herne Bay England CT6 7DR
10. Neptune's Arm
Built during the 1990s, Neptune's Arm, was originally to prevent flooding in the most vulnerable parts of Herne Bay. It acts as a concrete offshore breakwater with a viewing platform at the end. It's a great place to wander out in the sea to take in the views of Herne Bay Pier. On the Sunday when we visited there were also lots of people fishing at the end.
11. Lunch at Toast, Beach Creative
Located in the Beach Creative Gallery, Toast offers a warm atmosphere, friendly service and wonderfully fresh lunches, bakes and coffee. It's also home to Herne Bay favourite 'Little Pep' juices which are not to be missed! We enjoyed lunch here after our screen-printing workshop and it was the perfect break in our day of adventure. I especially loved the little pop juices and we enjoyed panini's, coffee and a juice each.
Address: Beach House, Beach Street, Herne Bay Kent. CT6 5PT
12. Seaside Museum
The Seaside Museum in Herne Bay is a local museum established in 1932 and features local archaeological and social history, about the town and it's close link to the seaside. You can also find out more about the history of the town as a resort and for its World War II bouncing bomb.
Address: 12 William Street, Herne Bay
13. Reculver Towers and Roman Fort
Another imposing view of the town of Herne Bay is the twin towers of the medieval church at Reculver which dominates the skyline in Herne Bay. The towers used to act as a navigation marker for ships at sea and was the site of one of the earliest Roman forts built against Saxon raids on the 'Saxon Shore'. It later became the site of an Anglo-Saxon monastery before becoming the parish church for Reculver. Much of the site has been lost to coastal erosion, but alongside the twin towers are the ruined remains of the early Roman fort.
Address: Reculver Rd, Reculver, Herne Bay Kent CT6 6SS
14. Grab snacks at Green Door Deli
I love food and the food at Green Door Deli is amazing. They specialise in coffee, local-cured meats, cheeses, desserts, light bites, and their famous sweet treats.
Address: 23 William St, Herne Bay England CT6 5EG
15. East Blean Woods
If you love getting outdoors like me, then a trip to the East Blean Woods is a must. The woods is a 151-hectare biological Site of Special Scientific Interest and it is also a National Nature Reserve a Special Area of Conservation and a Nature Conservation Review site, managed by the Kent Wildlife Trust. The reserve is ancient semi-natural woodland and is a great place to go for a walk with friends or family on a summers day.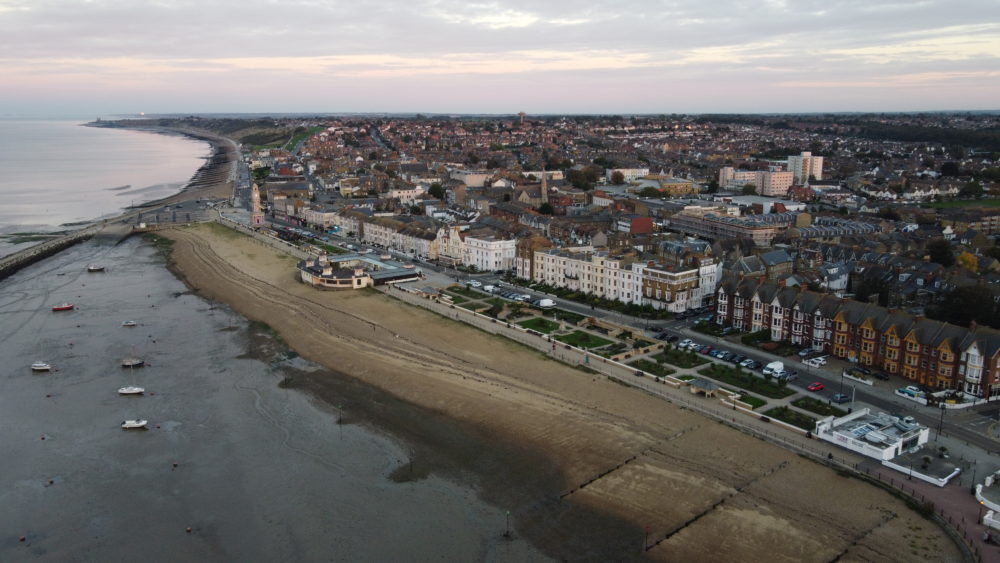 16. Statue of Amy Johnson
A bronze statue exists along the promenade at Herne Bay to honour English aviator Amy Johnson, close to where she was last seen alive. Amy Johnson was the first woman to fly solo from England to Australia in 1930 but unfortunately died when her plane crashed into the Thames Estuary near Herne Bay in January 1941. The statue of the pilot commemorates her at the age of 37 and was lovely to see taking pride of place in her honour.
*This is a sponsored post with Herne Bay.
If you on a bigger trip exploring more of Europe check out my guides to France, Germany, Greece, Iceland, Italy, Portugal, Spain and United Kingdom.
---
My Travel Tips and Recommendations
Flights
To book flights, I always use flight search engine Skyscanner, I regularly use the Everywhere tool to find the cheapest places to travel. It's how I get to travel so much all around the world. I find it the easiest way to compare flight prices across airlines and get the best deals.
Accommodation
For accommodation, I usually book most of my hotels or hostels through Booking.com. I love using this platform as it provides me with some amazing deals for accommodation all around the world. Or if you prefer, I also recommend using Airbnb.
Travel Insurance
Picking travel insurance that covers you in all eventualities is an essential part of planning a trip for every single person. If you can't afford travel insurance, you can't afford to travel. You never know what's around the corner.
Did you know I also vlog my trips? Make sure you subscribe to my YouTube channel so you get alerted when all my travel videos go live… CHECK THEM OUT HERE
Thank you for reading and as always happy adventuring! If you have any questions about the destination please leave these in the comments below.
If you've enjoyed this post, please share it for me with all your friends and family!
Sophie X