Have you ever visited Exeter before? If not, then a short stay during the wintry months is a fantastic holiday option for you, offering you the best of both worlds from culture and history to lush countryside and epic attractions. There are so many amazing things to do Exeter…
The city is located in Devon, and makes for either a fun-packed weekend break or an interesting and varied base if you're looking to spend a holiday in Devon.
I decided to spend a wonderful 24 hours in Exeter, where I spent my time exploring the cobbled streets, eating my way through the Christmas market and resting my weary legs at The City Gate Hotel, a stylish, boutique pub hotel, owned by Youngs. If you're looking for an inexpensive, relaxing city break, then Exeter is the place for you. Let's get exploring!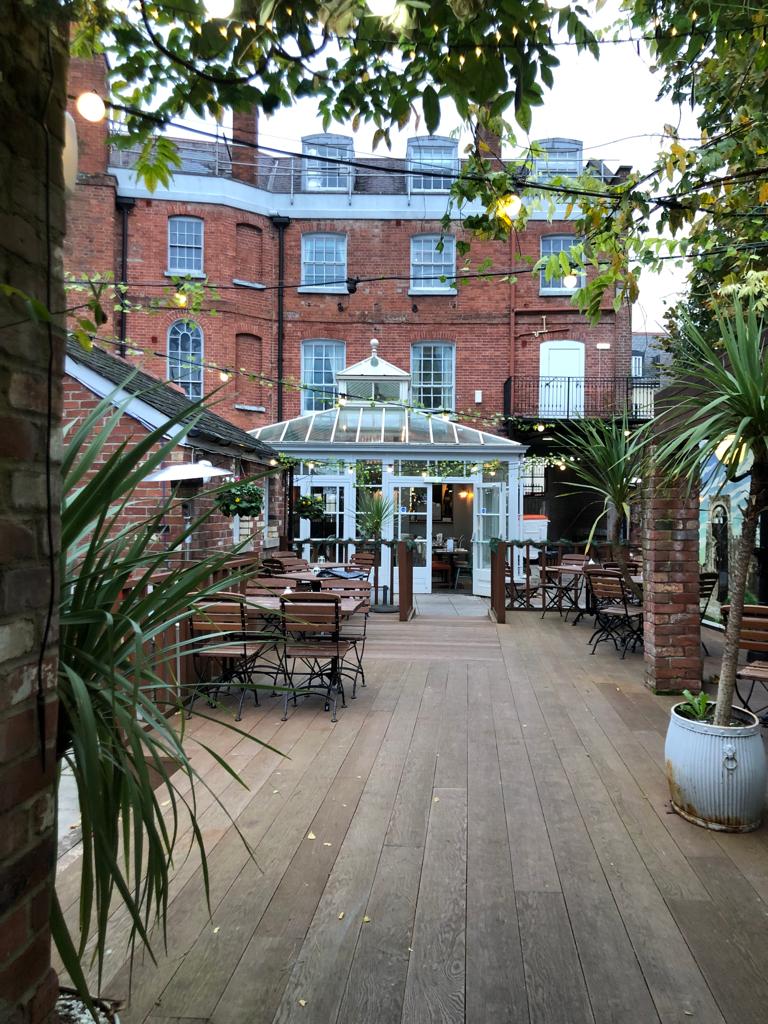 How to get to the Exeter
Exeter may look a little far away, but it's actually very easy to get to, and has a variety of comfortable, transport options. I took the coach from London Victoria – both National Express and Megabus make this journey, and take approximately five hours.
I paid £20 for a return journey, but if you prefer spending a little more to save on time, you can take the train from London Paddington or Waterloo for approximately £70 return, or even fly as Exeter has its own airport.
How to Get Around Exeter
Exeter is a very accessible city, with lots of places to visit in easy walking distance of the centre. If you prefer, you can always jump on a local bus!
Top 10 things to do in Exeter
The below are places of interest I visited by myself, but if you prefer to be guided, have a look at the Red Coat Tours which operate within Exeter.
They're free tours with an extremely knowledgeable guide, which provide you information on various places of interest as you walk around the small city. Choose to learn about Exeter's history from the present day all the way back to the Roman Era or learn about the famous Exeter Quay. All tours should be booked in advance.
1. Gandys Street
Start your exploration of Exeter at Gandys Street, a cute, cobbled lane situated moments away from Exeter's main high street.
This enchanting footpath features a mix of colourful vintage stores, trendy boutique shops, welcoming coffeehouses with bunting, lanterns and hanging shop signs interspersed throughout the quiet alleyways. Gandys Street has long been thought of as the inspiration behind JK Rowling's Diagon Alley in the Harry Potter series – a rumour she's negated several times although the resemblances here are almost uncanny.
2. Parliament Street
Onto the narrow street that is Parliament Street, considered the most narrow street in Britain! In fact, it's so tiny, it's easy to walk past it several times before you realise where it's located. Make your way to the small gap between Patisserie Valerie and Greggs Bakery, on the busy high street and you'll see its very own plaque on the wall.
A fun fact – back in the 1700s, Parliament Street was actually named 'Small Lane', and residents used to dump the contents of their chamber pots onto the tiny street – smelly much? In fact, the dumping became so horrific, that in 1740, residents were asked by the council to lock their doors to encourage them to stop.
You may question why this street was never widened? Well, interestingly, residents petitioned in 1836 to expand the alleyway, even raising the funds needed to do so – but it never happened. Don't fret though – you are able to walk the entire length of the street – providing you can fit through the mere 25 inch space to start with – it widens to 45 inches towards the end of your amble.
3. Exeter Cathedral
One of the most beautiful places to visit in Exeter is their famous cathedral which has brought tourists to it for years. The gothic-inspired architecture features intrinsic detail on the numerous figures carved into the designs, whose carvings date back 200 years; the most recent constructed in the modern-day.
Venture inside where you can stare mesmerised at the vaulted ceiling – the longest in England, uninterrupted by any other structure. Entry to the cathedral for adults is £7.50, but I recommend paying for a guided tour here, where you can learn in depth about the cathedral's history and climb the North Tower for unrivalled views of the city. Look at booking a tour here.
4. Exeter Cathedral Christmas Market
Situated slap bang outside the Cathedral is Exeter's wonderful Christmas market, running this year from mid November to the evening of 18th December. It's free entry for all and there's a huge variety of stalls and sellers here, ranging from jewellery and sweet treats to handmade gifts from local businesses and food stalls galore.
I spent time speaking with the owners of Naked Calcium, about their interesting travels around the world and their beautiful jewellery from India – which I bought loads of. I also discovered Cake or Death, the scrumptious, vegan brownie company. I'm dairy and gluten-free so finding these bakery gems are rare.
When I say the brownie melted in my mouth, I'm not kidding. I've never tasted anything like it before and couldn't quite believe they were vegan and free of gluten! (Do check with them directly before, because not all are gluten-free, and some aren't suitable for coeliacs.) You can visit their bakery just off Fore Street. You can check The Exeter Cathedral Christmas Market timings here.
5. Fore Street
If you can, pay a quick visit to Fore Street, fast becoming one of the most popular streets to shop and grab a coffee at. Here you can find a wealth of independent stores, eco-friendly craft shops, international cuisine and boutique cafes.
6. Have a bite to eat at On The Waterfront by Exeter Quay
It can be difficult for those with additional dietary requirements to find somewhere to eat, which is why On The Waterfront is such a fantastic lunch option. Catering for those without allergies and individuals who are gluten-free, dairy-free, vegetarian and vegan, the restaurant provides mouth-watering burgers and crispy pizzas with views over Exeter Quay. It's an absolute win for everybody.
7. Grab a drink at The Old Firehouse
The Old Firehouse is a popular local pub, frequented by tourists, local residents and students, due to its magical ambience and traditional, candlelit interior. The pub, with its wooden tables, dim lighting and black lanterns has been long thought of as the inspiration behind The Leaky Cauldron in Harry Potter.
JK Rowling studied in Exeter so it's no surprise people believe this, although Rowling has claimed she never visited this pub during her time there, and that the rumours aren't true.
Even so, do pay a visit – it's got a magical, cosy feel and depending on when you visit, you can enjoy the variety of entertainment, from jazz nights, quizzes and drag queen bingo!
8. Northernhay Gardens
The area of Northernhay Gardens was previously built as part of Exeter Castle's defences during the Norman period, but from the mid 1600s, it was transformed into a beautiful park. Nowadays, it's perfect for an amble with a coffee in hand, as you admire the various flowers plotted around.
9. Visit the Royal Albert Memorial Museum
Get cultural! Exeter's Royal Albert Memorial Museum has a range of exhibitions for you to discover, from natural sciences to antiquities as well as, of course, exhibitions focusing on Devon itself. What's great about this museum is that it's free entry so you can save some pennies on your trip!
10. Relax at City Gate Hotel
It's not often you find a pub hotel with a huge covered courtyard, heaters, fairy lights and entertainment, so when you do? You visit. The City Gate Hotel not only provides wonderful accommodation and a cosy pub to have drinks in, but walk outside and you find a magical wonderland, where you can order drinks straight to your table as you watch the entertainment unfold. Have a look at their events calendar here.
FYI: Please check with venues directly about their opening hours, as other places of interest like Exeter Tunnels are currently closed due to the pandemic.
Top places to eat in Exeter
Exeter is a great hub for international cuisine, as well as classic British favourites. I've already mentioned visiting On The Waterfront, but here are a few other places you can treat yourself at:
Exeter Cathedral Christmas Market
You must fit in time to eat from the many vendors selling their fresh produce at the Exeter Cathedral Christmas Market this year, but an advanced warning – you may end up feeling stuffed! There's an abundance of food stalls this year, from healthy burgers at BUN, the creamiest mac and cheese at Gourmet Street Kitchen to vegan Nepalese street food and sweet fudge.
Harry's Restaurant
Harry's has been providing delicious food for the last 25 years and is a well-known favourite amongst the Exeter community. Affordable dishes and where possible, locally sourced foods, together with a snug ambience set within a gothic-inspired building make Harry's a perfect choice for either weekend brunch or dinner during the week.
Goa Spice Premier
For those looking for something a little spicier, Goa Spice Premier provides authentic, Indian cuisine in the heart of Exeter. The food here is delicious – I'm a big fan of the King Prawn Madras – the portion size is great for your money and the staff are really friendly.

Top places to drink in Exeter
Exeter is a city that has everything for seemingly any age group. There's a wide range of pubs you can relax with a beer at, student bars you can grab the best deals for as well as unique and quirky finds that cater for those looking for something a little different.
City Gate Hotel
This pub hotel offers an intimate setting, whether you're sitting inside next to the crackling fireplace or outside in the heated, walled garden under the fairy lights. Try the Rhubarb gin – it's delicious.
Doctor Inks Curiosities
Located on the Quayside, this hidden gem is quirky, classy and quintessential with velvet drapes and dim lighting transporting you back to the Victorian era. They serve some of the best cocktails here which are changed and adapted regularly, even arriving on your table with their own individual story. It's unique and a different experience to most cocktail bars, so pay a visit!
The Terrace
If you're preferring outdoor rooftops to cosy, indoor bars then look no further than The Terrace, a rooftop bar and restaurant situated in the city centre. Offering a variety of seasonal cocktails, wine and bubbles as well as sharing trees for groups and alcohol-free options, you can enjoy the panoramas over the city whilst sipping on something sweet.

Where to stay in Exeter
The City Gate Hotel
The City Gate Hotel amalgamates the chic décor, and intimate feel of a boutique hotel with the traditional amenities of a British pub under one roof. Upon arrival, I was greeted by the friendly staff who offered me a complimentary drink after my five hour journey as part of my Cosy Nights Stay offer.
After relaxing by the crackling fireplace, I was taken to my plush, double room which felt like a home away from home; tastefully designed with a warm colour palette, modern furnishings and added bespoke amenities.
Upon the spacious writing desk sat welcome gifts; a small decanter of alcohol and sweet treats, nestled under the flat screen TV, with alluring labels attached 'eat me drink me' – very 'Alice in Wonderland'-esque!
I had the addition of a Nespresso machine for my morning coffee, teas and hot chocolate options, a stocked mini bar and enjoyed the quirky extras like the old-fashioned telephone and drawer knobs shaped and painted like the globe. The white-tiled bathroom was modern and clean, with fluffy white towels, an assortment of Bramley natural toiletries and a rain shower to freshen up under.
I made my way downstairs to enjoy my dinner which also was included in my Cosy Nights Stay offer. As someone with various food intolerances, I do find it tricky to find tasty food options and yet, the meal I had in the hotel was delicious, with the waiter checking many times with the chef what I could and couldn't eat.
The attention to detail, not only to my allergies, but to the food was obvious with the well presented dishes served. I finished my meal and returned back to my room, where I had a welcome rest after all my travelling. The bed had additional blankets, and extra-firm pillows.
The breakfast the following day, also included within my Cosy Nights Stay, offered a delightful buffet of breakfast options, with tasty croissants and fruit jars, as well as the option to order something more substantial at your table.
Every detail at this hotel has been thought of to offer elegance and style – even the yoghurt had been placed into glass jars! I left with a full heart (the staff couldn't have been lovelier), a great night's sleep and an even fuller stomach!
Happy adventuring!
When booking simply enter your desired date between 1st Oct – 28th Feb 2022 and select the package. Free cancellation up to 12pm the day before your arrival with no pre-payment needed. Subject to availability.
If you on a bigger trip exploring more of Europe check out my guides to France, Germany, Greece, Iceland, Italy, Portugal, Spain and United Kingdom.
---
Author Bio: Emily runs the blog Emilys Eyes Explore. She has been travelling the world since September 2018, after finally being diagnosed with depression and anxiety. Determined to change her life and mentality around, she moved to Spain for two months to learn Spanish, flew to South America, travelled around India, explored Malaysia, ventured around SE Asia and started life in Australia. Emily blogs to raise awareness of travelling solo as a female who suffers from depression and anxiety and it is her hope that people in the same position will be able to relate to the stories she shares and in turn feel less lonely and isolated as she shares her thoughts, feelings and emotions along this journey. Check out her Instagram too!
---
My Travel Tips and Recommendations
Flights
To book flights, I always use flight search engine Skyscanner, I regularly use the Everywhere tool to find the cheapest places to travel. It's how I get to travel so much all around the world. I find it the easiest way to compare flight prices across airlines and get the best deals.
Accommodation
For accommodation, I usually book most of my hotels or hostels through Booking.com. I love using this platform as it provides me with some amazing deals for accommodation all around the world. Or if you prefer, I also recommend using Airbnb.
Travel Insurance
Picking travel insurance that covers you in all eventualities is an essential part of planning a trip for every single person. If you can't afford travel insurance, you can't afford to travel. You never know what's around the corner.
Did you know I also vlog my trips? Make sure you subscribe to my YouTube channel so you get alerted when all my travel videos go live… CHECK THEM OUT HERE
Thank you for reading and as always happy adventuring! If you have any questions about the destination please leave these in the comments below.
If you've enjoyed this post, please share it for me with all your friends and family!
Sophie X