Last month, me and Theo headed back into London for the third weekend in a row to visit the Chelsea Flower Show as a guest of the wonderful and eccentric Raymond Blanc. I have also wanted to visit RHS Chelsea, but never actually got round to buying a ticket, so I was thrilled when we were invited along to experience for ourselves one of the world's most prestigious horticultural show.
As soon as we arrived we headed to the hospitality area, Jardin Blanc and we were welcomed by a beautiful garden area, with conservatory-type rooms, all opening up to a central garden area, with bar and seating. The hospitality area was all catered by Raymond himself, as he looks to change the way hospitality is experienced here in the UK.
As you entered through reception, you passed by a wonderland of giant fruit, dancing rabbits, seats hanging from the trees and a bar serving botanical cocktails, providing you with a very 'Alice in Wonderland' feel.
We were seated at a table with some other bloggers, including Angie, Reena and Fiona. We made it just in time for lunch, where the meal consisted of a sharing board for starters, with a choice of fresh garden salads and vegetable, duck terrine, gravadlax and artisan breads. In the middle of every table was an edible meadow of herbs which you could prune yourself and add to your meals.

Then the mains appeared, which was a beautifully presented roasted guinea fowl with red currants or a vegetarian option of artichoke barigoule with bulgar wheat. And then for dessert it was a stunning, strawberry and vanilla vacherin.

After lunch we headed back out again to explore the rest of the show. Firstly we headed to the Show Gardens which are a major feature of the RHS Chelsea Flower Show and are the work of top garden designers from all around the world. The main exhibit was called The Silk Road Garden, one of the biggest areas at the show. The garden is inspired by the ancient Chinese kingdom but uses familiar plants in Western culture while a 'Silk Road' bridge is used to link the different features of the garden.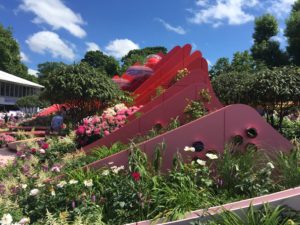 Having never visited before, we didn't really know what to expect or where to go, so we grabbed a map and headed off to explore the gardens. We didn't really go with a plan, we simply just wandered through the Artisan gardens, before heading to the sponsored gardens, and then The Great Pavilion which is host to over 100 of the world's best nurseries, growers and florists. It was super busy, but that was to be expected on a Saturday.
Then before we knew it, it was time for afternoon tea! We grabbed some cocktails from the bar, and went and sat with Angie and Reena in the garden. Then like magic, Raymond appeared and sat down with us for a drink in the sunshine, to talk about the show, Jardin Blanc and his involvement with the shows for the future. It was such a lovely experience and Raymond was so full of life, and charismatic, answering all of our questions, and offering to have a photo together.

Then we went off for afternoon tea, which was a delight, designed by Raymond, it included smoked salmon and spinach rolls, chicken caesar sandwiches, mozzarella focaccia, and a brie baguette, alongside the sweet options including, scones with preserves, colourful macaroons, fruit tarts and eclairs with raspberry filling. It was divine!

Since buying our house, we've been out in the garden more or less every day, and visiting the RHS Chelsea Flower Show was the cherry on top for us, providing us with a great day out and lots of inspiration for our own garden.

I was a guest of the RHS Chelsea Flower Show.