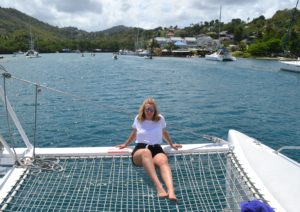 A week in Saint Lucia
On another day in Saint Lucia, we grabbed our beach bags and a couple of towels and went sailing in St Lucia. We headed to Rodney Bay to jump on the Tout Bagay Catamaran Day Tour with Seaspray Cruises as they stop at St Lucia's best tourist hot spots including Toraille waterfalls, Marigot Bay, Sulphur Springs, ziplining and the drive-in volcano.
Sailing around Saint Lucia is as sensational now as it was during the pirates' heyday, but with a modern touch. The Rodney Bay Marina, where we set sail is located in the north of the island, is nestled in an inner lagoon that provides protection and safety. The warm trade winds are ideal for sailing the sparkling seas that surround the island. The Caribbean Sea, which caresses the western coast of the island, is known to be particularly calm in comparison to the Atlantic Ocean on the east coast, and is a favorite among keen sailors and first timers.
On our tour Tout Bagay, we sailed down the West Coast and admired the famous Pitons as they rose majestically out of the sea. As we approached Soufriere we were given two options – to visit the bubbling Drive-In Volcano to learn how the island was formed or visiting Toraille Waterfalls and the Sulphur Springs – we opted for the latter.
Firstly we stopped off at Toraille Waterfalls from the boat, where we quickly undressed and headed into the ice cold waters of the fall. Toraille is one of the better waterfalls on the island, with a high-volume cascade falling into a large pool surrounded by greenery.
Next we headed to the famous Sulphur Springs which last erupted in the 1700's – over 200 years! It originated from a weak spot in the crust of a collapsed volcanic crater, and is considered to be a dormant volcano – unlike the active Soufriere Hills Volcano in the island of Montserrat. One of the best features of the volcano is the ability to dive into the mud baths, and if that doesn't take your fancy instead you can have a swim, and cover your body in the rich mineral mud and waters. It'll leave your skin feeling silky smooth!
By this time is was around 1pm and we were all starving after a morning exploring the area so we headed to the Morne Coubaril Estate for a tour and lunch.
Relive the tradition and culture at the Morne Coubaril Estate, an original 18th Century working plantation. Here you can find out about how cocoa and coffee are made before you enjoy a delicious buffet lunch using local ingredients.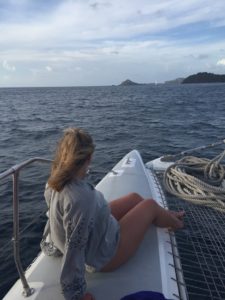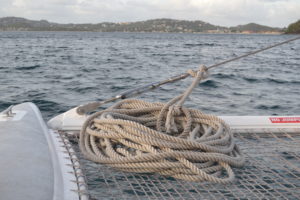 Not long after we'd finished lunch, we headed off once more, but this time we got back on the boat at Soufriere, to begin our cruise back to Rodney Bay. On our journey home we stopped off for snorkelling in one of St Lucia's protected bays, before taking in the stunning scenery of Marigot Bay!
This tour really did have a little bit of everything – it was a perfect way to spend a day at sea! There are so many exciting things to do in St Lucia but this has to be one of the best days we had whilst in this wonderful country.
Seaspray Cruises – Rodney Bay Marina, Gros Islet – www.seaspraycruises.com– [email protected]
A week in Saint Lucia
Thank you to St James's Club Morgan Bay and Travel St Lucia for hosting such a wonderful stay on the island paradise of Saint Lucia!
TO BOOK: St James Club, Morgan Bay – Saint Lucia – www.eliteislandholidays.com – 01245 459 906