Last Sunday some lovely local bloggers and I headed to the newly opened bistro café and restaurant French Affaire in Stony Stratford for pancakes and a giggle! French Affaire is an intimate French inspired restaurant based just off the high street in the quaint Odell's Yard.
Located just behind the High Street in the quaint town of Stony Stratford, French Affaire is well placed with its surroundings, but also delivers the town with a unique and fun place for Milton Keynes residents to brunch, lunch and dine. The French inspired restaurant has been open since late 2018, and they already have a name for themselves, as 'the place' to have brunch on a Sunday. When we heard they were also doing pancakes, the girls and I jumped at the chance to head to French Affaire ourselves to try their famous delicacies.
They wanted to offer a 'home-like' welcoming place where people can come in for a coffee, or enjoy breakfast, brunch, lunch and even a romantic dinner or night out with friends. They discovered the stunning glass-front building nestled off of the bustling high street was perfect for French Affaire.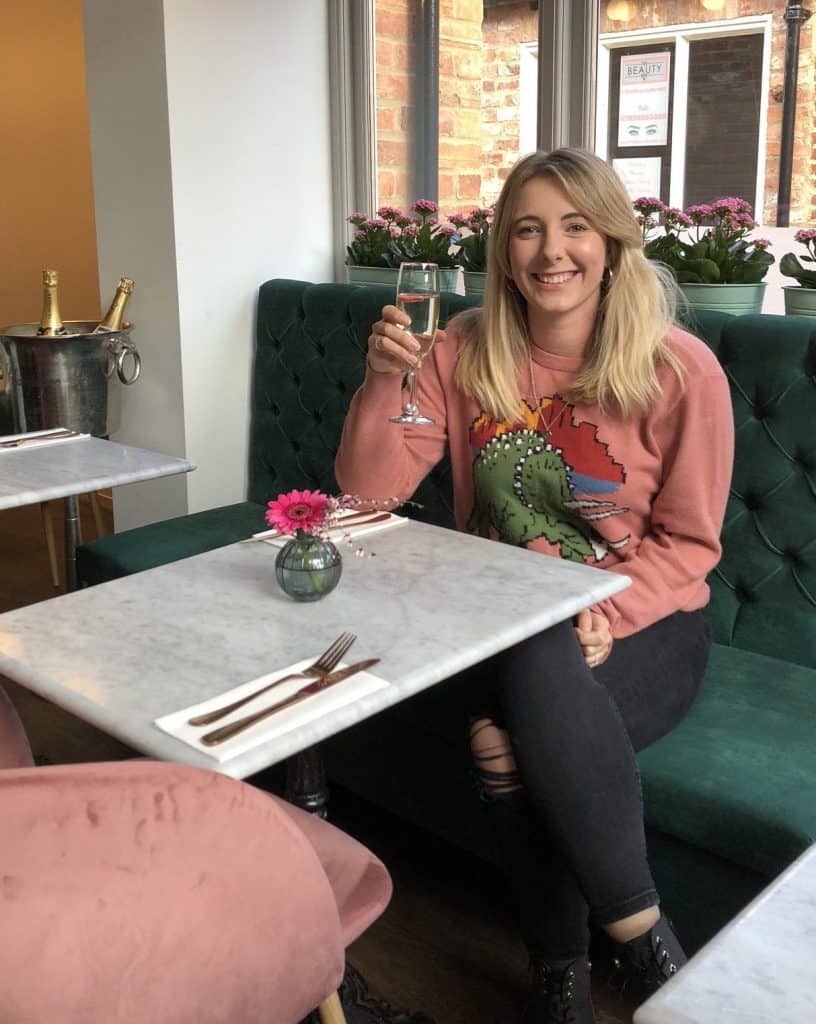 French Affaire
Specialising in French cuisine, the beautiful restaurant is open Tuesday – Sunday and serves a range of sweet and savoury crepes, baguettes, petit plats – available to eat-in in the Instagram-able interior, or as a take away for those in a hurry. On Friday and Saturday evenings, French Affaire is open for dinner where guests can enjoy a variety of mouth watering French classics as well as some contemporary and innovative dishes from an ever-changing dinner menu.
The concept came to life from their love of French produce and many trips to visit their family in France, mostly in the Champagne-Ardenne region – the home of all champagne production. And they wanted to offer a home-from-home café where locals could come in for a coffee, enjoy eggs benedict or indulge in a chocolate pancake. They have also just started doing dinner on Friday and Saturday nights, but I am yet to try them out for an evening meal.
The restaurant has a lovely glass-fronted exterior, with vaulted ceilings inside, velvet seats and even a living and breathing moss wall. The décor is an Instagrammer's paradise and we made the most of the pink velvet chairs set against the green booth-style benches.
French Affaire
When we arrived, they served us an amazing glass of their favourite prosecco, and handed up an array of canapés. The canapés included Salade de Boeuf and Aubergine "Caviar".
Once we had settled in, and started to chat about Milton Keynes and the events coming up this summer, we had to make the difficult decision of which crepe to go for. In the end, for my pancake, I opted for the Ultimate Nutella, which has banana, Nutella, whipped cream and on the side a mini Nutella Pot (with even more Nutella!) and it was amazing.
The food is delicious and affordable. We ate savoury and desert crepes on the recommendation of the waitress and were not disappointed.
The other girls had an array of crepes, including sweet and savoury! They were amazing, with so many flavours and smelt incredible. To finish we were served tea and coffee, before heading back to our normal, boring homes, without velvet seats and Nutella crepes. I loved visiting French Affaire and will be back very soon!
Razvan Marcu, owner and co-founder of French Affaire comments: "We have been warmly welcomed by local people and are overwhelmed with the positive reviews and comments we have already received since opening in Stony Stratford. With extensive hospitality experience and more than 19 years in the business, Anca and I are proud to have bought our concept to life from a love of French produce and many trips to the Champagne-Ardenne region."
French Affaire
Example Menu – Dinner Menu
SOUP OF THE DAY £6.50
HAM HOCK TERRINE £7.50 SERVED WITH CORNICHONS, HONEY AND GRAIN MUSTARD DRESSING, SOURDOUGH BREAD
SALMON RILLETTES £8 SERVED WITH KETA CAVIAR, CAPER BERRIES AND MELBA TOAST
ASPARAGUS SERVED WITH QUAIL EGGS £7.25 HOLLANDAISE SAUCE, GRIBICHE AND TOASTED BRIOCHE (V)
MAINS
SLOW COOKED BEEF CHEEKS £15.95 SERVED WITH FONDANT POTATO, FRENCH BEANS AND RED WINE JUS
CHICKEN ROULADE FILLED WITH SPINACH AND CHEESE £12.50 SERVED WITH DAUPHINOISE POTATOES AND MUSHROOM AND PARSLEY CREAM SAUCE
MIXED SEAFOOD BOUILLABAISSE (STARTER) SERVED WITH BAGUETTE | £8.00 (MAIN) SERVED WITH FRENCH FRIES | £13.95
CARAMELISED RED ONION AND GOATS CHEESE TARTE TATIN £12.00 SERVED WITH CHIVES POMME PUREE AND TENDER-STEM BROCCOLI (V)
SIDE ORDERS
FRENCH GREEN BEANS £3.50
TENDER-STEM BROCCOLI WITH TOASTED ALMONDS £3.95
FRENCH FRIES WITH TRUFFLE OIL AND PARMESAN £4.50
MIXED SALAD WITH CHERRY TOMATOES AND RED ONION £3.50
DESSERTS | £6.95
Day Menu
SAVOURY CREPES
EGGS BENEDICT £7.50 HAM, FREE RANGE POACHED EGG, CHEESE, HOLLANDAISE
EGGS FLORENTINE £7 SPINACH, FREE RANGE POACHED EGG, CHEESE, TOMATO, HOLLANDAISE (V)
EGGS ROYALE £7.95 SCOTTISH SMOKED SALMON, FREE RANGE POACHED EGG, CHEESE, HOLLANDAISE
LE PETIT DEJEUNER £7.50 BACON,MUSHROOMS, TOMATO, FREE RANGE FRIED EGG, CHEESE, MARIE ROSE
TUNA MELT £7.50 TUNA SALAD WITH CAPERS AND CRANBERRIES, CHEESE
SMOKED SALMON & CREAM CHEESE £7.95 SCOTTISH SMOKED SALMON CREAM CHEESE WITH DILL, CHIVES, CAPER
POULET SUPREME £7.50 CHICKEN BREAST, ROASTED PEPPERS, CHEESE, SPRING ONION, PARMESAN, MARIE ROSE
SICILIENNE £7 TOMATOES, MOZZARELLA DI BUFALA, ROCKET, PARMESAN, PESTO (V)
LE CHEVRE £7 ROASTED VEGETABLES, GOATS CHEESE, CHEDDAR, BALSAMIC GLAZE (V)
LE VEGAN £7 FALAFEL, HUMMUS, SPINACH, TOMATO, ROCKET, PESTO (VG)
AUX LEGUMES £7 ROASTED VEGETABLES, VEGAN CHEESE, TOMATO AND BALSAMIC GLAZE (VG)
SWEET CREPES
ULTIMATE NUTELLA £6.95 STRAWBERRIES OR BANANA, NUTELLA, WHIPPED CREAM AND A MINI NUTELLA POT (V)
BUENO DELICE £7 KINDER BUENO, NUTELLA, WHIPPED CREAM, CHOCOLATE SAUCE, TOASTED ALMONDS (V)
BANOFFEE PIE £6.50 BANANA, TOFFEE SAUCE, BISCOFF CRUMB, WHIPPED CREAM, CHOCOLATE SAUCE (V)
RASPBERRY AND PISTACHIO ETON MESS £6.95 RASPBERRY COMPOTE, PISTACHIOS, MERINGUES, CREAM (V)
APPLE TATIN FLAMBEE £7.50 CINNAMON APPLE, CALVADOS, BISCOFF CRUMBS, WHIPPED CREAM (V)
ROCHER EXTRAVAGANCE £7 FERRERO ROCHER, NUTELLA, WHIPPED CREAM, CHOCOLATE SAUCE (V)
BANANALICIOUS £6.50 BANANA, BELGIAN CHOCOLATE, SLIVERED ALMONDS, CHOCOLATE SAUCE (V) ***
RED BEAUTY £6.50 STRAWBERRY JAM, MASCARPONE AND BISCOFF CRUMB
LEMON AND SUGAR £5.00***
French Affaire is open 10am – 4pm Tuesday, Wednesday, Thursday and Sunday, and from 10am – 9pm on Friday and Saturday.
*The stunning restaurant is also available for private hire; including birthdays, anniversaries, christenings, baby showers, launches, corporate events and more. Get in touch!
View menus and find more information on their website: www.french-affaire.co.uk
Other posts that may help you:
The Best City Breaks for Couples
Beginner's Guide to Europe Interrail Routes
Copenhagen Chic at the Andersen Hotel
Best Vegan Restaurants in Malmo
Ultimate Guide to a Weekend Break in York
10 of the Best places to eat Brunch in London
The Best Weekend Trips in the UK
Sign up to AirBnB with this link and receive a £23 off your first booking.
To receive my articles and reviews straight to your inbox SUBSCRIBE HERE.
Did you know I also vlog my trips? Make sure you subscribe to my YouTube channel so you get alerted when all my travel videos goes live… CHECK THEM OUT HERE
Thank you for reading and as always happy adventuring!
If you've enjoyed this post, please share it for me with all your friends and family!
Sophie X