I've just started getting a weekly order of food from my favourite home delivery service Hello Fresh, so I thought I would do a little recipe from one of the meals I received this week. As most of you know, when you order from Hello Fresh, you pick three meals (or however many you want each week being delivered) from an extensive list of recipes. This week I chose Asian Jewelled Rice with a Coriander Drizzle, Chilli Con Carne, and Turkey Mince Stir Fry. But the one I was most excited for was the Indonesian Rice because its one of my favourite countries in the world, with some of the best food in the world.
I travelled to Indonesia twice in my early 20's and it will forever be etched in my memory as such a fun and vibrant place. And the food was no different… This dish is a rainbow of fresh vibrant colours, fragrance and flavours. Fluffy rice, green beans, red peppers and carrots made spicy with chilli flakes, ginger and lime zest and balanced with sweet ketjap manis and topped with coriander, peanuts and soy sauce. A vegetarian feast for the imagination! Check out the box on Hello Fresh here.
Get £10 off your first delivery with HelloFresh here.
Preparation Time: 30 minutes
Difficulty level: Level 2
Allergens: Celery • Gluten • Soya • Sesame
Ingredients
RECIPE: Indonesian Asian Jewelled Rice
STEP 1
Pour the water (see ingredients for amount) into a large saucepan over high heat. Stir in the stock powder and add the basmati rice and turmeric. Stir and bring to the boil, Lower the heat to medium and pop a lid on the pan. Cook for 10 mins, then remove from the heat and set aside (still covered) for another 10 mins or until ready to serve. TIP:The rice will finish cooking in its own steam.
STEP 2
While the rice is cooking, trim the stalky tops from the green beans and chop them into three pieces. Halve, then remove the core from the pepper and thinly slice. Top and tail the carrot then grate on a coarse grater (no need to peel). Peel and finely grate the ginger. Remove the root and thinly slice the spring onion. Roughly chop the coriander (stalks and all). Zest the lime then cut in half.
STEP 3
Heat a drizzle of oil in a large frying pan over a medium high heat. Once hot, add the green beans and red pepper. Stir-fry for 5-6 mins or until the pepper is softened and the beans are slightly charred.
STEP 4
Add the spring onion, ginger, lime zest, and a tiny pinch of chilli flakes (you can add more later if you want to ramp up the heat!) into the pan. Stir together and cook for 1 minute, then pour in the ketjap manis and half the soy sauce. Stir together and cook for 2 minutes, then remove from the heat.
STEP 5
Mix the coriander with the olive oil (see ingredients for amount) in a small bowl. Squeeze in half the lime juice, the remaining soy sauce, a grind of pepper and a pinch of sugar (if you have some). Mix together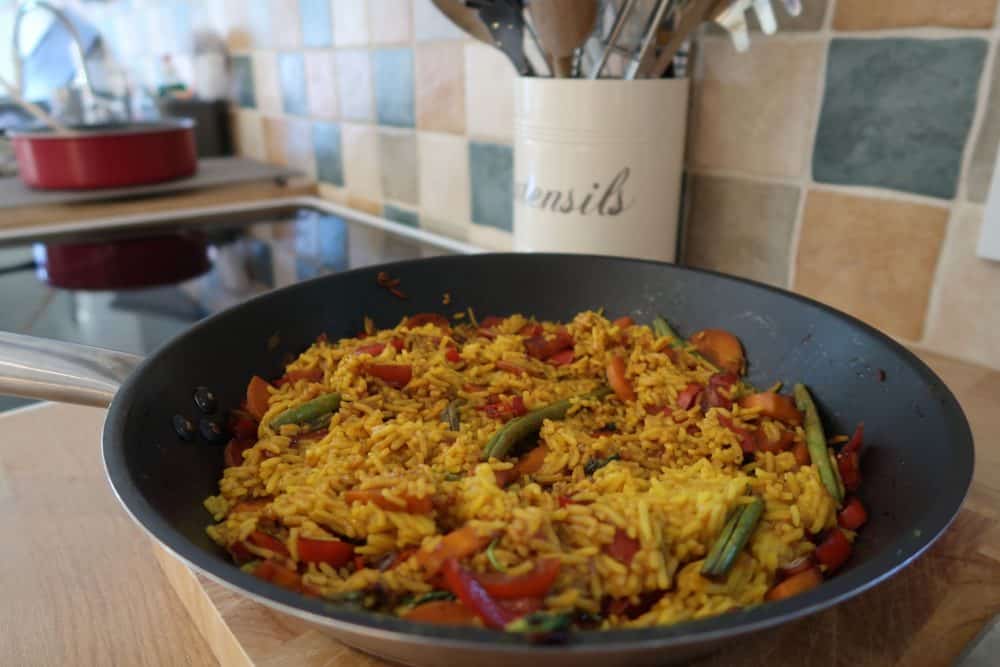 STEP 6
Fluff up the rice with a fork and stir it into the veggie mixture along with the grated carrot. Serve in bowls with the herby drizzle on top and a sprinkling of sesame seeds. Scatter some chilli flakes on top if you like things extra spicy! Enjoy!
****
OTHER RECIPES I WILL BE ORDERING NEXT WEEK
Get £10 off your first delivery with HelloFresh, here: https://www.hellofresh.co.uk/plans/?c=OS10OFF
Other posts that may help you:
Copenhagen Chic at the Andersen Hotel
Ultimate Guide to Bottomless Brunch (& prosecco) in London
Log cabins with hot tubs in the UK
Ultimate Guide to one week in Bali Itinerary
Thank you for reading and as always happy adventuring!
If you've enjoyed this post, please share it for me with all your friends and family!
Sophie X