Packing cubes are my biggest travel hack! And my favourites are the RENSARE IKEA Packing Cubes.
They will revolutionise the way you pack – I travel a lot and therefore I am constantly on the lookout for ways to make travelling less stressful and more enjoyable.
I recently used a rubbish version of a packing cube for my trip to Australia and New Zealand and only a few weeks into the trip the two main cubes had alright ripped or the zip had broken.
So when I got home, I quickly headed to IKEA as they had been recommending to me by a friend and picked myself up some IKEA packing cubes. Keep reading for my IKEA RENSARE packing cube review.
I was super annoyed and couldn't wait to find a better alternative when I returned. These IKEA RENSARE Packing cubes are a lifesaver when you travel and will give you back time and sanity when unpacking and repacking that backpack multiple times a week.
I also really do believe, using RENSARE IKEA packing cubes and folding your clothes in your suitcase is what makes the difference between those who can travel with only carry-on IKEA luggage and those who can't.
During my eight years of travelling the globe with my blog and mostly always travelling with just a carry-on suitcase or backpack, I have learnt that how you pack is hugely important and my efficiency is mostly down to the fact I use RENSARE IKEA packing cubes.
RENSARE IKEA packing cube review
Contents
What are Packing Cubes?

How To Use Packing Cubes

What are the Benefits of Using Packing Cubes?

Buying Packing Cubes – My Favourite RENSARE IKEA Packing Cubes

Pros of using Packing Cubes

Cons of using Packing Cubes

How to Choose Packing Cubes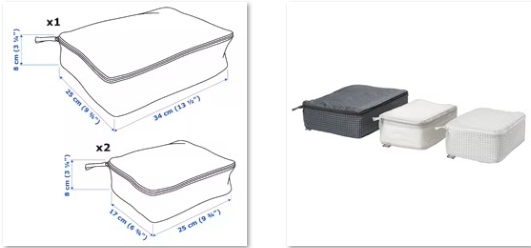 RENSARE IKEA packing cube review
What are Packing Cubes?
Packing cubes are small containers made of fabric, often in various different forms of rectangular shapes. They are perfect for packing clothing and other items when you travel. They zip closed and are small enough that you can fit several into a carry-on bag, suitcase, or backpack.
There are so many packing cubes out there now, you will be able to find one to suit your suitcase or bag. I would suggest the IKEA Packing cubes simply because they come in a range of sizes and shapes.
Packing cubes keep your clothing organised by using compression aids. It makes unpacking quick and easy and you can use them to organise all kinds of things including technology and more.
I would suggest buying a pack of 4-5 packing cubes, so you can split your clothes and other items between them.
I would suggest having one large cube for jumpers and dresses, one packing cube for t-shirt, one packing cube for shorts and skirts, and another for pants, bra and socks.
And if you have one left, you could use this for electronic accessories—chargers, cables, plugs etc. You know exactly where each item is kept.
And it makes being organised so easy as when you need something, you just take out the appropriate cube.
IKEA also do an IKEA suitcase, which you can use as IKEA luggage alongside the RENSARE IKEA packing cubes. Packing cubes can safe space in any kind of IKEA luggage!
What are the Benefits of Using Packing Cubes?
Use alongside the IKEA luggage suitcase and you will find even more benefits for the RENSARE IKEA packing cubes.
Using travel packing organisers has many advantages:
Come in a variety of sizes – many different packing cubes, come in different sizes and shapes. You can buy larger packing cubes for bigger items such as jumpers, long cubes for shoes and then smaller packing cubes for underwear and other delicate items.
Pack more efficiently – It's easy to pack when you know what goes in each cube and how each cube fits in your IKEA luggage. It's basically a big game of Tetris but with IKEA packing cubes. And also it means you can't overpack as you are limited to how much space there is in each IKEA packing cube.
Offer alternative storage solutions – I often use the travel RENSARE IKEA packing organisers for other items such as my photography equipment, or cables, leads and plus. It keeps all of my kit organised and in the right place.
Stay organised! – Packing cubes are also great as they mean you can find things easily and don't spend hours searching through your backpack or suitcase. It minimises the opportunity to lose items too, as long as I remember to put them back in the right cube.
Save space – Another benefit of packing cubes is that they can be great space savers and make sure you maximise space in your limited size allowance for many airlines, where you pay a premium for weight restrictions and size of a IKEA suitcase.
Serve as impromptu pillows – Fill them with your clothes and they can also act as impromptu pillows for long journeys, flights and even at hotels.
Keep organised for future trips – As I travel so much the RENSARE IKEA packing cubes act as great ways to store items for my next trip. I have an array of items, that need to come on every trip with me so there's no point unpacking them and I instead store them in the packing cubes, inside the suitcase.
PRO TIP: Roll your clothes before putting them inside a packing cube. You can fold your clothes, or cram them in, but we found rolling to be the best. It's easier to organize them inside the cube, your clothes are less likely to crease, and it's easier to fill all the space inside – Tip from Pack Hacker

On a recent trip to IKEA, I realised they had also started selling their version of a packing cube in their travel and IKEA family range. (They have also started selling suitcases, I am intrigued to see how they match up to higher-priced brands.) However, many of you may be asking 'what is a packing cube?'
I use mine with my IKEA luggage which fit great and are amazing at sorting clothes.
A packing cube is a fabric cube which is usually encased with a zip. The purpose of the cube is to aid packing when going abroad, by both saving space in your suitcase but also protecting your clothes/separating your clothes. Below I have listed my pros and cons for why I would recommend using packing cubes! You can buy them here.
Pros of using Packing Cubes
You can separate your clothes if you are sharing a suitcase
Protects your clothes from explosions with toiletries
Compartmentalise different types of clothes
Keeps clothes wrinkle free
Separate dirty laundry from clean clothes
Cons of using Packing Cubes
The cost – although these are pretty cheap!
Could you alternative methods
More weight if you are travelling ultra light
How to Choose Packing Cubes
I may have done this IKEA packing cube review, but there are lots of popular packing cube brands include Kathmandu, Amazon, Eagle Creek, eBags and more. When choosing packing cubes, durability is the most important attribute as you want a strong material with high-quality zips so that you can stuff as much in as possible without them breaking.
The size and amount of packing cubes you need comes down to personal preference and how you want to organise your things when they are put inside your suitcase or backpack.
The range I have mentioned above is the IKEA Family UPPTÄCKA range, which includes four different types of cubes. I have had these cubes for over six years and they're still going strong….
The IKEA, UPPTÄCKA range has two different types of packing cubes. I bought the navy blue coloured range as the other colour is pink, and I am just not a fan of pink. They come as a set of 4 for £5 if you have an IKEA family card (you can ask for one at the checkout) or for £7.50 without a family members card.
They have mesh in the front so they're breathable, and its also useful so you can see what's in them, instead of taking everything out to find one top. One of the cubes is double sided, and they come in a variety of sizes.
There is a large, medium, small and shoe bag. SO HANDY! The IKEA packing cubes don't have an odour proof/water proof cube, like many others do but I still like the idea of being able to separate my dirty laundry away from my clean clothes. If you are after an odour cube I know that Eagle Creek do some.
Overall, a really good investment, at £5 you really can't go wrong and I will be sure to invest in a few more of these packing cubes for the family and partner for our next trip away this spring.
What do you do to keep organised when you're travelling? Let me know in the comments below!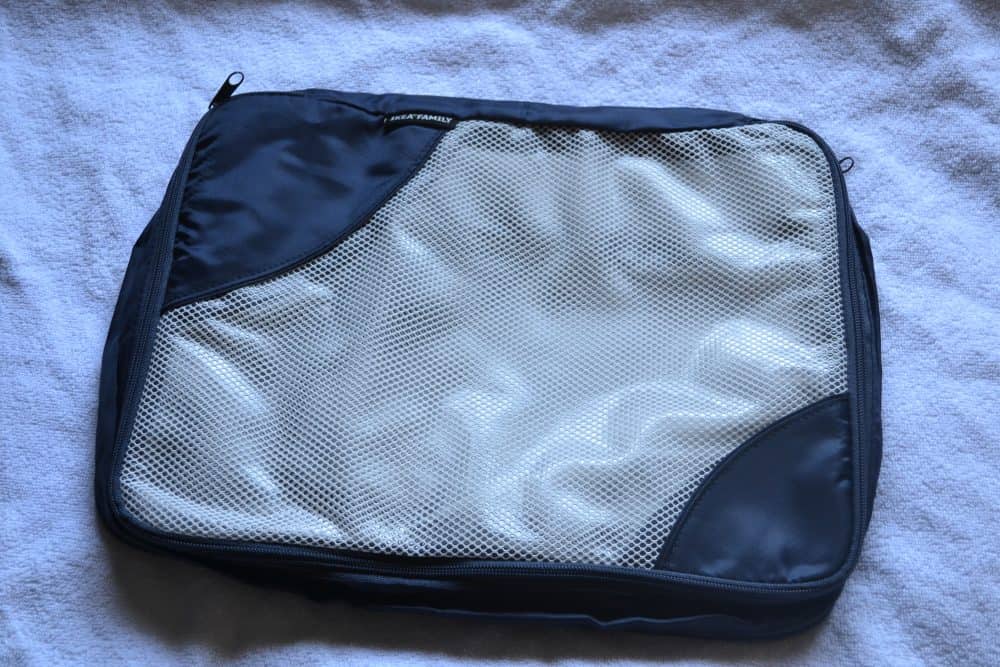 Here are some other options from Kathmandu and Eagle Creek. If you use packing cubes, how many do you pack?! Let me know in the comments!
This post contains affiliate links. If you make a purchase using them, we will receive a small commission at no extra cost to you. It helps to keep this site running – thank you!
Update: IKEA has now discontinued these blue ones, but they have another set which I love too, which you can find here. I hope you enjoyed this IKEA packing cube review.
Other posts that may help you:
10 Hygge Things to do in Copenhagen
10 of the Best places to eat Brunch in London
Ultimate Guide to one week in Bali Itinerary
A Guide to a Weekend in The Gili Islands
10 Things You Can Only Do in Australia
Thank you for reading and as always happy adventuring!
If you've enjoyed this post, please share it for me with all your friends and family!
Sophie X