If there's one thing I love more than travelling, it is music. I love sitting on a train and listening to my favourite albums, or playing them as loud as possible on a road trip.
I have a great pair of headphones from Sony and I have an iPhone to store my music, but I had never invested money in a music player for my home, until now.
Then recently my friend Kara at Heels in my Backpack showed me her Record Player and I fell in love. After years of cassettes, CDs, Minidiscs, MP3s, Spotify, and all other kinds of musical formats, the old man Vinyl is making it's comeback! It seems that no matter how hard we try, the rich sound and tangible nature of an album cut onto a vinyl just can't be beaten.
Buying a record player can be expensive, or if you are lucky you can find one in a charity shop for a bargain, but if you can't I have found our middle man, the GPO Attaché 3-Speed Portable USB Turntable.
The GPO Attaché is a stylish and lightweight record player available in a range of colours including Vintage Brown, Sky Blue, Apple Green, Black and Pillarbox Red.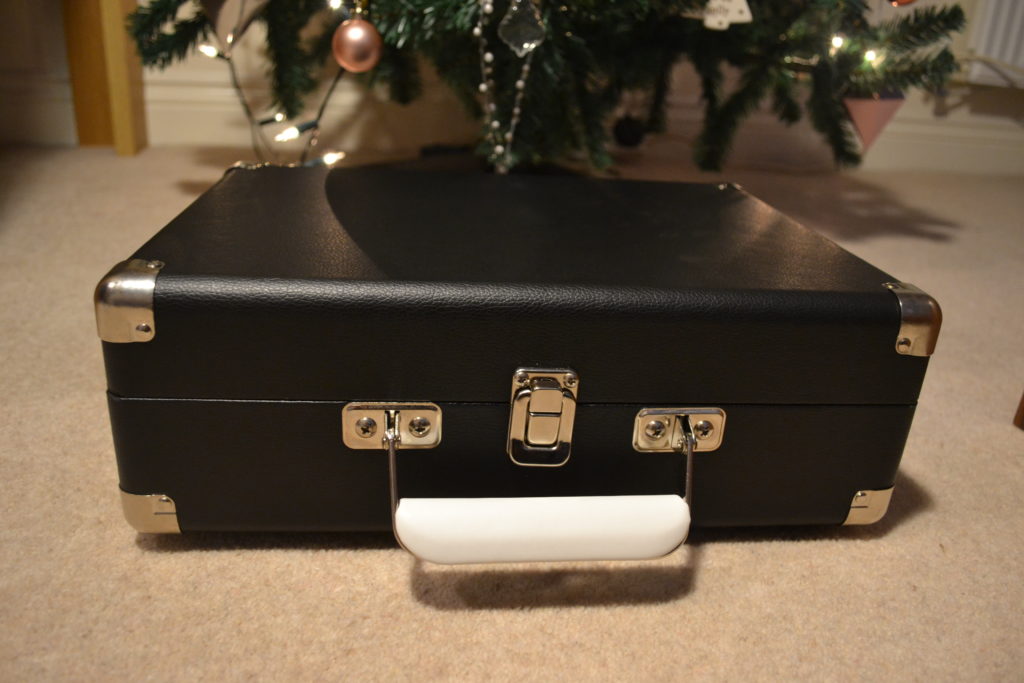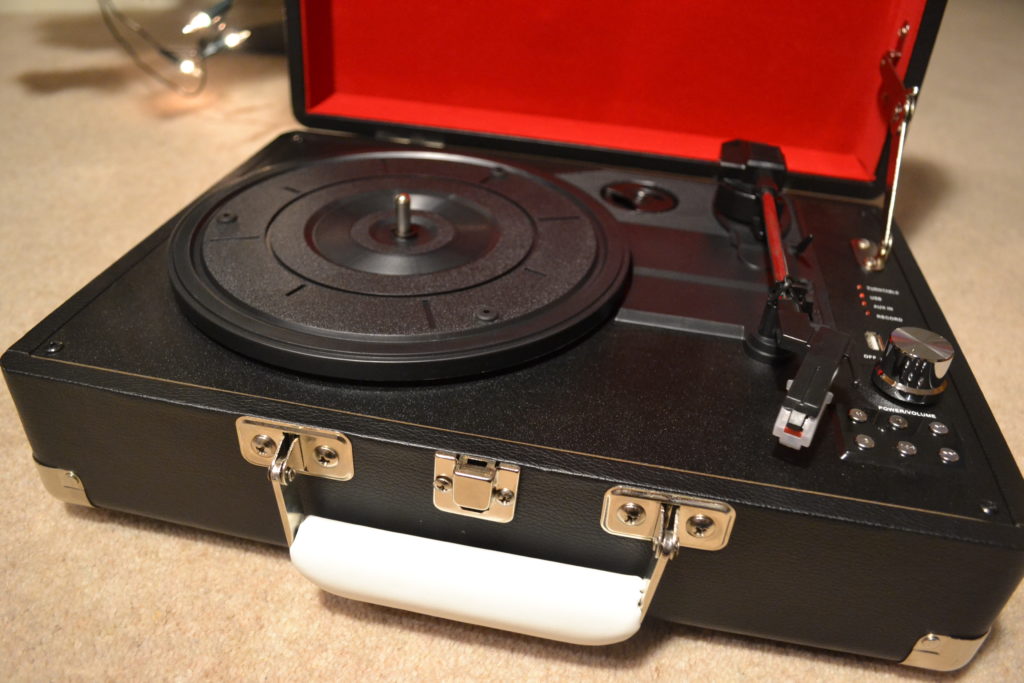 It also makes it simple for you to play your vinyl wherever you are as it is portable! Made of wood and bound in leatherette this briefcase styled record player features built in stereo speakers so you can tune in without needing a speaker system and take it along with you for the ride, whether you are going on holiday to a ski chalet and want some music, or hosting a party with the girls.
So here goes the techy bits: The GPO Attaché comes complete with 2 built in 1.5W stereo speakers and provides AUX ports to connect external speakers for more enjoyment. Alternatively, you can use the 3.5mm auxiliary input to connect your mobile audio device for seamless playback through the music centre's high quality speakers and even record all of your vinyl content onto any USB stick (includes free USB stick) and it also plays at 3 vinyl speeds (33,45,78 RPM).


This Record Player is brilliant, and is the perfect gift for the music lover in your life. It's a great price, boasts powerful built in speakers and is a lightweight retro design for when you are on the move. Don't leave you treasured vinyl collection to gather dust in the attic, bring old records back to life, rediscover those rare EP's and B-sides and enjoy the timeless feel of your vinyl record collection all over again with the GPO Attaché.
See you later I'm off to pop on Bob Marley's greatest hits and prance around the living room….
---
My Travel Tips and Recommendations
Flights
To book flights, I always use flight search engine, Skyscanner, I regularly use the Everywhere tool to find the cheapest places to travel. It's how I get to travel so much all around the world. I find it the easiest way to compare flight prices across airlines and get the best deals.
Accommodation
For accommodation, I usually book most of my hotels or hostels through Booking.com. I love using this platform as it provides me with some amazing deals for accommodation all around the world. Or if you prefer, I also recommend using Airbnb. If you haven't signed up with Airbnb already, you can use this link to get £25 off your first visit!
Photography and Technology
Here is a list of the technology I always travel with:
Travel Insurance
Picking travel insurance that covers you in all eventualities is an essential part of planning a trip for every single person. If you can't afford travel insurance, you can't afford to travel. You never know what's around the corner. World Nomads is an affordable option that I personally recommend. BOOK HERE
Other posts that may help you:
Ultimate Guide to one week in Bali Itinerary
Visit Lisbon: 9 Day Trips from Lisbon
Berlin City Break: How to spend a Weekend in Berlin Germany
The Best City Breaks for Couples
10 of the Best places to eat Brunch in London
Sign up to AirBnB with this link and receive a £23 off your first booking.
To receive my articles and reviews straight to your inbox SUBSCRIBE HERE.
Did you know I also vlog my trips? Make sure you subscribe to my YouTube channel so you get alerted when all my travel videos goes live… CHECK THEM OUT HERE
Thank you for reading and as always happy adventuring! If you have any questions about the destination please leave these in the comments below.
If you've enjoyed this post, please share it for me with all your friends and family!
Sophie X