In October I headed on another amazing trip with the team at Princess Cruises for the launch of their brand new ship Sky Princess. I went on a trip last year through Italy, Spain and France, and ever since that trip I've caught the cruise fever. I loved waking up every morning in a different destination, with all the food, drink and entertainment onboard the ship – what more could you ask for? So when Princess Cruises invited me back for another adventure and to be one of the first people ever to set foot on their brand new Sky Princess cruise ship, I said yes!
For this inaugural Sky Princess cruise, we flew in to Trieste in Italy, before heading out of port on a five day cruise around the Mediterranean stopping at both Kotor in Montenegro and Athens in Greece. The launch of Sky Princess cruise ship was amazing with a launch party in the evening of our first day, lots of dancing and celebrating for both passengers and staff.
We had two days at sea too, which meant we could really explore this amazing ship, from top to bottom, exploring the various restaurants, cafes and bars onboard, go and see a show or two at the theatre, head for a game of basketball on top deck, and even getting a massage in the middle of the ocean.
I have a lot of content coming your way from this trip over the coming weeks, so stay tuned, subscribe to my YouTube channel for the vlogs and watch out on here for guide to cruising the Med and more information on Princess Cruises MedallionClass™ Experience. Make sure you check out my YouTube channel and subscribe! Keep reading for my blog post about my Sky Princess Cruise….

Princess Cruises Sky Princess Ship Tour
The Sky Princess
As part of my adventure on the brand new Sky Princess around the Mediterranean, I wanted to give provide a quick tour of the ship, including all of these amenities that are onboard this magnificent ship. As you'd expect from the name, Sky Princess, is a beautiful ship with long, spacious decks, an array of restaurants, cafes and bars to choose from, and contemporary design from top to bottom. The ship is brand new and you could see this throughout the ship, from the shiny marble tops, classy interiors and modern technology including the new Princess Cruises MedallionClass™.
From the moment I stepped foot on the Sky Princess, I was immediately impressed. I was also super excited to be one of the first people ever onboard, the first to ever experience a sailaway onboard and we were the first people to ever sleep in the beds of the staterooms. Sky Princess is a Royal-class cruise ship currently operated by Princess Cruises, and the second ship to sail for the cruise line under that name. Sky Princess is a 3,660-passenger ship and features a stunning multistory Piazza atrium, adults-only Sanctuary and their famous Movies Under the Stars concept, as well as a number of other traditional Princess Cruises' staples.
Some of my favourite highlights from the Sky Princess include:
An incredible four pools: Wake Pool, Retreat Pool and two main pools
The adults-only Sanctuary which you can book for half a day
The famous Movies Under the Stars
Over 80% of cabins on offer for guests have balconies
The Enclave which is Princess' largest-ever thermal suite
Brand new Phantom Bridge Escape Room
Vines award-winning wine bar
The luxury Sky Suites featuring 270-degree views and has the largest balcony at sea
Chef's Table Lumiere behind-the-scenes dining experience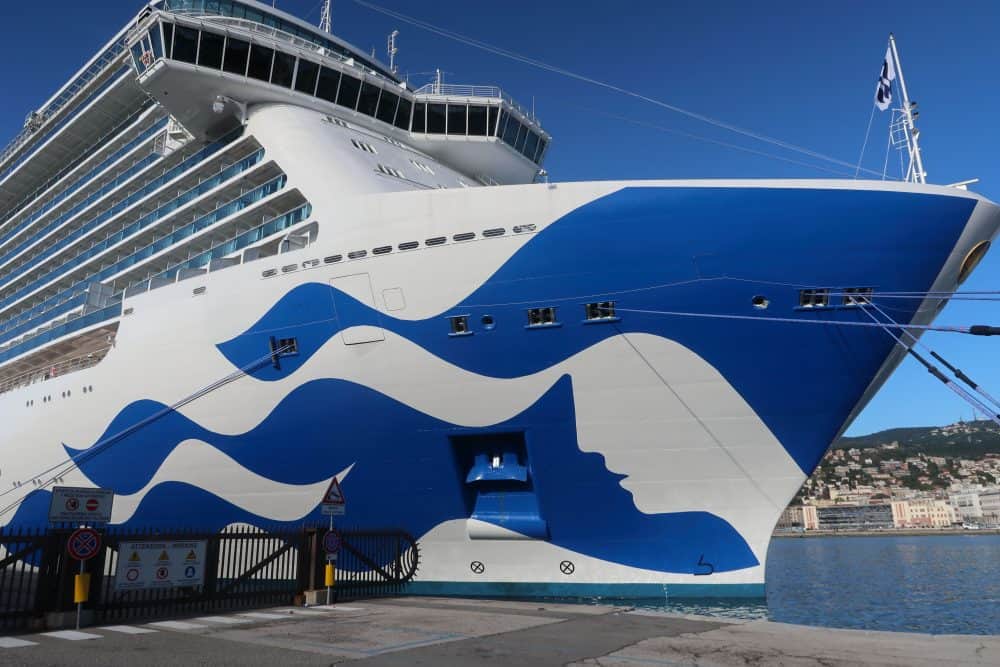 Princess Cruises Sky Princess Ship Tour
When to go on a Cruise
Summer is the high season in the Mediterranean and the weather is hot and sunny, the water is warm, and millions of people flock to Europe to soak up the sun and take a holiday. I would recommend the best time to take a Mediterranean cruise, however, is in the spring (May-June) or in the autumn time (September-October). It is a good time to Cruise in the Mediterranean during these months and I really enjoyed going in October, it was warm enough for shorts and a tee, but not too hot that you don't enjoy the excursions. We visited Athens in October and it was still really warm, at around 26 degrees celsius.
Princess Cruises Sky Princess Ship Tour
Where to go on a Cruise
I loved the cruise we did with Sky Princess and adored the ports we stopped at during our five days onboard. We stopped in the lesser know Kotor in Montenegro, and the ever popular Athens in Greece. Both of these destinations were incredibly different, and offered two very different port excursions. During our five-day cruise we embarked in Trieste Italy (but due to our arrival in port and wanting to get onboard, we didn't explore this Italian city), Kotor Montenegro and Athens Greece. The ship was then going on to an array of other destinations including Barcelona, Rome, Croatia and Pisa. For my next cruise I will be looking really carefully as the places it stops, to make sure I get to see a variety of destinations! I'd especially love to do a cruise of the Greek islands or a winter cruise in the Norwegian Fjords.
Princess Cruises Sky Princess Ship Tour
Overview of my Mediterranean Cruise Itinerary
Day 1 – Embark in Trieste, Italy
Day 2 – At sea
Day 3 – Port day in Kotor, Montenegro
Day 4 – At sea
Day 5 – Disembark in Athens, Greece
Princess Cruises Sky Princess Ship Tour
Princess Cruises MedallionClass™ Experience
One of the most amazing things about the new Sky Princess ship is the brand new Princess Cruises MedallionClass™ Experience which is available for all passengers to use as part of their cruise. Onboard the new Sky Princess you can say goodbye to plastic credit-card-style room keys, and say hello to the new MedallionClass™.
Using this innovative technology, you can enjoy more of what you love using a small data key, which links to your onboard account, makes your experience on board personalised, and comes with an app, so you can order food and drink, make reservations for dinner, book shore excursions and you can even unlock your stateroom door hands-free as you approach. The MedallionClass™ is a world-first and using the app ensures you're whole trip is seamless and stress-free. Plus, stay connected while at sea with fast and affordable MedallionNet Wifi.
Princess Cruises Sky Princess Ship Tour
Staterooms on Sky Princess
From the moment you step aboard Sky Princess you feel welcome and right at home. It's the friendly smile, the attentive service, the comfy sofas and beautifully designed staterooms. Onboard my trip I was given a balcony stateroom on Deck 15 for the duration and had such a comfortable stay.
The balcony stateroom is as you would expect, with an ensuite to your left as you enter the room, and a large open wardrobe, and then through a small corridor, the room opens up with a king size bed and desk space, before reaching the best bit: the balcony. I loved having a balcony onboard Sky Princess as it provided me with more room for relaxing, and I spent many evenings watching the sunset from here, or having breakfast in my robe before a day of adventures.
The room was larger than I expected from a ship stateroom, and even the bathroom didn't feel small, with shower area and vanity mirror. The rooms also include: TV, Telephone, Spacious closet, Hairdryer, Fridge, Safe, Desk and Air-Conditioning. I couldn't have asked for more from my stateroom aboard the ship and loved spending time in my room, getting ready for dinner and admiring the views in the morning.
Princess love their sleep as much as me, and to prepare guests for the ultimate night of restful sleep at sea, they consulted with board-certified sleep expert Dr. Michael Breus to optimize every stateroom for a sleep-friendly sensory experience, from the bedding to even SLEEP-friendly evening meals on board. Now that's a concept I can get along with….
Each morning you can ask to have breakfast delivered to your room free of charge, and next time you cruise, you need to experience breakfast on your balcony at least once! By the end of the five days onboard Sky Princess, it really felt like home!
Other options of staterooms include: Sky Suite, Suite, Club Class, Mini-Suite, Deluxe Balcony, Premium Oceanview and Interior room.


Princess Cruises Sky Princess Ship Tour
Sky Suites on Sky Princess
An impressive addition to the Sky Princess are the exclusive Sky Suites. Offering lucky guests the largest balcony at sea, amongst an array of other benefits, the brand new Sky Suites onboard Sky Princess, offer a dedicated suite manager, private viewing to Movie Under The Stars, star-gazing session, mixologist on call, 270-degree panoramic views across 1000 sq ft, and exquisitely designed living spaces, and enough room to sleep five people.
From the moment I entered the Sky Suites I was in awe of how beautiful and spacious they were. The Sky Suites are located at the very top of the ship on Deck 18, and each feature a living area with dining space, two bedrooms, and extra sofa bed in the lounge area. Each bedroom has its own bathroom and wardrobe, giving families or a group of friends even more space.
Here are some of the amenities in the Sky Suite:
Approx. 1,873 sq. ft., including balcony
Seamless curb to suite experience
Suite Experience Manager to service your every need
Reserved Princess Theatre seating
Complimentary access to The Enclave
Premium Champagne upon arrival
Complimentary Maître d' Wine Tasting
Private Movies Under the Stars balcony viewing
Deluxe telescope for Discovery Stargazing at SEA
Princess Cruises Sky Princess Ship Tour
Food on Sky Princess
There is so much choice on Sky Princess, and during the cruise I tried to eat at least once in most of the restaurants and cafes onboard, including World Fresh Marketplace, Crown Grill (Steak House), Sabatini's (Italian), Salty Dog Grill, International Cafe and Slice Pizzeria. Every restaurant onboard Sky Princess offered something different and it was amazing to be able to try a different cuisine every single night.
Whatever we fancied to indulge our appetites, Sky Princess delivered amazing food, friendly service and a variety of options. Princess Cruises offer unparalleled inclusive dining options throughout the ship, with a further range of culinary delights for an additional fee in the supplement dining options. There is food to suit any palate, from endless buffet choice to gourmet pizza, frosty treats, decadent desserts and much more.1
Inclusion Dining
Anytime Dining (A la carte dining)
Traditional Dining (A la carte dining)
Signature Dishes from Chef Stone (A la carte dining)
Alfredo's Pizzeria (Pizza)
World Fresh Marketplace (Buffet)
Salty Dog Grill (Poolside Grill)
Ocean Terrace Seafood Bar (Sushi and more)
International Cafe (Coffee and cake)
Chocolate Journeys℠
Speciality Dining
Chef's Table Lumiere (group dinner)
Bistro Sur La Mer (French bistro-style)
Crown Grill (Steak house)
Sabatini's Italian Trattoria (Italian dining)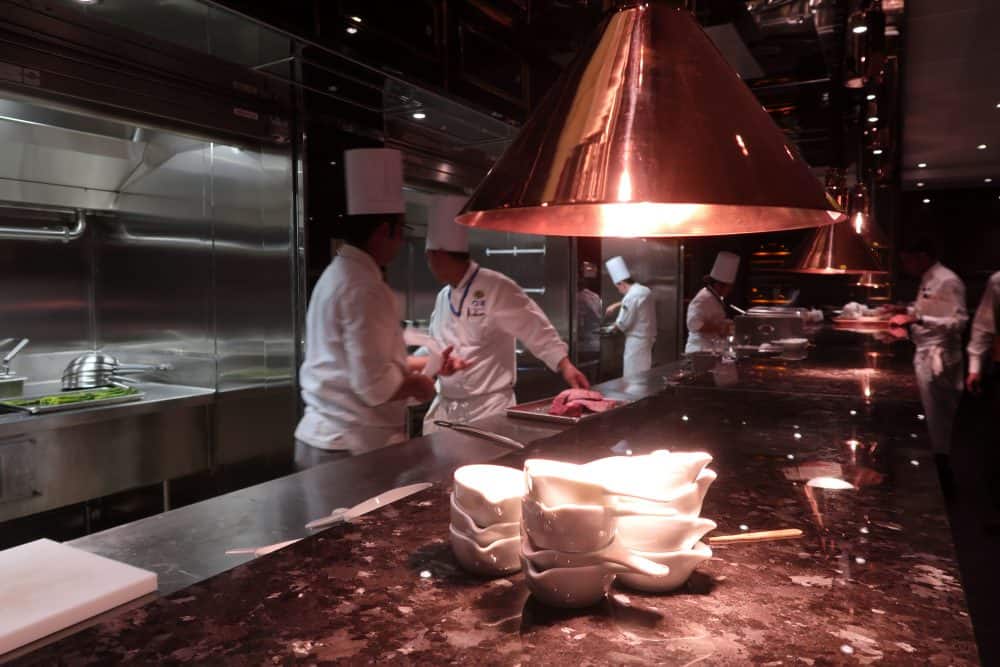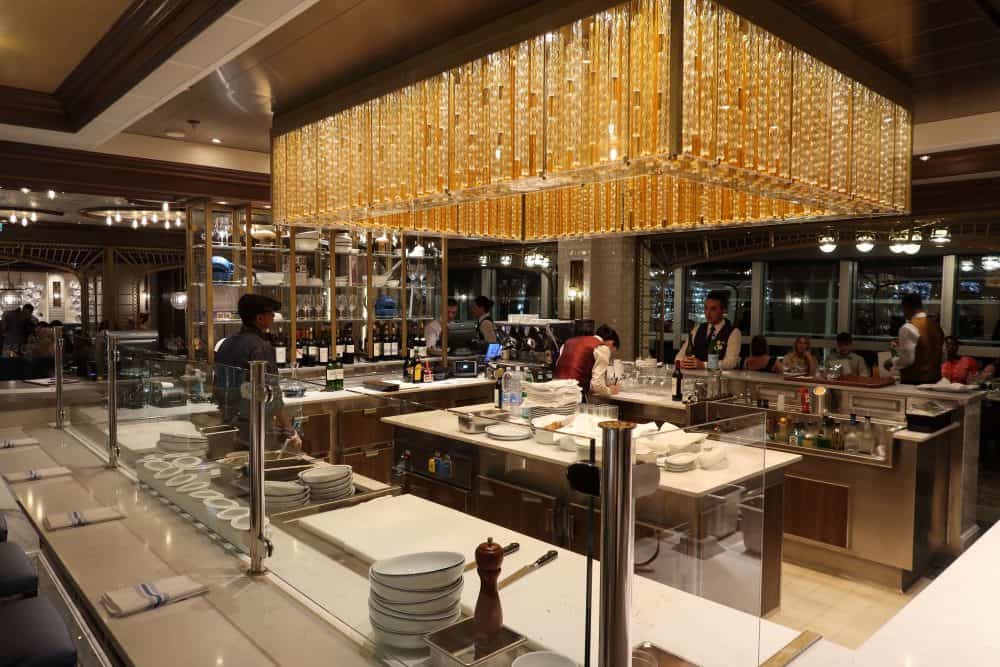 Princess Cruises Sky Princess Ship Tour
Entertainment on Sky Princess
Princess Theatre
Rock Opera
This one-of-a-kind production features incredible costumes inspired by glamorous avant-garde fashion with a musical soundtrack spanning classic rock, opera and musical theater, sung in English, Spanish, Latin and even sign language – a Princess first! Rock Opera is brought to life by a talented cast with a special guest appearance by Brian Justin Crum (America's Got Talent: The Champions) on Sky Princess during her inaugural season and we were lucky enough to be one of the first people to see the show onboard Sky Princess during our trip. And my god, it was amazing! Rock Opera was created by director and choreographer Danny Teeson, musical arranger Nelson Kole, scenic designer John Iacovelli and costume designer Jackson Lowell.
5-SKIES
Introducing 5-SKIES — one of Princesses most technologically advanced production shows yet. Meet Gamer 1, who dares to take on "5-SKIES," the greatest virtual reality game of all time. Follow him on his journey through a series of increasingly difficult levels, encountering new characters and challenges along the way. Will he master all 5 skies to unlock each level and ultimately reach the Sky Princess? 5-SKIES was created by director and choreographer Danny Teeson, Music Producer Nelson Kole, scenic designer John Iacovelli and costume designer Jackson Lowell. Debuting this fall on Sky Princess and June 2020 on Enchanted Princess. I didn't get chance to see this show, but I've been told it was impressive!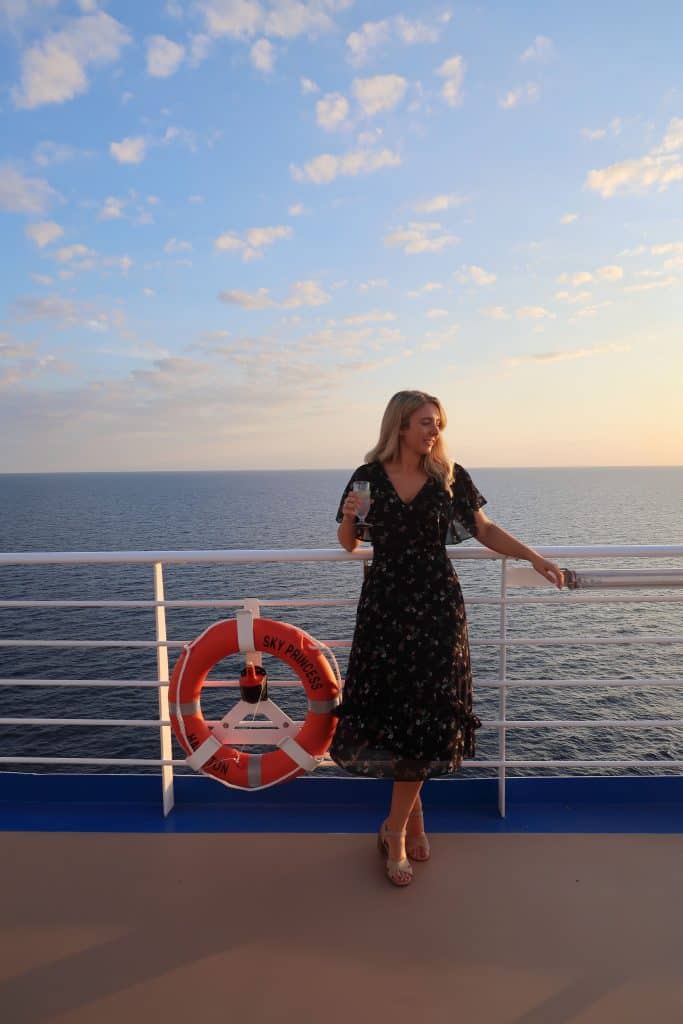 Throughout the day and night, Sky Princess has an exclusive open-air poolside amphitheatre playing films and TV programmes. I would recommend after dinner one evening, heading up to top deck, grabbing some popcorn and a blanket and watching a film under the stars.
Street Entertainers in the Piazza
Everyday in the Piazza, guests can enjoy informal live music, folkloric performances, acrobats and jugglers, even cocktail and food carving demonstrations. Plus, you'll find great shopping, gourmet treats in the International Café, bars, and more great cruise entertainment only a few steps away.
Phantom Bridge

Escape Room

Discovery at SEA and Princess partner to create an industry-first escape room experience, driven by a powerful gaming engine. With hundreds of different outcomes, this immersive interactive experience puts your team's creative thinking skills to the test. Work together as you travel through time and the room comes to life around you. It's an adventure the whole family can enjoy together.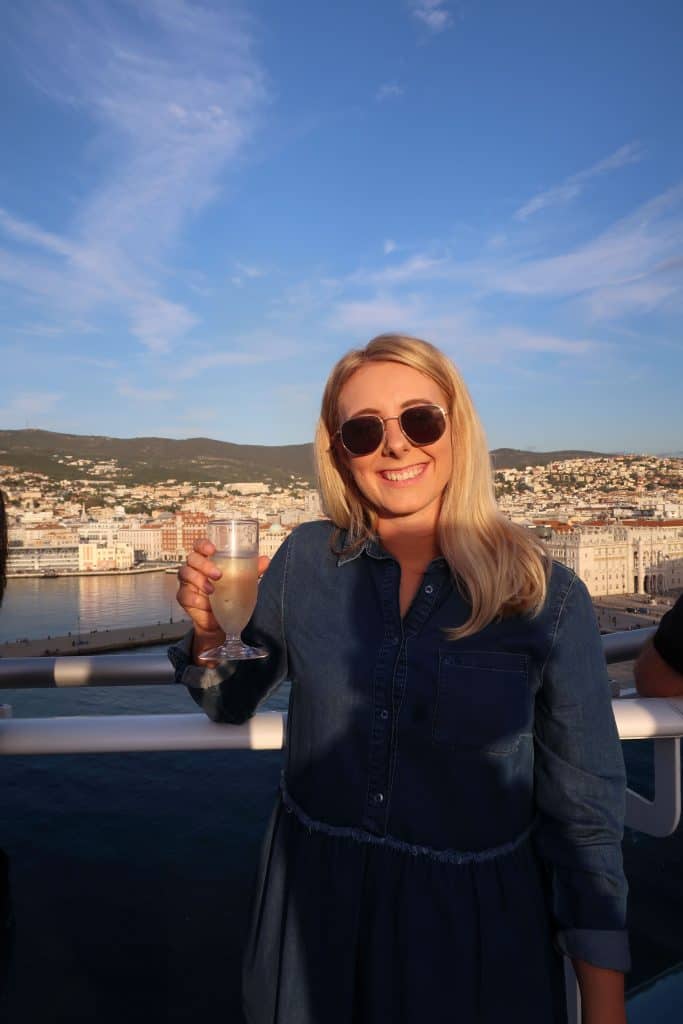 Princess Cruises Sky Princess Ship Tour
The Spa on Sky Princess
Having had a massage at the award-winning Lotus Spa, I can vouch for how good the spa onboard Sky Princess really is. And the reason it is award-winning is due to it being named "Best Spa on a Cruise Ship" by Spafinder Wellness 365™. The Lotus Spa® offers a variety of relaxing treatments, such as facials, aroma stone therapy massages, detoxifying ocean wraps and an aromatherapy thermal suite. I opted for the Hot Stone Massage whilst onboard and was really impressed with The Spa amenities, changing rooms, staff and massage itself. Within the spa they've also got a salon, which features women's styling colour, men's haircuts and shaves, manicure and pedicure choices and teeth whitening.
In addition to this, there is also The Enclave, the largest-ever thermal suite onboard a Princess ship. The Enclave features a hydrotherapy pool with a cascading rain shower, a Hammam, a Caldarium (a light steam chamber infused with herbal aromas) and the Laconium (a heated, dry chamber to help with purification and detoxification of the body).
And if that isn't enough, and you've still got time for more, there's also The Lotus Spa Fitness Center offering fitness programs designed to help you maximize your health onboard, with personal training and classes such as Pilates, Yoga, Body Sculpt Boot Camp, Results Based Training and TRX suspension training.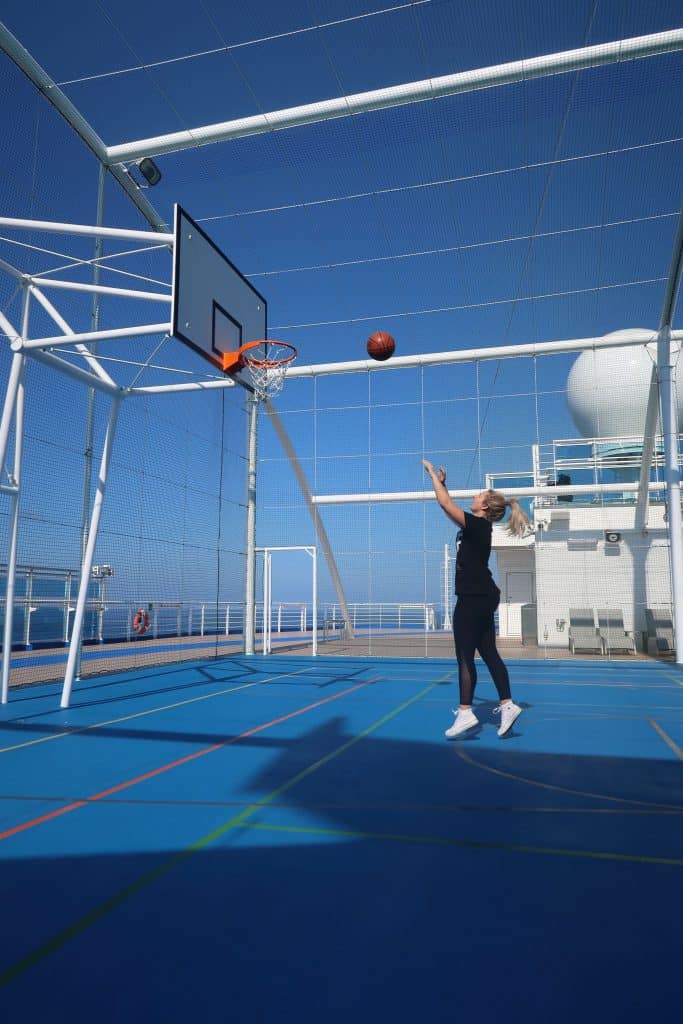 Princess Cruises Sky Princess Ship Tour
The Sanctuary on Sky Princess
One of my favourite parts of our days at sea was being able to visit some of the many relaxation areas onboard Sky Princess, and my most enjoyable was The Sanctuary. Located at the top and front of the ship, The Sanctuary offers an array of opportunities to indulge in a private getaway in the adults-only exclusive area. The Sanctuary onboard Sky Princess also has eight private cabanas (twice as many as other Royal-class ships) ensuring a more spacious experience for guests.
We headed to The Sanctuary in the afternoon of one of our sea days and indulged in Afternoon Tea, took a dip in the jacuzzi, headed to the spa for our massage, and then read a book whilst watching the waves at the front of the ship. You can relax with signature drinks, light meals, and al fresco massages and the Serenity Stewards can attend to your every need, whether it's to be on hand to provide chilled face towels or Evian® water atomizers.
So has that persuaded you to try cruising? I'd love to know if my cruise experience and blog post made you think differently about cruising – let me know on Instagram or Twitter!
I was a guest for the launch of Princess Cruises Sky Princess inaugural cruise around the Mediterranean. Staterooms onboard the Sky Princess start at £XX. For more cruise deals click here.
A big thank you to Princess Cruises for inviting me onboard the Sky Princess. This post has been created as part of a sponsored collaboration with Princess Cruises, however as always all views are my own.
Other posts that may help you:
The Best City Breaks for Couples
The Ultimate Guide to the Christmas Markets in Copenhagen
Ultimate Guide to 48 Hours in Malmö
Log cabins with hot tubs in the UK
Sign up to AirBnB with this link and receive a £23 off your first booking.
To receive my articles and reviews straight to your inbox SUBSCRIBE HERE.
Did you know I also vlog my trips? Make sure you subscribe to my YouTube channel so you get alerted when all my travel videos goes live… CHECK THEM OUT HERE
Thank you for reading and as always happy adventuring! If you have any questions about the destination please leave these in the comments below.
If you've enjoyed this post, please share it for me with all your friends and family!
Sophie X