For as long as I remember cruise holidays have always been aimed at the older traveller, and even after cruising as a teenager with my family, I had never understood why the market for cruising didn't suit the younger traveller more. When I was invited on the trip aboard Crown Princess with Princess Cruises, boarding in Barcelona for a week-long adventure around the Mediterranean, I jumped at the chance to cruise once again.
And even though the stereotype is pretty accurate, with the majority of travellers being an older generation, there were also more younger couples and families than I expected, with a huge amount of activities and events aimed at young families, including a kids club, more modern style dining options and incredible technological advancements.
It's a way of travel which millennial's should be embracing: it's easy to see an array of new destinations in a short period of time, it's great value for money and it's a wonderful way to meet people from all walks of life from all over the world. Having now cruised myself, I fully believe it's time this stereotype changed, and I can't wait to tell you more about my trip so you can make your own decisions on cruising. So guys, here are 13 reasons to do a cruise in your 20's.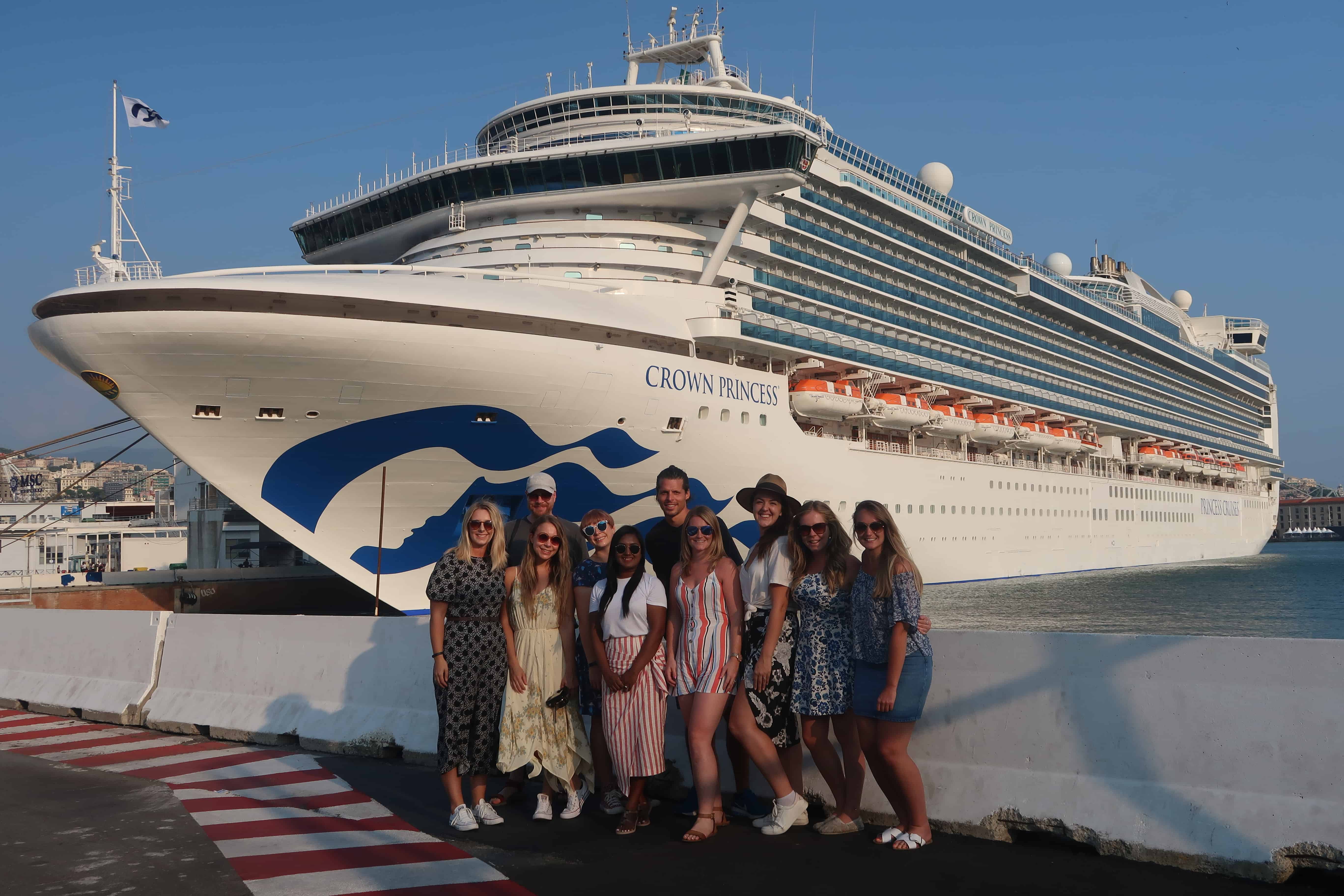 1. Visiting multiple countries in one trip
Cruising is the best way to see multiple countries or cities in one go. On my trip last month to the Mediterranean with Princess Cruises we stopped off at five different ports, and explored four different countries. This type of multi-country wouldn't be possible without cruising, or if you did it, it'd be really stressful to organise. Cruising also means you get to go to countries which you wouldn't normally choose to go to, including some of their more unique destinations such as South America, Alaska and Japan. Having a short visit to each country means you can pick your favourites and return to the ones which you liked most.
2. They are great value for money
Cruises are stereotypically expensive but the one thing I've realised since doing more research in to it, is that it's actually really good value for money. On Princess Cruises all food including fine dining in the main dining rooms and 24 hr room service plus much more is included within the cruise price. However there is a charge for speciality restaurants such as Sabatini's. With regards to drinks, you will find that tea and coffee is included on room service and in the buffet, as well as complimentary Iced Tea and homemade lemonades. However, you want an all inclusive drinks package for the cruise, they also offer various different packages.
Princess often release some amazing deals, so going on a cruise is probably more affordable than you think (especially if you consider how much it would cost to reach all the places on your cruise with other modes of transport). And remember the cost of your cruise includes accommodation, daytime and evening entertainment and transportation between destinations and activities. Guests can then book flights and excursions on top of this, but they are not included in the price.
3. Waking up in a new country
One of the best things about being on a cruise was waking up in the morning and opening my curtains and looking out to a new country or a new city everyday. I adored sitting on my balcony in the morning and taking in the wonderful views set out in front of me, from the rock of Gibraltar, to the colourful buildings of Genoa, there was something magical every single day.
4. Explore lesser known cities and countries
I may have headed off on a cruise around the Med, but Princess Cruises do an array of cruises to all over the world and to more magical and lesser known destinations such as Japan, South East Asia, Alaska and South America.
5. Fear of flying? Fear not!
If you are not a big fan of flying like myself, fear not as most cruise lines start from ports closer to home than you think. They even depart from Southampton, Berlin and Copenhagen, which are all ports you can drive or get the train to.
6. Eat everything you want
If you love food you will love cruising. Having just lost 2 stone over the summer, I was really careful not to put the weight back on whilst I was away! But the array of food from all over the world was incredible. They've certainly done their research on Crown Princess and offer everything from Sushi to Pizza, to Italian and Steak Houses. And some of the restaurants serve food 24 hours a day! Many cruise lines are getting rid of the set table, set time, approach in favour of freestyle dining and this is a great idea as it gives you more freedom to eat and explore as and when you want. Princess Cruises offer 'Anytime Dining' for all guests onboard the cruise, so the option is there for you if you would prefer more flexibility.
7. Or stay healthy…
Like I said above, there may be amazing food but it doesn't mean you have to over-indulge. There are so many ways to stay healthy on-board and cruises no longer have to be indulgent places. A ship like Crown Princess offers an array of healthy eating options, as well as places to keep fit such as their state-of-the-art gym, multiple exercise classes onboard including yoga, a running track and a smoothie bar in the Atrium. I have been told the average person gains 7 lbs on a week long cruise and I managed to scupper this stereotype by putting on no weight during my trip – balancing my food consumption with exercise and activities!
8. Meet lots of people from all walks of life
If you love meeting people from all over the world, then cruising is for you! It's an incredible way to meet lots of people, and it's extremely sociable onboard. Afterall you are living with everyone for a week, so see them as your housemates! Lots of people will talk to you in the lifts, by the pool and even at dinner – it really is like going on holiday with a massive extended family. And even if you were travelling as a couple, or on your own, I noticed there were daily meetups on the ship and you could also choose to have dinner with new people every night. And that's not even getting started on the nightclub which is open until the early hours, where I know many of my fellow bloggers struck up conversations on the dance floor!
9. It's easy to plan your trip and excursions
You can either book your excursions before you travel or when you board your ship. There are a wide array of excursions including hiking, horse riding, snorkelling, theatre productions, shark diving, wine tasting, vineyard tours, wild swimming, segway tours, dance classes, and much more. To find out all about the excursions that you have coming up on your cruise, check out the website before you travel. You can see all the excursions here.
10. You only have to unpack once
This was the best bit – having backpacked Asia multiple times and emptied more suitcases than I can remember, it was nice to unpack for an entire week and still explore new places everyday. On a cruise, you unpack once and your floating hotel takes you from place to place!
11. There's so much to do onboard the ship
Cruise ships today are designed to offer entertainment and activities for everyone. There are usually three pages of activities delivered to your door the night before, where you can pick and choose what you want to do the following day. You can head to the spa, go for a run, take a dip in the pool, head to a theatre production, play a game of bingo, head to the casino, take part in pool games, do wine tasting, take a dance class, play bridge, learn a language, and much more. The activities on offer onboard are endless!
12. Pushes you outside of your comfort zone
One of the biggest lessons I came home with was learning to push myself outside of my comfort zone. Besides exploring a new destination everyday, I also tried new experiences, learned new lessons and even put myself out there in social situations. Being an introvert I often step back and watch from the sidelines, but as the ship became my home and the people become my friends, I opened up and pushed my boundaries. It was certainly the trip of a lifetime!
13. You will come back new…
As the Princess Cruises strapline says… you will come back new! Make sure you add a Cruise in your 20's to your bucket list!
Would you consider trying a cruise? Has my cruise experience and blog post made you think differently about cruising? I'd love to hear your opinion, so please leave a comment in the box below.
I was onboard Princess Cruises Crown Princess cruise around the Mediterranean from Barcelona, Spain to Rome, Italy taking place over 7 Days | 4 Ports of Call. Staterooms start at £849.99. For more cruise deals click here.
This post has been created as part of a sponsored collaboration with Princess Cruises, however as always all views are my own.