This is my final blog post following my European Cruise last month, with the wonderful team at Princess Cruises and it's all about arriving in port and the shore excursions. I jumped aboard the inaugural cruise for Princess Cruises's brand new ship Sky Princess and we sailed on our European Cruise Itinerary for five days around the Mediterranean leaving from Trieste in Italy, stopping at both Kotor in Montenegro and Athens in Greece.
The launch of Sky Princess cruise ship was amazing and it's an experience I will never forget. We were one of the first people ever to step foot on the brand new Sky Princess and I was honoured to have been invited onboard to explore the ship and head off on an adventure.
But what's my favourite things to do on a cruise? It's making the most of the destinations you sail to. Of course, I love sea days and if you check out my Sky Princess ship tour blog post, you'll see why. With so many amazing things to do onboard, sometimes you wonder if you even need to get off the ship. Of course, the whole point of cruising is visiting a multitude of amazing destinations, and the very best thing about cruising is waking up in a new destination every morning.
Port days and shore excursions are a huge part of the cruise experience and every time I have cruised previously, I have chosen my cruise based on the destinations the ship itinerary destinations. I have pulled together a blog post about how to make the most of your port days and which shore excursions are worth investing your time and money in. Here is my guide to a European Cruise Itinerary and port destinations.
I have a lot of content coming your way from this trip over the coming weeks, so stay tuned, but if you want to find out more about the revolutionary Princess Cruises MedallionClass™ Experience keep reading…. Oh and make sure you check out my YouTube channel and subscribe to watch the vlogs from this trip and others.
European Cruise Itinerary
Overview of my Mediterranean Cruise Itinerary
Day 1 – Embark in Trieste, Italy
Day 2 – At sea
Day 3 – Port day at Kotor, Montenegro
Day 4 – At sea
Day 5 – Disembark in Athens, Greece
European Cruise Itinerary
Sky Princess Inaugural Cruise
From the moment I stepped foot on the Sky Princess, I was immediately impressed. Sky Princess is a Royal-class cruise ship currently operated by Princess Cruises, and the second ship to sail for the cruise line under that name. Sky Princess is a 3,660-passenger ship and features a stunning multi-story Piazza atrium, adults-only Sanctuary and their famous Movies Under the Stars concept, as well as a number of other traditional Princess Cruises's staples.
Some of my favourite highlights from the Sky Princess include:
An incredible four pools: Wake Pool, Retreat Pool and two main pools
The adults-only Sanctuary which you can book for half a day
The famous Movies Under the Stars
Over 80% of cabins on offer for guests have balconies
The Enclave which is Princess' largest-ever thermal suite
Brand new Phantom Bridge Escape Room
Vines award-winning wine bar
The luxury Sky Suites featuring 270-degree views and has the largest balcony at sea
Chef's Table Lumiere behind-the-scenes dining experience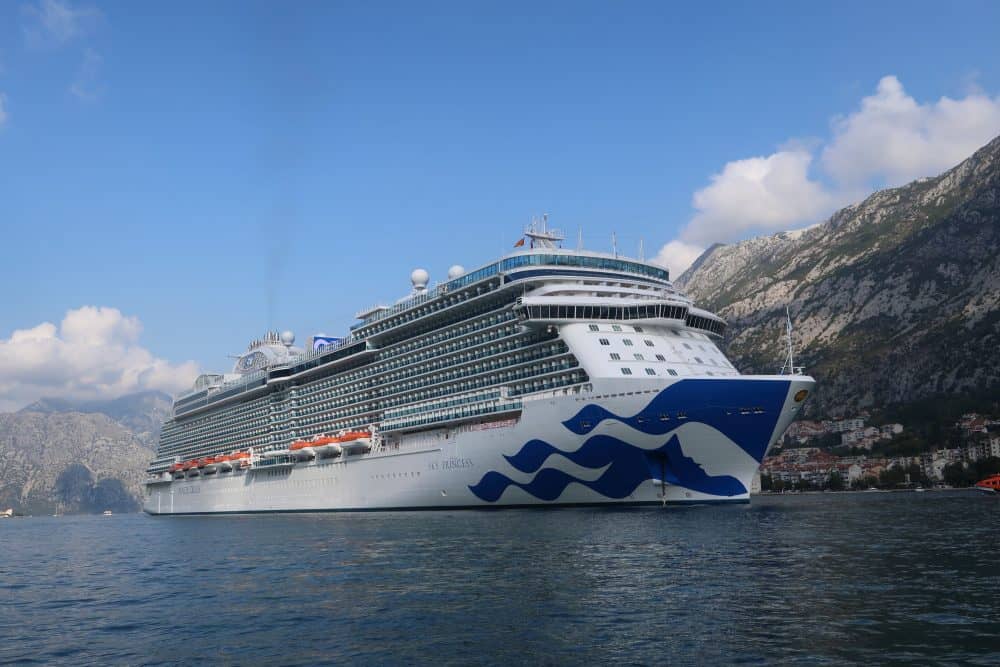 European Cruise Itinerary
Sky Princess Inaugural Cruise and Shore Excursions
Destinations
As I mentioned above, the best thing about cruising is the destinations. As someone who travels up to three times a month, there is nothing more wonderful than travelling to five destinations in one week, without having to re-pack or unpack a suitcase. Waking up in a new destination every morning, is what I love the most about cruises. They make travel exciting again, and not tiresome, and they make travel easy, not hard work.
Opening your curtains first thing, to see the most incredible views, of either the port, the ocean or sometimes even other cruise ships. Of all the cruises I have done (which is now five) I have to say my favourite curtain-opening experience has to be when we arrived in Kotor in Montenegro on this inaugural Sky Princess cruise.
Whenever I ask people who have never cruised before what their reasonings are for never having cruised, they often refer to the short period of time they would get in each destination, and always indicate how it wouldn't be enough time.
But I see cruising as the total opposite; for me it's such an amazing way of exploring new destinations for a short period of time, and giving them a 'test-run' by exploring, and experiencing the culture and the people. Afterwards, you can come back to the destinations you love, either on another cruise or for a longer trip on another holiday.
With any day in port, you have a number of options; you can either stay on the ship, book yourself a shore excursion, or explore the port city by yourself.
When it comes to a day in port, there is often an official first disembarkation time, which when we arrived in Kotor was around 7.30am, but you can actually disembark any time of the day. However, like with Kotor, where the ship doesn't anchor next to a dock, it was necessary to get a tender boat from the ship to the land-side.
I opted to get up early and disembark at around 8.30am in order to miss the queues for the tender. This worked out nicely as me and Sandy didn't have to queue at all for the tender and we were off the boat and on dry-land in 15 minutes.
As on all cruises, before you disembark the ship, Princess Cruises get you to tap your OceanMedallion™ so that they know you've got off the ship for the day, and then you simply tap back in when you return. It's your passport off the ship.
And of course, there will also be a set embarkation time too, so make sure you know what time you need to be back on the ship, and try to arrive half an hour earlier if you can, in order to make sure you don't miss the ship leaving port. YOU DO NOT WANT TO BE THAT PERSON. TRUST ME!
European Cruise Itinerary
Sky Princess Inaugural Cruise and Shore Excursions
Choosing your shore excursions
Book with your cruise line before you arrive in a destination.
Head off by yourself and explore the destination.
There are benefits to both of these options. By going with your port excursions team, you have a guide who usually picks you up from the port, and takes you off on a wonderful day of adventure, based on whatever excursion you've opted for, whether it's hiking the Colosseum, or going swimming with dolphins. You have the security of going with someone who knows the destination well, and can provide you with expert knowledge and advice for your day in port.
You can still book pretty much right up until the day before your port day for tours, and if you are on a Princess Cruises MedallionClass™ ship, you can book your shore excursions via the MedallionClass™ app. By going with organised tours you also have slightly more security when it comes to embarking and the ship leaving port, as if it is a ship led tour, they will wait for the group if there are any issues with returning to the ship due to unforeseen circumstances etc. However if you go off on your own and you're late, the ship will leave without you.
The benefits of going exploring by yourself means you can go where you want, when you want, and with who you want (yourself, party you are travelling with or other passengers). The biggest benefit is not being restricted to itineraries and stops at places you might not have been interested in. Another benefit of going off by yourself is the price: often heading off on your own can be considerably cheaper than the organised tours. But as mentioned above, you are then also responsible for your own time-keeping. Taxis are usually waiting at the port for passengers who might like to do their own thing.
Remember in some ports you'll find crowds of local guides and tour operators waiting for cruise line passengers when they leave the ship. They will often be there to try and get your business, and it can be off-putting but remember they are just trying to make a living out of the tourism in the destination you are visiting, so if you aren't interested just politely decline and head off to start your own adventure.

European Cruise Itinerary
Sky Princess Inaugural Cruise and Shore Excursions
Port day in Kotor Montenegro
Before heading off on your cruise, make it your number one priority to do your research about your port destination in advance. Then whether you are heading off alone, or with an organised tour, you know you've chosen an itinerary which suits you and your party. If you want to do organised shore excursions, I would recommend booking ahead of time, as the popular ones always get booked up.
During my cruise on board the Sky Princess we visited Kotor, Montenegro and I have to say it's one of the most underrated places I have ever visited. Before this cruise I had never thought of visiting Montenegro but when I did some research I realised how beautiful it was and a few friends recommended some places to visit. As I mentioned previously I got off pretty early at around 8.30am and I already had an itinerary in place with a few of my party. We decided to spend half the day hiking up to the fortress Castle of San Giovanni and then headed across to the most beautiful island of Our Lady of the Rocks in the afternoon.
Hiking up to the fortress Castle of San Giovanni
We decided to hike up to the fortress Castle of San Giovanni before the midday sun. We were told it was around a two hour hike, which actually was more like three hours return, with the stopping to take photos, to cool down at the top and to chat along the way. There was an €8 entrance fee which had to be paid in cash, so remember to get local currency when you disembark. There were a couple of stalls along the way selling refreshments and if you love cats, then you're going to love this hike as there were kittens everywhere in Kotor, and especially along the streets and hiking trails up to the fortress.
The heat rose as the time passed, and so did the people, as it got a lot busier on the way down as more and more tourists arrived. But I have to say, despite the heat, and the sweating, and the tourists, the views of Kotor and our ship, the Sky Princess, from the various viewpoints were phenomenal along the route. I stopped around three times on the way up for various photo opportunities and then on the way down just once to grab some water and head back in to the city. After I reached the bottom I headed for coffee with Jess and Stephen, before finding the others and heading off for our afternoon activities.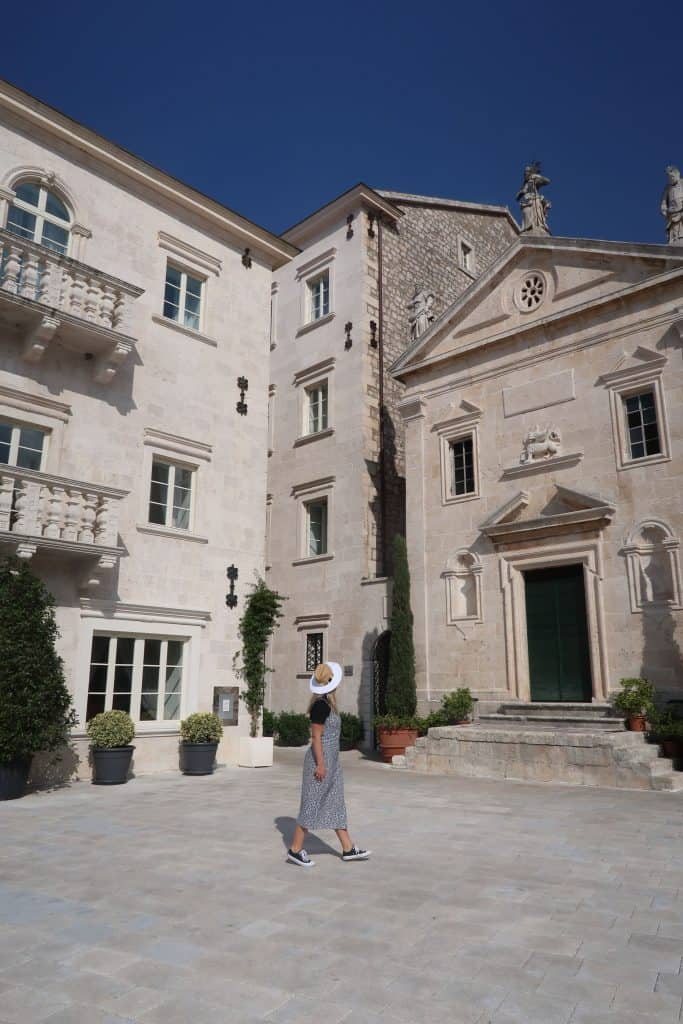 Taking a speedboat across to Our Lady of the Rocks
Once we had finished our coffee, we headed down to the harbour and jumped onboard a speedboat. There were six of us in total and the lovely guy charged us only 10 euros each for a two hour tour, taking us from Kotor port to Perast, a lovely town along the coast in the Bay of Kotor and then he also took us for a 30 minute stop off to the small island Our Lady of the Rocks. Our Lady of the Rocks is one of the two islets off the coast of Perast in Bay of Kotor, Montenegro. It is an artificial island created by the bulwark of rocks and by sinking old and seized ships loaded with rocks.
Despite not having this exact excursion planned in the morning, I am so glad we chose to do this during the afternoon. The church and the museum on the island are very beautiful and the island has great views. We also spent some time in Perast, grabbed an ice cream and sat by the water watching the boats pass by.
"The legend of Our Lady of the Rocks goes back more than five centuries. Legend has it that on a hot summer's day on 22 July, 1452, two brothers were heading home to Perast from a dangerous voyage. One of them had an injured leg. As they passed St George, the 12th century monastery built on the natural island in front of the town, they saw something caught on a rocky outcrop. When they went to see what it was, they found an icon of the Virgin Mary and Child.
The brothers went home and took the icon with them. The next day a miracle had occurred; the injured brother's leg was healed. They took this as an omen and vowed to build a church dedicated to the Virgin Mary on the rock where they found the icon.
Of course, there wasn't enough rock to build a church on at the time. So they started to drop boatloads of rocks and scuttle old boats around the spot. Other sailors also began to drop rocks on the spot as they headed out to sea, in hopes of being protected while they were away. By 1484, 32 years after they found they icon, there was an island with a chapel on it.
The chapel lost a lot of its treasure on 22nd June 1624 when pirates from Tunisia and Carthage attacked Perast, destroyed the churches and took most of the population into slavery. But by 1630, almost 200 years after the project started, it was rebuilt by the Venetians as we see it today."
– Words by Montenegro Pulse
European Cruise Itinerary
Sky Princess Inaugural Cruise and Shore Excursions
Overall, days in port are fun, it's what cruising is all about and shore excursions are a great way to explore any destination in one day, and whether you fancy heading out by yourself or with an organised tour, you'll be sure to have an adventure. No two days in port are the same, and it's such a great way to get a taste of a destination. So what are you waiting for? Let's cruise!
So has that persuaded you to try cruising? I'd love to know if my cruise experience and blog post made you think differently about cruising – let me know on Instagram or Twitter!
I was a guest for the launch of Princess Cruises Sky Princess inaugural cruise around the Mediterranean. Staterooms onboard the Sky Princess start at £XX. For more cruise deals click here.
A big thank you to Princess Cruises for inviting me onboard the Sky Princess. This post has been created as part of a sponsored collaboration with Princess Cruises, however as always all views are my own.
Other posts that may help you:
The Best City Breaks for Couples
The Ultimate Guide to the Christmas Markets in Copenhagen
Ultimate Guide to 48 Hours in Malmö
Log cabins with hot tubs in the UK
Sign up to AirBnB with this link and receive a £23 off your first booking.
To receive my articles and reviews straight to your inbox SUBSCRIBE HERE.
Did you know I also vlog my trips? Make sure you subscribe to my YouTube channel so you get alerted when all my travel videos goes live… CHECK THEM OUT HERE
Thank you for reading and as always happy adventuring! If you have any questions about the destination please leave these in the comments below.
If you've enjoyed this post, please share it for me with all your friends and family!
Sophie X