Amsterdam has been a favourite of mine for years, having visited multiple times and falling in love with the city, I always return, again and again.
It is a city of many faces, and it is this that I enjoy each time I visit; hoping to explore a new neighbourhood, try new local delicacies or do an alternative walking tour of the city.
I love Amsterdam, and I know you either do already or will do!
I visited Amsterdam in August this year, and we are already planning on returning again next summer. Aside from the usual suspects of tourist hotspots, we managed to ever discover the lesser-known area of Amsterdam.
We walked a lot, stumbling across side-street cafes, boutique shops, and incredible restaurants alongside the canals. We also teamed up with another couple whilst there, hired bikes and explored the city. Armed with my handy Marco Polo Travel Guide we headed off to Amsterdam for a fun-filled 48 hours.
Here is my ultimate guide to 48 hours in Amsterdam.


HOW TO GET THERE
I booked flights with EasyJet, simply because I had nectar points I could put towards the cost of the flights, but nearly every airline flies to Amsterdam from most UK airports. I flew with EasyJet on a Wednesday to a Sunday and paid around £100 for 2 x return flights. Super cheap meaning more money for having fun! EasyJet currently have a sale on 1000's of flights, you can book here.
WHEN TO GO
The best time to visit Amsterdam is between April and May or September and November – right before or directly after the summertime high tourist season.
Tulip season runs from about mid-March to early May, and marks the beginning of tourist season, therefore, April is a perfect month to visit with medium tourists, flowers blooming and a chance of good weather.
I have now visited in December, March and August, and all times I had a wonderful time – you just adapt to your weather!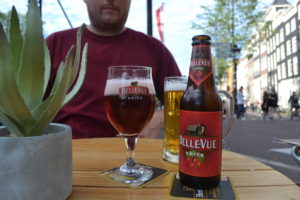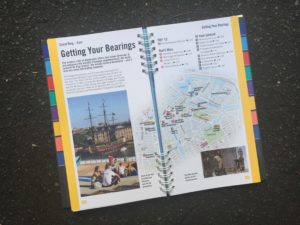 WHAT TO DO
MUSEUMS
Amsterdam Tulip Museum – Until today, this flower remains the Dutch favorite, one of the symbols of the country. A small private museum just across the bridge from the Anne Frank House, shows the history of the Dutch fascination with the tulip and sells in its shop various bulbs of the most beautiful existing flowers.
Amsterdam Cheese Museum – Just a step from Anne Frank House, on the other side of the Prinsengracht a small museum has been organised, dedicated exclusively to Dutch cheese. It is an attractive shop with also an exhibition part and one of the sellers always wears the traditional Dutch clothes. On the ground floor when you come in you can taste the different varieties of traditional Dutch Gouda cheese. Then, if you take the stars down, it will lead you to a little Gouda cheese museum.
The Anne Frank House – The Anne Frank House is a writer's house and biographical museum dedicated to Jewish wartime diarist Anne Frank. The building is located on a canal called the Prinsengracht, close to the Westerkerk, in central Amsterdam in the Netherlands. But be warned this place is heaving, and always busy. Pre-book your tickets and either visit super early in the morning or towards the end of the day.
The Van Gogh Museum – The Van Gogh Museum is an art museum dedicated to the works of Vincent van Gogh and his contemporaries in Amsterdam in the Netherlands.
The Rijksmuseum – The Rijksmuseum is a Dutch national museum dedicated to arts and history in Amsterdam. The museum is located at the Museum Square in the borough Amsterdam South, close to the Van Gogh Museum, the Stedelijk Museum Amsterdam, and the Concertgebouw.
The Sex Museum – The Sexmuseum or the Venus temple is a sex museum located in Amsterdam, Netherlands. The museum opened in 1985. It had 675,000 visitors in 2015, making it one of the most visited museums in the Netherlands.
ACTIVITIES
Cycle around the city – Amsterdam: a cycling city. The narrow, winding streets of Amsterdam's historic 17th-century city centre are definitely best navigated by bike. And with up to 400 kilometres of bicycle paths leading just about everywhere in town, it's no wonder that Amsterdam is a true cycling city.
Vondelpark – The Vondelpark is Amsterdam's most popular park, attracting thousands of tourists, residents and everyone in between every day. It's home to a selection of restaurants and cafés, including the Blauwe Theehuis, Café Vertigo, Vondelpark3, De Vondeltuin and the Groot Melkhuis. You'll also find a skate rental shop, an open-air theatre and a rose garden with more than 70 types of roses in the park.
Canal Boat Cruise – The history of Amsterdam is intimately connected with water. Its 165 canals were created over the centuries to stimulate trade and transport and reclaim land to expand the city. They continue define the city's landscape and in 2010 Amsterdam's canal ring was recognised as a UNESCO world heritage site. When I visited we bought a 24 hours pass with the hop-on, hop-off boat service. It's the perfect way to experience all the highlights of Amsterdam. With the in total 7 stops you will visit the famous sights such as the Anne Frank House, the Van Gogh museum and the Heineken Experience.
Heineken Experience – The Heineken Brewery in Amsterdam doesn't just brew beer for the general public but is also a sensational interactive tour through the dynamic world of Heineken – the Heineken Experience. Whilst in Amsterdam last year I enjoyed an immersive, behind the scenes guided tour of the Heineken Experience in Amsterdam and explore the old brewery where Heineken was first brewed. Then the best bit, following the tour, a Heineken connoisseur takes you to an exclusive bar where you get to sample 5 premium beers, served with a fine selection of Dutch cheeses and traditional Dutch 'bitterballen'. Read my full post from the experience here.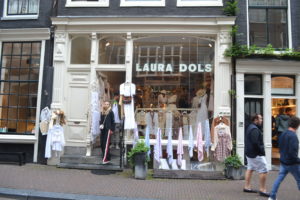 NIGHTLIFE
The Red Light District – It's what many go for, and what many try to avoid. But it is undeniable that Amsterdam is famous for it's red light district. If you're looking for sex, drugs and/or rock 'n' roll, you'll find all you need for a lost weekend in Amsterdam without much preparation. The Red Light District (known locally as De Wallen), sited in an approximate triangle formed by Central Station, Nieuwmarkt and the Dam, is at the very root of the city's international notoriety. It also is home to the first ever coffee shop The Bulldog, Cassa Rosso and the Hash Marihuana & Hemp Museum. Remember: You cannot take photos of the women in the illuminated red doorways (it's illegal).
Sky Lounge – From SkyLounge Amsterdam on the 11th floor, you will have stunning views over the historic city and the IJ River from one of the most exceptional lounge bars of Amsterdam. Enjoy a relaxed atmosphere, fine cocktails, specially selected wines and luxurious food. Located in the DoubleTree by Hilton Amsterdam Centraal Station.
Bars and Nightclubs – When it comes to nightlife in Amsterdam, there are venues, dance festivals and club nights to suit every taste! DJs keep the crowd going with everything from techno, dub step and trance to hip-hop, funk and deep house. Amsterdam has so much to offer from boutique cocktail bars to a killer rave in a warehouse. You choice!
WHERE TO STAY
Every time I go to Amsterdam, without shadow of a doubt I always stay with Yays! Yays is an apartment rental company with 100's of apartments in Amsterdam, alongside another newly opened building in Barcelona. Yays is a new travel and stay concept located in unique neighbourhoods, offering you a home from home whilst you travel.
Yays offer concierged-boutique apartment living at its best, in historical buildings that have been restored to the best of their ability, in line with local districts, and that are hosted by local personnel. In a Yays apartment you can really feel like a local whilst you explore the city. As I have grown older, and grown out of hostelling as much, apartment living has been the next best thing. The apartment becomes a home from home, allowing you to relax, cook and enjoy time with friends and family, whilst away, but in more luxurious settings than in a hostel.
I was really impressed from the moment we walked through the door. Our apartment was on the ground floor and was described on the website as a studio apartment, but it was in fact more a mezzanine loft with our living space (sofa, TV, bathroom, dining table and kitchen) all together, whereas our bedroom was located up a small staircase to the left of the room where our bed was located on a mezzanine level. It was a great way to use the space in a building like Yays Oostenburgergracht which has high ceilings, and high windows. Read my full review here.



WHERE TO EAT
Amsterdam is one of those places where you can stumble across wonderful cafes and places to eat around every corner, and whilst wandering the Nine Streets area of Amsterdam this summer we came across a lovely little café called Pluk.
FoodHallen – Only a 20 minute cycle ride from the centre of Amsterdam is Food Hallen, an indoor food market, perfect if you are hungry but don't know what yuo fancy! There are lots of stands selling all sorts, including burritos, burgers, sushi, Thai and traditional Dutch food such as Bitterballen. There a great buzz inside with people dining socially, and drinking lots of beer and gin!
Brouwerij 't IJ – Brouwerij 't IJ is a small brewery in Amsterdam, located in a former bath house named Funen, next to the De Gooyer windmill. The brewery was opened by Kaspar Peterson, a former musician, in 1985 and was one of several small breweries that opened in cities around the Netherlands in response to consumers' dissatisfaction with beer brewed by the larger companies. It brews eight standard beers and three seasonal beers, besides limited edition beers. It is the place me and Theo go every time to grab a beer, and a slab of cheese and sausage.
Pluk – I was drawn to Pluk immediately when I saw the words 'raw' and 'healthy' due to my recent weight loss programme, of which I am not 6 weeks into. I didn't want my trips this summer to mean I took 10 steps back with my weight loss, therefore I opted for the healthiest food whilst I was away too. Pluk serves anything full of goodness with nutritious benefits, this includes sandwiches bursting with protein and leaves, or the odd acai bowl with banana and granola. And they also serve a large selection of healthier cakes, such as their divine raw carrot cake, and homemade banana bread. You can read my review here.
Pancakes! Amsterdam – They have so much good food here including pancakes, peppermint tea and everything in between. You can opt for sweet or savoury pancakes, for breakfast, lunch or dinner. What could be better?
You can read my Amsterdam food guide here too.
WHAT TO PACK
I will do another post on what I packed for Amsterdam – but here are my basic.
*This post is sponsored.