After a busy few days exploring Saint Lucia, and hours of sailing and zip-lining, we decided to opt for something a little more relaxed and our ultimate guilty pleasure, a chocolate making course.
We booked a chocolate making course at The Rabot Estate Hotel St Lucia thinking it would be a relaxing afternoon, indulging in our favourite food, but we were wrong, it was hard work!
We headed down to the south of the island for a chocolate cookery class at The Rabot Estate at Hotel Chocolat's incredible Boutique Boucan Hotel.
As we approached this stunning destination we realised how luxurious our visit was going to be, from the security staff on the gate, up the drive to the open-dining and bar area. And that was even before we set foot in the pool area downstairs…
The 140-acre Rabot Estate is situated in the South West of Saint Lucia, near Soufriere – the original French capital and divided up into 16 different côtes or areas of terroir, with evocative names steeped in history, such as L'Hermitage, Ti Jardin, Marcial, Mathilde and Rameau.
The rich and fertile volcanic soil, high altitude (c.1000ft above sea level) and rainforest water all combine to create a unique environment (terroir) that is perfectly suited to growing Hotel Chocolat's fine and rare strains of cocoa.
A trip to The Rabot Estate Hotel Chocolat St Lucia was exactly what we needed…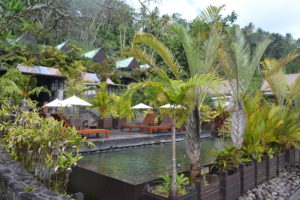 Having turned around the fortunes of the estate, they are now spreading the regeneration through to local cocoa growers. And the next stage of development for The Rabot Estate is to build a chocolate factory and start making chocolate using local ingredients and local labour.
The setting of the Rabot Estate cocoa plantation is jaw-droppingly beautiful with the twin Piton to emerge from the Caribbean Sea in front of you, and behind you, the rainforest stretches into the distance. It was the perfect location for a stop-off during our tour of Saint Lucia.
Unique to the Rabot Estate and drawing on its expertise as a chocolatier and as a grower, the estate offers an exclusive opportunity to discover cocoa-like never before, as well as create your own chocolate.
The experience starts with a walk through the estate's cocoa groves selecting ripe cocoa pods to harvest from the tree and ends with crafting your own chocolate bar. The tour includes all the fascinating stages in-between – from the cocoa seedling nursery, fermenting room and sun-drying station to grinding, mixing and lots of tasting!
After we had wandered the estate, we headed back to the main cooking area to begin making our chocolate!
Each pod must be removed by hand, either by gentle twisting or deft deployment of a 20ft-long knife – a bamboo pole with a sharp hooked blade at the tip. Then the pods (many of which are the size of a rugby ball and weigh up to 7lbs) must be transported from an inaccessible jungle slope to a road.

The beans are then sun-dried, sorted by hand, and roasted in a 45C (113F) oven for 20 minutes, before being shipped back to the UK to be ground into nibs. After that, the conching, or chocolate-making stage, can begin. The nibs are put into a conche (a piece of machinery that 'agitates' the ingredients) with cocoa butter and left to revolve for up to 72 hours – the resulting paste is then heated, tempered and poured into moulds.
Obviously, we didn't have to conche the beans for 72 hours and instead did around 30 minutes (so, of course, the chocolate wasn't silky smooth) but after the gruelling 30 minutes of grinding the cocoa nibs together, we were both sweating buckets!
Once the mixture turned into a paste we added the cocoa butter which against the heat of the sun and the bowl melted into the paste, creating liquid chocolate. One finished we poured into the chocolate mould and left it to set for half an hour.
The experience was great – and one we will never forget – if you're in Saint Lucia be sure to stop off here for the afternoon to learn all about the chocolate-making process and grab a drink in their bar overlooking the incredible Pitons!
A visit to The Rabot Estate Hotel Chocolat St Lucia
Part One: Tree-to-Bean Experience / Available Monday to Friday
Part Two: Bean-to-Bar Experience / Available Monday to Friday
In-house guests: $61 | External guests: $88 – BOOK www.hotelchocolat.com
Thank you to St James's Club Morgan Bay and Travel St Lucia for hosting such a wonderful stay on the island paradise of Saint Lucia!
Other posts that may help you:
Visit Lisbon: 9 Day Trips from Lisbon
Bio-Luxury Resort in The Maldives
Italian Coastal Adventure in Positano
Hot Air Balloons in Cappadocia
The Best City Breaks for Couples
Sign up to AirBnB with this link and receive a £23 off your first booking.
To receive my articles and reviews straight to your inbox SUBSCRIBE HERE.
Did you know I also vlog my trips? Make sure you subscribe to my YouTube channel so you get alerted when all my travel videos goes live… CHECK THEM OUT HERE
Thank you for reading and as always happy adventuring! If you have any questions about the destination please leave these in the comments below.
If you've enjoyed this post, please share it for me with all your friends and family!
Sophie X