Latvia is the perfect destination if you are looking for escapism in nature. It has a population fewer than 2 million and is one of the three countries that make up the Baltics.
Riga, the lively capital of Latvia, is a destination that is on most travellers' lists. However, there is so much more to see and do in Latvia outside of this beautiful city.
Anyone who loves the outdoors will fall in love with Latvia's pristine coastline and four spectacular national parks. Latvia is a country that protects its green spaces and one-fifth of the nation is designated protected land.
If you're a keen hiker, then Latvia has many beautiful trails in both woodlands and by the coast. Did you know you could hike the entire Latvian coastline if you wanted to? I'm sure you'll soon agree, it's time to go off the beaten path with a trip to Latvia.
How to get to Latvia
The major airport in Latvia is Riga International Airport (RIX) and it is 7 miles west of the capital. From the UK there are convenient direct flights to the city, with the expected flight time from London to be 2 hours 40 minutes. You can fly with airBaltic, Ryanair and Wizz Air.
From Riga Airport, you have 3 options to get into the city centre. First there's the 22 bus that takes 30 minutes and costs €2. Second, is a mini shuttle service, this takes you to the outskirts of the city and costs €1 or you can take a taxi but is the most expensive option with prices varying depending on where you're heading.
When is the best time to visit Latvia?
Latvia's nature glows in each season. In winter, you might see snow because the weather can be extremely cold with the temperature occasionally dropping to -25°C. Some accommodation and restaurants close for the winter months too in rural places and towns (but not in Riga). Whereas in the summer, the sun sets after 10 pm and the weather is mild, which means you will have plenty of time to explore the outdoors.
If you really want a unique Latvian experience, then why not visit for the Song and Dance Festival in Riga? It attracts crowds of over 40,000 people and the celebration has earned honours nationally. However, it's worth knowing that the festival only takes place every five years. The next one will be in July 2023.
Another huge celebration in Latvia is the annual 'Race of the Naked', which is part of Latvia's midsummer festival. You might see more than anticipated if you come when this is on…
How to get around Latvia?
There are 4 regions in Latvia and you can get around them by car, train or bus. Hiring a car will give you more flexibility but the rail service connects Riga to all other key towns and cities in the country. Luckily the country is small, so it is possible to get around using public transport if you don't want to hire a car.
It is also worth noting that public transport is really reliable and almost always on time in the country, so is definitely a good way to get around.
Budgeting for Latvia
A trip to Latvia will be cheaper than travelling around Western Europe or Scandinavia. You'll find that accommodation; food and transport are budget-friendly. For example, as Riga is a small capital you will be able to reach the main attractions on foot and public transport between the main attractions is affordable.
Top 6 places to visit in Latvia for Nature Lovers
1. Riga
Riga is a coastal city that will surprise you with its beauty and green natural spaces. It is bursting with history and the old town is a UNESCO Heritage Site. A third of the Latvian population lives in or works in Riga and therefore,it is bustling with life. Therefore, it's a good idea to start and end your Latvian adventure in Riga or to use the city as a base for your adventure.
If you're in Riga, then you won't be able to miss the Daugava River. This is the biggest river in Latvia and is known as 'the river of fate'. Also, as you wander around the city, you can expect to see an incredible mix of architecture, food and Latvian culture. Don't miss: Riga's Central Market, Three Brothers, the Castle of Light (a nickname for the National Library) and the House of the Blackheads.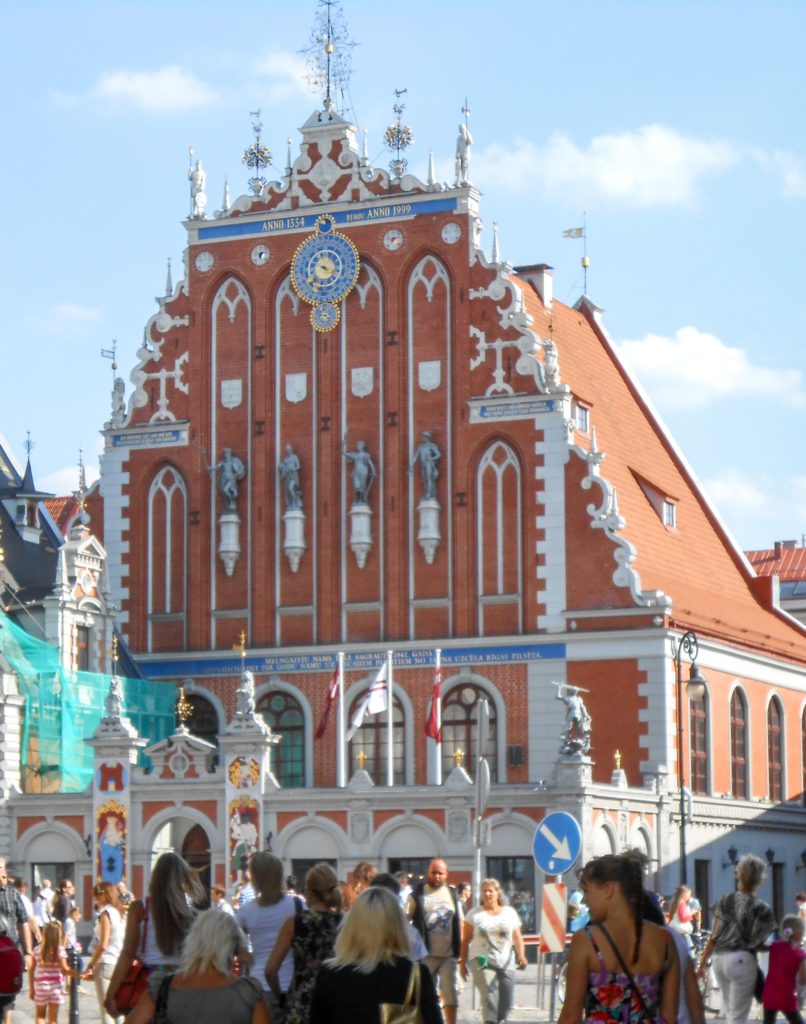 2. Gauja National Park
This beautiful national park can be visited in a day trip from Riga. It is a 200 million old landscape and is Latvia's oldest national park. Whatever, the season there is something unique to do. Whether it be kayaking in the summer along the Gauja River, or hiking in the spring or even cross country skiing in the snowy winter.
Whilst you're there be sure to discover:
Līgatne: a tranquil town rich in history. Here you can walk a nature trail that is an easy 4km walk. You will be able to see red sandstone cliffs and thick forests.
Cēsis Castle: visit the Medieval Cesis Castle, which is the most famous and well-kept castle in Latvia.

3. Kemeri National Park
Only 40 minutes from Riga, lies Kemeri National Park. The national park boasts varied scenery, for example, beaches, forests, Lake Kanieres and the Great Kemeri Bog.
The most popular place to visit is the bog because it is like nowhere you have ever seen before, due to the well-preserved habitats.
This visit will involve walking on a boardwalk which is built of wooden boards. You can choose whether to do a short or long walk, with the shorter taking you to the lakes and the latter to an observation tower.
To reach on public transport from Riga, you can take the train to either Tukums 1 or 2. Expect to pay €1.80 for a single ticket and the journey time will be about an hour.
4. Slītere National Park
Situated in the northwest of Latvia and two hours from Riga, this is known to be the wildest national park in the country.
Here you can find Kolka Cape for a true peaceful nature experience. This is one of the most well-known attractions in Latvia. It is untouched because there used to be a military presence in the area for 50 years.
Hikes in the area include:
● The Kolkasrags circle (3 km): an easy walk that starts and finishes at the carpark.
● Mazirbe (8km): another easy walk that starts and finishes at the Mazirbe church.
5. Rāzna National Park
Situated proudly in Rāzna National Park is the Rāzna Lake known by locals as the "Sea of Latgale"and is an impressive 57 square kilometre lake. Whilst you're there you can go to Makonkaln's viewpoint to see the panoramic views or you can head to the lake for a kayaking adventure.
Whilst in the area you can also visit:
● The Great Linden Hill: for an impressive view of the lake.
● The Cloud Hill and the ruins of Volkenberg Castle
6. Kuldiga: The Venta Waterfall
Known as 'Europe's widest waterfall', you can expect an impressive sight of the bridge and nature. There's the option to swim and even walk across the river on top of the waterfall.
What's more, in autumn and spring you may be lucky enough to see jumping fish, as they jump to clear the rapids. There is also a bridge that was built in 1874 and runs parallel to the waterfall.

Top 4 Hikes in Latvia
1. Nature Park Piejura
An exciting day-hike awaits you in Nature Park "Piejura". Piejura is translated to mean 'the seaside' in English. Prepare to be blown away by the unique ecosystems, including the Gauja River, beaches, pine forests and coastal lakes. There are many different trails and tour companies run guided hikes too.
Suggested trails include:
● Carnikava Promenade (3.9km): good for all abilities and in a beautiful forest.
● Daugavgrīvas Lighthouse, Pier and Tower Trails (11.1km): a looped trail which boasts beautiful beaches, dunes, lighthouses and a boardwalk through lagoons.
● Lilaste Beach Path (12.4km): an out and back walk where you can enjoy lush scenery.
2. Baltic Sea Coast
Latvia has more than 300 miles of coastline and the Baltic Coast is great for both a relaxing trip and for those who love coastal hikes. One of the most famous is the Jurkalne's Steep Coast. It is a two and a half hours drive from Riga and is a spectacular sight on Latvia's West Coast.
● Jūrkalne (10.8km): an out and back trail that is suitable for all abilities.
● Circles of the River Riva (15.4km): an out and back trail, that requires moderate skill level passing a beautiful river.
3. Licu Langu Klintis
You can go on a short walking trail (4km) towards the Licu Langu Sandstone Cliffs. Nearby, you can visit Liela Ellite Cave or the 'Devil's Oven'. This is natural sandstone arches, a 23m long cave and a natural spring. This spring has created a unique rock formation and the water purifies through the layers of sandstone.
Luckily, you can visit using public transport, as it is only a 2-hour train journey from Riga, even though it seems far away from everything when you are there!
4. The Amata Trail
The Amata Trail (15.5km): this hike in Gauja National Park will roughly take about 5 hours to complete and starts from Hotel Karlamuiza. Follow the red markings on the trees and walk along the river to ensure you don't get lost, as the forest can be very thick.
Make sure you leave enough time to visit incredible sights along the way. These include the Amata river hydroelectric station, the Ainavu cliff and Viļņi and Vieļas (traditional Latvian houses).
Foods you should try in Latvia
Latvian food is hearty and seasonal, which means the popular dishes will depend on the time of year you visit. The traditional, native ingredients are potatoes, grey peasbreads, sausages, mushrooms and pork. Seafood is popular too due to Latvia's coastal location and there are plenty of outdoor markets in the country.
If you're looking for local delicacies, you could try:
1. Piragi: crescent pastries filled with bacon or meat and onion.
2. Aukstā zupa: a cold refreshing beetroot soup that has a strong pink colour.
3. Rupjmaize: traditional dark rye bread baked in a hearth oven.
It is clear that Latvia has it all for outdoor enthusiasts and those looking to get off-the beaten track on their next adventure. Well-preserved, unique ecosystems and unforgettable hikes await you. It's time to discover Latvia.
If you on a bigger trip exploring more of Europe check out my guides to France, Germany, Greece, Iceland, Italy, Portugal, Spain and United Kingdom.
This post was created in collaboration with Magnetic Latvia and Traverse Events as part of the #TasteOfLatvia campaign.
---
My Travel Tips and Recommendations
Flights
To book flights, I always use flight search engine Skyscanner, I regularly use the Everywhere tool to find the cheapest places to travel. It's how I get to travel so much all around the world. I find it the easiest way to compare flight prices across airlines and get the best deals.
Accommodation
For accommodation, I usually book most of my hotels or hostels through Booking.com. I love using this platform as it provides me with some amazing deals for accommodation all around the world. Or if you prefer, I also recommend using Airbnb. If you haven't signed up with Airbnb already, you can use this link to get £25 off your first visit!
Travel Insurance
Picking travel insurance that covers you in all eventualities is an essential part of planning a trip for every single person. If you can't afford travel insurance, you can't afford to travel. You never know what's around the corner.
Did you know I also vlog my trips? Make sure you subscribe to my YouTube channel so you get alerted when all my travel videos go live… CHECK THEM OUT HERE
Thank you for reading and as always happy adventuring! If you have any questions about the destination please leave these in the comments below.
If you've enjoyed this post, please share it for me with all your friends and family!
Sophie X