In England there are so many places you can do some amazing outdoor and adventure activities. Sometimes you think you have to go abroad or go on a gap year to experience adventure activities, the likes of which you see people go on in a gap year. But you can have similar experiences right here in the UK on a microgap. We all travel for different reasons our family loves to adventure and Go Wild.
Me and Theo have always travelled lots, and we hope to instill that same passion for travelling and experience in to our seven year old daughter. That's why we love the concept of having a Microgap, as it gives us time together as a family, to explore and discover, but doesn't require us to all take time away from work, school or hobbies. We can experience our own 'gap year' experience in a weekend, much like when we spent a weekend on the Isle of Wight this summer.
We love pushing ourselves to be brave, and in the process discovering amazing places and experiencing breathtaking landscapes on our Microgap. So when a friend recommended going kayaking on the Isle of Wight last summer, I knew it was right up my street. On our last day on the Isle of Wight we headed down to Freshwater Bay for a morning of kayaking with Adventure Activities. We opted for a Family Experience, which included paddling under cliffs, visiting some of the south coast's caves, and coasteering off rocks and was perfect for our adventure with Arabella, who was seven years old.
From exposed tidal races, sea stacks and caves to sheltered harbours and creeks, the Isle of Wight offers the widest range of sea environments for Sea Kayaking in the whole of the South and South East. It ended up being our favourite activity on the island, and it was fun for all three of us, Theo enjoyed visiting the caves, I enjoyed swimming in the water and Arabella found a new love for coasteering, and jumping off rocks into the sea. Sea kayaking is a fun activity for all the family, and you can go on family adventures, as well as sea kayaking courses.
For more ideas for activities in England, check out the Visit England Micro Gap page. There's so many ideas for going on your own Microgap adventure!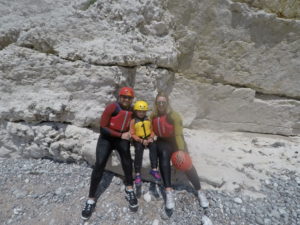 Isle of Wight Travel Guide
Where to go kayaking on the Isle of Wight
Kayaking can be as relaxing or extreme as you like, and the Isle of Wight is the perfect place to take to the water. Here you can find gentle tours around the coasts, and more open water courses, with bigger waves and grottos to explore. And in terms of where to launch from, there are plenty of beaches all with easy access to the water, and with safe car parking.
Freshwater – This is where we went kayaking in Isle of Wight and it's beautiful here with lots of caves and cliffs. It is best explored on a beautiful day and on the correct tide you can explore the caves.
Compton – At Compton you can go kayak surfing due to the great waves and sandy shore.
Sandown Bay – This place is great for a relaxing kayak or a short paddle around the Bay area.
Newtown Creek – This creek is great for families to hit the water, and stop along the river for a picnic.
Medina River – This is a busy river so only more experienced kayakers should take to the water here, and try to also avoid certain times of the year e.g. when there are yachting events close by.
Ryde – Great for beginner kayaking and quite sheltered if you want to do some easy kayaking with little effort with the family.
Isle of Wight Travel Guide
Experience kayaking on the Isle of Wight
If you are after visits to caves, picnics on the beach and jumping into the ocean, then kayaking is for you. When we visited the Isle of Wight this summer for a family weekend adventure we were so glad we decided to go on a kayak adventure whilst we were in the Isle of Wight. Whilst kayaking on the Isle of Wight you will be in the safe hands of some of the best kayak instructors out there, who will guide you around the coves and bays at ease.
For your Kayak Adventure, you meet your guide at their HQ at the Freshwater Bay centre and here the guides will greet you, explain what's going to happen, you will change in to your wetsuit and once you are kitted out for your two hour adventure on the water, you will grab your kayaks and head out. You will be given a wetsuit, buoyancy aid, helmet and then there's a quick walk to the beach with your kayak, before you take to the water.
The kayak adventures are aimed at those who have never paddled a kayak before or for family groups who want to stay together, so we were reassured that we didn't need to be pros or anything close to this. It made us feel much more comfortable knowing we were in safe hands!
Our favourite part of the adventure, was not just the kayaking but also the way you launch in to the water. The beach at Freshwater Bay is quite steep and therefore the only and best way to get in the water in the kayak, is to sit at the top of the beach and be pushed in to the water – at speed. Arabella found this hilarious as we launched in to the water, being thrown around as we hit the waves.
Then once we took to the water, we spent the next two hours, depending on the conditions permit kayaking around Freshwater Bay – our adventure included kayaking the bays, coasteering off rocks and swimming in the sea. And whatever you do it will be an adventure in a stunning location, with great equipment and extremely competent guides who are there to ensure that you are both safe and having fun.
Whilst we were out and about during the two hours, the guide also offered us lots of top tips to improve our skills along the way. We had such a good time out on the water in an awesome environment traveling to places only accessible by kayak or having fun in the surf. A bit along the coast is an array of caves, which our guide took us all inside in our kayaks for a proper nosy.
We booked our family adventure in the wild with Adventure Activities Isle of Wight, a local company and they operate locally with a central booking office. The experience lasts two hours, and we were lucky to have our own guide who was lovely, and really engaged with Arabella!
Where will you be going on your next wild adventure? Let me know in the comments!
Did you enjoy this Isle of Wight Travel Guide?
Other posts that may help you:
The Best City Breaks for Couples
Beginner's Guide to Europe Interrail Routes
Copenhagen Chic at the Andersen Hotel
Best Vegan Restaurants in Malmo
Ultimate Guide to a Weekend Break in York
10 of the Best places to eat Brunch in London
The Best Weekend Trips in the UK
Sign up to AirBnB with this link and receive a £23 off your first booking.
To receive my articles and reviews straight to your inbox SUBSCRIBE HERE.
Did you know I also vlog my trips? Make sure you subscribe to my YouTube channel so you get alerted when all my travel videos goes live… CHECK THEM OUT HERE
Thank you for reading and as always happy adventuring!
If you've enjoyed this post, please share it for me with all your friends and family!
Sophie X
*This is a sponsored post but as always opinions are my own.