After Amsterdam, Scandinavia is one of my favourite places to go in search of adventure. It's also the place I retreat to when I need a weekend of relaxing and getting back to basics. But where to stay in Copenhagen is a question that is asked by many. There are so many amazing hotels, so here are my favourites…
If you are spending more than a few days in Copenhagen, check out this incredible resource Copenhagen Rocks.
This year I headed to Sweden for a week, where I spent time hiking, skiing and exploring the national parks, and next year I am eager to return to stay in Copenhagen to find some hygge.
For me a hotel is incredibly important for any stay, as it acts as my home from home when I travel. I've been searching for where to stay in Copenhagen and this list is what I came up with.
All of these hotels are traditionally Scandi, with their own unique personal style: from the trendy Absalon Hotel to the fairytale Nimb Hotel, these hotels all offer cosiness, authentic charm and style. I love Copenhagen in winter, so it's the perfect time to visit the city!
Where to stay in Copenhagen
HOW TO GET TO COPENHAGEN
You could drive…. it'd take you 15 h 12 min (837.9 mi) via France, Germany, Brussels and The Netherlands. Or you could jump on a plane from London Luton, spend 90 minutes in the air and land in Copenhagen feeling rather refreshed. Most London airports fly direct to Copenhagen and you can fly there for as little as £19.99 with Ryan Air!
Denmark's main airport is Kastrup in Copenhagen, serviced by all major international airlines, but you can also fly to Billund, Aarhus, or Aalborg airports. And you do not need a visa as a UK citizen to visit Denmark.
Where to stay in Copenhagen
HOW TO GET AROUND COPENHAGEN
The best way to get around Copenhagen is on foot and by bike as Copenhagen is built for cycling and the city is also fairly small so walking is also possible. Public transportation systems are also easy to use if you are heading outside the city and there is also an extensive bus route and an easy-to-navigate train network to its easy to take day trips from Copenhagen too.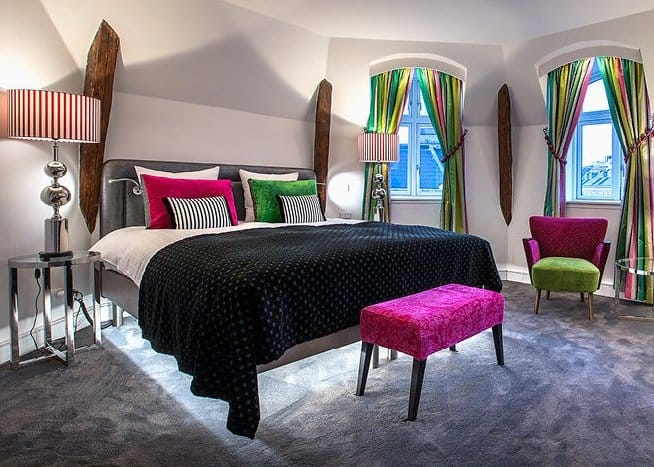 Photo credit: Absalon Hotel
Where to stay in Copenhagen
I actually stayed here the last time I was in Copenhagen and this hotel certainly pulls out all of the stops when it comes to stylish Scandinavian design, set against a luxurious backdrop. Founded in 1938, this hotel has a huge historical relevance with Copenhagen's strong Danish story.
The hotel is located five minutes from Tivoli Gardens and sits perfectly within the meat-packing district! The hotel really stuns with its decor, with a stunning white exterior, and trendy lobby with hints towards it's industrial past. The interiors are down to London designer Trisha Guild, who has meticulously matched the wallpaper to the armchairs, and the light fittings to the coffee tables.
The rooms follow suit, with marble bathrooms and organic Karmameju products. Colour themes range from purple to teal, and stripes are everywhere from carpets to curtains.
Photo credit: Nimb Hotel
Where to stay in Copenhagen
From it's fairytale facade, to it's incredible location (actually inside Tivoli Gardens) the Nimb Hotel is one you won't forget in a flash. The incredible exterior looks like it's out of Brother's Grimm fairy tales, and although it's expensive, it's worth spending one night here during your weekend in Copenhagen.
All rooms (but one) look out over the gardens, and no two rooms are the same, all with their own decadent style and charm. From patterned bedding, to glittery light fittings and high ceilings, to wooden dressing tables and glass walls, this hotel has really put out all the stops.
It's also got a great location, as mentioned, but it's also close to the city's other famous landmarks, cafes and only ten minutes from Nyhavn. Inside the unique rooms, the luxury continues, where there are Bang & Olufsen televisions, Nespresso machines, and custom-made cocktail cabinets with decanters of spirits.
Photo credit: Steel House Copenhagen
Where to stay in Copenhagen
This hotel, is actually a hostel, but I couldn't miss this gem out of the list, due to it's incredible design, style and charm. For a hostel, this place knocks all the others out of the park! The distinctive steel-clad building that was once home to the Danish Union of Metalworkers has now been transformed into a cool urban hostel, with smart dorms (or small private rooms), plenty of communal space for meeting fellow travellers and an impressive range of facilities.
It's also got a great location, only around the corner from Central Station and Tivoli, and the WestMarket (Copenhagen's latest food hall) is only 20 minutes away. The rooms are also lovely, with double rooms, and dorm rooms, depending on your budget.
All rooms have white glossy walls, with dark-wood floors and chrome fittings throughout – and doubles come with ensuites and televisions. I will 100% be staying here on my next visit to Copenhagen!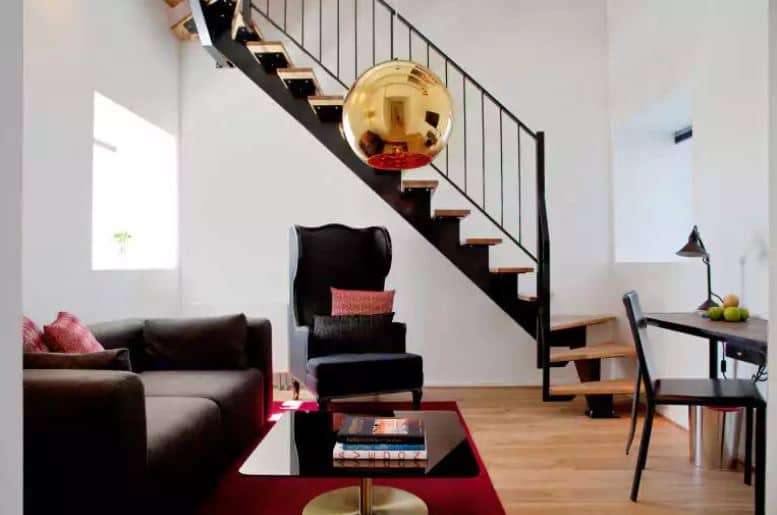 Photo credit: Scandic Palace Copenhagen
Where to stay in Copenhagen
Another well known hotel in Copenhagen is the Scandic Palace Copenhagen, which includes period features, revamped rooms and friendly staff.
The hotel also has an interesting history: when it opened in 1910, with architect Anton Rosen overseeing every detail of its look, the hotel was far ahead of its competitors, bringing the Art Nouveau façade and bedroom wallpapers to the restaurant cutlery and staff uniforms, now an iconic symbol for this incredible hotel.
The hotel is also a protected landmark and retains many original features. The bedrooms are slightly more modern with a sophisticated theme running throughout, in one of four colourways, reflecting the different times of day: Morning Wing for explorers, Day Wing for aristocracy, Evening Wing for entertainers and Night Wing for musicians and poets.
One of only a handful of 5* hotels in Copenhagen, SKT. PETRI sets the standard for luxury meets design. The hotel is centrally located, offering great access for guests to go and explore the wonderful city of Copenhagen, and the building (which is listed) used to be a department store, but now sleeps trendy visitors to the city.
The decor is bold, but dark colours and luxurious fabrics, set against glass walls and monochrome flooring throughout the lobby. The bedrooms follow suit with black wood, dark blue tones and gold, which add a decadent feel to the bedrooms. The grand lobby is separated in to sections, with seating areas for business men and women, as well as a bar and place to grab a coffee. This hotel oozes retro glamour!
BOOK TRAVEL INSURANCE BEFORE YOU FLY

Picking travel insurance that covers you in all eventualities is an essential part of planning a trip for every single person. If you can't afford travel insurance, you can't afford to travel. You never know what's around the corner. World Nomads is an affordable option that I personally recommend. BOOK HERE
*This post is sponsored with Expedia.