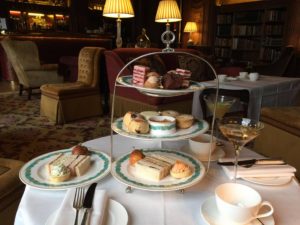 At the end of November I visited the stunning Cliveden House with my sister-in-law Laurie to try their Cliveden '66 Afternoon Tea. Laurie was at the time 39 weeks pregnant and was about to drop, so I treated her to an afternoon of luxury at one of the most decadent houses in the UK.
Cliveden House is one of the world's finest luxury hotels, this grand stately home is set in the heart of the Berkshire countryside, surrounded by 376 acres of magnificent National Trust managed Grade I listed formal gardens and parkland. Cliveden has wonderful panoramic views over the River Thames and is the perfect place for a relaxing afternoon tea. Cliveden is unique… literally no one could resist an invitation to Cliveden; from Churchill to Chaplin, Lawrence to Lennon. Fortunes have been made, plots hatched, history changed…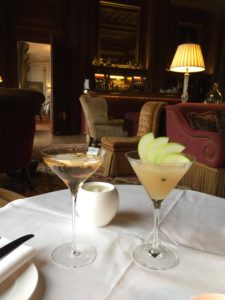 As we arrived we were taken aback as its grandeur and stunning architecture, from the drive-way to the ceilings in the Library.
We celebrated in style with their signature Cliveden '66 Afternoon Tea, which came with their iconic cocktail, created in honour of the completion of the house in 1666. The cocktail itself blends subtle hints of Chase vodka, Grand Marnier and rose liqueur, topped with Taittinger 2008 Champagne and finished with 24 carat gold leaf. It was a stunning drink! Obviously Laurie opted for a non-alcoholic version, lined with fresh apple.
Then before we knew it, our lovely waiters had served afternoon tea. On the bottom plate there was a range of sandwiches including York ham, wholegrain mustard, cream cheese, coronation chicken, gem lettuce and roast beef, horseradish mayonnaise.
On the second plate there were freshly baked raisin and plain scones, served warm
Devonshire clotted cream and an apricot homemade preserve. There were also two mince pies, for the added festive appeal!
And on the third (top tier) there were a selection of cakes, including an Iced Ring Doughnut, Victoria Sandwich, Eccles Cake, Peanut Butter & Jelly Macaroon, and a Dark Chocolate Log. Everything was delicate in nature, but with a stunning flavour.
Me and Laurie loved the opulence of the place, the attentiveness of the waiters, and the atmosphere inside the Library was lovely. It is the perfect location if you are treating a loved one for a special occasion, and you will leave feeling like kings! 
Our waiter even took us for a quick tour after we had finished, down to the wine cellar, and to the spa. The photo above is the service bells in the old servants quarters!
*I was invited to visit Cliveden House, but as always opinions are my own, and true to word.